20 Impressive bathroom lighting ideas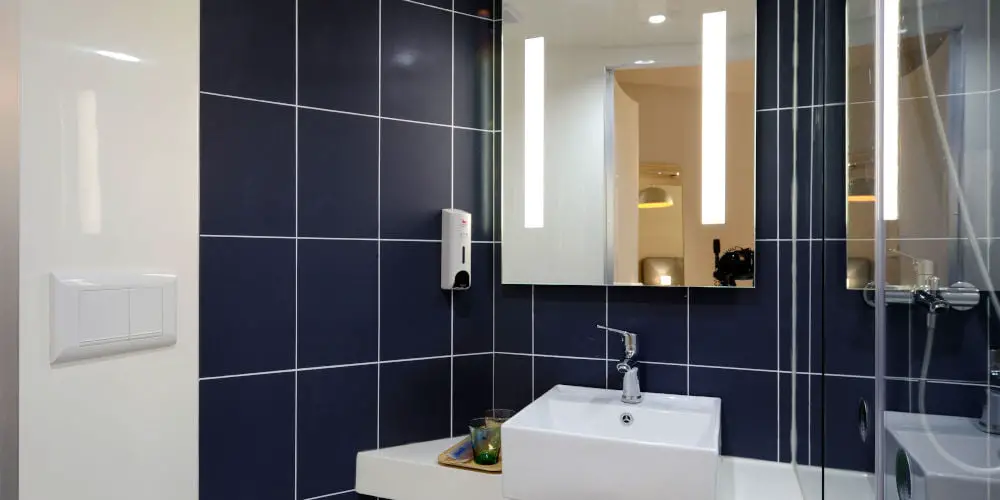 Most bathrooms suffer from poor lighting design which makes using the space uncomfortable. Even in a small space, with the right bathroom lighting ideas, you'll enjoy relaxing and getting ready.
Lighting a bathroom is no different from a lounge. You want multiple options which allow you to tailor the light to the activity, so you'll need to combine a few bathroom lighting ideas.
For example, if you enjoy long, hot baths, you'll appreciate softer lighting to increase the sense of luxury and enable you to relax quicker.
Whereas if you're shaving, cleaning your teeth or applying make-up, you'll need a bright direct light which illuminates your face allow you to achieve the desired results.
Since electricity and water don't mix, it's critical that you only use electrical fittings have the correct IP rating (ingress protection) and hire an electrician to safely wire any new lighting in.
Even in the smallest bathroom, you can try any of these bathroom lighting ideas to create a luxurious retreat from the world!
#1 Your lifestyle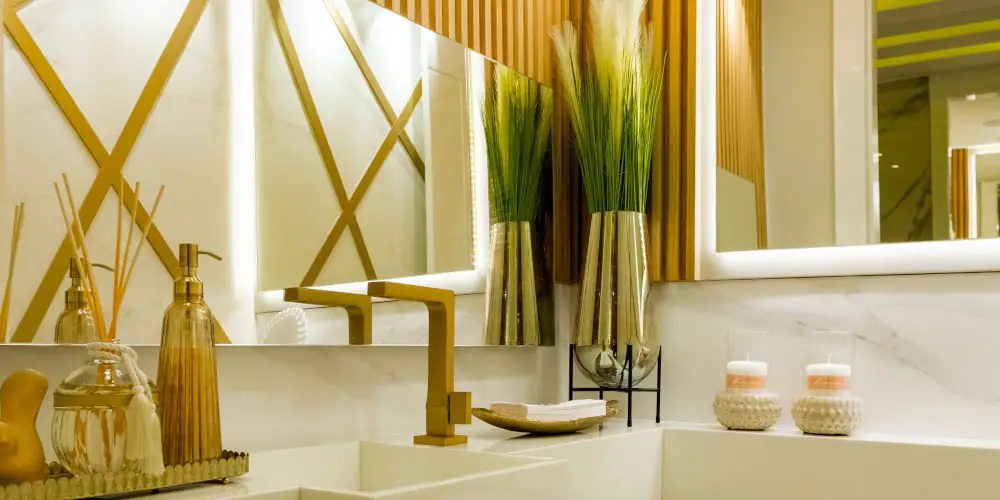 Before you can design the ideal bathroom lighting scheme, it's worth thinking about who will use the space. For example, if it will mainly be used by children you'll probably want to use motion-sensitive lighting which switches itself on and off.
However, for a bathroom used predominantly by adults, you'll want to incorporate separate bathroom lighting ideas including soft mood lighting for baths, brighter lights for completing daily tasks and maybe a low-level light in the shower.
#2 Colourful lampshades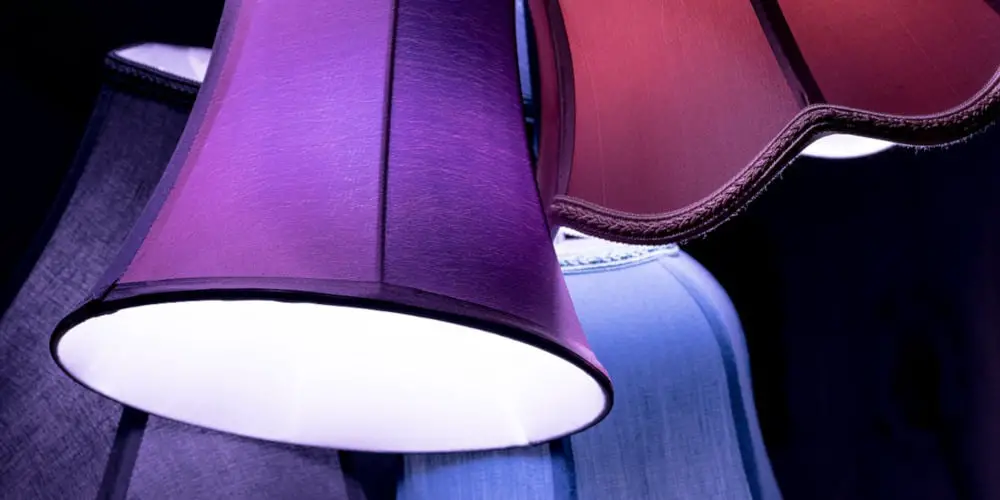 Even in the smallest bathroom, adding colourful lampshades help to brighten the space and should make you want to smile! Plus they're a cheap addition to any bathroom.
#3 Bath lights
Many people don't consider adding lights to the inside of the bath, yet it creates a unique, relaxing ambience. Turning all other lights off, you can lay back and relax in the soft glow.
Using this clever bit of smart bathroom technology is also far safer than using candles to add a little light, yet just as relaxing.
#4 Chandelier
If you can have a chandelier in the kitchen (as popularised by Clive Christian), why you can also incorporate one into your bathroom design?
Incorporating a chandelier into your bathroom heightens the sense of luxury within the space. Victoria Plum stocks a range bathroom chandelier in various designs, all of which are ideal. You don't need to use a huge draping chandelier but adding one adds great ambient lighting while looking remarkable.
#5 Ceiling bulb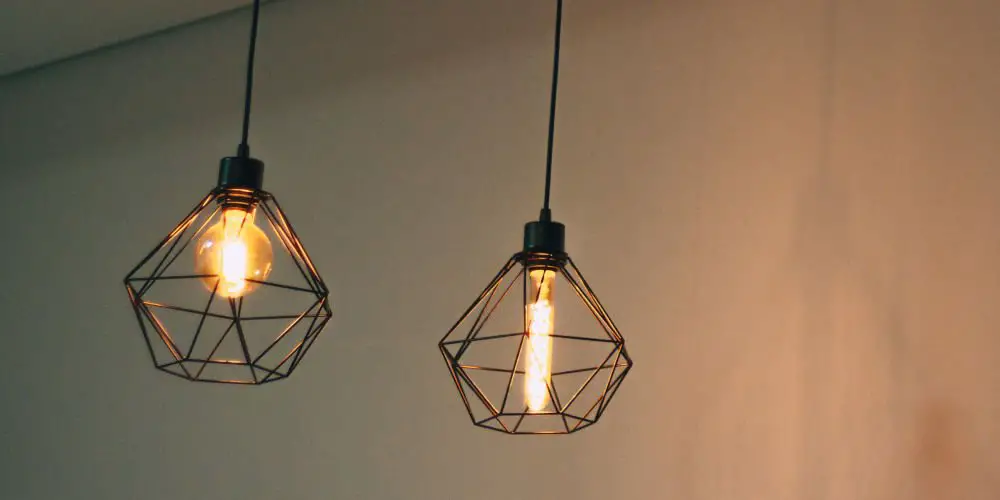 A painted ceiling and bulb light in the centre creates a cool, modern look. You can experiment with colours and try to create an interesting contrast with your shower enclosure blending old with modern design elements.
#6 Layering your bathroom lighting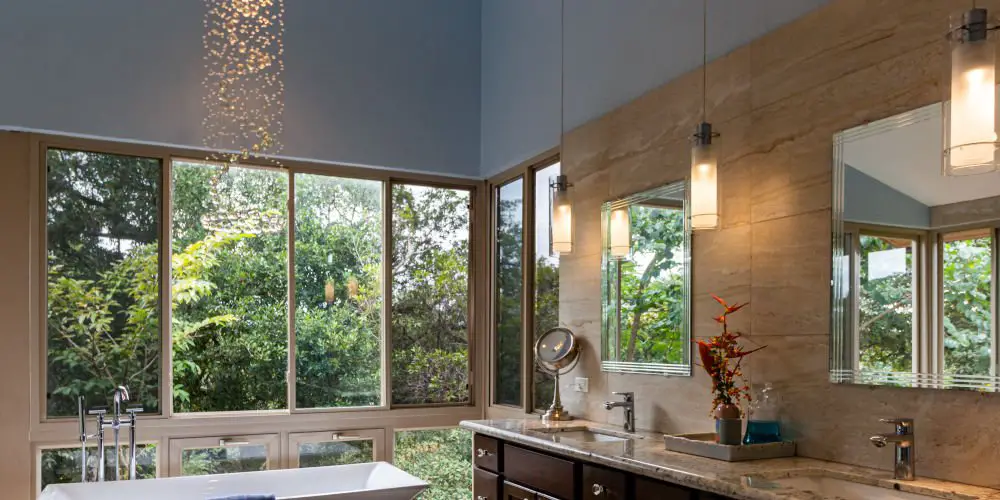 Regardless of your bathroom's size, you can enhance its design by including multiple light sources. Consider using a combination of downlights, task lighting, accent spotlights and recessed lighting.
Together, these bathroom lighting ideas will create a scheme to suit all needs, providing practical lighting for day-to-day tasks, low-level ambient light and illumination at night.
#7 Creating a spa-like atmosphere with LED candle lights
One of the downsides of candles is the waxy mess they leave behind. Don't worry we all dislike this! LED candles allow you to recreate the same soft lighting without having to scrub your bath after every time.
#8 Drop Pendant
A low hanging pendant illuminates and accentuates your tiles and other small details. Consider swapping the light switch for a dimmer as this will allow you to create mood lighting when taking a bath!
#9 Match bathroom lighting fixtures to existing fittings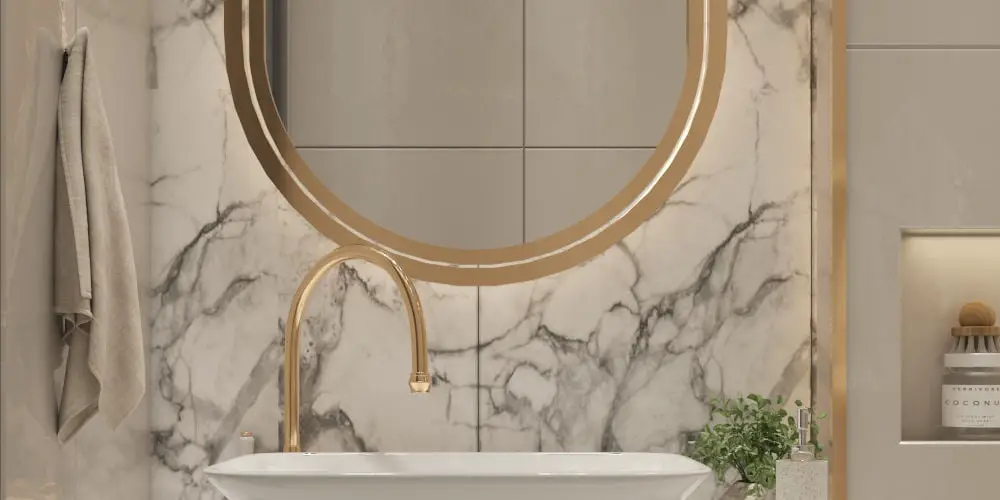 Creating harmony within your bathroom involves considering how different materials will interact. For example, marble looks superb against brass or gold finished hardware, while off white tiles will look superb contrasted with chrome hardware.
You can, of course, create a fantastic, seamless look by matching the lighting fixtures with the finish of all the other fittings. In a large bathroom, continuity of fittings can pull the space together making it feel more intimate.
#10 Night light
Every guest's nightmare is not being able to find the light switch at 2 am! Not to mention most children are typically afflicted by this as well!
By including low-level lighting with a built-in PIR (Presence Infrared) sensor, you can aid guests and kids to visit the bathroom during the night without creating any surprises for you the next morning. If you're unsure, start with battery-powered motion-activated LED lighting strips.
#11 Small bathroom lighting ideas with an impact
In a small bathroom, you need a few bathroom lighting ideas to add dimension and mimic the illusion of space.
For example, a glass pendant is ideal as it adds subtle drama while diffusing the light visually enhancing the space. This draws your attention away from the space (or lack of it), and firmly onto the interesting shapes and reflections.
#12 LED cabinet lighting
Whether you're shaving, applying make-up, or brushing your teeth, having LED cabinet lighting is a must. For the best results, use LED lighting that borders your mirrors. This way you'll always get a perfect, glare-free view of your face when getting ready to tackle the day.
#13 The movie star bathroom lighting idea
Make-up for a lack of space by with glamour! IKEA sells these LEDSJÖ wall lamps, which provide lots of light and increase the room's attitude! Such chic bathroom lighting ideas are possible!
#14 Recessed downlights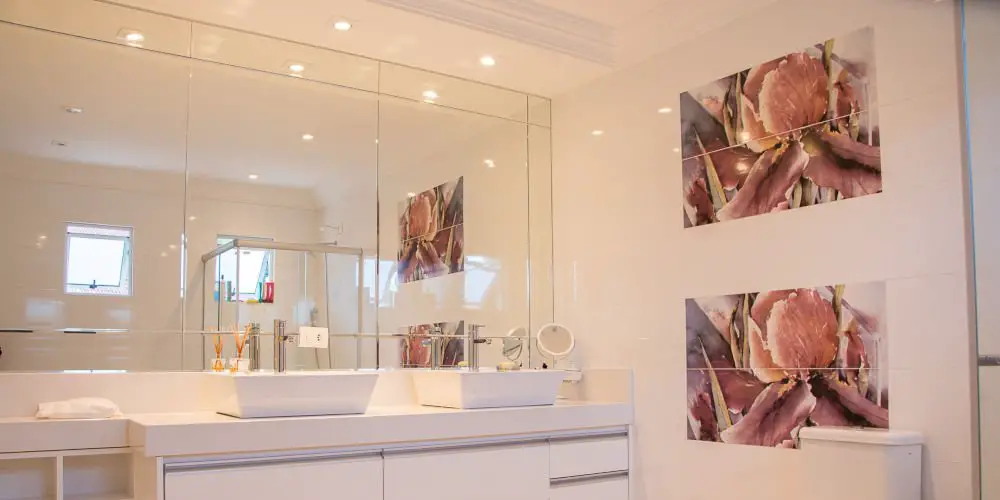 Recessed downlights are the most basic of our bathroom lighting ideas. These small lights are built into the ceiling and lie flush against it. They easily blend into any design scheme with their modern, sleek look.
Increase the wow-factor by installing recessed downlights in any nooks, recesses or alcoves. Ideal for bathrooms for all sizes as they don't take up much space yet really illuminate the space.
#15 Task lighting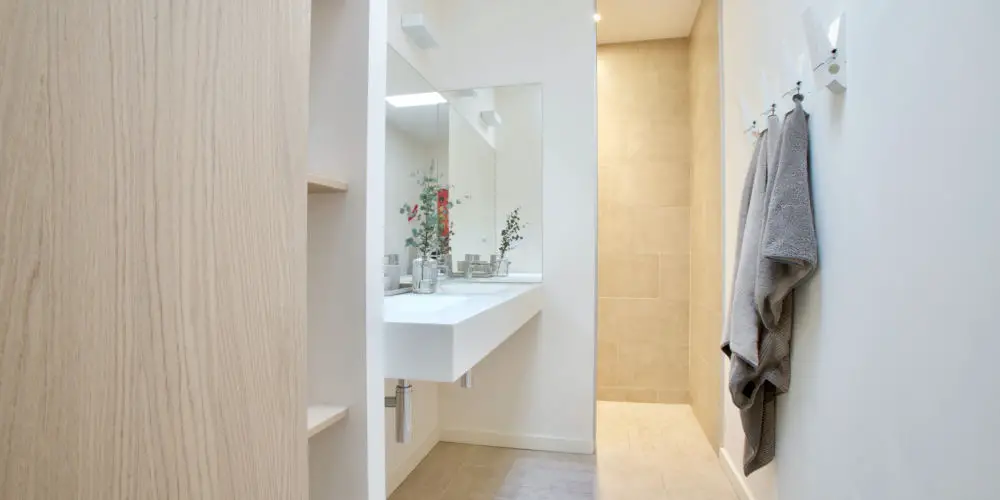 Another fundamental idea of bathroom lighting is having a light near or around the mirror, making it easier to complete tasks such as shaving, washing and putting make-up on.
While you can recreate the Hollywood look and have small bulbs around the mirror, having a light on each side will have the same effect of illuminating your face, making tasks easier to complete.
There's a superb range of effective options including sconces, pedants and frosted strips. You can also achieve this is with a backlit mirror. That said, always avoid a downlight straight above your head as it causes unflattering shadows and is a far from ideal task light.
#16 Create a cluster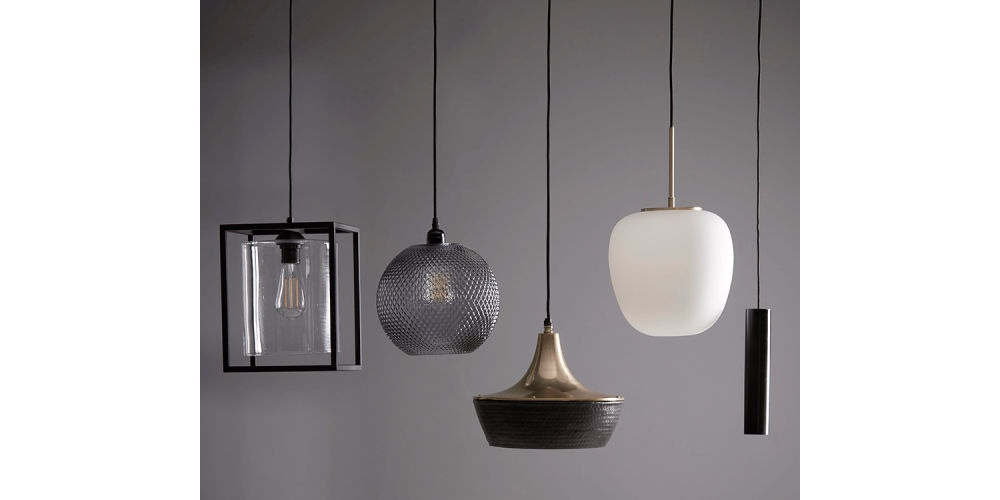 Grouping multiple pendants together can create a unique, striking look. Plus, they add a sculptural touch to your bathroom. You could buy a set or experiment with mixing and matching your own for a unique feel.
#17 LED floor lights
One of the most unique bathroom lighting ideas is to install them into the floor. Coloured LED lights create a unique look and feel to the room while providing a modern aesthetic that's also quite romantic.
#18 Mirror lighting
Don't let a lack of space comprising the lighting you're able to use. An illuminated mirror combines two bathroom essentials in one.
These clever space-savers are wall-mounted mirrors that include either integrated or attached lamps for additional task lighting. Look for mirrors with a de-mist function to ensure beautifully lit, fog-free glass every time.
#19 Bathroom: A day in the life!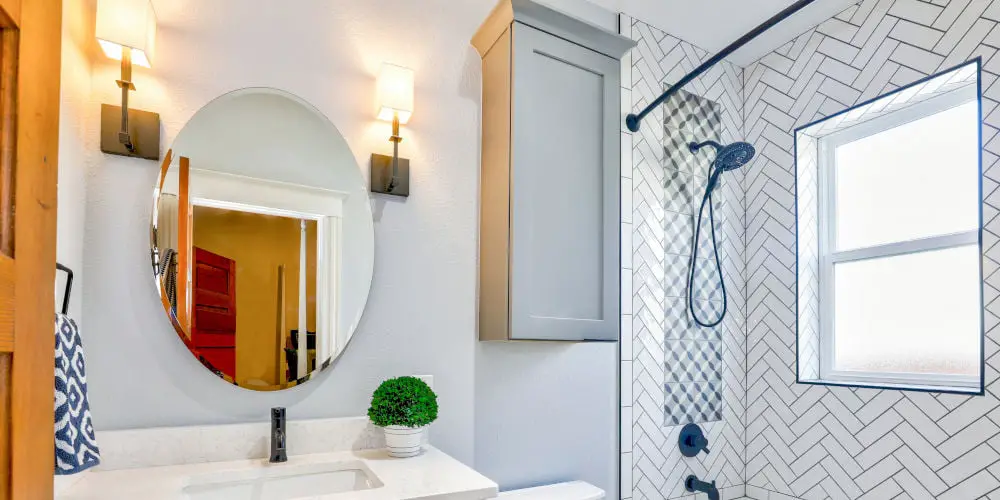 As the bathroom is used throughout the day, having a single light source isn't sufficient. You want your bathroom to be bright and functional in the mornings yet at night, you'll want softer light to wind down with a nice relaxing bath.
Consider combining a few bathroom lighting ideas to allow you to set the right mood. Try adding fairly bright lights pointing in all directions on dimmers. This way by morning, they can be on full yet tamed for an evening soak without blinding you!
#20 Mood Lighting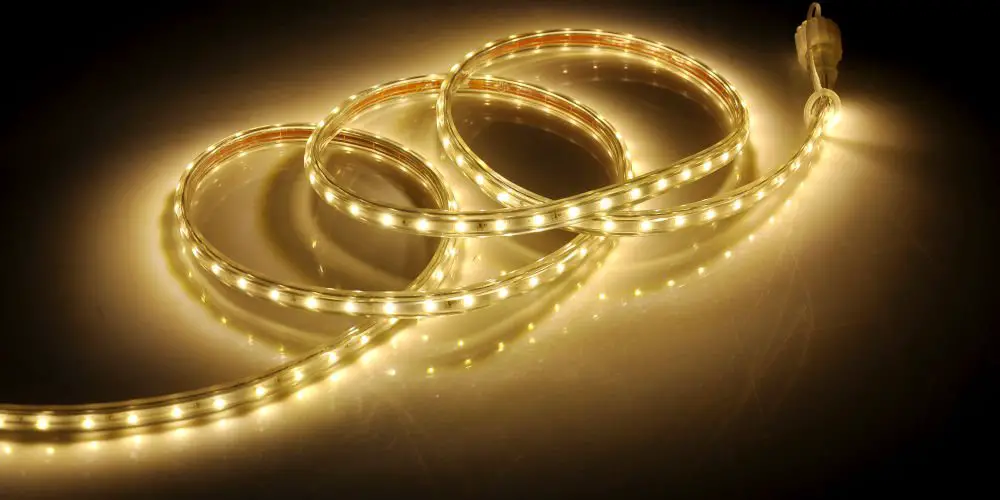 The final of our bathroom lighting ideas is mood lighting. If you want softer lighting when soaking in the tub, then consider installing some waterproof colour changing lights in your bathroom. They look great hidden around the rim of your tub, or under cabinet to create a soft-lit glow.