9 Smart bathroom technology upgrades to try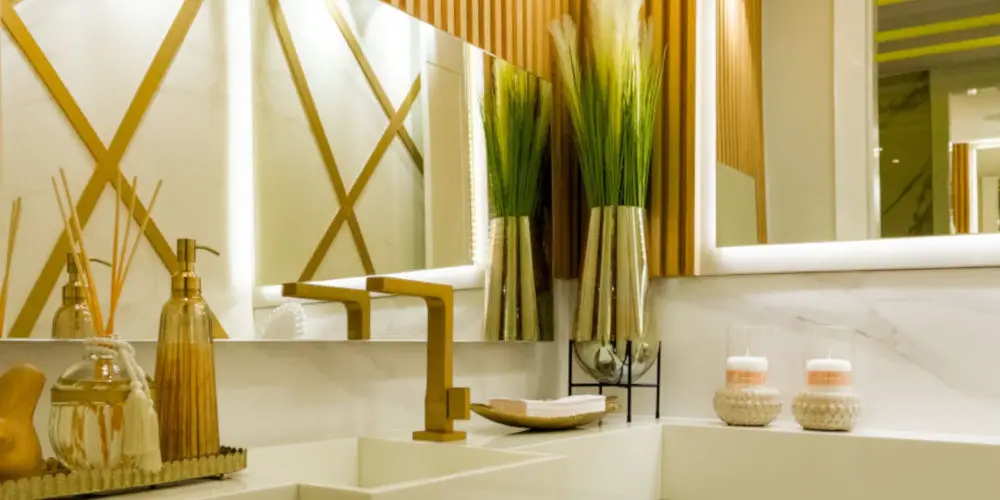 As we continue to embrace home automation systems, adding smart bathroom technology to create a smarter space makes sense. While creating a smart bathroom might not be top of your list, plenty of options are available. All of which makes the bathroom a more practical place to use.
Adding any home automation such as Z-Wave or Lightwave, can increase the property's value and will differentiate it when you come to sell your home.
With so many options available, it can be confusing what smart bathroom technology to add. And so, here are 9 bathroom gadgets and pieces of smart tech that are worth including in your bathroom design.
#1 Waterproof TV
Granted, a TV in the bathroom isn't a ground breaking concept as many have already installed this piece of smart bathroom technology. However, if you're new to the idea, you can now buy waterproof TVs which are use touch screen technology for control. So no remote is needed (or can be lost!).
Some will install waterproof TV at the end of the bathroom, aligned for watching while soaking. Others will install one in the shower cubical, ideal for catching up on the news in the morning. The next level is buying a mirror with a waterproof TV built-in.
While the cost of the average flat-screen TV continues to fall, the waterproof variety can easily cost £1,000. That said, Amazon stocks the 22-inch Soulaca Smart Mirror Bathroom TV for under £500.
As a smart device, most of these TVs also connect to Wi-Fi allowing you to catch up on your favourite Netflix shows or YouTube. However, You'll need to add speakers either the waterproof kind or in the ceiling to be able to hear what's happening on the TV.
Despite the high cost, if you enjoy long baths or never want to be far from a TV, then adding one could be a superb investment. Plus, they look great and you'll be the envy of friends and family!
#2 Flow with smart taps
Smart taps do different things. The most basic smart taps sense when you're there and begin running water. They even allow you to pre-set the temperate, ideal for washing your hands or face! Some, such as the Gangang Automatic Sensor Tap use LEDs to denote temperature!
For those who love showers, there are plenty of smart bathroom technology solutions available including smart shower heads and mixers.
You might want to invest in a GROHE SmartControl mixer which regulates the shower's temperature ensuring no large jumps. Easily select between or combine head or hand showers, and adjust the water volume using push-turn buttons. It's also designed to save water lowering your household bills.
There are even high-end taps and shower heads like the VADO Sensori that use facial recognition to tailor the bathing experience using data they've gathered about you. They'll seamlessly adjust the  temperature to your preference allowing you to always bathe in your ideal temperature!
#3 Bathe with sound
If you can't live without music, then adding speakers to your bathroom makes sense. Imagine bathing while your favourite tracks gently soothe and relax you. And while you can install ceiling speakers and wire them into a Hi-Fi, that isn't the most high tech option available.
Enter Sonos. If you're not aware, Sonos offers ceiling speakers that work exactly like their stand-alone units. You can easily play music from your smartphone, computer or tablet. Multiple Sonos smart speakers can be easily linked, allowing you to enjoy music throughout your home.
There are baths with built-in speakers available, which create a unique experience as sounds vibrate through the water! Such a great way to listen to your favourite artists.
#4 Warm your derrière with a toilet seat warmer!
A first-world problem we all deal with is a freezing toilet. A seat warmer ensures your derrière has a comfortable seat waiting. You might consider this smart bathroom technology an unnecessary luxury but once added, you'll wonder how you managed without it!
Japan leads the way in toilet technology with self-cleaning loos which have a built-in seat warmer and some have built-in bidet. You'll never have to worry if your toilet is fresh and clean again!
However, smart toilets aren't cheap. They can easily cost thousands. A prime example is the GROHE 39354SH1 Sensia Arena Smart Toilet with a price tag of nearly £2,000! Well, it does give a new meaning to spending a penny!
#5 Set the mood with lighting
Most overlook how important lighting is in the bathroom yet spend time playing with different options in the living room! A good bathroom lighting scheme mixes a few general lights with ones for tasks such as shaving, brushing teeth, or applying make-up.
Since these ideas aren't revolutionary, how do we use technology to make selecting light smarter?
You could replace the main bathroom light for an Oeegoo RGB LED Ceiling Light, which is dimmable and can be controlled by either your voice or using an app. You'd still be able to switch it on/off using your current light switch but it's far more impressive.
Another option is using Lightwave lights switches which are dimmable by design. You could either preset lights using the switches or use the App to create different lighting scene. You could even use a Lightwave sensor to trigger certain bathroom light without needing to find the switch!
By having a mix of main lights that can be dimmed and task lights, you can easily turn them all on in the mornings and only the main light dimmed to 50% for soaking in the tub!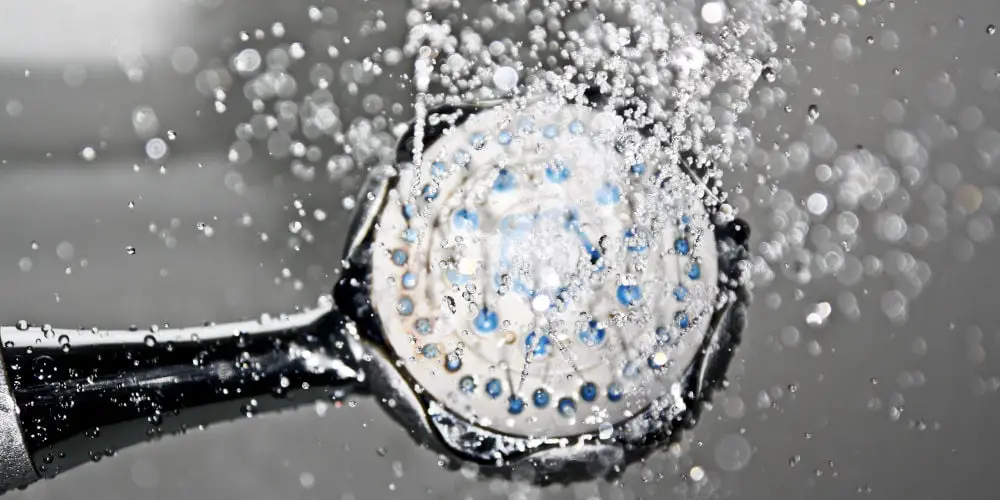 #6 Hot tub baths
Nothing is quite relaxing as spending time in a hot tub with a glass of bubbly. That said, even portable outdoor hot tubs take up a lot of room and can be fairly expensive. So it makes sense to swap your bath for a hot tub bath and enjoy a new level of relaxation.
Sadly, whirlpool baths still quite expensive yet can be used throughout the year and provide dual functions. Victoria Plum stocks a superb range of hot tub baths.
#7 Uber lux feature
Thankfully, smart bathroom technology isn't limited to toilets, tubs and taps. There's no reason you can't add features that make the space more luxurious or help you be more productive.
If you might be partial to a glass or two of wine while soaking in the tub. So consider installing a small fridge to store bottles in. It'll also be useful for keeping make-up at the correct temperature, ensuring it lasts. 
Imagine how relaxed you'd be after bathing in a room with your favourite TV show on, a glass of wine in hand and soft lighting to create the perfect ambience! Sounds like heaven!
#8 Smart scales
Only a few people (mad people, in our opinion!) enjoy weighing themselves. As far as smart bathroom technology goes, scales have become incredibly smart in the last few years. They now can show you a range of data about you including weight, BMI, body fat percentage and can track your progress.
Many including the Healthkeep Smart Bathroom Weight Scales sync with a range of apps, allowing you to store data and track your progress from a single centralised location. By having more accurate data, you can tailor your exercise routine and diet to meet your weight goals quicker.
If you're not sure which is the scale for you, start with our guide to the best bathroom scales.
#9 Alexa, what's the traffic like?
Adding an Alexa enabled device like the Amazon Echo Show 5 to your bathroom is a fantastic way to save time. While not technically smart bathroom technology, having Alexa in the bathroom allows you to keep tabs on the time, get up to the minute traffic reports and even check the weather.
You can even catch up on Facebook notifications while brushing your teeth before bed and check tomorrow's weather forecast. Alexa can easily change your life with real-time updates and by sharing information across multiple devices.
The future of smart bathroom technology
As there's plenty of fantastic smart bathroom technology available to automate your space and make it more useable, you might wonder what is next?
It's not hard to imagine showers that cut off after a set time ensuring no family member uses all of the hot water or wastes. Nor is it hard to picture a bath that operates similarly, especially as bathing uses significantly more water.
Mirrors in the future will have TV and speakers built-in, allowing you to catch up on the news or listen to music while getting ready. They'll also be Alexa or Google Home ready allowing you to use voice control to turn on lights, check the diary and add more bread to the shopping list.
As with smart scales which can monitor a range of data points including your BMI and body fat percentage, having a toilet that can give you dietary advice based on your "output" isn't stretching the imagination too far.
One thing is certain, smart bathroom technology just like home automation will continue to evolve and become more and more vital to everyday life.