Best charcoal BBQ under £200 Reviewed 2023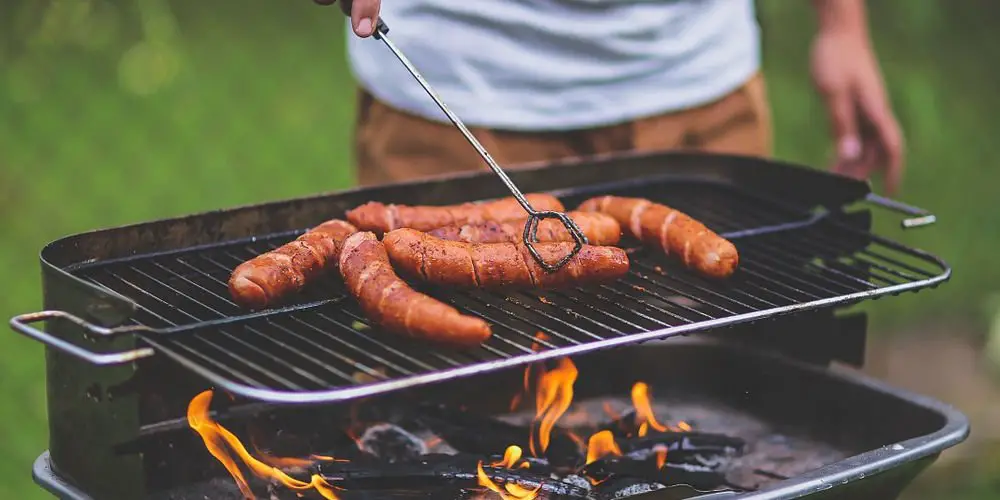 fout
British summertime wouldn't be complete without the odd family BBQ in the garden, regardless of how unfriendly the weather is! And so we've set our sights on finding the best charcoal BBQ under £200 for your garden.
Since single-use BBQs are widely available and cheap, most decide to use one. However, charcoal BBQs are a far better investment as they'll last for years, look stylish and provide a superior cooking experience. Plus you're creating less waste.
In our search for the best charcoal BBQ under £200, we've evaluated many that are currently on the market to find the ultimate BBQ for any garden! Here are our top 10 picks across the price range.
* Prices correct at time of publishing
CosmoGrill™ Outdoor Smoker Barbecue
Description
Slightly over our budget, the CosmoGrill™ Outdoor Smoker Barbecue is a portable and flexible unit. As it comes flat pack, you'll need to spend an hour to put it all together. Apart from the plastic wheels, it's completely made from stainless steel finished in a black powder coat.
Before looking at the grill, let's inspect the frame. Either side of the grill is a foldable shelf, which is ideal for storing meal, drinks, utensils and more. Underneath the right shelf is 4 hooks for utensils.
There's a large shelf under the grill, perfect for storing bags of coal. Also, on the left of the grill is a bottle opener. The lid includes a built-in thermometer, which allows you to keep the BBQ at optimum temperature!
Moving on to the grill. The coal sits a height-adjustable shelf. Meaning you can control the detail of whatever you're cooking. Underneath this is an ash collection tray, which is easy to remove for emptying.
The main grate is large enough to fit food for a family or a whole chicken for smoking. The lid when close still provides ample headroom. In addition to the main grill grate, a warming rack is included.
Pros
Height adjustable coal tray
Thermometer on top
Dual role as a BBQ and Smoker
Cons
Requires assembly
Instructions aren't easy to follow
Conclusion
The CosmoGrill™ Outdoor Smoker Barbecue is affordable, albeit slightly over our £200 budget! That said, the instructions leave lots to be desired and help to complicated construction. As a result, you'll probably spend over an hour building it.
Once built, it's superb. You can adjust the height of the coal, use the door to add more coals and bring the lid down and smoke meat and veg.
The shelves make cooking far more straight forward and easy. And as they are of a good size, you can keep an eye on cooking rather than trips to the kitchen. Overall, it's sturdy and well designed. 9/10
SUNLIFER Heavy Duty 3-in-1 Barbecue Smoker Grill
Description
As more than just a BBQ, the SUNLIFER Heavy Duty 3-in-1 BBQ Smoker is perfect for your garden or travelling. Offering three uses in one compact design, you can BBQ or smoke food or remove the top and use it as a fire pit.
Manufactured from heavy-duty steel, it's designed for durability and long life. The two heat resistant bakelite handles make transport, basting and cooking a breeze. Constructed from easy to remove layers, you can customise the unit to your desire.
A built-in thermometer with a detailed temperature scale and adjustable air supply are both found on the lid, allowing for greater temperature control. Inside a porcelain-enamelled water pan and charcoal pan provide you with a stable temperature.
Offering dual cooking areas, each with its own door. It's painless to check on foods and add charcoal, wood or pellets without having to remove the whole layer and losing heat. Plus having two areas means you can easily smoke or grill meat and vegetables at the same time.
Inside the lid is a crossbar and 4 hangers, enabling you to smoke different sizes and shapes of meat. The SUNLIFER smoker BBQ grill is hugely flexible both in design and cooking space.
Easily disassembled into four parts, you can construct multiple different arrangements depending on the activity. For example, you could use just the bottom as a fire pit or combine the bottom and one layer for a fantastic BBQ. A latch locking system provides you with more stability.
Pros
3-in-1 Design: BBQ/Smoker Grill/fire pit
2 cooking layers
Easily disassemble to 4 parts for storage or travelling
Cons
Could do with better instructions on how to use it/BBQ vs smoker/timings
Conclusion
Sporting a unique design that's highly configurable, the SUNLIFER Heavy Duty 3-in-1 Barbecue Smoker Grill is excellent, especially when you consider the price. If you're looking for more than a charcoal BBQ, then this could be the unit for you!
Ideal for several situations including travelling and using within a small garden where having multiple units isn't an option. It's able to be used as a fire pit, BBQ, smoker or a combination of those three.
It works well as a normal barbecue but really shines as a smoker. The included water pan, allows you to stop direct heat for slow cooking. Quite surprisingly, the onboard temperature gauge is quite accurate.
Be aware, that for smoking you'll need a charcoal lighting utensil to pre-prepare your charcoal to temperature. After, it's then a case of not overfilling the charcoal bowl to maintain the right temperature. It does take a bit of experimentation but well worth it! 9/10
Weber E-4710 Original Kettle BBQ
Description
Blending a quintessentially classic design with some modern touches, the Weber Original Kettle E-4710 BBQ is an exciting barbecue that ideals for gardens, terraces and even on holiday!
Sporting the original BBQ design, this Weber provides plenty of cooking space for its size. The lid features a built-in thermometer, allowing you to check on the temperature without needing to open it. Also on the lid is an adjustable air vent and a large scold-free handle.
The design has been updated in several ways including longer legs and increased stability, both of which provide an even better barbecue experience. You shouldn't need to worry about your BBQ being knocked over!
Another improvement worthy of mentioning is the One-Touch Cleaning System. Allowing you to keep your BBQ clean with ease, the system uses a deep ash catcher made from aluminium, that makes disposing of spent ash hassle-free.
On the main body of the BBQ is a scold-free handle, which sports an ergonomic design. Either side of this handle is integrated tool hooks that ensure you'll always have your barbecue tools close at hand.
Invented by Weber's founder and loved around the world, the iconic kettle continues to be the barbecue made for everyone.
Pros
Classic design
Lid has built-in thermometer and air vent
Aluminium ash catcher
Conclusion
Nothing as classic as the Weber E-4710 Original Kettle BBQ, there's even a clue in the title! At 47 cm in diameter, it's ideal for a small family or couple as it doesn't take up much space. Plus it's portable enough to be used at home and when travelling.
It does come flat-packed, but assembling is painless. Out of the box, you'll be able to feel the quality. Manufactured from quality, thick steel and finished with an excellent black powder-coat, it's designed to last.
But that's not all. As an updated version of the classic design, the Weber features many upgrades that dramatically improve it. Some might argue that it's on the expensive end but for the quality, design and features, it's well worth it. 9/10
Neo Large Barrel Smoker Barbecue
Description
When is a BBQ more than a BBQ? Well, of course, when it has a smoker attached! The Neo Large Barrel Smoker Barbecue BBQ is an affordable and portable unit that offers a range of functions.
Sporting a compact design, this versatile unit fits effortlessly on most patios, balconies and decks with ease. Decent-sized wheels make it easy to move. The black powder-coat finish is attractive and should last for years. While scald-proof handles keep you safe when cooking.
Combining a charcoal grill and smoker Side firebox, you can enjoy cooking in a variety of ways. If you prefer charcoal grilling, then there is plenty of space for that. Plus the smoker contains Porcelain-Coated cooking grates ensuring heat is evenly spread.
An adjustable fire grate in the main chamber, allows you to easily control the temperature or tend to the charcoal without needing to remove the entire grates. It's just as easy to dump ashes after you've finished cooking.
The offset smoker provides a further large cooking area. Ideal for adding a smoky flavour to meats. You could use it instead for roasting a side dish like corn or vegetables for the vegetarians in the family. There's plenty of cooking space, no matter what you're barbecuing!
Pros
Grill and smoker combination
Large cooking surfaces
Scald-Proof handles
Cons
Smoker leaves a lot to be desired
Conclusion
After a fiddly start putting the Neo Large Barrel Smoker Barbecue together, it's a good unit. It isn't the best smoker but for the price, this shouldn't surprise you. That said, it does give food a smoky flavour without much additional effort.
The BBQ is superb and easy to control as the coals sit on an adjustable shelf. Easy to light and heat-ups fairly quickly. Just be aware that the temperature gauge isn't that accurate. So you'll need to open the lid to check the temperature, which admittedly defeats the object but still.
As you can use the smoker as a secondary heating area, you have plenty of cooking area, especially good if you're preparing both meat and vegetables. 8/10
Uten Barbecue Grill Stainless Steel BBQ
Description
The Uten Barbecue Grill Stainless Steel BBQ is a fantastic solution for camping, parties and picnics. The Grill comes with easy-to-follow instructions. You don't need any tools to assemble, so it's perfect for travelling.
Featuring a portable design which is lightweight, it's easy to transport and store. Comfortable lifting handles allow you to move it without hassle. Non-slip rubber feet improve the grill's stability.
The air vents on both ends of the grill allow you to control the airflow and distributed the heat evenly throughout the grill. Also, it's easy to clean.
The Uten comes with small and large barbecue wire mesh panels, allowing you to tailor the cooking area to your need. This means it can easily accommodate enough food for 5 to 10 people. Finally, the grill comes with a 1-year guarantee.
Pros
Folding design
Made from stainless steel
Ideal for travelling
Cons
Top heavy – so make sure you place on flat ground
Conclusion
If you're planning on travelling or need a BBQ that folds away for easy storage, then consider Uten Barbecue Grill Stainless Steel BBQ. It's affordable yet the stainless steel means it will last years.
The lightweight design makes it ideal for slinging it in the boot and heading to the beach or park. It's worth pointing out that it is top heavy, so could be easily tipped if not on flat ground. Placement, therefore, is really important. 8/10
Outsunny Charcoal Grill BBQ Trolley
Description
At just a few pounds over our budget, the Outsunny Charcoal Grill BBQ Trolley is easy to move, well-designed and has a built-in thermometer. Manufactured from stainless steel and finished with a black powder-coat finish.
The smart design sports such excellent features as a bottle opener on the lid and stainless steel handles that are anti-scalding. A pull-out ashtray, make the task of keeping the BBQ clean much easier as it catches mucky ash.
Offering a grilling area of 55 x 41.6 cm, there plenty of room for cooking meat and vegetable for the whole family. Plus there's a warming rack for keeping food warm.
Inside, the charcoal pan is height adjustable. By rotating the hand crank on the front, you can raise or lower the pan. Plus, thanks to the wide door, it's easy to add charcoal.
The built-in lid allows you to capture heat inside, speeding up the cooking process. But that's not all, as the lid has adjustable vents and the thermostat, both of which help control the inside temperature.
Outsunny has also included plenty of storage with a side table and bottom storage rack. You have plenty of space to store charcoal, plates, seasonings, or anything else. Plus, 4 side hooks for hanging BBQ tools, allowing you to have all you need to cook close.
Finally, the two wheels enable you to move the barbecue unit with ease to where you need it. Ideal if you don't have a permanent outdoor kitchen or a large garden.
Pros
Height adjustable charcoal pan
Plenty of storage space
4 Side hooks for hanging BBQ tools
Cons
Can take up to 4 hours to assemble
Conclusion
Arriving flat-packed, the Outsunny Charcoal Grill BBQ Trolley can take a while to assemble as the instructions are poor. It also seems they have had quality control issues with many receiving poor imitations.
Putting that to one side, it does offer a unique feature, namely the adjustable coal tray. While some might consider this a novelty, it's a very useful function that allows you superior control over the heat.
You can even add more coals during cooking thanks to the front hatch. Add to this the two adjustable vents and you have the makings of an excellent BBQ.
But that's not all, the extras are just as nice. For example, the bottle opener, tool rail and plenty of storage space. All things considered, Outsunny Charcoal Grill BBQ Trolley scores a strong 8/10.
Dancook 7300 Medium Barbecue with Side-tables and Wheels
Description
With a compact design, the Dancook 7300 Medium Barbecue with Side-tables and Wheels offers a sizeable cooking area and plenty of storage. It's highly affordable and uses an exclusive Scandinavian design!
Mixing alloy steel with solid wood, this unit is noted for its attractive design which easily slots into any garden. The primary cooking grid measures 50cm by 25cm and is made from extra-thick 6mm chrome-plated steel. It's ideal for holding larger, heavy cuts of meat and poultry.
The grid handles make it simple to lift and rest the grid at any of the 4 levels, allowing you full control over the intensity of heat. As a simple yet effective way to control heat, you don't need to mess with any unnecessary complexity.
Offering plenty of storage for tools, food and plates thanks to two side tables. These sit on either side of the grill and are made of FSC certified hardwood. You can easily prepare or store food, and still, have lots of space to rest your cooking utensils.
With built-in wheels, moving this box grill couldn't be simpler. Whether you're wheeling it into place before cooking or returning it to the shed for safekeeping, it couldn't be simpler!
A range of optional accessories are available and help you to cook, clean and protect your grill. Finally, the BBQ comes with a 2-year warranty.
Pros
Extra-thick 6mm chrome-plated grid
Plenty of storage including 2 side tables
2-year warranty
Cons
Cheap plastic wheels
Wooden handles easily split if you use a mallet as per instructions
Conclusion
Sporting a fairly basic design, the Dancook 7300 Medium Barbecue with Side-tables and Wheels allows you to BBQ food with ease. Arriving flat packed, it's not of the highest quality.
The wheels are cheap plastic probably won't last. The instructions say to use a mallet to add the wooden handles, however, you will split them as they aren't designed to be hit with so much force. So you'll want to push them on with a small amount of force.
It does provide plenty of cooking space with a generous grill size of 50 cm by 25 cm. The grid is made from extra-thick chrome-plated steel, ensuring it will last. The grid is easily moved with 4 slots available, allowing you to painlessly control heat levels. 7/10
Landmann 43.5cm Kettle Charcoal Barbecue
Description
The Landmann 43.5cm Kettle Charcoal Barbecue is a no-frills, portable BBQ. Based on a classic design, it's ideal for small gardens, day outs at the park or trips to the beach.
Crafted from stainless steel, the design uses a mix of silver and black powder coat elements. The plastic wheels are weather resistant and make moving it really easy.
The enamelled firebowl and lid close to preserve heat or for compact storage. The lid feature two chrome-plated ventilation discs, which allow you to control the heat even further.
A chrome-plated cooking grill sits on top of the coals and provides a 41.5 cm diameter cooking area. It caters well to 4 people and is easy to operate.
Pros
Classic design
Compact and portable
Cons
Assembly instructions not clear
Conclusion
if you enjoy the occasional BBQ or looking for a portable solution for family outings, then consider the Landmann 43.5cm Kettle Charcoal Barbecue.
The classic no-frill design is compact and fairly easy to assemble, once you've translated the assembly picture into steps!
Of course, if you're serious about BBQing then you'll want to look at others on our list. That said, for the price, you can't really knock it. 7/10
Kingfisher OUTBBQ Half Drum Barrel Barbecue
Description
Sporting a sleek yet simple design, the Kingfisher OUTBBQ Half Drum Barrel Barbecue offers two cooking areas, each with an adjustable grill. Below the BBQ is a sizeable storage shelf, ideal for storing coals. 2 large wheels ensure it's easy to move.
Realised under their Bonnington Plastics Ltd range, this Kingfisher OUTBBQ Half drum BBQ was manufactured from steel in the far east, using a British design and to a high standard.
Thanks to adjustable chrome-plated cooking racks, you can set this BBQ up so that one area is hotter than the other. You could warm food on one side while the other cooks. Alternatively, you could use one side for vegetable and the other for meat. Each side offers 3 height adjustments.
You could, of course, use the two side as one large cooking area and set the cooking racks to the same height. In short, it's highly flexible and painless to adjust to suit your needs.
Featuring a large storage shelf below the barbecue, you could use this to store bags of coal, plates or food. A handle is located on the right-hand side and doubles as a place to store tools. Finally, two wheels make it easy to move.
Pros
Dual cooking areas
Chrome-plated cooking racks
British design
Conclusion
While previous versions of the Kingfisher OUTBBQ Half Drum Barrel Barbecue were of a shocking quality. The latest version is of a good quality and represents good value for money.
hat said, it's was tricky to assemble as no instructions were included. Thankfully, there aren't that many parts. As there's no lid to put together, assembly is slightly easier.
Sporting a decent-sized cook area of 91 x 45 cm, which is split into two sections, it's easy to BBQ on. We like being able to move each of the racks as this allows us to have basic control over the temperature.
Coals sit on a rack that's easy to remove, making cleaning the BBQ painless. Plus due to its frame design that's complete with wheels, moving it around is simple. 7/10
Tepro Grillwagen Toronto Click Charcoal Barbecue
Description
The Tepro Grillwagen Toronto Click Charcoal Barbecue is built from powder coated stainless steel. It comes flat pack, yet thanks to its patented screwless design, takes an estimated 30 minutes to assemble.
2 plastic wheels and a large handle make it easy to move. A bottle opener is easily found on the left-hand side. The shelf beneath the grill is excellent for storing supplies, drinks or bowls of covered cold food.
The folding shelf on the right-hand side is useful for meat, buns, condiments and extras. Below this shelf is 4 hooks, perfect for all your cooking utensils.
The grill features a few unique elements. Firstly, the coals sit on an height-adjustable shelf. Therefore, you have superior temperature control over a traditional BBQ.
The charcoal bowl features a door, enabling you to add more coal during your BBQ. This is safer than having to remove the grate. When you're finished, simply slide the Ash collection tray out and empty.
The BBQ grill provides an impressive 56 x 41.5 cm cooking space. A warming rack of 53.9 x 24.1 cm provides further usable space.
The lid, when down, creating a seal, which allows concentrated heat to circulate. 4 special ventilation openings ensure air circulation during the grilling process and prevent the coal from extinguishing.
Pros
Patented screwless design
Good amount of shelving
Height-adjustable coal shelf
Cons
Challenge to assemble (some users have spent over 2 hours)
Some units arrive dented from delivery
Conclusion
Even if it's highly affordable, the Tepro Grillwagen Toronto Click Charcoal Barbecue does have a few negatives.
While Tepro estimates that you can assemble in around 30 minutes, the actual time is closer to 2 hours! So, quite a big difference.
As the unit uses thin sheet metal, some units have arrived dented or slightly damaged. While this is a packing and transporting issue, it's easily avoidable.
We like the moving coal shelf, as it enables us to tailor the temperature to what we're cooking. Plus the easy to remove ash collection tray makes cleaning simple. 7/10
And the best charcoal BBQ under £200…?
Having reviewed a range of the best charcoal BBQ under £200 on the market, three stands out above the rest. Sadly, one of our top picks is slightly over our budget!
You might want to learn how to light a charcoal BBQ safely and quickly.
We're talking about the CosmoGrill™ Outdoor Smoker Barbecue, which is well designed and built. It's ideal if you love to BBQ but have a small to medium sized garden.
Sharing the top spot is the SUNLIFER Heavy Duty 3-in-1 Barbecue Smoker Grill, which is a unique multi-function unit that is designed to be highly portable and flexible. For the price, it'd be hard to find something as extraordinary.
Finally, if you're looking for a solid design with no frills then you should consider buying the Weber Original Kettle BBQ.