How to build an outdoor kitchen on a budget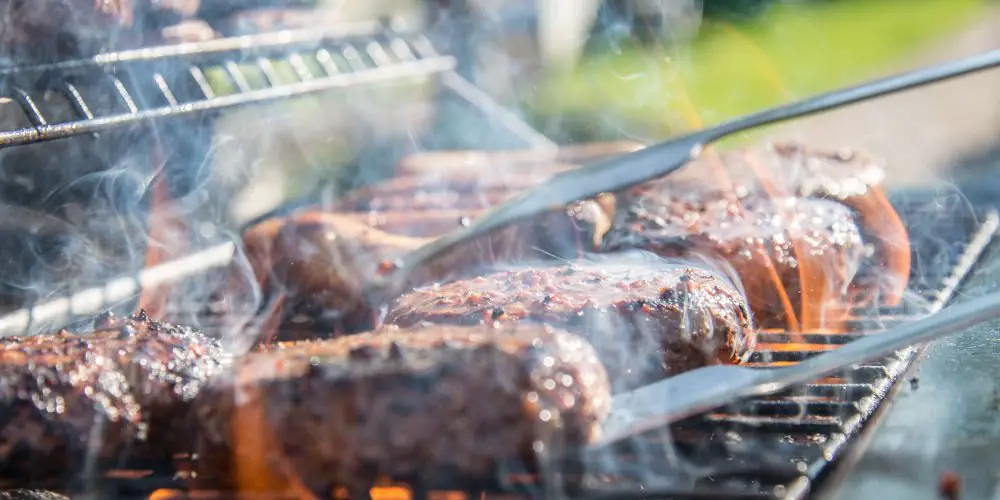 PUBLISHED: 21st April 2020 | LAST UPDATE: 8th May 2023
Who doesn't look forward to summer and being able to entertain in the garden? If you're anything like us, you dream about having an outdoor kitchen to prepare and cook food with a small fridge to keep a few beers cold
You can build an outdoor kitchen that is ideal for your garden size as well as how you like to entertain. And if you don't have lots of space, you can build a moving outdoor kitchen that can be positioned depending on the event.
If you enjoy entertaining in style and wish to extend this to your garden, here's how to build an outdoor kitchen that will make summer gatherings even more special!
What is the average cost to build an outdoor kitchen or BBQ area?
As with any DIY project, the cost will depend on the level of finish, size and your appliance budget. Of course, if your DIY skills are good and you have the time then you should be able to reduce the build cost.
If you have a small budget, we'd recommend starting with a portable solution and using some of your cash to extend the patio. This way you can incorporate some of the features you're after without breaking the bank. Over time, you can begin to upgrade elements and make it more permanent.
You may have a large budget and space for a fully functional outdoor kitchen complete with running water and electrics. If this is the case, then it's worth getting a builder to complete the build.
Just like upgrading your current kitchen, you can spend a couple of hundred pounds or you might spend tens of thousands. So it's important to consider before you start building an external kitchen how much you have to spend.
If you have less than you thought, don't worry. It just means you'll have to scale back your plans this year and complete the project in the coming year.
Basic outdoor kitchen design ideas
Services (water, gas, electric)
Even if you decide to build your kitchen around a charcoal BBQ, you probably still want power for TV, fridges and lights, as well as running water for a sink. If you opt for a gas BBQ, then you'll also need to install a safe gas supply. None of which is cheap.
It's like that you'll need to hire a professional to safely add any basic services, which means it will cost you quite a bit of money. So while you might be able to save money on other items, don't cut corners.
Flooring
With the basic services connected, you'll be able to lay the flooring. Some will be content with poured concrete, while others will prefer decking vs patio. Again budget and the overall look has a large impact on what you choose.
To cover or to not
Having your outdoor kitchen covered might be a good idea, especially if you live in a wetter part of the UK. Of course, building a roof over the area will drastically increase costs, even if you plan to do most of the work yourself.
However, having a covered area can be the ideal spot for friends and family to gather and relax long after the BBQ has finished without freezing. Also having it covered means you can use it regardless of the weather!
Cabinets and worktops
You'll want to incorporate cabinets into the design as this will allow you to store food and drink and protect them from bugs! Also, having worktops is critical to effective food prep and cooking.
A fantastic range of materials is available for both elements. For example, you could build cabinets from bricks or concrete and then use aluminium shelves, doors and worktops. however, you could use prebuilt units from IKEA.
As your outdoor kitchen is exposed to the elements, you'll need to use hard-wearing materials that won't age or disintegrate easily.
Basic Components
BBQ Grill
You can't have an outdoor kitchen without a BBQ grill. In fact, the whole space revolves around it! Our advice is simple, buy the best you can afford. Don't try to cut corners or promise yourself you'll upgrade next year.
If you're stuck choosing between a gas vs charcoal BBQ, start with our guide as this will help you clarify which is your best option.
Depending on your budget and space, you might choose to use a stand-alone BBQ with multiple cooking areas. If you have more money to spend, you'll probably want to purchase a built-in grill that will give a seamless finish.
Learn how to light a charcoal BBQ safely and quickly.
Sinks
Unless your indoor kitchen is steps away, you'll need an outdoor sink (our top pick is from FIDOOVIVIA) and while it might cost a few hundred pounds to have one installed, it'll be worth it.
Appliances
Depending on the overall use you might be able to survive with little or no appliances. Having a beer fridge (such as Subcold Super85 LED) would be a nice addition but would require some work to maintain and use it.
That said it would cut down the number of trips to and from the kitchen to collect meat, food and drinks. If you don't quite have the budget to install a fridge, then buy an ice box.
You might intend to use your outdoor kitchen as a space to relax with friends before and after cooking. So you might want to include TV and some Sonos smart speakers or invest in creating an garden home cinema.
What shouldn't I waste money?
Before you go over the top and spend a small fortune, there's no reason to install a dishwasher or conventional oven.
It's unlike you'll wash up outside other than a few items which can be hand washed in the sink. So it's probably worth upgrading your dishwasher inside and carrying dirty plates etc. into the house.
If you have a grill with multiple cooking areas, keep a section cooler. This allows you to keep cooked food hot until someone wants to eat it. Some grills will have a top-rack that sits above the cooking area yet is warm enough to keep food hot. There's no need to have an oven or microwave.
Pizza ovens are fantastic if you plan to use them regularly. However, they are a hassle to build, use and maintain. So if you want to cook pizza, buy an external pizza oven as they're easier to use and maintain.
Granite may be a material of choice in the home yet is expensive and isn't as hard-wearing as other options. Tile, on the other hand, is cheaper, more versatile and easier to replace.
What should I spend money on?
As with any DIY project, before you build an outdoor kitchen, ensure your budget has a small contingency. You'll likely need this extra to spend on lighting fittings, furniture and essential BBQ tools, for example.
Spend money on the grill and adding services (gas, electric and water). You can always upgrade free-standing units to a permanent design. however, it will be costly to have to rip the whole thing down to install electricity and water for example.
If you don't have the budget for a sink and a fridge, always choose the sink. You can fill it with ice to keep drinks cold yet still be able to wash items down. In time you can add a fridge as budget allows.
Furniture and furnishings
No outdoor kitchen is complete without some furniture, even if it's just a garden dining set. Some will want to incorporate their BBQ space into an entertaining space with loungers and one of the best portable fire pits. All are fantastic ideas, budget allowing, of course.
So it's worth having a clear idea of how you'll use the space before you start to build and design it around that. If you need to split the project into a couple of phrases, that's fine but just make sure the first phrase finishes with a working space.
Build an outdoor kitchen that's perfect for your needs
It's important to start with a strong vision of what your finished outdoor kitchen will look like, how you'll use it and what features it'll have. Even if your budget isn't big enough to build an outdoor kitchen that fulfils this goal.
If your goal is to build an outdoor kitchen that's bigger than your budget, then split the project into phases and aim to complete the project section by section over the next few years. Trust us, it'll be worth the wait!