Is it worth buying a Dolby Atmos soundbar?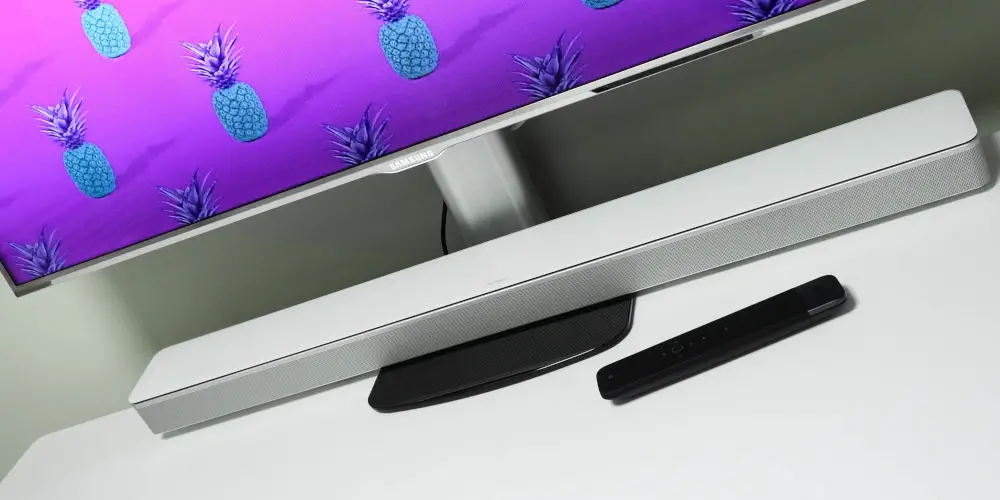 Adding a surround sound system to your living isn't always practical or affordable. And yet the standard speakers in your TV leave much to be desired. After a bit of research, you stumble upon Dolby Atmos. But is it worth buying a Dolby Atmos soundbar?
For most of us casual movie watchers, the idea of building a home cinema is exciting until you do the maths and realise it's an expensive hobby that also requires plenty of space.
You used to need a surround sound system to get an immersive audio experience. However, these are bulky, complex to configure and costly. Thankfully, technology has advanced. A Dolby Atmos-enabled soundbar is an excellent and affordable substitute that creates a similar experience.
Atmos adds a vertical dimension to the audio output. So, sound comes at you from all directions, not just front, left, right, and rear, but also from above.
While nothing will fully replicate the 3D sound of a surround sound system with 5.1 or 7.1 speakers, Dolby Atmos-enabled soundbars will envelop you with cinematic sound. You'll feel like you're in the midst of the action. Plus, plenty of options are available to suit any size or budget.
Is it worth buying a Dolby Atmos soundbar for your living room? Let's find out!
What is Dolby Atmos?
Dolby Atmos expands upon a traditional surround speaker system by adding channels to produce sounds overhead. Filmmakers use the technology when mixing to place sounds and voices throughout the soundfield rather than simply placing them on the left or right.
By using the entire soundfield and not a narrow spectrum, the listener is enveloped by sound even when using a seemingly compact soundbar. Atmos is most noticeable in action sequences, such as bombs going off or planes or helicopters flying overhead.
The majority of premium Atmos soundbars use upward-firing drivers to disperse sound vertically. These sounds reflect off your ceiling, creating the effect of having overhead speakers.
More modestly priced soundbars will offer virtual decoding rather than additional speakers. So while these units offer an improvement over standard soundbars, they aren't as rich as the full Atmos experience.
You'll also find, that the majority of up-to-date Dolby Atmos soundbars include network connectivity, meaning you benefit from streaming features, voice control and firmware updates.
Plus, as a sound format, Dolby Atmos works with all TVs. Pairing a 4K TV with Atmos soundbar will ensure the ultimate movie watching experience at home!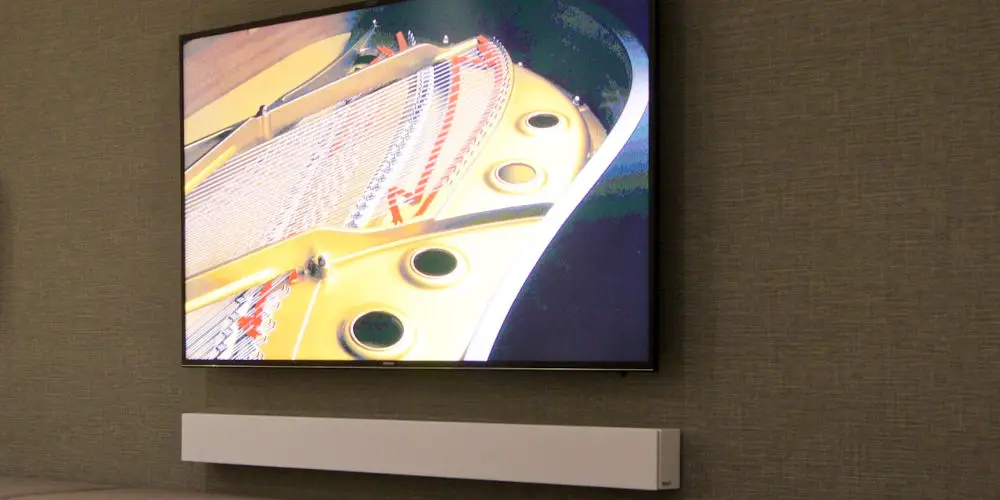 How does Atmos compare to a standard soundbar?
Even after our brief overview of Dolby Atmos, you might want a more detailed comparison with the other available options.
2 Channel soundbar
These soundbars have left and right speakers that faithfully reproduce the audio. Unlike the majority of TVs which have rear speakers, a 2 channel soundbar projects audio towards.
2.1 Channel soundbar
As before, we have a soundbar with left and right speakers. But we also have a subwoofer, hence the second number. These packages sound rich, full and exciting and are ideal for watching TV, movies, sport and listening to music.
Some 2.1 soundbars use technology to enhance the sound that tries to trick the brain into believing it's hearing speakers placed around the room. Many of these DSP modes improve the sound quality but very few recreate the audio like a surround sound system.
3.1 Channel soundbar
We have seen a rise in 3.1 soundbars, which have left, centre and right speakers in the soundbar and come with a separate subwoofer. The centre speaker is used for dialogue, enabling you to hear every spoken word.
5.1 Soundbars
Calling a 5.1 system a soundbar is slightly misleading. The package contains a 3 channel soundbar, subwoofer and two rear speakers. So, it's a real surround sound system and not just your average soundbar.
Thanks to the addition of the rear speakers, you're engulfed in sound that truly brings whatever you're watching to life.
Dolby Atmos
As a step up from 5.1 surround sound, Dolby Atmos creates an even more immersive audio experience by using vertical sound and sound objects. We use the third number to denote the number of overhead speakers, such as 5.1.2. You can use overhead speakers or upward-firing drivers.
By combining the traditional 5.1 surround system with object-based sound, Atmos creates a 3D experience that envelopes you in sound from all angles.
How do Dolby Atmos-enabled soundbars work?
Soundbars are a compact piece of kit, so you might wonder how they fit Atmos in there as well, especially as no soundbar comes with ceiling speakers. There are two methods, either using software or additional speakers.
Soundbars that use fancy software for virtual Atmos sound good but don't compare to the real deal. If you're upgrading up from TV speakers or a cheap soundbar, a unit with virtual Atmos will be a sizeable improvement.
If you have more money to spend, buy an Atmos-enabled soundbar that has built-in upward-firing drivers. These soundbars use additional speakers, typically two, to recreate the full Atmos experience.
They project audio up toward the ceiling, which then falls onto the listening, creating the feeling of overhead sound, albeit without the expense or hassle of installing ceiling speakers.
Are Dolby Atmos-enabled soundbars highly expensive?
It does cost more for a soundbar with Dolby Atmos. There's a superb range of basic soundbars that cost under £100. You'll need to spend a bit more to buy a 2.1 soundbar with a subwoofer, but they are worth the extra cost.
JBL Bar 5.0 Multibeam Soundbar
Costing a little over £200, the JBL Bar 5.0 Multibeam Soundbar is a superb introduction to Atmos. It offers virtual Atmos, MultiBeam Surround Sound, a built-in Chromecast and several inputs. Also, it has a dedicated centre speaker channel to ensure you can always hear the dialogue.
Sony HT-ZF9 3.1 channel soundbar
Offering virtual Atmos and DTS:X, the Sony HT-ZF9 is a 3.1 channel soundbar and subwoofer package that costs around the £500 mark. It has built-in Wi-Fi, several inputs, multiple DSP modes and works with both Amazon Alexa and Google Home. Also, a Chromecast is built-in.
Samsung HW-Q700A 3.1.2ch soundbar
Costing slightly more than the Sony, the Samsung HW-Q700A 3.1.2ch soundbar is a true Dolby Atmos unit. The soundbar has three front-facing speakers and two upward-firing drivers. A subwoofer completes the package, ensuring a rich overall sound.
The HW-Q700A has several inputs including an HDMI eARC, multiple modes such as gaming and cinema, built-in Wi-Fi, and seamlessly integrates with most modern Samsung TVs. You can even painlessly add wireless surround sound speakers for the complete cinema experience.
Bang & Olufsen Beosound Stage Soundbar
At the high-end is the Bang & Olufsen Beosound Stage soundbar, which comes with an eye-watering price of nearly £1,500. So what can we get for the price of a used compact car?
With 11 different drivers and woofers, the Bang & Olufsen Beosound Stage offers rich, satisfying room-filling sound with built-in Dolby Atmos surround sound. Offering an HDMI ARC input and Integrated audio streaming, it's an all-purpose audio system in a tastefully designed unit.
Who offers the best Dolby Atmos content?
Thankfully, there's plenty of Dolby Atmos content available with many streaming services offering a range of titles. On Nexflix's top tier, there are plenty of original titles available in Atmos, including Squid Games, Roma and Uncut Gems.
You can find a generous selection on Disney Plus, including the back catalogue of the Marvel and Star Wars franchises. Similarly, Apple TV+ offers a wide range of Atmos content. Plus, the Apple TV store offers possibly the largest selection of Atmos movies to rent or buy digitally.
There is plenty of Atmos content on Amazon Prime Video (30-day FREE trial) and HBO Max. A good starting point is Amazon's Jack Ryan TV series and HBO's Dune and Wonder Woman 1984.
If you have a Sky Q box with the relevant subscription package, you'll be able to access plenty of Atmos content from the Sky Store and via Sky Cinema. Finally, many PC and Xbox games support Dolby Atmos, too.
You can look out for the Dolby Atmos logo or simply search for a title followed 'Dolby Atmos' if you're unsure. You'll soon discover if your content is available in Dolby Atmos or not.
So, is it worth buying a Dolby Atmos soundbar?
You should have a better understanding of Dolby Atmos and know some examples of soundbars that include this technology. But, Is it worth buying a Dolby Atmos soundbar? Only you can decide.
Consider the number of movies you watch each month and how much space you have. If you indulge in movies regularly but don't have space for a full 5.1 surround sound system, invest in a soundbar and subwoofer package with built-in true Atmos.
If your budget is smaller, stick to a 2.1 soundbar or buy a soundbar with virtual Atmos. As with all technology, the price of the average Atmos soundbar will continue to fall, making them more accessible.