How to build a home cinema that's epic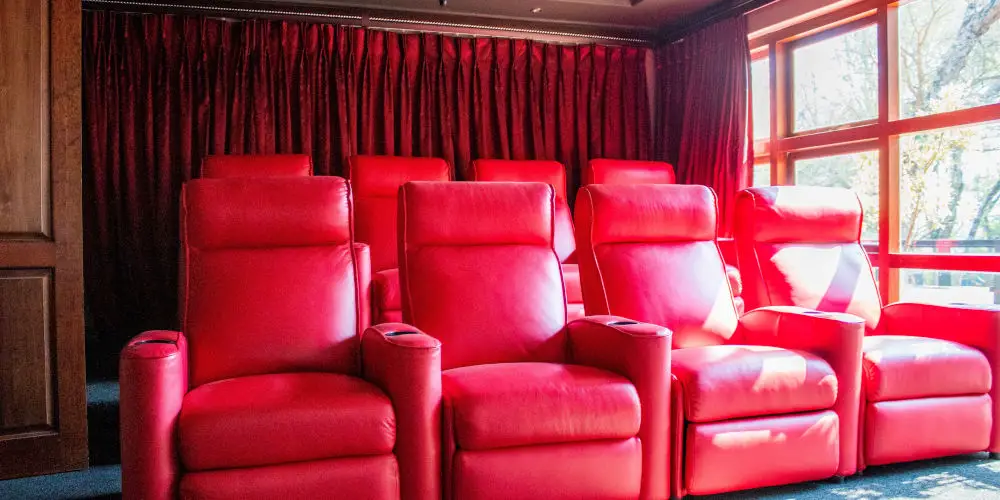 You might dream of converting your spare bedroom into a home cinema or TV snug, ideal for long weekend movie marathons or chilly winter evenings when you crave curling up with a good film. You might wonder how to build a home cinema and if doing so is complicated.
Thankfully, creating a home cinema room is quite straightforward. Well, the basic set up is. You only need four components: a projector, screen, media player, and powered speakers. With a budget of £2,000, you can build a pretty decent cinema system.
Of course, if you have a large budget and want a dedicated space, you can hire a home cinema installer who will build a room within a room to ensure the space is soundproof and acoustically balanced. They will build you a professional-level cinema room with a price tag to match.
Don't worry if you're working with a limited budget, as we'll help you learn how to build a home cinema room that's epic and affordable!
Basic home cinema system
You only need four key components to build a home cinema system. These consist of a display, media player, amplifier, and speakers.
HD Display
There's a big debate amongst home cinema enthusiasts when it comes to displays. People largely fall into one of two main camps.
In one corner, the people who use 70 inches or larger 4k HD TV as their display. The other corner believes using a TV leads to a poor viewing experience, so they will only ever use a projector and screen.
Many combine a TV for day-to-day viewing with a projector and screen for movie watching. Such a set up allows them the best of both worlds.
While it comes down to personal preference, you need to bear in mind that projectors cost money to maintain. Simply put, bulbs aren't cheap. Also, if you're using a projector, you need a sizeable room to get a decent-sized image on the screen.
Both of these issues don't exist with a TV. However, old films do not scale correctly for TV, leaving black strips at the top and bottom of the screen. The result is a less than optimum viewing experience.
Media Player
In addition to a display, you'll need at least a DVD player. Of course, if you also have a Blu-ray collection, you'll need a media player that handles both formats. Another option is to invest in a Kaleidescape unit as your media player.
AV receiver or Amplifier
The typical AV receiver allows us to route audio and visuals while powering the speakers. Think of this bit of kit as the brains.
Before buying any old AV receiver, you need to consider how many inputs you'll need, what display output(s) you require, and whether you need the unit to power speakers. You will also need to decide how powerful you need the amplifier section to be and if you want 5.1 or 7.1 sounds.
Of course, there are many more elements to consider when purchasing an AV receiver. However, these are the basics you should know. You can learn more about AV receivers in our guide to buying your first.
Speakers
What speakers you use in your home cinema room depends on your AV receiver and the room's design. So, invest time listening to a range and choosing the ideal home cinema speakers for your situation.
Say you're using a 5.1 AV receiver. We need 5 speakers and a subwoofer. Typically, in a 5.1 configuration, speakers are placed at the front left and right; and at the back, again on the left and right. The remaining two speakers, the centre and subwoofer, are placed under the screen.
You can purchase individual speakers as well as a 5.1 speaker package. Some shops even sell matching AV receiver and speaker packages, which may be the best option if you're starting your home cinema adventure!
Two types of in-wall speakers are available. They require mounting in the ceiling or wall, and enclosed speakers. You can either screw them into the wall or place them on the top of bookcases/media units. Some even come with stands.
Piecing it together
Finally, we need to wire all the components together, and you've learned how to build a home cinema. Well, the basics! Of course, you might want to add an AV rack to hold all the gear, especially if you decide on using an AV receiver and separate power amplifiers for the speakers.
The room's acoustics
Ideally, you'd build a room within a room, thus creating a soundproof space to enjoy movie watching. However, it's expensive and is a permanent change.
That said, most rooms can benefit from wall or ceiling acoustic treatments, plenty of soft furnishings, and a heavier carpet. These help control reflections and make the room sound better.
It's worth remembering a room will sound different depending on the number of people in it. Furniture layout can also have a massive impact on how a room sounds.
Choosing the ideal seating
Traditionally, you would find rows of leather recliners in the average home cinema room. However, as interior designers have re-imagined the space, the oversized leather seats have gone.
It's not uncommon to see daybeds, sectional sofas, or even love seats in home cinema rooms. Of course, you can still use single leather seating.
Selecting the best layout for your home cinema room
Part of understanding how to build a home cinema is learning the different possible layouts. Consider how to create the best viewing experience and where the optimum position is for key items.
You don't want the speaker to project the sound so that only two seats in the room have good sound. Nor do you want to find that the blinds don't fully darken the room, leaving a weird reflection on the screen.
It's worth trying a system before drilling and screwing components into walls. This way, you can move seats and the speakers as you watch a movie to see if a small change has a huge impact. Next, properly install the components in place.
Again, and it's important to stress this, design your home cinema room around your needs and viewing habits. If only a few of you will use the space, consider using a smaller number of bigger seats interspersed with small tables to create the best possible experience.
Optional extras
Ideally, you would want to have one remote which can control multiple elements at the touch of one button. There are many of these remotes on the market. If you have a home automation system, with a bit of work, you can integrate the two elements.
Small side tables are also a must! Even if they are just for holding remotes. If you don't have somewhere to put drinks and snacks, it could hurt the movie watching experience.
You can add rubble pads to the seat, which will move with the film. It's an exciting extra!
How much will it all cost?
The most often question we hear is what's the cost of adding a home cinema room. Sadly, there's no one correct answer. Your home cinema room size, specs, and features will be different from the next person.
And while you can spend anywhere from £10,000 to £250,000, you're likely able to get a good system with a couple of grand if you're prepared to do most of the work yourself.
It's also worth noting that many buyers are now looking for a property with a TV snug or cinema room, so you should see a good return on your investment if you ever come to sell up.
How to build a home cinema on a budget
Part of learning how to build a home cinema is understanding that you don't need to start with the complete system in a fully isolated room.
You can start with a good second-hand projector and screen from eBay, paired with a second-hand surround sound DVD player. With this system, you'll have the basics covered.
Next, upgrade to an AV receiver and better speakers, and add a Blu-ray player. Once you have a home cinema room, you'll be hooked and always looking for ways to improve it!
Should you have a large budget and a space to match, consider building a bar area and adding a pool table and some vintage arcade games.