Curtains vs Blinds: Which is best for your windows?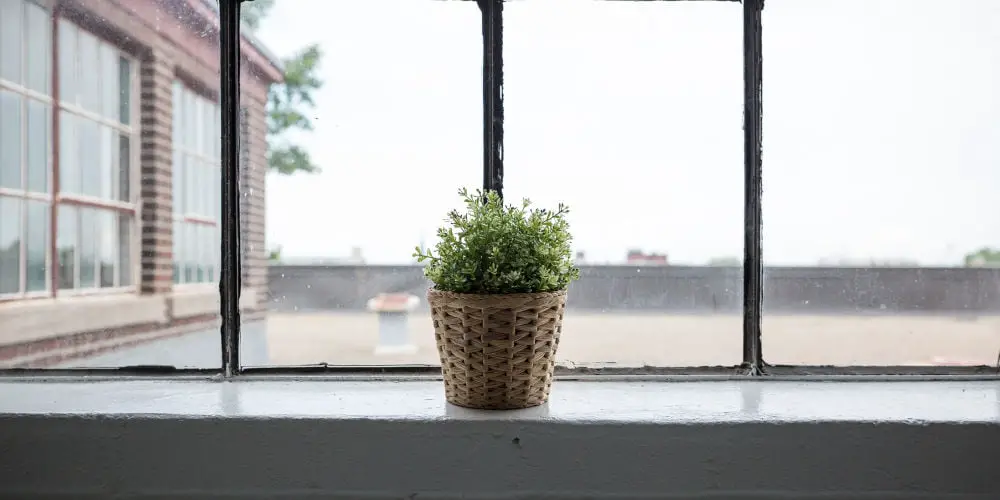 Choosing the right window treatment is like deciding on wall paint. It's not an easy decision. Usually it involves a choice between curtains vs blinds, and depends on your interior style and budget.
Ask a few friends and some will say blinds. Others will lament of their dislike for blinds, and advise you to pick curtains. The choice is even bigger if you're looking at replacement windows and want a completely fresh look.
While neither is necessarily right or wrong, how do you decide when it comes to curtains vs blinds?
The basics of curtains vs blinds
Before discussing the pros and cons of curtains vs blinds, it's worth taking a moment to define each type of window covering.
Curtains are usually made from lightweight fabric and cover just the window.
Drapes are typically made from heavier fabric and extend all the way to the floor.
While it's easy to confuse curtains and drapes, each adds a unique feeling to the room and provides a different amount of coverage.
Blinds come in many varieties:
Venetian blinds: are horizontal slats that allow light control
Vertical blinds: have slats made from stiffened fabric, plastic, or wood hanging from a horizontal track
Roller blinds: fabric panels rolled onto a horizontal pole
Roman blinds: are also fabric, but they gather horizontally when raised
With curtains, blinds and drapes defined, how does each type feel within a room?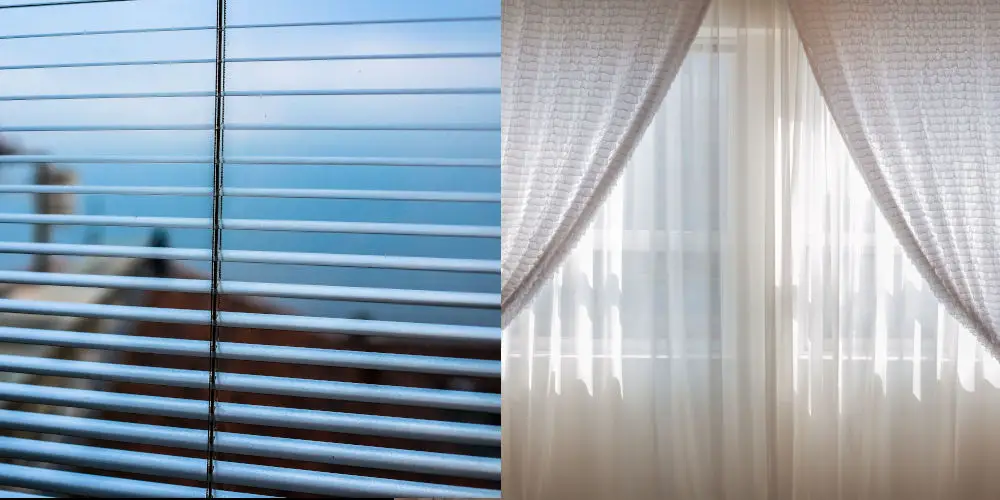 Your interior: curtains vs blinds?
Curtains are more present within a room. We can use them to add depth and create a secondary focal point. We could, however, choose a more neutral tone which softens the room's overall colour pallet.
As curtains are generally thicker than blinds when they are drawn they damp the sound reflections and create a quieter room.
Blinds, just like curtains are available in a range of styles, colours and textures. As blinds sit directly in front of the window, they are less intrusive, and so make the room feel a little larger.
With that said, some like having both in a room. So, for them it's not a choice between curtains vs blinds. The blinds are more practical, while curtains enhance the room's design.
Others prefer to use curtains with net curtains. The net curtains soften the natural light and add privacy.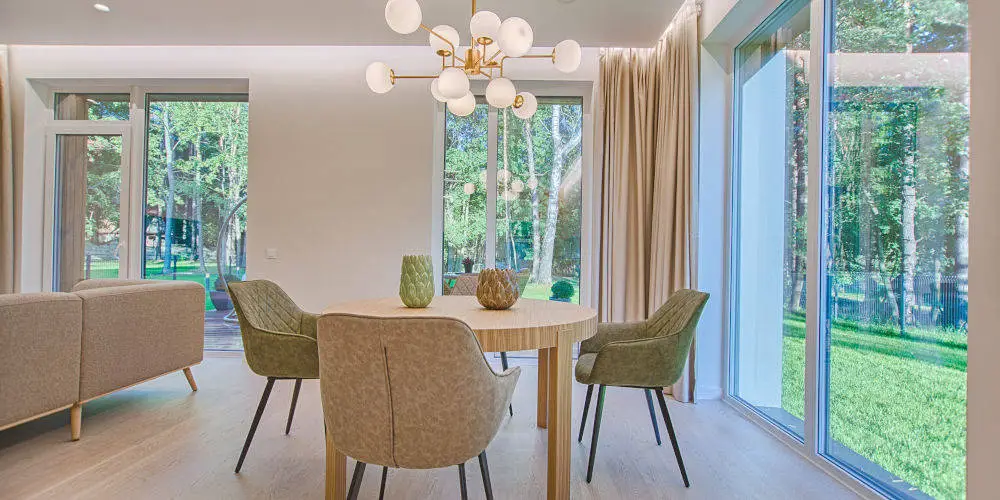 Living areas
Typically curtains would have dressed the windows of our living rooms, giving the space a more relaxed feel. However, with the increased flexibility of blinds, both are fantastic options.
Using curtains in living areas gives the space a more classic look and can be styled to match the interior scheme. They can also be finished with padded pelmets or headings.
Roman blinds, for example, look chic in a living room but still have a classical feel.
In larger, open-plan spaces, wider blinds help to define areas while softening the overall feel. Also, Larger blinds are ideal to automate, allowing you to adjust the amount of light and privacy from the comfort of your seat.
Bathroom
Like the kitchen, blinds offer the most practical solution. However, Roman blinds can offer the best of curtains and blinds without paying for both.
Roman blinds combine the luxuriousness of drapes with the mechanisms of blinds. Also, as fabric curtains don't really work, Roman blinds are available in both classic timber planks and a selection of fabrics.
Consider the look, energy efficiency and privacy when selecting blinds for your bathroom.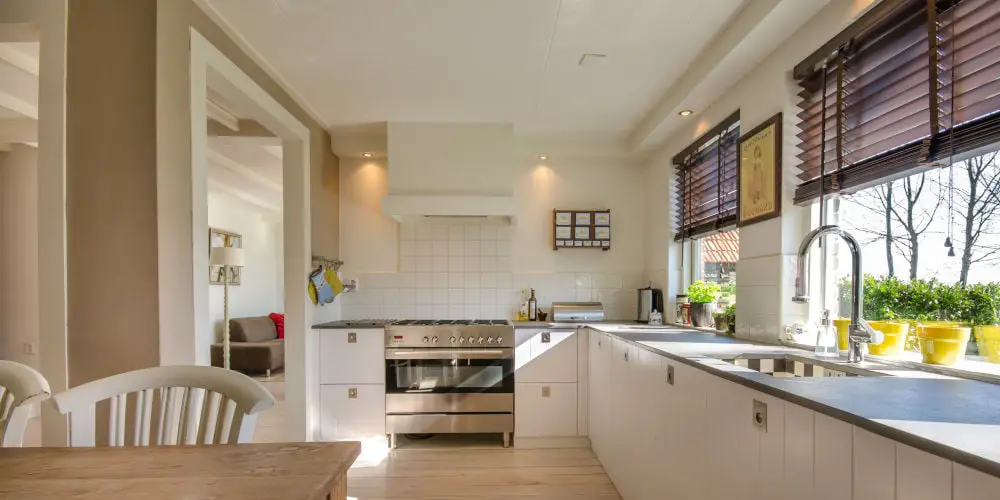 Kitchen
Unlike in living areas, window treatments in a kitchen must stylish and practical. It's for this reason many choose blinds.
They're easier to clean when splashed, easily removed and take seconds to lower/raise. Ideally, you'd like a maintenance-free option and Venetian blinds fit the bill.
Wooden Venetian blinds are popular add natural warmth to your home. Aluminium Venetian Blinds is also a superb choice as they match almost all interior schemes yet have a modern look.
While most prefer to use blinds, using curtains can soften the space and blur the line between outdoors and indoors.
So it's worth considering and experimenting with which of the three options (blinds/curtains/blinds and curtains) works best for your space.
Bedrooms
While typically curtains have been used in the lounge and bedroom, blinds are increasingly popular in these spaces.
If you have kids, curtains are a fantastic way to add personality to their room as well as hiding spots for games of hide and go seek!
Pairing curtains with blackout roller blinds can be an affordable and creative solution for nurseries and also if you work shifts.
In smaller bedrooms, it's best to cheat! Mount blinds a few inches below the ceiling. The window seems larger and so does the room. It will also feel brighter.
Moving blinds up closer to the ceiling also works excellently in any room which you'd like to create the illusion of more space.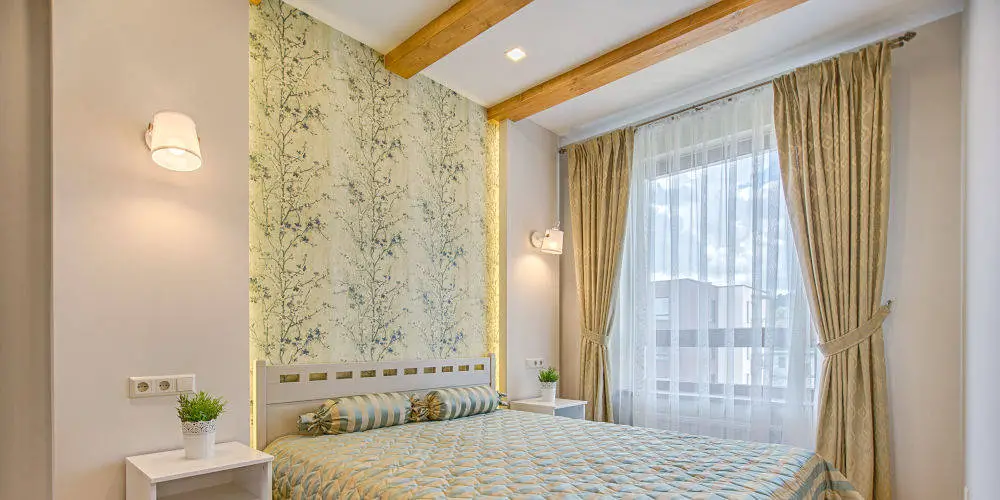 Curtains vs blinds cost
Whether you choose curtains vs blinds, the overall cost depends on a number of factors. These include the quality of material, the colour, and whether they are custom-fit or ready-to-hang.
Basic cotton blend curtains from a local DIY store can cost as little as £20. Whereas curtains made from linen or a luxury fabric can easily cost £1,000.
Blinds also vary massively in price. At your local DIY store, you'll be able to purchase basic single colour roller blinds for £10. If you want made to measure vertical wooden blinds, then the cost can easily increase to £300.
We've purposefully haven't talked about installation. Both curtains and blinds are easy enough for someone with even the most average DIY skills to install.
However, hire a professional and you could be looking at at least £200 on top of the cost of materials. Of course, the more complex the window treatment, the more it'll cost you to have installed.
If you're a smart home nerd like us, you could see costs escalate as you'll need to buy additional items to get the curtains or blinds to work within your smart home system. You might even need to get custom blinds or curtains, adding to the price further.
Light
Sunlight in the day isn't always desirable, especially if you're trying to watch TV or get work done.
With curtains, you have three options to control the light. Open curtains will provide you with maximum sunlight. You could partially close them and soften the sunlight.
And of course, you could close your curtains fully and block most or all of the light out. However, the thickness of the curtains will dictate how well they perform at blocking incoming light.
While roller blinds act in a very similar way, blinds with horizontal or vertical slats are more versatile. You can easily adjust them control the amount of light in a room.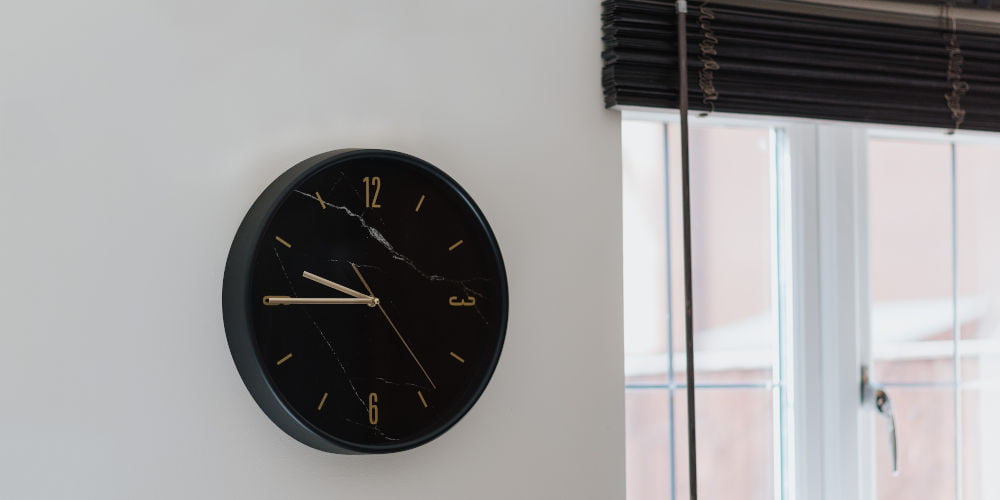 Energy Efficiency
A benefit that curtains have over blinds is that you can add/remove lining. By adding a secondary layer, you can block light, heat or cold out. Lined curtains are perfect for your budget media rooms or for a bedroom if you need to sleep during the day.
Of course, heavier or lined curtains reduce the amount of natural light and require a closer fit to the window frame in order for the maximum benefit.
As you can adjust blinds to the light, they can act as a natural barrier to heat and cold. However, as you can't easily add another layer, blinds aren't as versatile as curtains in this regard.
Blinds safety
When it comes to blinds, here are a few safety tips from RoSPA:
Make single cords as short as possible
Install cord stops that will limit the movement of the cords
Do not place a child's cot, bed, playpen or highchair near a window
Anchor continuous-loop cords to the wall
Remember for the safety of small children, any pull cords should be out of the reach of a child yet long enough to allow full operation.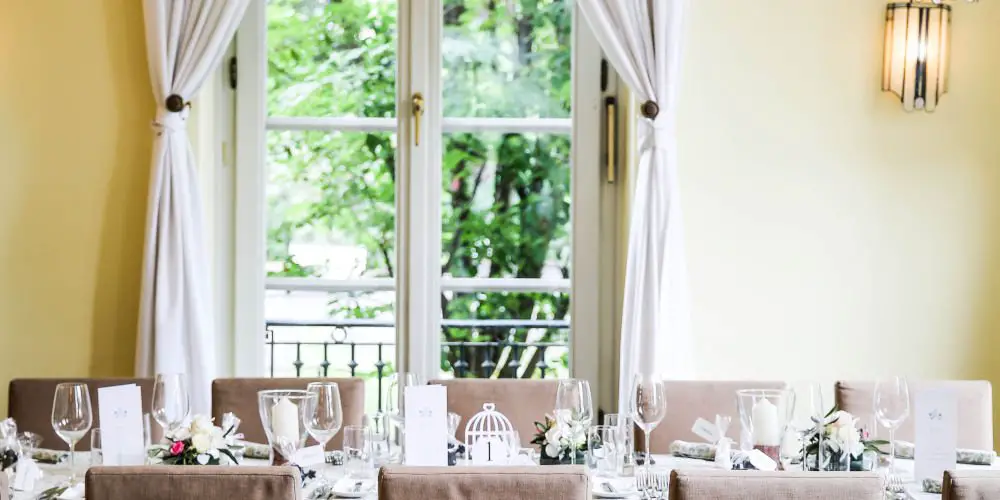 Conclusion: Curtains vs Blinds
In the great debate between Curtains vs Blinds, there's no clear winner. Of course, blinds are more practice for bathrooms and kitchen. Curtains, on the other hand always seem to add a homey depth to living spaces and bedrooms.
Before spending a lot of money, consider the design of the room, your need for privacy and when you typically use the space. For example, There's no point adding heavy curtains in an office which is barely used or thin blinds in a kid bedroom.
Don't let your budget weight too heavily on your decision between curtains vs blinds, and try to keep install costs low with DIY.