De'Longhi Magnifica ESAM 4200.s bean to cup review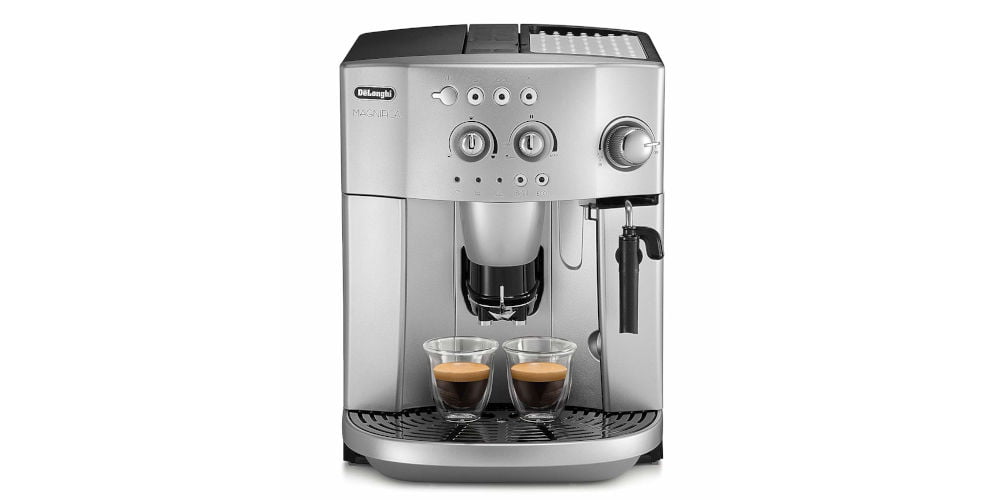 The De'Longhi Magnifica ESAM 4200.s is a reasonably-priced espresso/cappuccino machine. Ideal for any coffee lover who loves the taste and smell of fresh coffee and represents good value for money.
Sporting a sleek yet traditional stainless steel design the Magnifica ESAM 4200.s is perfect for any kitchen or as the centrepiece in a bedroom's coffee/minibar.
With a built-in burr grinder, the De'Longhi Magnifica ESAM 4200.s enables you to control the whole process from bean to cup. Whether you prefer to grind your own beans or use already ground coffee, the results are superb.
Beans pass through an advanced dual boiler system which is calibrated for the ideal temperate and therefore the best taste. Plus there's plenty of options to refine the taste and texture of the coffee.
If you prefer lattes or cappuccinos, then you'll enjoy using the traditional stainless steel milk frothing arm to texture milk. It's easy to operate yet doesn't protrude when not in use.
As one of the best bean to cup coffee machines, the De'Longhi Magnifica ESAM 4200.s scores 9/10
Pros
Simple 1-touch operation
Built-in burr grinder
Professional 15-bar pump pressure
Cons
Difficult to clean
Flimsy drip tray
Knobs feel cheap
Design
Behind the sleek exterior of the De'Longhi Magnifica ESAM 4200.s is a complex machine that's designed for home use. Ideal for the use in the kitchen, home office or even in the bedroom as part of a coffee station.
Measuring 28 cm (w) by 37 cm (d) by 36 cm (h), the unit is fairly compact and weighs a mighty 10 kg. Starting with the rear, which has a power on/off switch and power cable.
Moving onto the top. The left-hand side contains a sealed bean hopper and grinding adjustment control. This keeps any beans fresh and allows you to fine-tune the taste and texture of the end result.
If you prefer to use ground coffee, the centre element of the top contains a separate input funnel. Finally, the top's right-hand side is ideal for storing cups of various sizes for all your coffee needs.
The front panel of the De'Longhi Magnifica ESAM 4200.s contains most of the action. The first thing you'll spot is the controls, which we'll cover in a moment.
Just below the control panel is the infuser door, behind which is the water tank and container for leftover coffee grounds. In front of the door sits the steamer for texturing milk and the coffee spout.
At the bottom is an adjustable cup tray, which can be moved depending on the size of the cup. Under the cup tray is a drip tray, which minimises spills.
Features
One of the most important features of the De'Longhi Magnifica ESAM 4200.s is the grinder. Many users purchase fresh beans as a way of controlling the taste and texture of their coffee.
The bean hopper maintains the freshness and enables grinding on demand. The grinder weighs the exact amount of beans for the type of coffee your after. Beans are then ground using conical steel grinders, which are calibrated for 100% accuracy.
As the grinding process is extremely efficient, only minimal coffee power is left in the grinder. This means only freshly ground beans pass through the De'Longhi Tubeless System into your espresso shot.
Water temperature has a massive impact. Even being a few degrees off can have a massive impact on the coffee's taste and texture. As with the beans, The De'Longhi Thermoblock system regulates both the amount of water and temperate it's heated too.
While an espresso will satisfy some, others will want to add some textured milk. There is an art to texturing milk. However, even a professional will struggle without the right amount of steam in the frothing arm.
Luckily, the De'Longhi Magnifica EASM 4200.s features a nice sized, moveable frothing wand which is controlled by a dedicated knob. It can push it back when you don't need it and pulled into position when required.
Part of keeping any bean to cup coffee machine in optimum shape is cleaning. Luckily, it's simple to clean the EASM 4200.s as there's a cleaning mode and the drip tray is removable and dishwasher safe.
Finally, this De'Longhi Magnifica ESAM 4200.s bean to cup coffee machine comes with a 2-year guarantee.
Set-up
Having removed the De'Longhi Magnifica EASM 4200.s from its packaging, it's worth finding a spot in your kitchen where it'll have some space around it. As it emits steam, it's worth having some room above it as well.
As the EASM 4200.s can get surprisingly hot, it's best to lay the power cable away from the unit and ensure it has enough room. With the unit in position, it's time to start making coffee!
Unless you know the hardness of your water, it's best to use the included kit to test your water. With the water tested, you can customise the unit to perform at it's best for your water type.
It's worth making 4 or 5 espresso shots before drinking any, as this will ensure your De'Longhi Magnifica ESAM 4200.s is performing at it's best. So it's best to fill up the water tank and run the machine a few times.
Now that you're ready to make coffee, you'll want to either fill the hopper with beans or pour in already ground coffee. Next, adjust the taste knob (right control – beans on top). Turning it clockwise increases the number of beans that get ground, and so produces a stronger coffee.
With the taste tweaked, now let's adjust the quantity of coffee using the other centre knob (left control – mug on top). Moving this knob clockwise increases the amount of coffee produced.
Having these two controls easily accessible on the front panel allows you to fine-tune your coffee in real-time to your exacting standards. It's just as easy for the next person to adjust to their preferences.
You should be able to make some superb espressos by this stage using your De'Longhi Magnifica ESAM 4200.s. So it's worth having a go at texturing some milk and creating a latte or cappuccino.
Performance
As with any coffee machine, once you've played with the settings and found the sweet point, your De'Longhi Magnifica ESAM 4200.s will run without too many issues. Of course, it does need cleaning every few weeks and will even prompt you.
The unit will flash when it needs a clean and De'Longhi recommends cleaning it with their sachets. However, we found simply flushing the machine with hot water (i.e. running the cleaning cycle without a sachet), keeps it clean and in top condition.
Ideally, wipe the wand down after each use to keep it clean. Nothing beats wiping the inside down when topping up the water tank. Also, consider cleaning out the hopper and washing it before refilling it.
Similarly, the drip tray is easy to remove and is dishwasher safe. Keeping all elements clean will ensure better coffee and longer life.
It's worth experimenting with different settings on the De'Longhi Magnifica ESAM 4200.s as well as various beans. And maybe, even get some tips from YouTube on how to texture milk and make a perfect cappuccino!
Our only concern with the De'Longhi Magnifica ESAM 4200.s is the knobs. They feel quite flimsy and are made from plastic. It's worth either replacing with metal ones or being careful when using the unit.
Is the De'Longhi Magnifica ESAM 4200.s worth buying?
Overall the De'Longhi Magnifica ESAM 4200.s Bean to Cup is impressive yet affordable. It's easy to use, highly configurable and has many professional features.
After a bit of experimentation, you'll probably never want to visit another coffee shop! You'll be drinking better-tasting coffee for a fraction of the price. And yes, your De'Longhi Magnifica ESAM 4200.s will end up paying for itself!
It does have a few downsides. Firstly, there's a lot of moving parts that need regular cleaning. While this is a pain, having a clean machine does improve the quality of coffee it produces.
The plastic knobs and drip tray both feel somewhat flimsy. So you'll want to be careful when using them. It might be worth researching metal replacement knobs.
Since it comes with a 2-year warranty, you're covered from a range of issues. Just make sure you include instruction when you return your ESAM 4200.s as De'Longhi service, while quick leaves much to be desired.
In terms of the good points found in the De'Longhi Magnifica ESAM 4200.s. The built-in grinder is really good as is the option to use ground coffee. Having both options makes a lot of sense.
The wand is of a good size and is easy to position either out of the way or a suitable angle for texturizing milk. Of course, it's best to wipe down after each use to maintain peak performance.
As mention, the drip tray is a little flimsy, however, it can be moved up or down depending on the cup size. Plus the cup storage on top is a nice feature. 9/10