20 Unbelievably cool DIY under stairs storage ideas!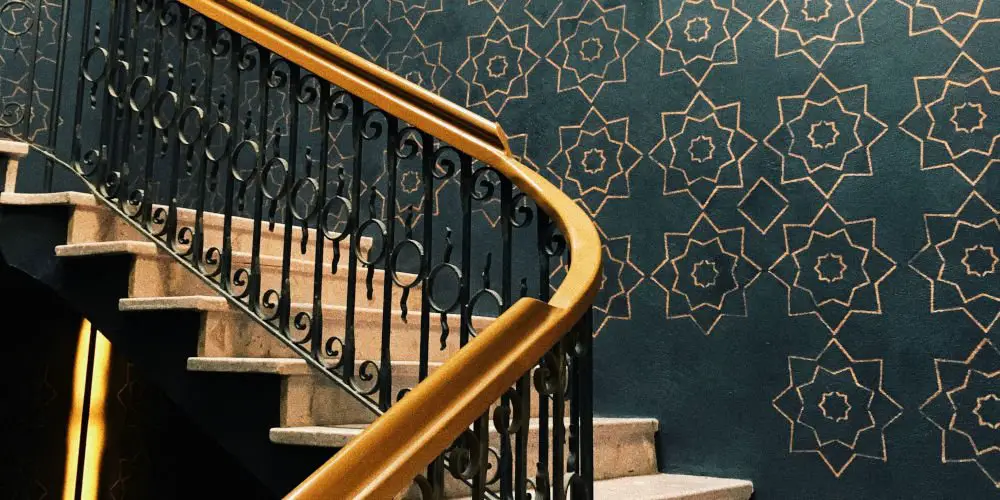 It's easy to leave entryways and hallways unloved. We get it, they're purely functional. The space under the stairs always seems to be continually full of random stuff. Yet with a few DIY under stairs storage ideas, you can transform this often forgotten space into something attractive.
You could turn this space into a library, a bar, or even a secret office. There's plenty of DIY under stairs storage ideas worth imagining and trying. Here are our favourite ideas to transform your space. All are fantastic, weekend DIY projects.
#1 Bookshelves
The space under your staircase is ideal as a mini-library with plenty of shelf space for our collection of books, antiques and family photos. A wall of books is also fantastic soundproofing, making it ideal if you have a large hallway that echos!
#2 Powder room – an cleaver DIY under stairs storage project
You don't actually need a lot of space for a powder room, as long as you fit a toilet and sink, you're fine. Have a browse through these cloakroom ideas to gain some inspiration. Bear in mind that your under stairs loo only needs to be perfect for the occasional use!
Start by creating a plan as this will help you to solidify your ideas. The secret to a well-designed bathroom is work with this angel and try to not force occupants to stoop or stand at an odd angle.
If there's a dramatic slope, then try placing the toilet under the lower part of the ceiling. As people will already be bending down to sit down, they won't notice the lowered ceiling.
Also, consider how you'll plumb the toilet and sink in, as this could be challenging and expensive. Hiring a plumber can make a lot of sense and will be money well spent.
#3 Doghouse
Create a cosy place for your beloved pooch to relax. Be adventurous with the design and include a water bowl, hanging toys and a few places to hide treats. You could even incorporate a door into the design, allowing you to safely shut your dog away while you're out.
#4 Gallery
Building a gallery doesn't have to be expensive or only include well-known artists. There's plenty of places online to buy affordable art and these are easily mixed with family photos or sentimental images/items.
You could mimic the stairs by running narrow shelves in parallel with every other or every 3rd step. Or hang pieces directly onto the wall. Another benefit of building a gallery is you can easily rearrange existing pieces and experiment with new layouts in minutes.
#5 Shoe storage
Here's one of the coolest DIY under stairs storage ideas: shoe storage! As most staircases are usually close to the front door, it makes sense to add some shoe racks. You could even create a boutique style display for your prized shoe collection! Make your friends feel envious!
#6 Install a fish aquarium under the stairs
You might consider this idea to be very Las Vegas but adding a large glass tank filled with colourful fish species is a decorative as well as a fun element inside a room.
Fish are excellent pets as they only require a small amount of care yet will instantly add excitement to a boring area of the house.
#7 Home office
If space is at a premium, and you can't turn a bedroom into a home office, then consider adding one under the stairs. A small PC desk and chair is enough to get started and then build from there.
#8 Wine Cellar
Hiding your wine cellar in the basement is so very last decade! As your pride and joy, your wine collection deserves to be on display!
You can easily repurpose the space under your stairs into a wine storage are that's ideal for correctly maintaining your collection while allowing others to admire it!
As a lover of wine, you'll know that your collection needs to be properly protected and looked after. You'll need to install adequate insulation to maintain a steady temperature and moisture level. This will also help keep your energy costs down as your cooling unit won't need to work so hard.
How you finish the front will be your biggest decision. While glass makes for a stunning display, it can be quite expensive as you'll need to buy insulated glass. You could, however, build standard walls and spend big on an insulated door with a glass panel.
#9 Stretch space with mirrors
Don't let a narrow hallway depress you. Turn the space under the stairs into cupboards and finish them with mirrored doors. Your hallway will now feel larger and brighter instantly!
#10 Just add plants
Liven up even the smallest space with plants. There's plenty of easy to grow houseplants that require minimal care that look fantastic year-round. They're affordable, stylish, and add oxygen!
#11 Under stairs utility/laundry room
Most newer homes include a utility room, usually situated off the kitchen. These can often be large enough to include the basics such as a washing machine, tumble dryer and hanging space, as well as have space for a second fridge-freezer.
If you live in an older house, you might not have a dedicated space for doing laundry. So it's worth converting the unused space under the stairs! It's worth getting a washing machine plumbed in and adding a tumble dryer.
You'll also want a shelf or two for laundry detergents and fabric softeners. Don't forget to leave space for your ironing board to be stored upright and an airer or two. Finish either with folding doors or a curtain to conceal it.
#12 Reading nook
Create casual hang out spot that's ideal for reading by filling the under stairs space with plush pillows and a blanket. You'll never want to leave! This is one of our favourite DIY under stairs storage ideas!
#13 Speakeasy bar
If you love a drink and to entertain, then building a bar under your stairs is a fantastic way to repurpose the space. You can keep it simple and forgo having a sink (known as a dry bar). Although having a sink will mean you can easily rinse out glasses and fill ice trays.
After deciding whether you can manage without a sink or if it's a worthwhile expense, then furnish it to match your interior. You don't need much more than a few shelves, a wine rack and a mini-fridge. You could even add a few stools to complete the look!
#14 Just add a bench
Go completely minimal! Strip everything out and leave only a statement bench and a plant. Let the space inform your decisions and keep subtracting until only the essentials remain.
#15 Playroom
A playroom is another great idea that's only limited by your (and your child's) imagination and possibly your budget! Creating an inspiring space involves little more than a few coats of paint, some cushions and blankets, some string lights and, of course, toys!
As your child grows, so can this space. For example, it could become a homework area or a cool place to relax with friends or a book. Again you're only limited by your imagination.
#16 Bike rack
Finding space to store bikes can be tricky, especially if you want to keep them indoors! You can install wall-mounted storage such as The Endo to either keep your bikes against the wall. However, you could turn them into a bit of a design feature and fit them to the underneath of your stairs.
#17 Cosy corner
Escape from the stresses of the world with a nook under the stairs. Take a few minutes for yourself and relax with a good book or take a nap. Create a space that relaxes you with plush pillows and a blanket.
Start by painting the walls in a calming, neutral hue and use natural materials like wood to create a calming effect. Then add cushions or large pillows. Finish by adding an accent throw which can double as a blanket to curl up under. You could even add a small rug and floor lamp.
#18 DIY under stairs storage ideas for toys
Toys scattered everywhere can drive even the easier going parent mad! Teach your kids to be a little more responsible with some DIY under stairs storage ideas. Our favourite by far is to build large, pull-out storage drawers under the stairs.
As they grow, you can use the drawers to store coats, shoes, gloves and school bags!
#19 Craft or hobby room
If you're surrounded by craft materials or another hobby that entails hoarding a lot of stuff, building a storage system under your stairs will help you to keep everything neat and tidy. If you have space, add a small desk. It'll quickly become your new favourite spot in the house.
#20 Daytime nap nook
As a bonus space, the area under your stairs is ideal for creating a cosy sleeping nook perfect for relaxing and taking a nap during the daytime. Simply place a small bed and a bedside lamp and you'll be dreaming in no time!