What's the best drinks fridge for a cinema room?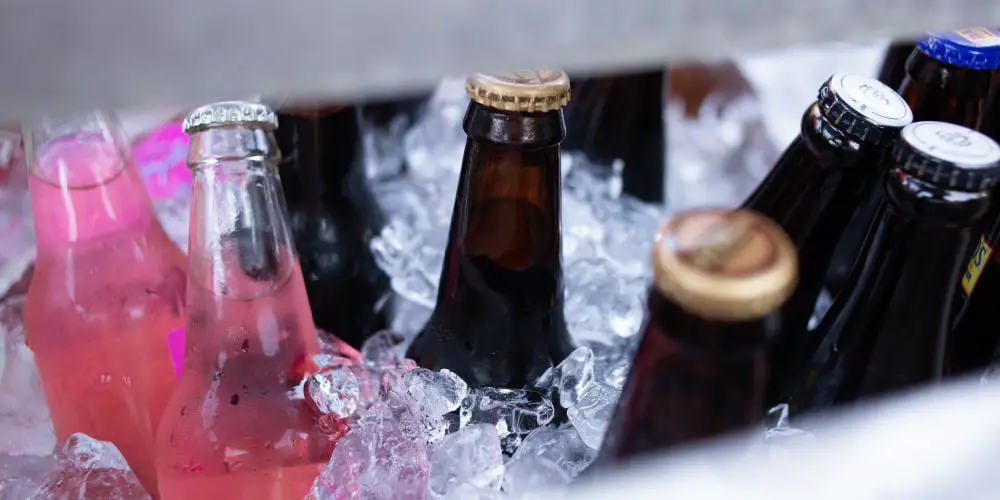 No cinema room is complete without a mini-bar! As let's face it, no one wants to walk more than a couple of steps to grab another drink and more snacks. However, you'll want to best drinks fridge to keep them cold until you fancy opening one.
As no cinema rooms are identical, we've rounded up a collection of the best drinks fridges currently available. No matter how many bottles you want to store within arm's reach, we have at least one option for you!
Once you build a home bar in your cinema room, you'll never want to leave! Unless you need to restock, of course! And as with other keys pieces of home cinema furniture, finding the best fridge to keep your drinks cool is critical to making it feel cosy!
Subcold Super50 LED mini fridge
Sporting a contemporary design, the Subcold Super50 LED mini fridge is an advanced compressor driven unit. It's fully automatic and features an adjustable thermostat with a wide temperature range of 0-10 °C, making it ideal for storing all of your favourite wines, beers, soft drinks, milk and more!
As a compact unit, it measures 44 cm (w) by 50 cm (d) by 52 cm (h) and offers an internal storage volume of 46L. You can easily stock it with up to 55 standard 330ml cans. The 2 removable internal chrome wire shelves for storage of all your assorted bottles, cans, wine, milk, snacks etc.
A built-in security lock and key ensures whatever you're storing is safe. It is Energy A+ class rated for efficient and reliable cooling yet only produces minimal noise (42 dB), making it ideal for use in a home cinema.
Cookology CBC70BK under counter drinks fridge
The Cookology CBC70BK under counter drinks fridge features a double glazed glass door for strong durable and a stylish look. Easily adjust the fridge's temperature between 0 – 10°c.
Inside, the 3 shelves allow you to store different sized bottles such as fruit ciders, various bottles or cans and of course, chilled wine. With a capacity of 70 litters, there's plenty of space to keep your favourite drinks chilled.
Ideal for fitting under or on top of a counter, thanks to its adjustable feet and compact size of 69 cm (h) by 43 cm (w) by 47 cm (d).
Husky HUS-HM4-HU Stella Artois drinks cooler
Husky produces a range of branded mini drinks fridges that perfect for use around the home and garden. As a compact and portable unit, the Husky HUS-HM4-HU Stella Artois drinks cooler measures 43 cm (w) by 46 cm (d) by 51 cm (h), so it ideal for under the counter or on top of it.
Despite its compact design, it's capable of storing up to 40 x 440ml cans, making them the ideal companion for entertaining at home. Featuring the iconic Stella Artois branding on a silver background, you can enjoy cold drinks while watching sports or enjoying a movie.
The temperature can be controlled using an adjustable 5 setting thermostat and has an A+ energy rating with a double glazed door for extra energy efficiency. The double glazed door offers tempting visibility to the contents inside.
Barcool Bar30 LED mini-fridge
If you don't care for a glass front, then the Barcool Bar30 LED mini-fridge is probably ideal for you. Designed using with Advanced Heat Pipe Cooling Technology and with a built-in Barcool Temperature range of 5 – 10°c controlled using an adjustable thermostat.
Constructed from high-density foam, the unit measures 38 cm (w) by 44 cm (d) by 46cm (d) and offers a capacity of 25 Litre. Rated A+ Energy Consumption and completely silent, the Barcool Bar30 is ideal for most locations especially the home cinema.
Inside two removable and adjustable tempered glass shelves, allow you to store wine, beer, cans, snacks and much more! An internal LED light makes it easy to locate items. A security lock and key ensure the contents are always safe.
As a table-top mini-refrigerator, its compact design means it easily fits in. Thanks to its reversible door, it's even more flexible.
Inventor wine cooler 43L
Featuring a robust, stylish and innovative design, the Inventor Wine Cooler 43L is superb if you wish to store a variety of drinks at the correct temperature. There's a shelf for 5 standard size wine bottles as well as a basket for various bottles and cans.
The modern design is complete with a UV glass door which offers solar radiation protection. A mechanical temperature control offers a range of 2 – 21ºc. Rated A+ Energy Class and with low base noise of 42 dB, it's ideal for multiple uses including within a cinema room.
The reversible door allows you to place this mini-fridge wherever is best. Measuring only at 48 cm (w) by 44 cm (d) cm 49 cm (h), yet with a storing capacity of 43L, you can store up to 14 bottles.
Kalamera KR-12A2E 12 bottle wine fridge
The ultra-modern Kalamera KR-12A2E Wine fridge holds up to 12 standard 750ml wine bottles. With an easy to read LED display, the glass door and internal light allow you to view your chilled drinks without having to open the door.
Using thermoelectric cooling technology for quiet operation and vibration-free storage for well-rested wine, the compact freestanding design is ideal for small spaces. The temperature range can be easily adjusted between 10 – 18°c and uses an easy to read digital display.
Measuring 34 cm (w) by 50 cm (d) by 47 cm (h), the heavy-duty glass door is insulated to help maintain superior interior temperature! Inside is split into two zones, one for red wine, the other for white wines. Bottles sit on removable metal storage shelves ensuring they are safe.
Marshall MF-3.2 mini fridge
Based on the iconic Marshall stack, this unique designed mini-fridge is instantly recognisable! Stick the Marshall MF-3.2 mini-fridge in your den, cinema room or snug and relive your youthful rock band days!
Measuring 45 cm (w) by 47 cm (d) by 79 cm (h), this mini-fridge offers a capacity of 92 Litres and comfortably fits up to 40 cans and 28 bottles. Easily adjust the fridge's temperature from 0 – 10°c using the knob inside.
The matte black finish inside features transparent removable trays with an additional metal holder to fit 2-litre bottles and regular size cans allowing you to customise the space. The reversible door means you can place the unit in tight spaces, and the adjustable front leg is a nice touch.
Baridi 80L drinks fridge
The Baridi 80L drinks fridge uses direct compressor cooling technology to give a temperature range between 3-10°c. While the Built-in thermostat, allows the user to set the temperature to their preference.
Measuring 47 cm (w) by 44 cm (d) by 84 cm (h), it's very quiet with a noise level of 42dB, thanks to it's A+ Energy Efficiency rating. It's fitted with an automatic defrost feature making it easy to use. Fitted with a reversible glass door, it easily slots to any suitable space.
Behind the double-glazed door is plenty of flexible space which can be divided thanks to the included three strong removable wire rack shelves. The internal LED light allows you to view the contents without having to open the door.
bar@drinkstuff Frostbite mini fridge
Keep your drinks chilled with the bar@drinkstuff Frostbite Mini Fridge. This counter-top mini fridge offers an easily adjustable thermostat with a temperature range of 5 – 18ºc. You can give your drinks a light cooling, or a full chill.
Offering a capacity of 49 litres and holding up to 45 drinks cans (standard 330ml size). The double-glazed glass-fronted door ensures the temperate remains consistent. An internal LED light allows you to view the fridge's contents without needing to open the unit.
Primarily designed to hold cans and snacks, remove the shelf to create enough space for wine bottles to stand up. As an A+ energy rated device, the base noise level is only 40 dB. It measures 44 cm (w) by 47 cm (d) by 52 cm (h).
Cater-Cool double sliding door bottle cooler
If you're serious about keeping your drinks cool, then you'll want to consider the Cater-Cool Double Sliding Door Bottle Cooler. It offers a massive 180 bottle capacity, with bottles sitting on adjustable metal wire shelves. It measures 90 cm (w) by 52 cm (d) by 90 cm (h).
Behind the lockable sliding doors, bottles are cooled using a fan-assisted cooling system. They are illuminated by LED lighting, allowing you to view your collection without needing to open the doors.
Featuring a sturdy design and low energy consumption, this drinks fridge would look fantastic if you have a large media/games room with full mini-bar, especially as it can be quite noisy.
And the best drinks fridge for your cinema room is…?
Having reviewed some of the drinks fridges available, it's down to you to decide which is the best drinks fridge based on your budget and aesthetics.
Our favourites include the futuristic-looking Kalamera KR-12A2E 12 bottle wine fridge and the Marshall MF-3.2 mini-fridge, as both have plenty of space, tons of attitude and are near silent!
We also like the Inventor wine cooler 43L for its flexible design and compact size. It would also look fantastic in any cinema room, ensuring you don't need to go far to grab another drink or more snacks.