Dualit bean to go coffee machine review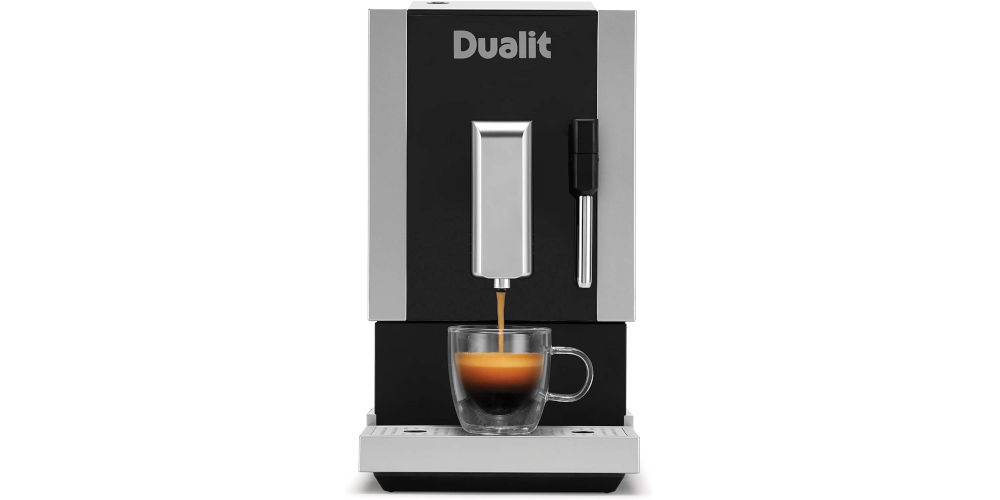 Make superb coffee at the touch of a button with Dualit Bean To Go Coffee Machine. As an automatic machine, simply add beans and water to the machine and moments later enjoy sipping a fresh coffee! It's a stylish, compact unit that looks superb on most kitchen worktops!
Beans sit in a sealed hopper until they are required when the exact amount of beans for that brew past through the integrated grinder that features five adjustable grind settings and a dose control.
While the beans are being ground, water from the 1.2-litre tank flows into the thermobloc heating system, ensuring the perfect water temperature. Before brewing, grinds pass through a small amount of hot water, releasing the full aroma of the coffee before extraction.
Thanks to a super quick start-up time, you can sipping on an espresso, lungo or double shot in record time! It even has an ECO mode to save as much energy as possible.
If you prefer lattes or cappuccinos or even hot chocolates, then use the steam wand to texturize milk. Simply, place the wand into the milk and let the machine do the rest for you. There's no guesswork involved!
Rather than rows of controls, Dualit Bean To Go Coffee Machine uses a few touch buttons, which can be operated with wet hands. At the heart of the unit is an adjustable nozzle, allowing you to use different height cups with ease.
As a clean coffee machine produces a better brew, Dualit has made this unit easy to clean and maintain. Several parts are easily removed including the drip tray, grind container and brew unit. Plus the unit has auto-flush and descale functions to keep it in top condition.
The Dualit Bean To Go Coffee Machine is one of the best bean-to-cup coffee makers available. 8/10
Pros
Easy to use control panel
Speed mode for quick coffee on the run!
Auto-flush and descale functions
Cons
Steep learning curve
Water tank is at rear
Design
What makes the Dualit Bean To Go Coffee Machine ideal for the kitchen or a bedroom coffee station is the compact design. It's a mere 18 cm wide by 42 cm deep by 34 cm high. The slender footprint, combined with its sleek, modern styling allows it to slot into most kitchens effortlessly.
Another great feature is many parts are easy to remove for cleaning, ensuring you can keep your Dualit Bean To Go Coffee Machine performing at it's best.
Starting with the top, a 1.2-litre water tank sits at the back and is removed by pulling it up. The middle section is a sealed bean hopper, which keeps your coffee beans fresh and also sits under a coloured panel. These panels maintain a sleek, seamlessly look.
Finally, there is a control panel, which uses covered buttons, allowing you to operate the machine with wet hands. These buttons include power on/off, double shot option, steam, hot water, espresso option and Lungo option.
Moving to the front of the unit and the sleek look continues. In the centre is an adjustable coffee nozzle, allowing you to tailor the height to the cup. To the right of this sits a steam wand, which is protected by a metal cover, keeping it clean when not in use.
There are two drip trays on the front. The first sits, behind an easy to remove door. Just above this drip tray, is a coffee ground collector, where the grinds end up after being used. The second drip tray is aligned with the nozzle and is complete with a metal grille.
Finally, a service door is located on the left-hand side and behind it sits an infuser, which as with other parts, is easily removed.
Features
As an automatic coffee maker, you can be forgiven for thinking the Dualit Bean To Go Coffee Machine looks basic. However, beneath the chic exterior is a powerful machine that's able to produce a variety of drink.
A benefit of using a bean-to-cup machine is full control over the result. The built-in coffee grinder offers five different grind settings and dose control, allowing you to tailor the coffee to your preference.
The grinds past through pre-brewing infusion, which extracts the full flavour and aroma of the beans for an authentic coffee taste. At this point, water from the tank is heated in the fast, powerful thermobloc heating system, ensuring your coffee is the ideal temperature for drinking.
If this sounds like you'll be waiting a long time for coffee, the Dualit Bean To Go Coffee Machine takes only 40 seconds to start. It offers dedicated 'one touch' buttons for making espresso, lungo or a double shot of coffee. All of this allows you to drink excellent coffee on demand.
As creating hot and frothed milk is an art form that's not easy to master, Dualit has automated the process. Simply, place the steam wand into the milk and the machine will do the rest for you. The steam wand also dispenses hot water, making it easy to produce teas and hot chocolates.
As a clean coffee machine is one that performs best, Dualit has included several useful cleaning features. These include an auto-flush function which cleans the machine before every use and descale functions. Both will help prolong the life of your Bean to Go machine.
The built-in ECO Mode saves power by decreasing the automatic shut-off time and cuts illumination. Finally, the Dualit Bean To Go Coffee Machine comes with a 2-year guarantee.
Set-up
Getting your Dualit Bean To Go Coffee Machine set-up takes a bit of time but is well worth the effort. First, you'll want to position the unit on a flat surface, away from heat, water and not in a cupboard.
A critical step is configuring the machine for your water's hardness. Three levels of water hardness are available. Dualit recommends using an Oscar 150 Water Softening Bag in medium and hard water areas.
You then want to check the grounds container is in place by removing the internal drip tray. Next, replace the panel ensuring the front drip tray is flush. You'll then want to remove the service door and the infuser. Risen the infuser with warm water and dry. Replace both.
It's then time to fill the water tank with fresh tap water to the maximum marker. Next, remove the bean hopper cover and fill it with coffee beans. Finally, remove the steam wand cover, rinse and leave to dry, then clip it back in place.
With your Dualit Bean To Go Coffee Machine plugged in, place a mug under the coffee nozzle and press the power button. The machine will release some water via the nozzle. Next, you should run the manual rinse cycle to ensure the unit is flushed clean before use.
As your unit is now ready to use, you can experiment with making a coffee. It's worth pointing out that the first few drinks may not match your preference. So you'll need to adjust the grind size and dosage amount.
The well-written manual includes a range of recipes, allowing you to try a variety of drinks with your new Dualit Bean To Go Coffee Machine.
Performance
What makes the Dualit Bean To Go Coffee Machine a pleasure to use is its simplicity. Effortlessly produce a variety of drinks thanks to the basic controls, which allow you to pour a single or double shot espresso or just hot water. These are ideal for creating espressos, Americanos and teas.
As the steam wand feature is also automated, there's no guesswork in texturizing milk. You can easily create the perfect frothed milk for lattes, flat whites, cappuccinos and hot chocolates. Plus as the steam wand also dispenses hot water, keeping it clean is painless!
The control panel will indicate when the unit is running low on bean and or water. These warnings are super helpful as you don't need to guess levels or need to keep checking them. That said, ideally, you'd replace the water daily for the best-tasting coffee.
One of the secrets to great-tasting coffee is a clean machine. Thankfully it's painlessly simple to clean the Dualit Bean To Go Coffee Machine. Many parts are easily removed for cleaning including the two drip trays, grind collector and infuser. The unit can be wiped down with a cloth.
An auto-flush feature takes a few seconds and ensures the machine is clean. Perfect for cleaning the unit before and after making coffee, ensuring any leftover grinds are removed, and the system is clean.
A descale function takes about 20 minutes and will remove any unwanted mineral traces. It's worth running this program every few months. A warning light will display when the unit requires descaling.
Is the Dualit Bean to Go Coffee Machine worth buying?
As a mid-priced bean-to-cup coffee machine, the sleek Dualit Bean To Go Coffee Machine is feature-packed and effortlessly produces a variety of hot drink.
The coffee connoisseur may struggle to use the unit as adjustable settings only offer a narrow range. For example, there are only five grind settings, and the water temperature is pre-set.
Some will dislike having a control panel with LEDs over knobs, but this is down to personal preference. There is no display, so you're relevant on a single row of buttons with LEDs. Switching between the two modes involves guesswork as the symbols stay the same.
As you can't save settings, you'll need to remember your preferences and check settings before making coffee. And while it's quick to produce coffee, it does lack a double cup feature.
Putting these to one side, using the Dualit Bean To Go Coffee Machine is easy as every step in the process is automated. Even making a range of texturized milk is effortless as the machine takes care of it. Of course, it does take a little bit of experimentation to find the ideal settings for you.
What is impressive about the Dualit Bean To Go Coffee Machine is the warning lights. Many units rely on the user checking the level of beans and water, and refilling as and when. Thankfully, Dualit has included warning LEDs which indicate when either is running low, making refilling, painless.
Finally, cleaning and maintaining the unit is easy. It wipes down with ease, has two cleaning cycles and many removable parts. That said, none are dishwasher safe.
Overall, if you're looking for an affordable bean to cup coffee machine, that's easy to use and creates a range of hot drinks, then consider buying the Dualit Bean To Go Coffee Machine. 8/10