15 Fast growing trees for instant garden privacy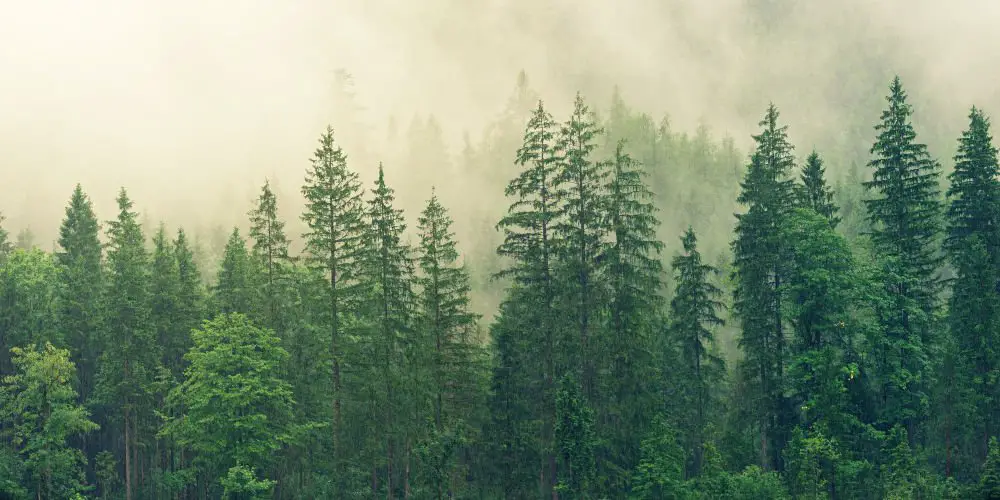 Regardless of the state of your garden, fast growing trees are natures secret to creating a blooming space while increasing your privacy outdoors. Trees are fantastic for many reasons.
Whether you're starting from dirt, hoping to add instant colour or trying to create more privacy, fast growing trees could be the answer.
As many tree varieties grow several feet per year, there's a wide selection to choose from, allowing you to create an outdoors that's as impressive as your interior.
Plus, with the right conditions, regular watering and pruning, you can easily accelerate this growth and create a garden you'll love to relax in during the long summer days.
Tree buying basics
Before you rush out and buy any old fast growing trees, it's worth considering the following:
Height
Are planning to plant under a telephone wire or power line? Or does the potential spot have unlimited headroom?
Canopy
How wide will the tree grow? Will it spill over into your neighbour's garden? When grown, will it cast a lot of shade?
Growing space
Your tree might be tiny today, but it will grow and some can spread their roots and branches far and wide. Could roots damage walls or patios? Will falling branches damage buildings or cars?
Your environment
Your soil, sun coverage and water will differ depending on where you live. So it's worth researching if your selected tree can thrive in your garden's conditions.
Care
Every plant and fast growing tree will need some care from time to time. You'll want to consider how much time it will take to maintain each tree. Even if you have one of the most powerful hedge trimmers, you still need set aside time each week to care for them.
Reason for planting
Are you planting fast growing trees for more privacy? Year-round colour? A hub for wildlife?
Should you plant native species?
The Woodland Trust recommends planting native fast growing trees. These trees are always a good bet as they are accustomed to our weather and soil. Trees from colder climates are also good options.
Ecosystem benefits
By planting native trees, your local ecosystem benefits. They provide protection and shelter for many birds and mammals. Their nuts, seeds, and fruits are essential food sources for British wildlife.
Low maintenance
Once rooted and growing, native trees require little maintenance, special treatment and less water.
Cuts CO2
Certain native trees help to combat climate change by effectively storing carbon dioxide.
Reduces flooding impact
If you live in an area prone to flooding, then by adding trees, you can protect soil from erosion, reduce surface run-off and slows floodwaters. Trees are excellent as the first line of defence in a home flood protection plan.
Eucalyptus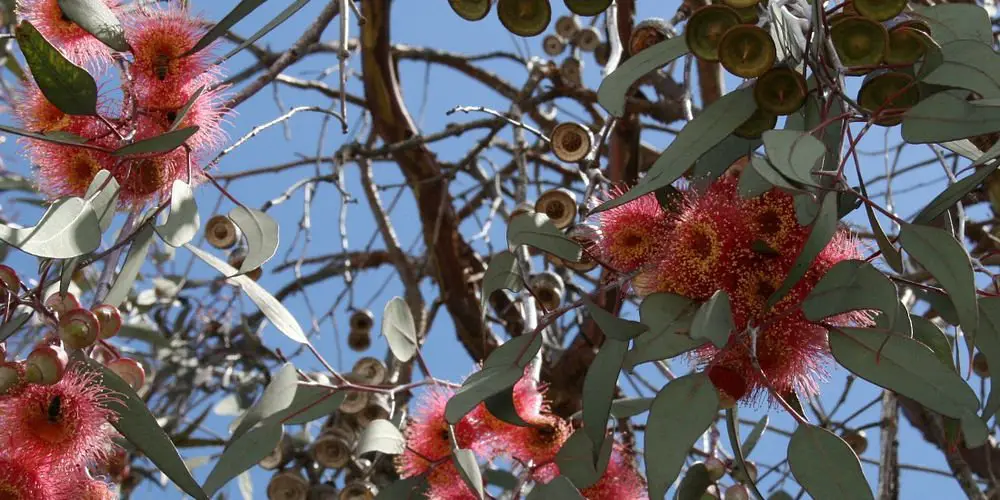 Latin name: Eucalyptus gunnii
Flowering time: Mid-summer to mid-autumn
Planting time: Spring to summer
Height and spread: Up to 30 m (100 ft)
Annual growth rate: 2 m (6 ft)
Eucalyptus is a fast-growing evergreen tree, which works well both as large and small trees. You can use pruning methods such as coppicing or pollarding to keep the Eucalyptus tree small.
It has attractive bark and aromatic foliage. In summer it produces clusters of small, white, yellow or red flowers.
As most varieties available in the UK are hardy, Eucalyptus can withstand our weather and is fairly easy to maintain. While it grows in most soil types, slightly acidic soil with full sun and shelter works the best.
Weeping Willow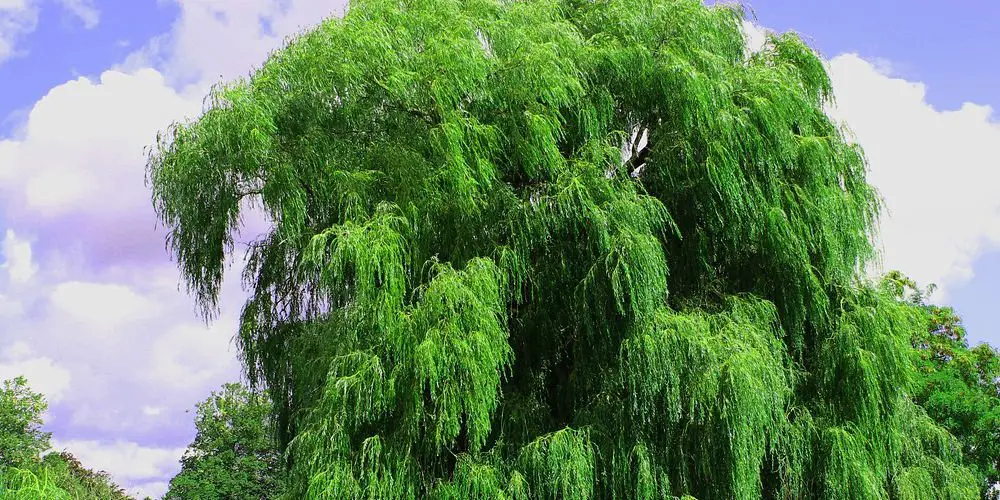 Latin name: Salix babylonica
Flowering time: Spring
Planting time: Early spring or autumn
Height and spread: Up to 25 m (82 ft)
Annual growth rate: 1 m (3 ft)
As one of the most quintessentially English plants, Weeping Willows have an incredibly graceful appearance. These trees love to be in moist conditions and are ideal in areas near water.
As a fast growing tree, Salix Babylonica can be cut back hard, especially in the first two seasons. The catkins appear with the young silky leaves in early spring.
Despite its wispy appearance, a Salix Babylonica is a very tough tree indeed! It will withstand sub-zero temperatures in all of the UK.
Lombardy Poplar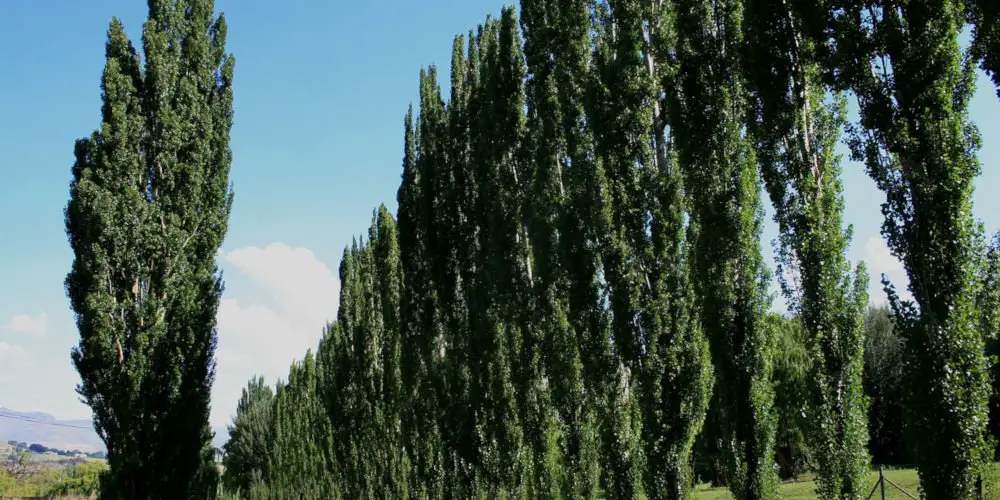 Latin name: Populus nigra 'Italica'
Flowering time: Spring
Planting time: Autumn/Winter
Height and spread: Up to 30m (100 ft)
Annual growth rate: 0.6 m (2 ft)
First popularised in the late 18th century at Lake Como in Italy, Lombardy poplar is widely used fast growing tree.
Capable of growing up to 3 feet in one year, Lombardy poplar grows best in well-drained loam, clay or sandy soil. Populus nigra 'Italica' is often planted in rows for a windbreak. Also, they are commonly used to line driveways.
They require no pruning to keep looking superbly neat and tidy. As they quickly grow, it's best to avoid planting near buildings. Their vigorous roots easily spread and have the potential to become a nuisance.
Silver Birch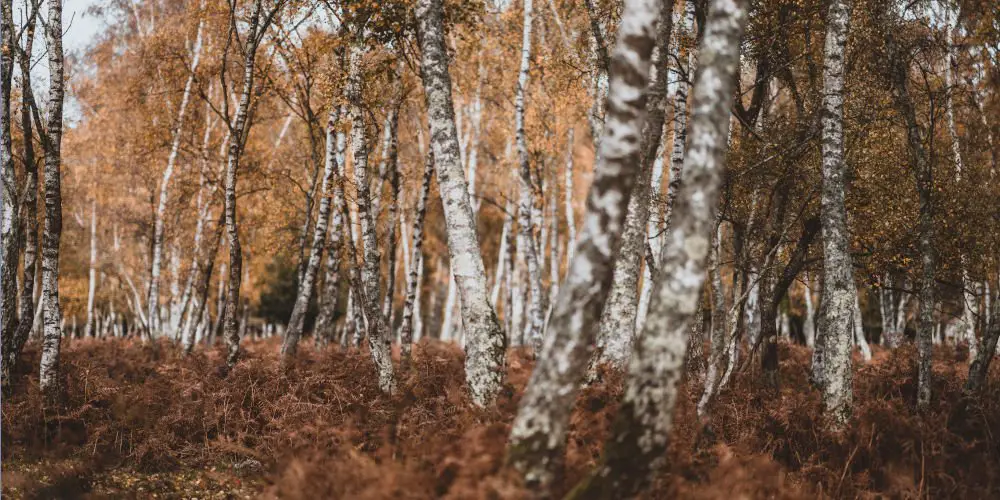 Latin name: Betula pendula
Flowering time: Spring
Planting time: Autumn/Winter
Height and spread: Up to 25 m (82 ft)
Annual growth rate: 0.4 m (1.25 ft)
Known as the Lady of the Woods, the Silver Birch is a slender tree with supple, leafy stems hanging from its main branches that flutter and sway in the breeze.
The bark of the tree is white when it is young. As it matures, dark ridges appear, especially at the base. Betula pendula catkins are yellow-green, appearing in early spring and are a valuable source of pollen for insects coming out of early hibernation.
Birch trees have a relativity short existence with an average life span of 80 years.
Pruning birch should also be kept to a minimum as it tends to spoil their shape. So, just remove ill placed and broken or damaged branches in late autumn.
Golden False Acacia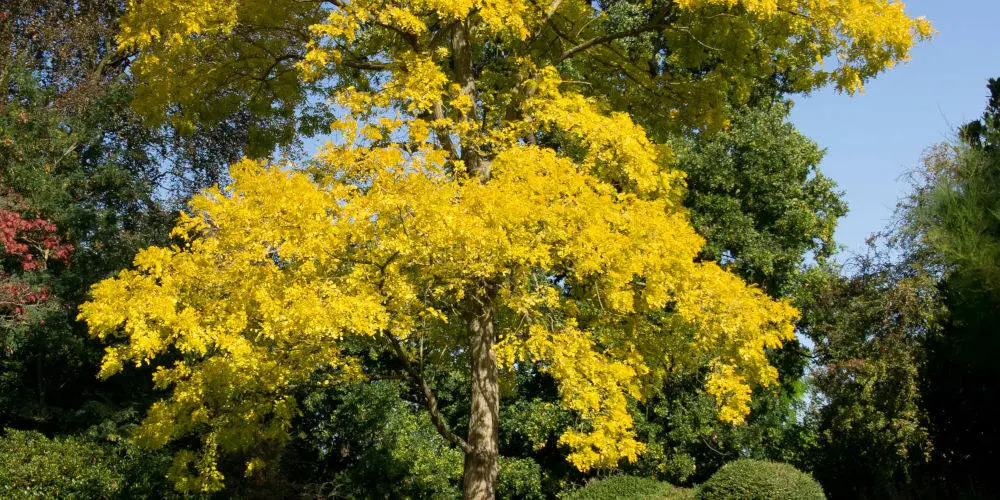 Latin name: Robinia pseudoacacia 'Frisia'
Flowering time: Late spring
Planting time: Autumn
Height and spread: 15 m (50 ft)
Annual growth rate: 0.3 m (1 ft)
Golden False Acacia is a popular yellow-leaved tree, widely grown in many gardens and public spaces. However, in recent years, it has suffered from a range of problems.
It a fast growing tree when young and has a relatively narrow spread. Branches protrude later, so the crown becomes oval to round. The greyish brown bark is rough and deeply grooved. The leaves emerge with an orange-yellow and develop into a and deep golden yellow by the autumn.
Robinia pseudoacacia 'Frisia' keeps its leaves long into the autumn. It rarely produces flowers and fruit. Grows well in light, but should preferably be planted in a sheltered site.
Alder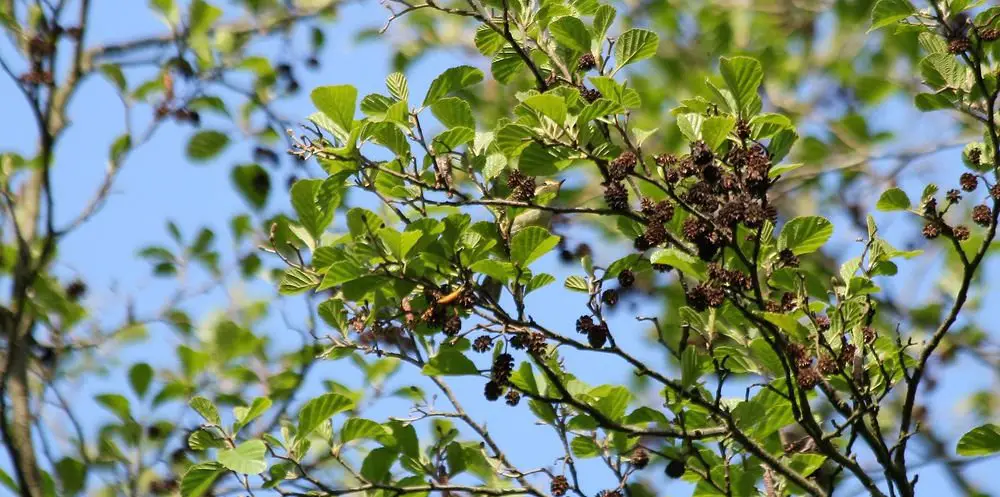 Latin name: Alnus glutinosa
Flowering time: Spring
Planting time: Autumn
Height and spread: Up to 25 m (82 ft)
Annual growth rate: 0.45 m (1.5 ft)
Alder is native to almost the whole of continental Europe. It has the ability to thrive in poor, wet conditions. So is widely used in land reclamation.
Alnus glutinosa improves the fertility of the soil where it grows. As a pioneer species, it helps provide additional nitrogen for the successional species which follow.
Conical in shape, mature Alder trees can reach a height of around 20m. As fast growing trees goes, this variety has a relatively short life of around 60 years.
Rowan / Mountain Ash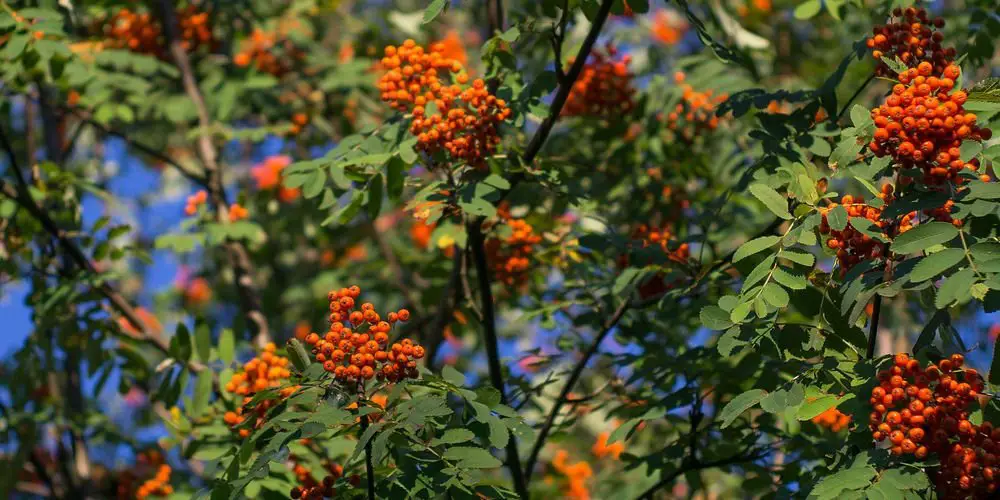 Latin name: Sorbus aucuparia
Flowering time: Late summer
Planting time: Autumn
Height and spread: 15 m (50 ft)
Annual growth rate: 0.3 m (1 ft)
Rowan is also known as Mountain Ash, due to the fact that it grows well at high altitudes. It's native to the UK and northern and western Europe.
Sorbus aucuparia can grow to 15m and can live for up to 200 years. The bark is smooth and silvery grey, and leaf buds are purple and hairy.
It makes for a superb street tree as it is tolerant of atmospheric pollution and grows in moderately fertile soil. Rowan is the ideal specimen tree for small or woodland gardens.
Its berries are edible to humans. However, they are sour but rich in vitamin C.
Common Hazel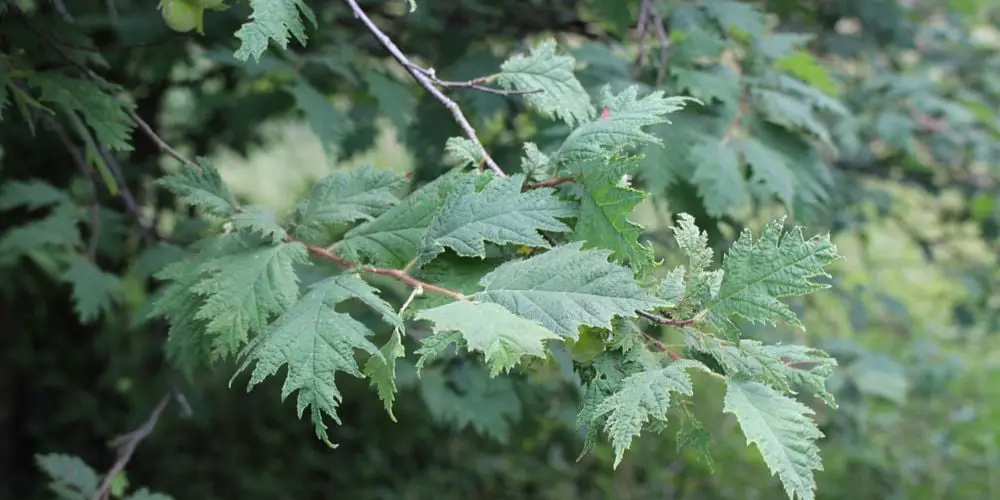 Latin name: Corylus avellana
Flowering time: Autumn
Planting time: Spring
Height and spread: 6 m (20 ft)
Annual growth rate: 0.45 m (1.5 ft)
Hazel is a deciduous broadleaf tree native to the UK and has a reputation as a magical tree! In spring, it's so bendy that it can be tied in a knot without breaking!
In the UK, Corylus avellana is often found in the understorey of lowland oak, ash or birch woodland. Also, it's often found in scrub and hedgerows.
Very attractive in spring, Hazel flowers with many long yellow catkins. These are followed by edible nuts in autumn.
Common Beech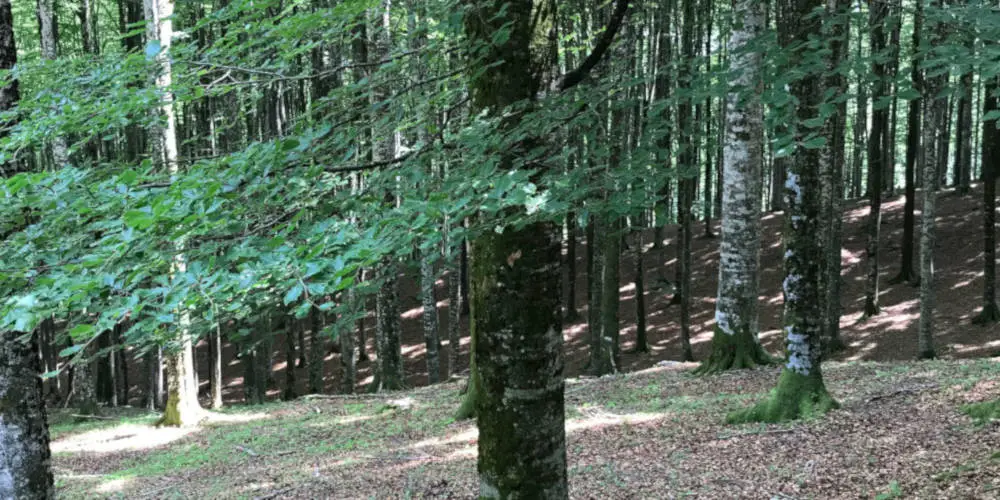 Latin name: Fagus sylvatica
Flowering time: Late summer
Planting time: Autumn
Height and spread: 30 m (100 ft)
Annual growth rate: 0.6 m (2 ft)
Common Beech is a native plant with superb foliage. It's medium green leaves turn a rich copper colour in autumn.
While Fagus sylvatica is shade tolerant, it's not suitable for heavy or wet soil where Hornbeam is preferable. Do not plant Beech in a frost pocket as it will get damaged.
Beech is one of the most popular types of hedging planted in the UK as it has a long life span and is a relatively fast growing tree. If a Beech hedge is trimmed in late summer, the leaves remain on better during the winter.
Common Osier Willow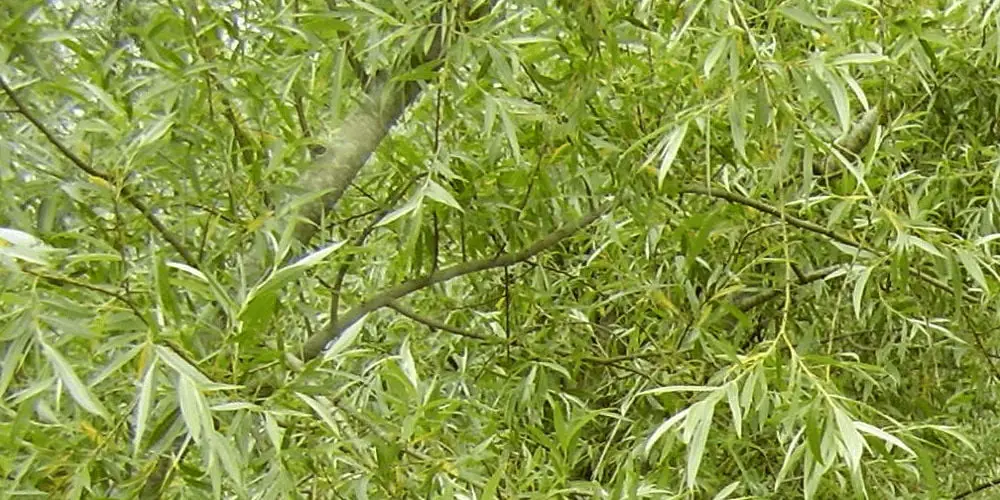 Latin name: Salix viminalis
Flowering time: Late autumn
Planting time: Winter
Height and spread: 9 m (30 ft)
Annual growth rate: 0.45 m (1.5 ft)
Common Osier Willow is a large native, deciduous shrub with young shoots covered with soft grey downy hairs. It has pliant stems, known as withies, are used extensively in basketry.
Salix viminalis have simple leaves and tiny flowers in catkins, male and female usually on separate plants. These catkins appear in spring before the long tapering leaves which are covered underneath with silky hairs.
Osier Willow grows in most moist soils except those that are alkaline. It's like a position in full sun.
Dawn Redwood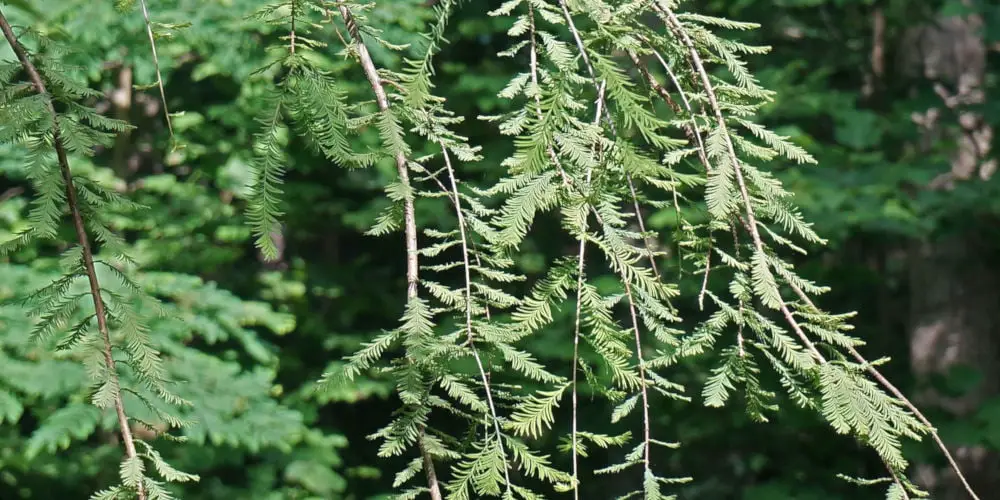 Latin name: Metasequoia glyptostroboides
Flowering time: Late summer
Planting time: Autumn
Height and spread: 40 m (130 ft)
Annual growth rate: 1.5 m (5 ft)
Dawn Redwood is an ancient tree that is believed to date back to the dinosaurs! However, it's still a popular tree for modern landscape plantings.
Metasequoia glyptostroboides is a deciduous conifer. It has a neat pyramidal shape in youth, maturing into a more rounded crown. The bright green, feathery leaves turn orange-brown or reddish-brown in autumn.
As one of the fast growing trees, it likes full sun and prefers moist, deep, well-drained soils. Dawn Redwood grows late in the season and may be damaged by early autumn freezes.
Plant early enough in the autumn to allow the roots to become established and avoid planting in low-lying areas.
River Birch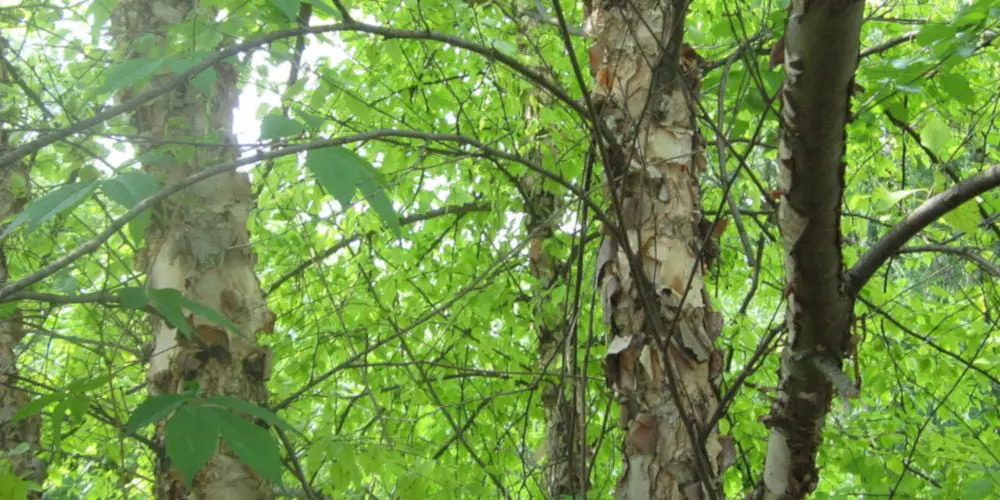 Latin name: Betula nigra
Flowering time: Summer
Planting time: Spring
Height and spread: 25 m (80 ft)
Annual growth rate: 0.9 m (3 ft)
The River Birch has shaggy, ruffled bark, making it brilliant for year-round interest in an array of colours. Also, it's leaves, inner bark, and buds are used to create essential oils.
Betula nigra has a statuesque form and will look stunning planted in a group or individually as a specimen tree.
Best growing in wet sites, once established, will also thrive in less moist conditions. It is tolerant of most except dry soils and conditions this beautiful birch would make a wonderfully tactile addition to any garden.
Italian Cypress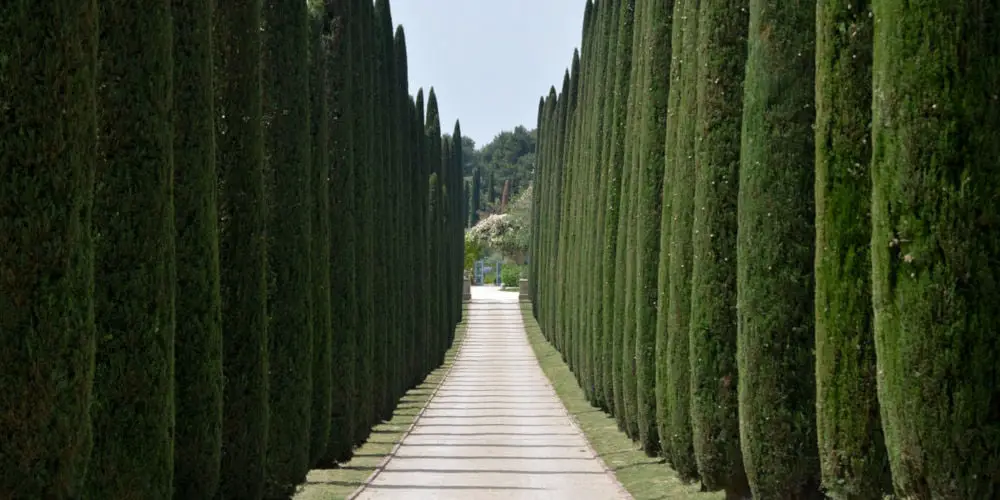 Latin name: Cupressus sempervirens
Flowering time: evergreen
Planting time: spring
Height and spread: 35 m (115 ft)
Annual growth rate: 0.6 m (2 ft)
Known by a range of name, including Mediterranean cypress and Italian cypress, the Cupressus sempervirens is synonymous with Italy.
Italian Cypress will grow in almost all fertile, well-drained soils. Try to plant in a sunny site sheltered from cold drying winds. Extremely easy to manage these stunning trees will maintain a pristine pencil shape with simple trimming.
These fast growing trees are fantastic for bringing a touch of the Mediterranean to your garden or driveway. As an evergreen, they look superb all year round and so are perfect for creating privacy.
Tulip Poplar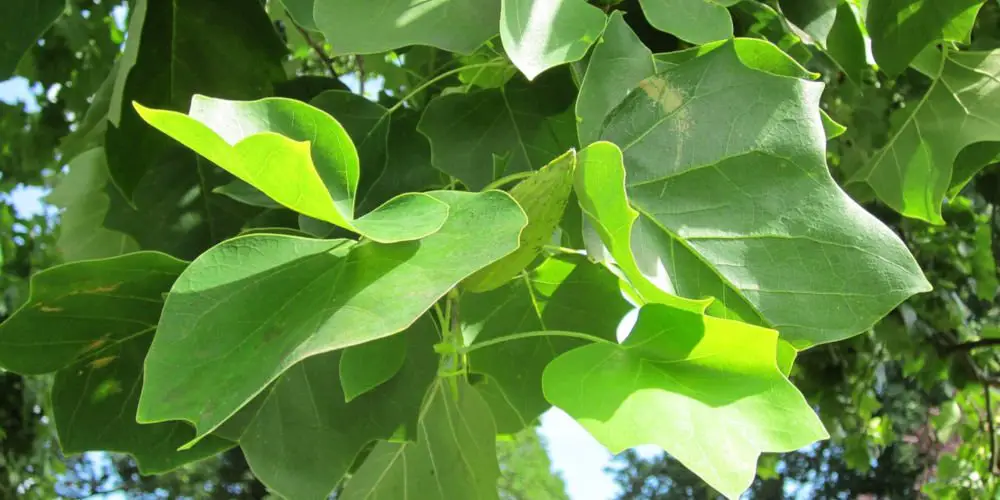 Latin name: Liriodendron tulipifera
Flowering time: Summer
Planting time: Spring
Height and spread: 20 m (65 ft)
Annual growth rate: 0.6 m (2 ft)
The Tulip Poplar is a large, deciduous tree, which is a perfect focal point for larger gardens. The tulip-shaped flowers which give the tree its name are yellow-green, and mainly near the top of the tree.
In autumn the Liriodendron tulipifera bursts into a fantastic display of colours. Starting with a dazzling yellow which deepens to a striking orange.
It's suited to almost all, well-drained and moderately fertile soils. And grows well in both exposed or sheltered location in full sun.
This prominent tree adds interest to your garden all year long, and so make for a fantastic focal point.
Red Maple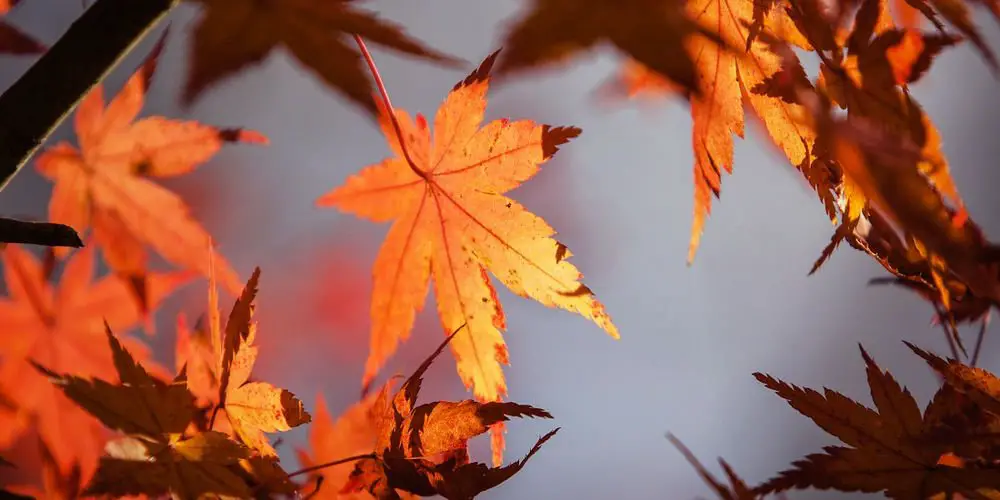 Latin name: Acer rubrum
Flowering time: Spring
Planting time: Autumn
Height and spread: Up to 30m (100 ft)
Annual growth rate: 0.6 m (2 ft)
The Acer Rubrum or Red Maple is well known for its vibrant autumn colour. Originating from North America, this hardy variety of Maple tree suits all soil types that are well-drained or moist well-drained. It is happy in either sun or partial shade.
The attractive, glossy 3-lobed foliage is dark green with a slightly blueish hue in the spring and summer. This turns to shades of scarlet red, orange and yellow in autumn. The small crimson flowers in spring, are followed by winged green fruit.
As one of our favourite fast growing trees, there's very little that can rival the display of this American beauty.
The best fast growing trees
Whatever your reason for planting fast growing trees, once in the ground, you need to take care of them. They should naturally get plenty of water and be able to suck up nutrients from the soil. You'll still need to prune them to keep them growing and look healthy.