Majority Snowdon II soundbar review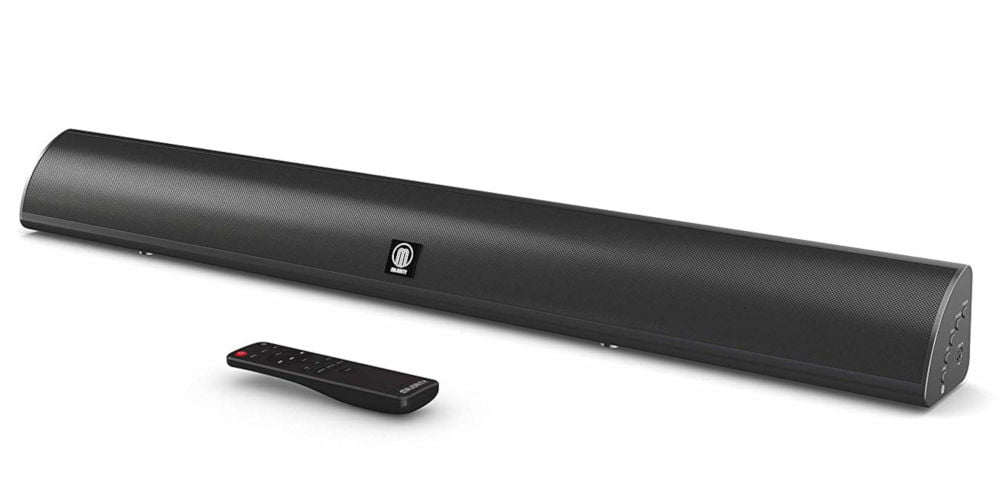 Designed in Cambridge, the Majority Snowdon II Soundbar is an ideal marriage between British design and far east manufacturing. The result is a superb soundbar that will instantly improve your TV's sound.
Featuring a unique sloping design, multiple inputs and 120 watts of power, the Snowdon II Soundbar is fantastic value.
With 4 input options, you can connect a range of devices. Enhance your TV watching by using the optical input. Listen to your favourite music either using built-in Bluetooth or the AUX mini-jack.
Regardless of the input, the Snowdon II has an output of 120 watts as well as an inbuilt sub-woofer. It's designed to faithfully reproduce a 2.1 surround sound experience, albeit virtually.
Controlling the Majority Snowdon II Soundbar is simple and there are two methods. Firstly the unit features the essential controls at one end. A remote provides even more options yet is still user-friendly.
While you can lay the unit under a TV, wall mounting is easy and only requires 2 screws.
Taking the price, features and sound quality into consideration, and benchmarking against other soundbars under £100, our rating for the Majority Snowdon II Soundbar is 6/10.
Pros
120 watt output
Built-in sub-woofer
Multiple inputs (RCA phonos, Optical, mini-jack)
Cons
Optical cables not included
Turns on at nearly full volume
no HDMI input
Design
Featuring a unique sloping design, the Majority Snowdon II Soundbar is stylish and practical. Its speakers have more room than the traditional TV speakers to move, and so it produces a better quality of sound.
At 81 cm long, it's ideal for TV of 42 inches and up. The sleek front grille effortlessly blends with most televisions, whether positioned underneath on a media unit or mounted on the wall below. Hidden behind the grille, at the top right is several LEDs, which change colour based on the input source.
The rear contains a power socket as well as an optical input and dual RCA phono input. This panel is on the far right and so allows for a tidy cable run. 2 mounting screw holes complete the rear panel and make attaching it to a wall, very simple.
On the right side, there is a control panel which includes basic control buttons as well as an AUX mini-jack input. This panel enables control over the volume, input source, and power on/standby.
While previous versions came with a smaller remote with fewer options, the new remote contains much of the same controls as the unit's right-hand panel as well as many useful options.
The remote has a power button, volume up/down and mute. Like the unit, there is an input selector and a Bluetooth pair button. There are also track controls (play/pause, next, and previous) for Bluetooth devices.
Several EQ controls are available on the remote and enable you to fine-tune the sound of the Majority Snowdon II Soundbar. There are 4 EQ modes buttons as well as buttons to increase/decrease bass frequencies and increase/decrease treble frequencies.
Features
One of the most important features is the Majority Snowdon II Soundbar's output. Capable of producing 120 watts of volume, you have more volume than you'll ever need. However, this isn't it's most impressive feature.
The Snowdon II inbuilt sub-woofer makes it unique. This feature aims to faithfully reproduce a 2.1 surround sound experience. While it would be naive to suggest that it own can replace a real sub-woofer, it does produce a nice flat sound with a punchy low-end.
With 4 EQ modes and separate bass and treble controls, it's easy to tailor the sound to whatever you're watching. And as you can select different modes from the remote, it's easy to adjust on the fly.
In addition to several inputs, the Bluetooth functionality is a nice feature and enables you to play music in seconds from your smartphone or tablet without the need for cables. If you don't have Bluetooth, then you can easily play audio using the mini-jack input.
Finally, the Majority Snowdon II Soundbar soundbar comes with a 3-year warranty.
Set-up
Out of the box, there's not much to set up and so you'll be enjoying better sound within minutes. In addition to the Majority Snowdon II Soundbar, the box contains the remote, power cable, Stereo RCA cable, mini-jack cable and instructions.
In normal circumstances, we'd be annoyed that Majority didn't include an optical cable. However, we doubt the quality would be high. So it's probably best to treat yourself to an expensive Optical cable and Stereo RCA cable. Just remember to order these cables when you buy the Majority Snowdon II Soundbar!
Starting with the most basic set-up, we'll power it up and use a spare optical cable from our draw of wires to connect the soundbar to the TV. It does turn on quite loud, so you'll want to have one hand covering the controls.
With a comfortable volume set, it's worth experimenting with the EQ modes on the remote. The default mode is flat, which the soundbar faithfully reproduces the input.
If you're watching a film, you'll want to movie button. The music setting is the best for listening to tunes and the dialogue button is superb for podcasts.
Even with one of these EQ modes selected, you still have control over the bass and treble frequencies. This means you can further fine-tune your listening experience.
While your experimenting, it's worth trying the Bluetooth mode out and playing your favourite tracks from YouTube or Spotify.
Next, if you plan to mount your Majority Snowdon II Soundbar on the wall, you'll need to drill two holes and attach the soundbar to them. Luckily as all of the input are at one end, you can easily keep cables tidy.
Performance
Any soundbar will vastly improve the sound quality when compared to the TV's speakers. With this being the case, our attention turns to the extras and the unique differences between models.
The Majority Snowdon II Soundbar has both good and bad points. Firstly, it always seems to come on near full volume. So it's best to have the remote handy or a hand covering the unit's controls.
That said, the four different EQ modes provide a way to shape the sound for what you're doing. Having them easily selectable from the remote, is a fantastic feature. As are the bass and treble controls.
The built-in sub-woofer packs a punch and while it doesn't replace having a separate sub, it does suitably enhance the sound. This is great news if you enjoy listening to music yet feel your TV's speakers miss something.
For the price, there's no real reason to criticise the inputs, other than to mention, we'd like the Majority Snowdon II Soundbar to also have an HDMI input as this would make it easier to connect to TVs and other devices.
Unlike other soundbars we've reviewed, having the AUX input on the side is a nice touch, especially as this allows for easy access.
Is the Majority Snowdon II Soundbar worth buying?
As one of the most affordable soundbars on the market, the Majority Snowdon II is a superb starting point and fantastic value for money.
There are only a few negative points. Firstly, we would like an HDMI input. While this isn't a deal-breaker, it would be nice.
The included cables aren't great and there's no optical cable. So it's worth treating yourself to quality cables as they'll last longer and perform better.
It's very easy to get up and running out of the box and is a noticeable improvement over TV speakers. Plus the 4 EQ modes and bass and treble controls improve the sound further and allow you to fine-tune your listening experience.
Having basic controls and the AUX input easily accessible is useful as are the LEDs which change colour based on the input. The remote is a good size and is easy to use and understand.
Finally, as Majority are based in the UK, they provide good support including a 3-year warranty.
Having considered both sides, the Majority Snowdon II Soundbar is a superb entry-level soundbar. However, you'll want to spend more if you're upgrading or need more inputs. In conclusion, our score is 6/10.