Sony HT-SF150 2-channel soundbar review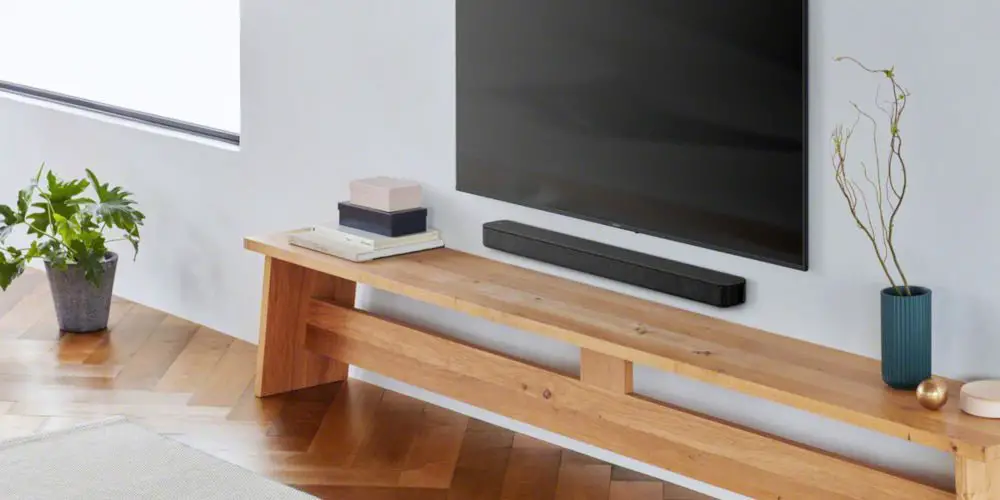 The Sony HT-SF150 2ch Single Soundbar seamlessly blends under a TV while dramatically improving the sound quality, all for an affordable price.
Designed around Sony's S-Force virtual surround sound technology and with an output of 120 watts, the unit's speakers produce an even frequency response with a punchy low end.
There's plenty of inputs available including HDMI ARC, Bluetooth and optical as well as USB. In short, you can easily connect your TV, phone or Mp3 player.
In addition to a well-thought-out remote, the Sony HT-SF150 has the basic controls on top, allowing for easy access and status LEDs.
While it looks fantastic under a TV on a media stand, mounting it on a wall is super simple. And thanks to its compact profile, it blends into your existing home entertainment set-up.
As one of the best soundbars available for under £100, we're happy to award the Sony HT-SF150 2ch Single Soundbar 7/10.
Pros
S-Force virtual surround sound technology
Slimline design
60 watts
Cons
Limited connectivity
Doesn't come with HDMI cable
Design
The Sony HT-SF150's slim profile design fits easily in your home and sits comfortably within any interiors. It's soft edges allow it to effortlessly blend whether in front of your TV or mounted on the wall.
Measuring 90 cm (35 inches), it's designed to aesthetically blend with a range of different TV sizes.
Beneath the front grille sits the speakers which reproduce the sound authentically. With more room to vibrate over the built-in TV speakers, they project sound better.
In the centre of the front panel are 3 LEDs, which indicate which input is selected when in use. While you can use the remote, the unit features the basic controls on top including power, input select and volume up/down.
Finally, the rear, which features inputs and wall-mounting holes. Sony has split the connections into two. At one end, there's the power input and the media inputs are located at the other end. These inputs include an HDMI ARC, Optical jack and USB port.
Finally, the remote. If you prefer using a remote to buttons on the unit, then you'll be impressed as Sony have included a comprehensive remote for the HT-SF150. It covers all the basics such as volume up/down, input selection as well as several sound presents and Bluetooth controls (such as play, pause, next track).
Features
Using the Sony HT-SF150 to play music or watch TV is enjoyable, thanks to its 4 inputs. As you might expect, the unit has both HDMI and optical inputs. The HT-SF150 also includes a rear USB port and Bluetooth connectivity.
Regardless of the input, the onboard delivers a superior audio quality over standard TV speakers, thanks in part to its S-Force technology and bass reflex unit.
This combination delivers an even frequency response with punchy bass, which is ideal for TV watching and listening to music. For movies, the unit creates a surround sound image, that's close to a multi-speaker set-up and supports Dolby Digital.
The Bluetooth function allows you to seamlessly stream music from a range of devices including phones. There's no need for additional cables or complex set-up.
Don't be fooled by the sleek design as the Sony HT-SF150 is feature-rich and produces a rich, full sound regardless of the input or media.
Set-up
Out of the box there not much to set-up. In addition to the HT-SF150 soundbar, the box includes a remote (and batteries), an optical cable and power cable. Sadly, there's HDMI cable, so you'll need to purchase one when you buy the unit.
We're going to set it up under the TV on a media stand. If you plan to mount it on a wall, then you'll need to provide your own screws. To start we'll plug in the power cable and connect the soundbar to our TV using the optical cable.
Using the buttons on the unit, we'll turn it on and select the right input. So far, so good. Next, we'll adjust the volume to a comfortable level and enjoy watching TV or a movie.
You could try one of the several presets which can be selected using the remote. It's best to play music or a movie that you're familiar with so that you can hear any change in the sound.
If you already have HDMI cable or ordered one with the unit, then it's a good idea to try it with your set-up. The Sony HT-SF150 has an HDMI ARC input, which allows you to send control signals from other ARC enabled devices.
For example, a Sony TV with an HDMI ARC output will enable volume control using the TV's remote. So you won't need to search for or remember to use the soundbar's remote.
Having tried the HDMI, Optical and Bluetooth inputs, it's worth playing music using the USB port. Again this input is located somewhat clumsily on the rear. However, if your media player doesn't have Bluetooth, then using the USB port is ideal.
Performance
The Sony HT-SF150 is a massive step-up over the standard TV speakers. It makes everything sounds rich with a puncher low-end. The difference is apparent from the first note.
As with other Sony soundbars, the basic modes are ideal for watching TV or listening to music. That said, the Sony HT-SF150 excels in the Virtual Surround mode.
While it would be folly to suggest that it replaces a 5.1 surround sound set-up, it does sound close. Movies have an added depth that you didn't know was missing before.
Some user might find the lack of an AUX mini-jack input off-putting especially if their TV doesn't have an optical out. Of course, you still have the HDMI input, regardless of whether your TV is ARC compatible or not.
In addition to having a side mounting AUX input, we'd like the USB port on the side as well. When wall-mounted, connecting or changing cables becomes difficult and so using the USB port it's not ideal.
Sony is well known for its iconic remote design, this is no different. However, there are more options on the remote then you'll need and we're likely to hide it in a cupboard and use the controls on up.
Regardless of how you use your Sony HT-SF150, it switches off after 20 minutes of inactivity to save power.
Is the Sony HT-SF150 worth buying?
The Sony HT-SF150 2ch Single Soundbar proves that the brand is still at the forefront of consumer electronics.
Overall it's a fantastic alternative to TV speakers. However, there are a few negatives. The cable situation is less than ideal, as no HDMI cable is included and others are on the short side.
Another negative is mounting. Firstly you need to supply the screws (and wall plugs), which isn't ideal. The bigger issue is that the unit mounts flush to the wall, making it difficult to reach the rear inputs.
While this might not be a big issue, if you plan to use the USB port, then its likely to irritate you. Also, as the power socket and inputs are located in different places, having tidy cables is harder than it needs to be.
Our only complaint with the inputs is we'd like to see an AUX mini-jack as this allows for wider connectivity. That said, having HDMI ARC is fantastic and makes it simple to ingrate the Sony HT-SF150 into your current set-up.
Even though the remote is very useful, a slimmer remote would be better, especially if your goal is to improve the TV's built-in speakers.
If you're buying the Sony HT-SF150 2ch Single Soundbar to improve the sound quality of your TV, you won't be disappointed. The basic modes sound full. And the virtual surround system, while it will never replace a 5.1 set-up, is a vast improvement over the typical TV speakers. 7/10