Panasonic SC-HTB8 soundbar review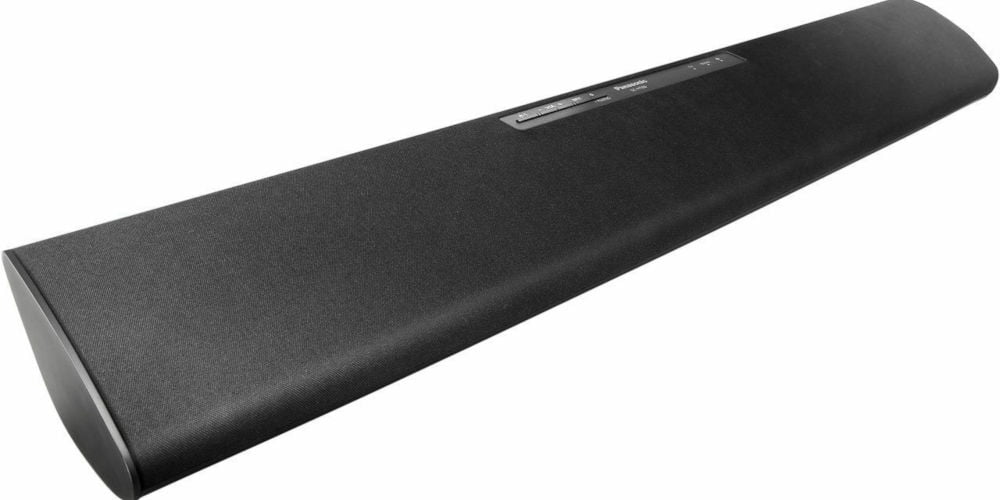 Producing 80 watts of power, the Panasonic SC-HTB8 Soundbar is an affordable unit with many useful features.
It's slim and sleek design effortlessly blends under TVs of 32-42 inch yet provides a noticeable upgrade over the average TV speakers. Plus, it's easy to mount on a wall.
Connecting to the Panasonic SC-HTB8 is straight forward thanks to its 2 inputs (optical and RCA phonos) and Bluetooth. This soundbar makes enjoying your favourite movies or listening to music very easy.
With 80 watts of power available and several different modes, you can fine-tune your experience. For example, if you're listening to a podcast then the clear-mode dialogue feature enhances how you hear it.
The small remote covers the essentials and provides further options over the buttons on the unit.
Comparing it to other soundbar under £100, the Panasonic SC-HTB8 Soundbar feels a little overpriced. Sadly our rating is 6/10.
Pros
80 Watts of power
Slim design
Clear-mode dialogue feature
Cons
Lack of frequency control
LEDs are hard to view
Limited connectivity
Design
At 75 cm long, the Panasonic SC-HTB8 is suitable for TV between 32 and 42 inches. Its sleek design is slim and aesthetically pleasing. Regardless of where you place your soundbar, it will blend in with your TV and other equipment.
The front panel contains all the necessary controls you'll need to operate your Panasonic SC-HTB8. Split into two sections, the first has buttons for standby/on, volume up/down, input source and Bluetooth.
The second section feature control lights with 3 LEDs indicating the input source and 2 LEDs for the different modes.
Turning the unit over, the back panel is split into two. The left section features two inputs: optical and stereo RCA phonos. Also, there's a Multi-Angle switch.
The power cable is hard-wired into the right section. 2 wall-mounting holes complete the rear panel.
The remote comes with a coin battery yet is fairly small and quite basic. Covering the essentials, you can turn the unit on/off, mute or increase/decrease the volume, change the input source and the sound mode. A Bluetooth button makes accessing this function simple.
Features
A feature unique to the Panasonic SC-HTB8 is the multi-angle. Activated using a switch on the rear, this function flips the direction of the speakers, allowing you to mount the unit horizontally or place vertically on a unit. Regardless of its position, this switch ensures that any sound crystal clear and rich.
The 2 inputs allow you to connect a range of devices. Easily connect your TV using the optical socket or your games console using the stereo RCA phonos. With limited options, we don't understand why Panasonic didn't include an HDMI or HDMI ARC input or even an AUX mini-jack.
HTB8's Bluetooth feature is a nice option, especially as it allows you to easily stream music from your smartphone or tablet. There's even a Panasonic Music streaming app which is available for Android and iOS.
In terms of fine-tuning, there are limited options available. 3 modes are available. The default mode is flat with punchy bass. Clear Voice mode (button on remote to turn on/off), enhance the sound, making talking easier to hear.
The final mode is Surround Effect, which is controlled by a button on the remote. This mode is designed for films as it presents a virtual surround sound experience.
Finally, as with other Panasonic soundbars, the SC-HTB8 comes with a 1-year warranty.
Set-up
As with any soundbar, there's little to set-up. Simply plug in the power and connect the soundbar to your TV using either an optical cable or stereo RCA cable. Sadly, neither of these cables comes with the unit.
Firstly, we'll use the soundbar on a unit, then after some experimenting, we'll consider mounting it to the wall. After connecting the Panasonic SC-HTB8 soundbar to your TV, turn the power on using the button on the top. Next, use the input button to select the right option.
At this point, you can enjoy some TV or a movie as you're pretty much set-up. You can use the remote to experiment with two modes (Clear Voice and Surround Effect) as each has its own button. After some experimenting, you'll be able to match the sound to your preference.
If you want to mount it on the wall, firstly pick a side for cables as it'll look messy if you have cables running down both sides. Second slide the Multi-Angle switch to "Wall Mount". The third and final step is to measure and drill two holes, then rest the unit on top of these screws.
Performance
Given its limited options, the Panasonic SC-HTB8 is still an easy way to improve your TV sound. It has a good and balanced overall frequency response with a punchy low-end. The two modes provide some further refinement.
While 80 watts is on the small size when compared to other soundbars, it still offers plenty of volume regardless of whether you're listening to music or watching TV.
Positing the unit vertically on a media unit or TV stand makes the LEDs hard to see. Of course, if wall-mounted, these LEDs face into the room and so are easy to see. Just ensure you switch to wall mount mode as it will sound weird otherwise.
As you might expect, the Bluetooth feature is simple to use and even though there is an app, you don't really need it. It takes a few seconds to find and connect to a smartphone or tablet.
The remote will helpful for general adjustments and comes with a battery! However, it doesn't really offer much more than the controls on the unit. Plus once you've found a sound mode that works for you, it's unlikely you'll play with these options again.
As it lacks an HDMI ARC input, there's no way to sync your TV and the soundbar, so the remote just might come in handy.
Is the Panasonic SC-HTB8 worth buying?
Overall the Panasonic SC-HTB8 Soundbar leaves us feeling disappointed. It lacks some of the features we would expect and while it's superior to TV speakers, this doesn't bridge the grab.
As there's no HDMI (or HDMI ARC), the options are limited. Also, having an AUX mini-jack input would be nice and would bridge this gap a little. However, it has neither. Add to this that you need to also buy cables, and the picture isn't that bright.
The remote offers 3 more options than the controls on the unit, so might well be unused. It doesn't even have Bluetooth track controls such as play/pause and next/previous track.
While the 3 modes offer something different, there no further controls. You can't adjust the bass or treble. That said, the wall mount switch is a welcome feature and makes the unit more versatile.
What it does well is faithfully reproduce the audio of TV and film as well as looking sleek and modern.
Overall the Panasonic SC-HTB8 misses the mark and we'd recommend buying the Majority Snowdon II Soundbar. It's half the price, has more inputs and comes with 4 sound modes and separate bass and treble controls.
Sadly, the Panasonic SC-HTB8 Soundbar scores 6/10.