Sony STR-DN1080 7.2 CH 4K UHD AV receiver review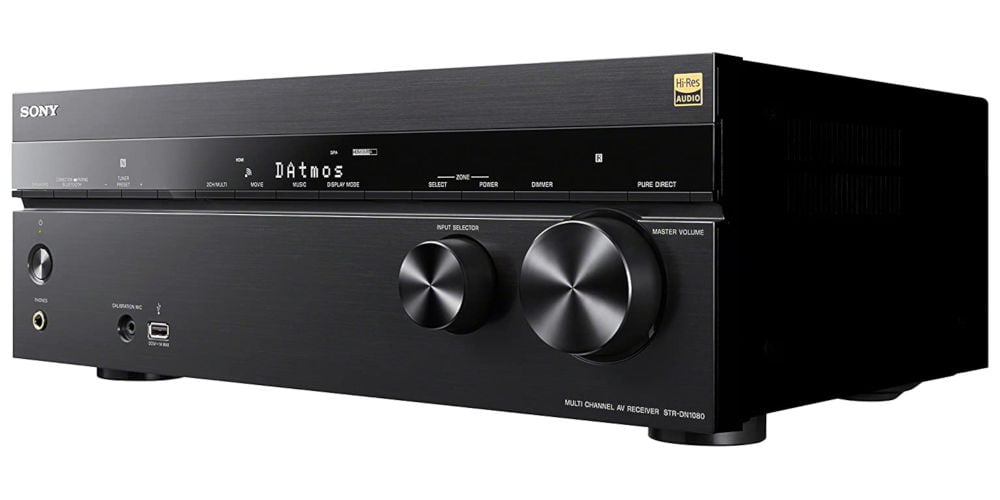 Delivering a powerful, cinematic surround sound experience, the Sony STR-DN1080 7.2 AV receiver offers 4K images, flexible speaker set-ups, and DTS:X and Dolby Atmos. It's ideal for home cinema rooms of all sizes and configurations without breaking the bank!
As a versatile solution, it offers excellent connectivity including a range of analogue inputs/output as well as several digital ones. There's even a built-in Chromecast, allowing you to stream content directly from your smart device.
If you're only satisfied with the highest picture resolution, then you'll be relieved to learn the Sony STR-DN1080 maintains 4K image quality from source to screen. There's no reason to compromise image quality.
The audio side is equally exciting as the STR-DN1080 supports Dolby ATMOS and DTS:X as well as High-Resolution Audio compatible. it also uses Sony's proprietary technology to adjust the sound to your home cinema speaker placement or set-up.
With Google Home is built-in, if you're already using smart home devices, you can simply add the STR-DN1080 into the system and control using any smart device. If you're not quite there, the remote and front panel both allow for painless operation!
As one of the best 7.2 AV receivers under £500 currently available, the Sony STR-DN1080 scores 9/10.
Pros
165 Watt output per channel
Built-in Chromecast
Supports DTS:X, Dolby Atmos and 4K picture quality
Cons
Set-up using the onboard calibration takes time
Design
Beneath its slick layout, the Sony STR-DN1080 offers a huge amount of functionality and the remote extends these options even further.
Front panel
Starting with the front, which neatly divides into two sections, much like many discontinued Sony AV receivers. The top section features an LCD display as well as a row of buttons.
Controlling essential options, these buttons cover a lot of ground yet feel on the small side. There are options for Bluetooth pairing, the FM radio tuner, changing modes and operating the different zones.
The lower section is anchored by two large rotary controls, one is a volume knob, and the other selects the source. There is also a power button and power LED as well as a headphones output, USB input and an input for the calibration microphone.
Rear panel
Moving our attention to the rear, which is equally well designed. There's a range of inputs including 5 HDMI, 3 composite RCA phonos, 1 audio RCA phonos and a port for an FM antenna. There are also a coaxial input and an optical input.
There are 2 HDMI outputs, which can be used to feed numerous devices such as TVs or Projector. A LAN port and 2 built-in antennas offer support for both Wi-Fi and Bluetooth. There are IR remote input and output.
7 pairs of speaker connects and 2 phono outputs for subwoofers complete the rear panel of the Sony STR-DN1080.
Remote
Even with an updated look, the remote still maintains that classic Sony vibe. It covers the basics such as power, volume and menu buttons. Each input source has its own button and there are 8 buttons for sort your own sound presets. Also, 4 track controls allow you to play/pause and skip.
Features
Packed full of features, let's briefly explore some of the specifications that make the Sony STR-DN1080 unique.
Starting with the inputs, many AV receivers have abandoned composite audio-video inputs in favour of just RCA audio inputs. And while you may be fine with HDMI, it's worth having options especially if you have games consoles or record players.
In addition to the inputs on the rear, Sony has included several digital options including Bluetooth, a built-in Chromecast, Wi-Fi and Spotify Connect. Use the Music Center app (formerly SongPal) app to stream music throughout the house.
The front USB port further extends the inputs and allows you to play content directly from a memory stick or hard disc including 24 bit/192 kHz High-Resolution Audio.
The video side of the STR-DN1080 is excellent as it maintains the highest possible picture quality throughout and is HDCP 2.2 compatible. Experience your 4K and 3D content as the director intended. And while the unit doesn't upscale images, it faithfully reproduces images.
Offering 165 watts per channel, the Sony STR-DN1080 has plenty of volume on tap. The unit supports the latest audio formats including Dolby ATMOS and DTS:X and is also High-Resolution Audio compatible.
What makes the unit for a home cinema room, is its flexibility. Regardless of your speaker configuration, the Sony STR-DN1080 adapts to ensure the best possible audio experience comparable to a professional cinema set-up.
Set-up
Setting up the Sony STR-DN1080 correctly takes quite a bit of time as it needs to be properly calibrated. For simplicity's sake, we'll assume your using a 7.1 speakers set up, a projector and a few media players.
Firstly using your own 4K HDMI cables (as none as included), you'll want to connect any set-top box, Blu-ray players and game consoles to the HDMI inputs. Next, connect the STR-DN1080 to your projector using an HDMI cable.
Using speaker cables, you'll then want to wire in your chosen configuration and test them using a favourite album or song.
Finally, it's worth configuring the Wi-Fi. You have two options including connecting using the onboard antenna or wiring the unit directly to your router using the LAN port. At this point, it's worth installing the latest firmware updates to ensure you're running up-to-date software.
With the basic set-up complete you'll want to calibrate your Sony STR-DN1080 to your home cinema speakers and media room. This does take a while but is completely worth it. Plug-in the included calibration microphone and place it in the middle of the room at ear height.
Next, run the Auto Calibration mode. During calibration, the Sony STR-DN1080 will emit a series of test signals and make numerous adjustments. After the programme has completed, if you're not happy or just want to tweak, then there are plenty of options which allow you to further fine-tune.
By this point, you'll have completed the set-up and fully optimised the system.
Performance
The core functions of the Sony STR-DN1080 are executed superbly. It seamlessly distributes audio-video while providing the listener with a professional cinema surround sound experience.
One of Sony's central claims is that it produces an excellent sound even without the rear speaker as the onboard software can recreate these. However, in our test, while it does sound full, it doesn't match the sound from a 5.1 or 7.1 speaker configuration. It's close but something's missing.
Another promise they make is 4k picture quality. On this point, Sony succeeds – albeit if you're using the right cables. Sony doesn't claim that the STR-DN1080 upscales images but we feel that even lesser quality media has a new shine and depth.
For most, these features are more than enough. However, there is a fantastic range of digital inputs and the front USB port. Even if you don't see the point of having built-in Bluetooth, a Chromecast or streaming capabilities, there are included.
We'd, of course, urge you to set-up the onboard Wi-Fi and give these a try, especially as you'll be able to stream content from Netflix, YouTube, and Spotify as well as catch-up TV.
It's also worth talking about multi-room. You can either wire in another power amp and speakers into the Zone 2 outputs. However, you can connect the STR-DN1080 with other compatible Sony products and use the Music Center app to stream music around the house.
Is the Sony STR-DN1080 worth buying?
Offering a fantastic specifications list, the Sony STR-DN1080 is an excellent choice for any home cinema room. Firstly, it's well-built and packed full of features including 4K image pass-through and Dolby ATMOS.
It's easy to operate whether you're using the options on the unit, the remote or Google Home, if you're a smart home buff. In short, we're impressed by the range of control methods.
It may be easy to dismiss the FM radio, Bluetooth, Wi-Fi and even the multi-room features as a gimmick. However, they provide more ways to enjoy a wider range of content in a seamless way.
As with any Sony product, the STR-DN1080 will provide years of enjoyment and use within your home cinema, and all for an affordable price. 9/10