Best 7.2 AV receiver under £500 for your home cinema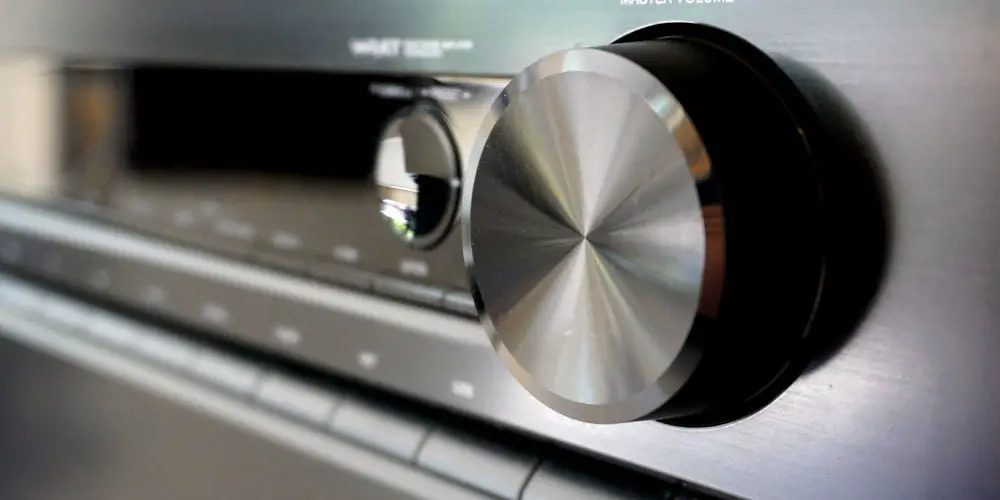 Faithfully reproducing your favourite movie soundtrack involves using the right audio gear. At the heart of every home cinema sits an AV receiver which is the brains that make the whole system work and usually powers the speakers. But what's the best 7.2 av receiver?
Two types are available, 5.1 and 7.2 AV receiver. The number responds to the number of speakers outputs. Both types essential do the same function, they make it easy to switch between several different sources into a single display while splitting the audio and powering speakers.
As we've already covered our top picks for 5.1 AV receivers under £300, it's worth revisiting this article if you're new to the topic or have a smaller budget. So what's the best 7.2 av receiver.
The main difference between 5.1 and 7.2 is the three extra speakers outputs. Two of these are placed in the middle of the room, creating less distance between the front and rear speakers. The third output is for an addition sub-woofer which can be placed anywhere (or nowhere!).
Having researched the available options, here are 5 of the best 7.2 AV Receiver Under £500 for any home cinema.
* Prices correct at time of publishing
Yamaha RX-V685 7.2 AV receiver
Description
The Yamaha RX-V685 offers an impressive range of inputs including 5 HDMI, phono and antenna, there's enough to connect multiple Blu-ray players, game consoles, record players and set-top boxes. Music streaming services and Bluetooth are also built-in.
Powering 7 speakers with up to 150 watts per channel, the RX-V685 uses Yamaha's Cinema DSP 3D sound technology to faithfully reproduce audio. 2 passive subwoofer outputs complete the audio side. The unit features Yahama's MusicCast multi-room technology which enables you to add wireless surround speakers.
The 2 HDMI outputs use Dolby Vision™ and Hybrid Log-Gamma, enabling you to maintain the highest possible quality from the source to the screen.
Set-up is enhanced thanks to Yamaha's professional-grade sound optimisation. Using the included mic, the built-in software analyses the room's acoustics and adjusts the unit's performance to achieve studio-quality sound.
What makes the Yamaha RX-V685 unique is that offers Amazon Alexa and Google Assistant voice control compatibility. Of course, you can still control it using the buttons on the unit or the remote.
Pros
5 in/2 out HDMI
Built-in Bluetooth and Streaming services
offers up to 150 Watts per speaker channel
Cons
Set-up using the sound optimisation take a white
Conclusion
Yamaha are well respected for their home audio products and the RX-V685 doesn't disappoint. While fairly easy to connect a range of devices and speakers to the unit, getting properly set-up does take a bit of time.
Ideally, you'd calibrate the unit to your room using the onboard software and supplied microphone. The lack of a hard copy full manual is a little disappointing. That said, once connected and calibrated, the RX-V685 produces high-quality images and audio.
With plenty of inputs available, the RX-V685 excels both in a home cinema set-up and as a way to easily manage multiple devices. Having 2 HDMI outputs is a nice touch, especially if you plan to feed both a TV and projector from the unit.
While some might see the voice control capabilities as a little gimmicky, if you're into home automation, you'll appreciate the seamless level of control available. 9/10 (read our fully review)
Onkyo TX-NR696 7.2 Channel AV Receiver
Description
Slightly over our £500 budget, the Onkyo TX-NR696 offers 175 Watt per channel, 4K images, and supports multiple Dolby decoders.
Featuring a sleek design and available in both silver and black, the TX-NR696 offers 7 HDMI and 5 audio RCA phono inputs as well as Wi-Fi over Ethernet (simply connect to your router). Each of the 7 speaker outputs offers 175 Watts of power and there are 2 passive sub-woofer outputs.
The unit supports a range of image formats including 4k/60p, 4k HDR and HDCP 2.2. This means you can enjoy all of the latest HD Blu-ray in stunning quality. The audio is equally excellent with support for several Dolby decoders including Atmos and DTS: X playback.
What makes the TX-NR696 unique is that it's THX Certified. This means you're guaranteed the same sound quality of at a commercial cinema in rooms where the viewing position is about 3.5 m from the screen.
In addition to these superb features, the TX-NR696 offers music streaming via the leading platforms including TIDAL, Deezer, Sonos and AirPlay 2. There's also a Chromecast built-in, which further compliments these options.
The latest software update adds Amazon Alexa capabilities, enabling you to integrate the Onkyo TX-NR696 more seamlessly into your existing home cinema set-up.
Pros
175 Watt per channel
THX Certified – same sound quality of at a commercial cinema
Built-in Chromecast
Cons
No Audio and Video phonos input
Wi-Fi over LAN
Conclusion
The Onkyo TX-NR696 offers fantastic value for money especially when you consider how future proof the unit is. Offering a range of connectivity options, it's more of a media powerhouse than another 7.2 AV receiver.
As a highly configurable unit, out of the box, it performs well and the audio experience can easily be tweaked using the included microphone and built-in software.
While it might lack an analogue video input (3 phonos) and require hooking into your Wi-Fi router, it has a fantastic range of HDMI and phono inputs. We particularly like the front-loaded AUX mini-jack and HDMI port. Both enable painless and quick connection for occasional use.
The onboard visual and audio decoders are cutting edge and ensure you'll enjoy whatever the media in the highest quality. This is noticeable when watching older formats. 9/10 (read our fully review)
Pioneer VSX-934 7.2-channel Receiver
Description
Offering a range of inputs, the Pioneer VSX-934 provides 160 Watts per channels, a range of Dolby decoders and 4k picture quality.
The first thing you'll notice is the classic, sleek layout of the Pioneer VSX-934. The front panel manages to cover quite a lot of ground without feeling even slightly cluttered. This attention to detail extends to the rear, which is equally well set out.
Use the built-in MCACC (Multi-Channel Acoustic Calibration System) to adjust the unit's performance for the best audio regardless of the speakers, distance, and equalises response.
Starting with inputs, there are a 6 HDMI 4k inputs. Connecting a range of devices is simple, whether you're using a CD player, DVD player or Blu-ray disc player. You can also enjoy music streaming via Wi-Fi, Bluetooth, SONOS system and Apple AirPlay 2.
The VSX-934 offers an equally impressive set of outputs. Each of its 7 speaker outputs offers up to 160 Watts as well as 2 passive sub-woofer outputs.
Regardless of the image quality, the unit upscales to 4k quality. The audio is as impressive as it uses Dolby Atmos or DTS:X. You can even run the system without surround speaker and still enjoy similar effects by Dolby Atmos Height Virtualiser and DTS Virtual:X.
Pros
Supports several audio decoders (including Dolby Atmos /DTS:X / DTS Neural:X Upmixing)
Automatically upscales to 4K
7 channels of 160 Watts
Cons
No Audio and Video phonos input
Wi-Fi over LAN
Conclusion
While you can spend some time improving the sound quality using the built-in software, out of the box the Pioneer VSX-934 sounds fantastic and offers a picture quality to match.
While it might not offer the same input options as the Yamaha, it does provide more HDMI inputs. This is fine if you're connecting Blu-ray, DVD, CD players but less than ideal if you're adding game consoles.
That said, it offers automatic 4K upscaling and a range of Dolby decoders. What's exciting is the extras you can easily stream music from all of the major players using the built-in Wi-Fi (it does need to be plugged into your router) including Sonos as well as the Bluetooth functionality.
If you're quite yet ready to run a 7.2 speaker set-up, the VSX-934 is happy to be configured as a 5.1 system. This flexibly makes the Pioneer VSX-934 ideal for a range of uses. 8/10 (read our fully review)
Sony STR-DN1080 7.2 CH 4K UHD AV Receiver
Description
The STR-DN1080 delivers mighty, cinematic surround sound that perfectly adapts to you, and your environment.
Featuring 6 HDMI inputs and 2 outputs, a front USB port, optical digital and analogue AV connections, there's plenty of options available. A front-loaded headphones jack is a useful option, especially if you're using this Sony as part of a media room set-up.
Enjoy your favourite movie soundtracks and audio in pristine quality, thanks to the combination of DTS:X and Dolby Atmos, and 7 x 165 Watt speaker outputs. However, that's not all, as the STR-DN1080 has been designed to work with several speaker configurations.
As the latest audio and video format are supported, you can enjoy full 4K and High-Resolution Audio from the source to screen and speakers. This receiver does not compromise image quality and is HDCP 2.2 compatible.
As you might expect, the extras are quite impressive. Stream your favourite music using the built-in Chromecast, radio or app such as Google Play Music and Spotify. You can also stream music throughout the house with SongPal Link Listen.
Finally, with built-in Google Home, you can voice control this Sony audio product and many more. If you're not quite yet there, don't worry as the control panel and remote allow painless operation!
Pros
Headphones jack
Built-in Chromecast
165 Watt output per channel
Cons
Set-up using the onboard calibration takes a white
Wi-Fi over LAN
Conclusion
The Sony STR-DN1080 can easily replace your Hi-Fi and make switching between multiple media devices painless while powering up to 7 speakers. It excels at being a hub whether you're playing movies or streaming audio.
As some users have reported, set-up can be a challenge, especially when used the built-in calibration. It has plenty of inputs and outputs. However, the HDMI outputs can either be standard or 4k – you can't opt to have one of each.
The sound quality is amazing, especially as it adjusts to the speaker set-up. If you don't have space for rear speakers, then the STR-DN1080 will simulate them. This is also superb if you're upgrading from a 5.1 AV receiver.
As a 4k ready unit, the image quality is on par with the audio. Even on older media, you'll notice that picture upgrade. 8/10 (read our fully review)
Marantz NR1609T1B 7.2 Channel AV Receiver
Description
If space is at a premium but you don't want to comprise on quality, then consider the Marantz NR1609T1B 7.2 AV Receiver.
Measuring around half the size of the average AV Receiver, the NR1609T1B still packs a punch with 8 HDMI inputs and 1 HDMI output as well as multiple analogue inputs. The unit feeds 7 channels with 90 watts per channel and has 2 passive subwoofer outputs.
The sleek, slim design of the front panel includes a headphone output, HDMI input and USB port. While the rear is very compact yet includes more than you'll need.
Supporting a range of image formats including 4K, HDR, Dolby Vision compatibility and Hybrid Log-Gamma (HLG). The unit also upscales images to the latest 4k quality. The audio side is equally superb with support for Dolby Atmos, DTS:X and DTS Virtual:X processing.
The built-in Wi-Fi enables you to access a range of music streaming service is including Spotify, TuneIn, Deezer and many more. While the Bluetooth functionality allows you to seamlessly broadcast audio from your smartphone.
The built-in HEOS wireless multi-room audio technology is a fantastic feature and allows access to Amazon Alexa voice control. In terms of control, the front panel is user-friendly as is the remote.
Pros
Slim (half the height of a traditional)
8 HDMI and multiple analogue inputs
Amazon Alexa voice control
Cons
Single HDMI out
Only 90 watt per channel
Conclusion
While the Marantz brand has been around for 50 years, this is the first time we've looked at their products and the NR1609T1B excels at many things.
It's compact and features a multitude of inputs. The front panel feels sleek yet includes a few nice features such as an HDMI input and headphones output. The rear feels slightly congested as it's packed full. That said, once it's set-up, you're unlikely to fiddle with the rear panel.
What lets the Marantz NR1609T1B down is it's output power. It only offers 90 watts per channel, all the others on the list offer at least 150 watts per channel. This might not be a big issue if you have a small cinema room or can't push the volume much.
Overall, if you're short on space and not concerned about output work yet still want to run a 7.2 speaker system, then it's worth considering the Marantz NR1609T1B. 8/10 (read our fully review)
Best 7.2 AV Receiver Under £500
Having reviewed 5 of the best 7.2 AV receivers available, all are well worth buying. That said two stand out but only slightly.
First, the Yamaha RX-V685 7.2 AV receiver, it offers a fantastic audiovisual experience and is home automation ready (supporting both Amazon Alexa and Google Assistant).
Sharing the top spot is the Onkyo TX-NR696. It's a superb unit which can easily replace your current Hi-Fi as well as switching multiple AV devices. It provides THX certified cinema-like sound from the comfort of your home. It's also available in silver and black!