Sony UBP-X800m2 vs LG UBK90 Blu-ray player comparison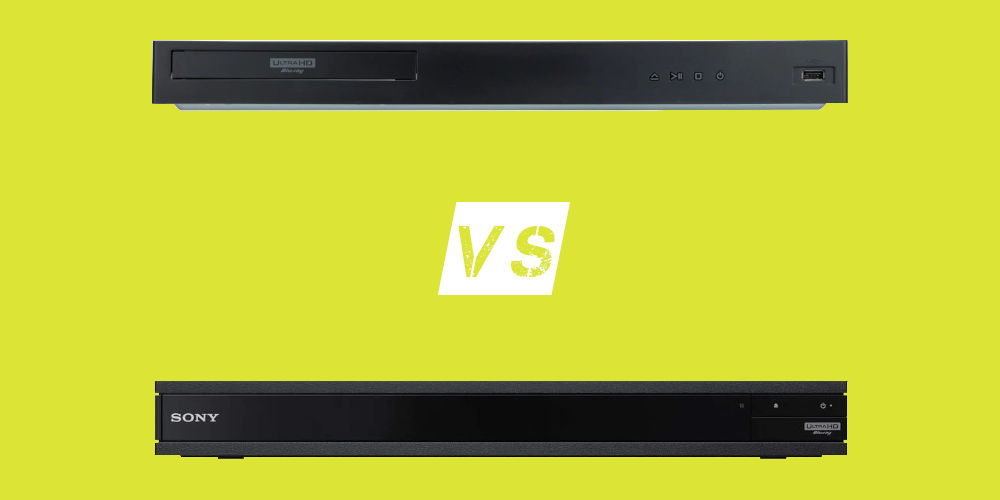 PUBLISHED: 17th February 2022 | LAST UPDATE: 27th January 2023
Finding the ideal Blu-ray player can be an exhausting task. Many brands promise a superior product but aren't that different in the overall scheme of things. So, comparing the Sony UBP-X800m2 vs LG UBK90 Blu-ray player might be a tough assignment.
Thankfully, we're here to help. While similarly priced, both have many unique factors, making them ideal for different situations within your home.
Built to an exceptional standard, the Sony UBP-X800M2 Ultra HD 4K Blu-ray Player offers amazing picture quality, support for Dolby Vision, HDR10 and HLG, built-in Bluetooth, and many other superb features. It's designed to last yet has an affordable price.
The LG UBK90 is a multi-region Blu-ray player that allows you to enjoy movies and shows regardless of where they were released. So, there's no need to wait for studios to release content in Region B (Blu-rays) or Region 2 (DVDs).
Come with us as dig in deeper and fully compare Sony UBP-X800m2 vs LG UBK90 Blu-ray players.
Sony UBP-X800m2 Blu-ray player overview
The Sony UBP-X800M2 Ultra HD 4K Blu-ray Player offers exceptional picture quality, support for Dolby Vision, HDR10 and HLG, and many other superb features. Built to an exceptional standard to ensure noise-less operation and longevity, you'll enjoy the unit for many years to come.
Regardless if you're playing the latest releases in 4K or an old format, the UBP-X800M2 displays each frame with a higher level of detail than before. Offering High Dynamic Range (HDR), each picture comes alive with new brightness, shades and colours.
The onboard audio is equally impressive as it supports Dolby Atmos and DTS:X decoders and High-Resolution Audio. Listen as lightning cracks, sirens wail, and car horns blare all around you in startling clarity.
Beyond playing a range of disc formats, you can use the Sony UBP-X800M2 to watch, listen, and stream content, thanks to its built-in Wi-Fi! There's also a USB port enabling you to enjoy even more formats!
Offering several outputs, The UBP-X800M2 also supports Bluetooth audio transmission. Simply pair your favourite Bluetooth headphones with the unit and enjoy a private viewing, without wires. The remote even has a Netflix button, allowing for easy access.
LG UBK90 Blu-ray player overview
As a multi-region media player, the LG UBK90 Blu-ray player allows you to enjoy content without limit. With 4K playback from multiple sources, LG electronics have released a future-proof unit that delivers sharp and vibrant images, with rich audio to match.
After watching your Blu-ray and DVD collections, connect the LG UBK90 to the internet and enjoy streaming content in 4K from services such as YouTube and Netflix. You can even play media from a USB drive.
Regardless of the starting resolution, each image is displayed in near 4K quality, thanks to built-in technology. Offering support for premium HDR and Dolby Vision™, images are more realistic and natural, just as the director envisioned.
As one of LG's premium Blu-ray players, it offers dual HDMI ports. These allow you to send separate audio and video from the UBK90. In addition, there's a separate digital audio output.
Design
Sadly, both units sport imaginative designs. Comparing sizes, the Sony is slightly larger than the LG, which is still quite big. The UBK90 has quite a large footprint at 43 cm by 4 cm by 20 cm. The Sony is 5 cm tall, so might pose a challenge if you're trying to slot it into an existing shelving unit.
An element where the Sony outshines the LG is the build. The UBP-X800M2 uses construction techniques usually reserved for high-end Hi-Fi systems. The casing uses Sony's unique Frame and Beam chassis for excellent vibration resistance.
On this element, the LG doesn't compare at all. If you're after superior build quality, the Sony is the way to go.
While the Sony has a more slick front panel, with the disk tray and USB port hidden behind a drop-down panel, the LG offer more control options, despite its plainer look. The Sony forces you to always use the remote. While with the LG, you might be fine without one.
Moving our attention to the rear, both offer identical options, consisting of Twin HDMI ports (1 x Video and Audio, 1 x Audio only), a LAN port for connecting to the internet, and an optical audio output.
Unfortunately, both have fixed cables, making adding them to your existing set up slightly harder.
Both offer comprehensive remotes with more buttons than you'll ever know what to do with. However, the Sony remote has buttons for Netflix, Bluetooth function, and favourites. Using either remote, you can control your TV if you so wish.
Winner: Sony
Features
Both units are multi-region Blu-ray players. So, you're not limited by what you can enjoy watching or have to wait for regional releases. Great news if you enjoy foreign films or TV series that aren't available to stream.
Another similarity is both play a range of media, including Blu-rays, DVDs, and CDs. Each has a front USB port, meaning you can enjoy an even wider range of content.
As 4k Blu-ray players, regardless of the starting resolution, the onboard software upscales each frame to the best possible image quality. Even older formats look sharp with vibrant colours and stunning contrast.
While the UBK90 supports HDR10 and Dolby Vision formats, the Sony also supports HLG formats, giving it the edge. The UBP-X800m2 has an inbuilt HDR to SDR converter, ensuring you can enjoy the highest image resolution even on TVs and projectors that aren't HDR compatible.
Sony is well respected for their audio specifications and this is another point of difference between the Sony UBP-X800m2 vs LG UBK90. The Sony offers a fully immersive sound thanks to the Dolby Atmos and DTS:X support.
Thanks to built-in Wi-Fi, both unit offers a host of smart features, including 4K streaming. You can easily access Netflix, Amazon, YouTube, and more using either Blu-ray player.
The Sony UBP-X800M2 has a Bluetooth output, allowing for seamless connection with Bluetooth headphones or speakers. However, the unit uses LDAC for improved Bluetooth sound transferring around 3x the data.
Winner: Sony
Connectivity
Offering similar options on the rear panel, it's tricky to choose between them. With either unit, you have built-in Wi-Fi, twin HDMI ports (1 x video and audio, 1 x audio only), a LAN port for a wired internet connection, and an optical audio output.
Both units have a fitted power cable, which we're not massive fans of as it removes some of the flexibility when plugging units in.
Regardless of the unit you choose, both are highly flexible when it comes to connectivity options, allowing you to feed a soundbar, AV receiver, or separate speaker set up.
Winner: tie
Set-up
Both units offer identical options, so it's a tie when it comes to getting either set up.
With both units, you can simply connect an HDMI cable from your TV to the Blu-ray player; and be up and running in minutes. Of course, you could add a soundbar or external speaker using the optical audio output.
You can use both HDMI outputs on either unit as they work the same way. The first HDMI port can supply video to a TV or projector and use the second HDMI port to feed audio to an AV receiver, which powers a surround speaker set up.
If you decide to connect to the internet, you could hard-wire either unit using an Ethernet cable from your router or connect using the built-in Wi-Fi capabilities.
Winner: tie
Performance
Thanks to the design, the Sony UBP-X800m2 is silent, while the LG does produce some noise. So the Sony is the clear choice if you want zero disruptions when watching movies.
Another area the Sony trumps the LG is picture quality. Yes, both units produce superb 4k images. However, the Sony offer more picture options, including HLG and also has a built-in HDR to SDR converter. All ensure you end up watching superior images.
The LG does offer Dolby Vision and HDR10 like the Sony. But these are just a few of the options you'll find on the Sony UBP-X800m2.
Streaming from either unit is straightforward, with Wi-Fi and LAN options available. The LG has a far better user interface and more controls over USB playback than the Sony.
We like that the LG has basic controls on the unit, while the Sony requires you to use the remote. Both remotes are easy to use and offer plenty of options to fine-tune how well your Blu-ray player works.
Winner: Sony
Sony UBP-X800m2 vs LG UBK90: Which is better?
After comparing Sony UBP-X800m2 vs LG UBK90 Blu-ray players, our conclusion is simple. While the Sony is slightly more expensive, it's the better option.
The Sony offer more picture and audio options, enabling you to use it with a wider range of TVs and projectors. Thanks to the built-in HDR to SDR converter, you can enjoy epic visuals regardless of your display.
An issue with the Sony that the LG doesn't have is the user interface. The UBP-X800m2 feels basic and clunky. However, Sony could update this and add improved USB playback controls among other features with a firmware update.
Overall, the Sony UBP-X800m2 Blu-ray player is silent, offers a range of options, plays a wide variety of media, and is easy to set up.