Sony UBP-X800M2 4K Ultra HD Blu-ray player review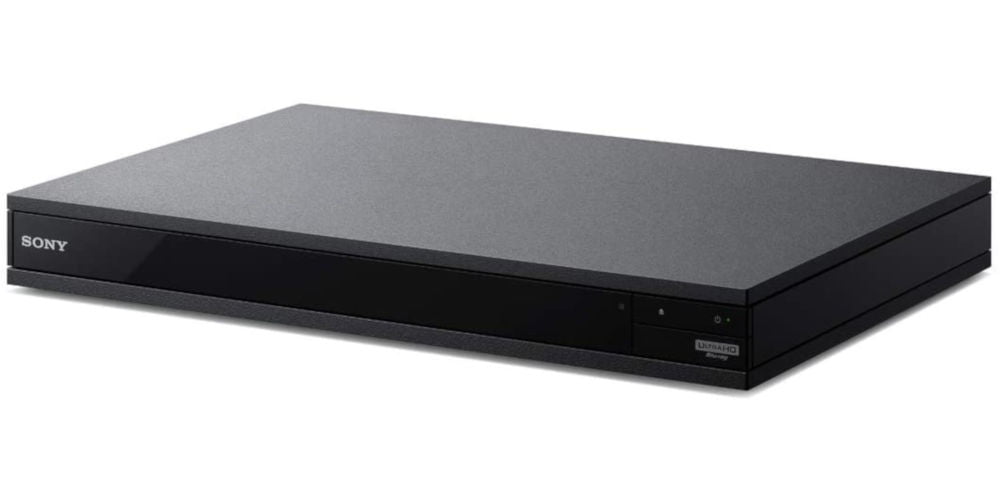 PUBLISHED: 15th August 2020 | LAST UPDATE: 10th July 2023
Experience movies like you're sat on set. The Sony UBP-X800M2 Ultra HD 4K Blu-ray Player offers exceptional picture quality, support for Dolby Vision, HDR10 and HLG, and many other superb features.
Built to an exceptional standard to ensure noise-less operation and longevity, you'll enjoy the Sony UBP-X800M2 for many years to come.
Whether you're playing the latest releases in 4K or an old format, the UBP-X800M2 displays each frame with a higher level of detail than before. Offering High Dynamic Range (HDR), each picture comes alive with new brightness, shades and colours.
The onboard audio is equally as impressive thanks to Dolby Atmos and DTS:X decoders and support for High-Resolution Audio. Listen as lightning cracks, sirens wail, and car horns blare all around you in startling clarity.
Beyond playing a range of disc formats, with the Sony UBP-X800M2 you can watch, listen to, and stream pretty much any media thanks to its built-in Wi-Fi! There's also a USB port enabling you to enjoy even more formats!
Offering several outputs allowing for painless connection, The UBP-X800M2 also supports Bluetooth audio transmission. Simply pair your favourite Bluetooth headphones with the unit and enjoy a private viewing, without wires.
As one of the Best Blu-ray Players under £500 currently available, the Sony UBP-X800M2 Blu-ray Player is highly recommended. 9/10
Pros
Dolby Atmos and DTS: X decoders
Images are upscaled to 4K UHD
Wireless connect Bluetooth headphones
Design
If you're a Sony fan, then you appreciate how well built their products are. Sony, with the UBP-X800M2, has raised their game and used construction techniques usually reserved for high-end Hi-Fi systems. The casing uses Sony's unique Frame and Beam chassis for excellent vibration resistance.
Not only is the Sony UBP-X800M2 silent, but it's also built to reduce distortion. This higher built specification ensure longevity.
Looking at the sleek front panel, pretty much everything is hidden. Behind the left-hand side door is the disc tray. On the right side, there are two rows. The top contains a power on/standby button and tray release/close button. Behind the door of the lower row is the USB port.
The rear is just as sparse with 2 HDMI ports (1 video and audio, 2 audio only), coaxial digital audio output jack and a LAN port. The power cable is already wired in.
Finally, the remote, which sports a vintage Sony design with plenty of spacing between buttons. As well as buttons for all of the basics, it has buttons for Netflix, Bluetooth function, favourites and TV controls for if you decide to link the UBP-X800M2 with a Sony TV.
Features
As a 4K Blu-ray player, the Sony UBP-X800M2 analyse each frame, ensuring it's displayed in the highest possible quality. This is great news if you still enjoy classic films on DVDs as they'll appeal with greater depth and richer colours.
If you instead prefer to watch the latest releases you'll be glad to know that the unit supports Dolby Vision, HDR10 and HLG formats. All these technologies produce the sharpest resolution with eye-popping levels of detail and realism.
With an inbuilt HDR to SDR converter, if your current TV or projector isn't HDR compatible, don't worry, Sony's technology allows you to watch HDR formats on any 4K TV while still offering the highest picture quality possible.
In terms of audio, the specifications are equally impressive. Coupled with a multi-channel sound system and enjoy a fully immersive sound thanks to the Dolby Atmos and DTS:X.
The UBP-X800M2 can faithfully reproduce a wide range of Hi-Res music files including 24-bit/192Hz FLAC and DSD (Direct Stream Digital) files. Even with standard MP3s, the built-in DSEE HX enhances the music signal, giving a brighter, more detailed sound.
In addition to being able to enjoy a range of media formats, using the powerful, dual-band, built-in Wi-Fi, you can watch content from many popular streaming services, all in 4K. These services include Netflix, Amazon and YouTube.
Finally, a Bluetooth output allows for seamless connection with Bluetooth headphones or speakers. However, the Sony UBP-X800M2 uses LDAC for improved Bluetooth sound transferring around 3x the data.
Set-up
You'll need to supply cables as annoying none come with the Sony UBP-X800M2 Blu-ray Player. If you're hoping to view media in 4K, then you'll want to use 4K HDMI cables. That said, the remote comes with batteries!
Depending on your current set-up, you might want to use both HDMI ports. If using the UBP-X800M2 in your cinema room, with an AV receiver like the Sony STR-DN1080, then connect a 4K HDMI cable between them.
If you're plugging directly into a TV, then you might want to use the first HDMI for visual and use the second HDMI or digital output for powering a soundbar or 2.1 channel soundbar and subwoofer.
It's also worth connecting to Wi-Fi and applying any available firmware updates, even if you don't plan to use the streaming function. You can easily activate the built-in Wi-Fi or run an Ethernet cable between your router and the Sony UBP-X800M2.
With this Sony Blu-ray player plugged in, insert the batteries into the remote and sit back and enjoy watching a DVD or movie using the USB port.
Of course, you might prefer to tweak the multitude of settings to fully optimise it, but out of the box the automatic set-up wizard does a superb job.
Performance
Using a Java-based operating system, the Sony UBP-X800M2 has a simple and minimalistic user interface. It's easy to use yet lacks any fancy graphics and does feel quite basic.
Playing discs is superb with no noise thank to Sony's engineering magic. Playing media using USB is decent until you want to select a certain time stamp. You can only manually fast forward or rewind using the remote control. Hope this can be resolved in a future firmware update.
Aside from being a superb media player, within minutes you can connect to Wi-Fi and stream content from all of your favourites including Netflix, Amazon Prime Video (30-day FREE trial) and YouTube. Sadly, they are the only apps as the unit lacks access to an app store.
Regardless of the media, the picture quality is extremely good with wide colour contrast and sharp images. The Sony UBP-X800M2 displays the deepest blacks and sparkling whites. Even on normal TV speaker, audio is punchy, crisp and detailed.
Even if you'll only use the UBP-X800M2 for playing Blu-rays and DVD in your media room, you'll notice an improvement in both picture and audio quality.
Is the Sony UBP-X800M2 worth buying?
As far as 4K UHD Blu-ray players go, the Sony UBP-X800M2 is one of the best units currently available. It's worth considering, particularly if you're upgrading from something basic such as the Sony BDP-S6700 Blu-ray player.
In terms of the negatives, the remote is quite basic and boxy, or we prefer to say classic Sony! We'd imagine that think you won't use it and opt instead for home cinema control like the Logitech Harmony Smart Remote.
Another element that could use some improvement is the GUI. It would be easy for Sony to bring this up to date with a few tweaks including further USB playable controls, App store and control via a smart app. All of these could be achieved with a firmware update.
A point that bugs us is no cables are included. Surely Sony could include a 4K HDMI cable as the cost would be tiny and would be useful to those just starting. This is, of course, a small issue.
On the positive side, it's well built (even though it heavy – nearly 5 kg!) and uses passive cooling rather than a fan, which means it's silent. It's easily over-engineered but the results are well worth it.
It does handle a range of media types with ease whether you're watching a disc, using the USB or streaming. And regardless of the starting resolution, every frame is displayed with heighten colours, depth and texture. Audio also sounds superb even when using nasty rear-facing TV speakers.
On balance, the Sony UBP-X800M2 Blu-ray Player scores 9/10