LG UBK90 Blu-ray player review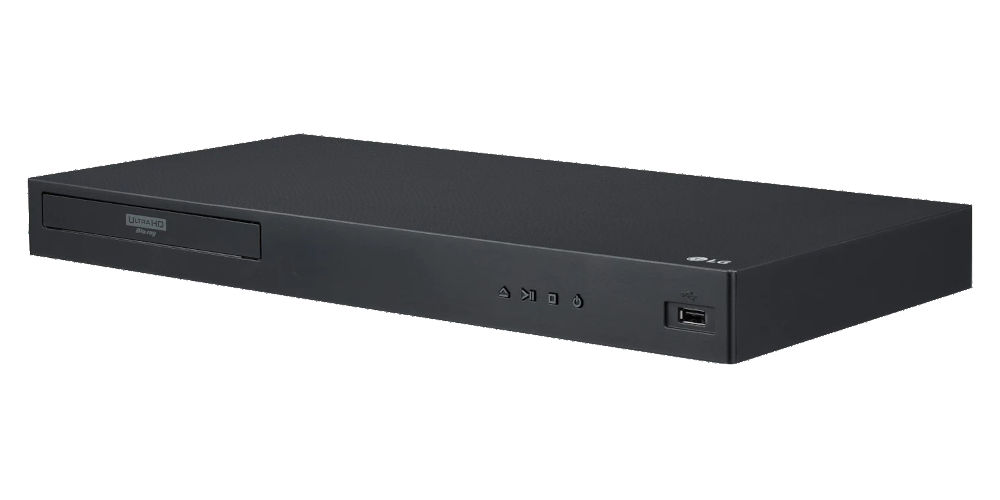 PUBLISHED: 4th January 2020 | LAST UPDATE: 10th July 2023
Enjoy 4K resolution and life-like colours with the LG UBK90 Blu-ray player. As a multi-region media player, you can enjoy content from all over the world without limit. The UBK90 also offers 4K streaming thanks to built-in Wi-Fi and can even play media from a USB drive.
With 4K playback from multiple sources, LG electronics have released a future proof unit that delivers noticeable image improvements over other HD Blu-ray players. Each frame looks sharper and more vibrant, thanks to LG's technology.
The UBK90 supports the premium HDR and Dolby Vision™, both favoured by renowned film makers from all over the world. Images are more realistic and natural, just like the director envisioned.
When you've watched your Blu-ray and DVD collections and listened to your CDs, connect the LG UBK90 to the internet (either Wi-Fi or an Ethernet cable). Within minutes, you can enjoy streaming content in 4K from services such as YouTube and Netflix.
As one of LG Blu-ray players, it offers dual HDMI ports. These allow you to send separate audio and video from the UBK90. Experience the best in 4K video with your existing audio system. 8/10
Pros
Multi-region Blu-ray (A, B and C) and DVD (1-8)
4K Streaming via Wi-Fi or wired Ethernet cable
Supports Dolby Vision HDR
Cons
Large footprint
Can't turn off HDMI-CEC feature
Design
At first glance, two things pop out. First, the UBK90 looks nearly identical to the LG UBK80 (read our review) yet offer far more feature. The second is the generic look that LG has stuck with that is a little dull.
While it might not win any design awards, the UBK90 has quite a large footprint at 43 cm by 4 cm by 20 cm and weighs nearly 2 kg. That said, at just over 4 cm tall, it should slot into the majority of media units with ease. You'll want to check before buying that you have enough space.
The front panel consists of the disc tray, four control buttons (disc open/close, play/pause, stop, power on/off), a power status LED and a USB port. You can easily access and operate the basic functions using this panel.
On the rear, there is a fixed power cable, LAN port for connecting to the internet, two HDMI outputs (Audio and Video, and Audio only), and an optical audio output.
Finally, a vintage design, plastic remote. It offers general controls, including tray open/close, power, and buttons to play, pause, stop, and fast forward/rewind. The remote also has track controls, RGB options and menu buttons. Finally, there is a row of TV control at the bottom.
Features
As a multi-region Blu-ray player, you're not limited by what you can enjoy watching. While most UK Blu-ray players can only play Region B/2 Blu-ray discs and Region 2 DVDs, with the LG UBK90, you can enjoy discs from all over the world. You no longer need to wait for regional releases.
Enjoy watching any Blu-ray, DVD, or 3D discs you already have or listening to your favourite CDs. You can also play videos, music, and images straight from a USB storage device. The list of media formats you can enjoy is seemingly endless.
As a 4K Blu-ray player, older content looks far better thanks to the built-in upscaling software that ensure no matter the original quality, you're viewing the best possible image quality. And of course, the latest 4K releases are simply stunning with super-crisp detail and realism.
The UBK90 supports HDR10 and Dolby Vision formats. Both of these extend the range of colours for enhanced realism. You'll notice brighter whites and darker blacks. With these improved levels of contrast, images feel more real, creating an even more immersive experience.
HDR10 is the minimum standard used by electronics manufacturers and studios. Dolby Vision is the next level, delivering the sharpest, most accurate images possible. With the LG UBK90 Blu-ray player, you can experience content as the director intended.
The built-in Wi-Fi offers a host of smart features, including 4K Streaming. Compatible with services from YouTube and Netflix, amongst others, the UBK90 lets you stream and view premium 4K content to its full potential.
Set-up
With the average Blu-ray player, getting them set up takes minutes. Plug in the power cable and connect the HDMI from the unit to your TV. Finally, add batteries to the remote, and you're ready. Things are a little different with the LG UBK90 Blu-ray player as it offers multiple options.
If you're only using TV, follow the advice above. Just ensure that you're using a 4K HDMI cable, or the picture quality won't be as good as it could be. You could use the audio optical output to supply a home cinema set up or a soundbar with audio.
Another option available with the UBK90 is running the first HDMI output to a TV or projector. Use the second HDMI output to power a soundbar or older non-4K AV receiver, which in turns powers your surround sound speaker set up.
If your TV is from LG, you might be able to use SIMPLINK (which is LG's name for HDMI-CEC) to control your Blu-ray player using your existing remote.
It's worth starting with a DVD or Blu-ray disc and experimenting with the basic settings and the remote. If this goes well, then try watching media stored on a USB drive or you could connect your LG UBK90 to the internet and enjoy streaming content.
The UBK90 can connect to the internet either using the built-in Wi-Fi or an Ethernet cable from your wireless router. We prefer the wired approach as you're less likely to experience signal drop outs, but this might not always be possible.
When you turn on the unit for the first time, the initial set up wizard appears on the screen. It takes a few minutes to properly set up. After setting it up, you can experiment with the myriad of available settings and features.
Performance
The three biggest selling points the LG UBK90 offers is multi-region, Dolby Vision, and built-in Wi-Fi. Compared to other 4K Blu-ray players, these make the unit stand out, even if just a little.
Regardless of if you're watching 4K content or not, the UBK90 offers vibrant colours and high contrast. Using the Dolby Vision mode, or even the basic HDR10 settings, elevates the image quality further. Add in a high refresh rate, and you have an excellent Blu-ray player.
It might not have Panasonic's unique HCX (Hollywood Cinema Experience) processor used by the Panasonic DP-UB320, nor a Netflix button, but the UBK90 offers a superior picture quality and multiple outputs.
While there are multiple audio outputs, unlike the Sony UBP-X800M2, you can't pair it with Bluetooth headphones. But that's an easy thing to fix with a Bluetooth transmitter!
The busy remote isn't essential as there are the basic controls on the unit. That said, there are plenty of configurable options that you can access using the remote. So, you'll want to experiment with the settings to adjust for optimum performance.
Streaming from the device is straightforward, with Wi-Fi and LAN options available.
Is the LG UBK90 Blu-ray player worth buying?
Overall the LG UBK90 Blu-ray player is a good unit. It offers a range of features we're all looking for in a new media player, including multiple outputs, built-in Wi-Fi and fantastic software that delivers an excellent image quality regardless of the original resolution.
However, compared to the Sony UBP-X800M2, which scored 9/10 in our review, a few elements are missing. Unlike the Sony remote, there isn't a Netflix or Amazon Prime button on the remote. So, you'll need to navigate the various menus to use the streaming services.
The UBK90 can handle multiple regions and formats, including 3D and hi-res audio formats such as AIFF. Regardless of the starting resolution, the unit will upscale everything to the best possible quality. The HDR options take this to the next step, offering improved colours and contrast.
If you're a massive LG fan, then the UBK90 will be a good option. Otherwise, there better options are available as long as you're fine with being limited to the EU/UK region. 8/10