What's the best robotic lawn mower garage?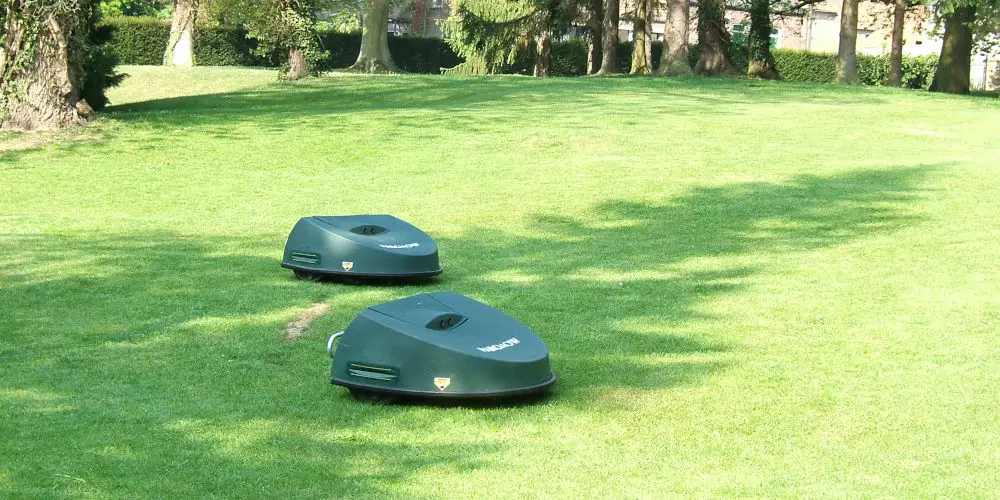 PUBLISHED: 7th August 2022 | LAST UPDATE: 30th August 2022
After deciding to store your robomower in some sort of enclosure rather than leaving it to fend for itself, you start to search for the best robotic lawn mower garage. But with plenty of options available, it's not an easy decision.
There are many reasons why you might want to keep your robomower tucked away, including to ensure someone doesn't steal it. While it's rare for them to go missing, there is still the risk.
One reason to keep it hidden is to keep your garden looking beautiful and free from a potential eyesore. Not saying your mower is as most are aesthetically pleasing! However, you don't want to draw unwanted attention to it when you're enjoying your garden or entertaining guests.
So while you can go down the DIY route and build your shelter, buying a pre-made robomower garage is quicker and easier. After researching the market, we've picked 8 of the best robotic lawn mower garage.
vidaXL Lawn Mower Garage with Raised Bed
Sporting a unique design, the vidaXL Lawn Mower Garage with Raised Bed provides superb protection to your robomower. Made from rustproof and weather-resistant steel wire, the gabion is very stable and durable.
As a wire mesh frame, you can fill it with rock or gravel, allowing you to create a unique feature within your garden. The roof doubles as a planter. Simply add your favourite flowers and plants, to create a unit that blends into your garden.
It arrives flat packed. So, you'll need to assemble it before installation. Designed to last, it will protect your robot mower for years to come.
SAILUN Carport Shelter for Robot Lawnmower
Stylishly protect your robomower when not in use or charging without impacting its ability to find and connect to the charger. The SAILUN Carport Shelter For Robot Lawnmower offers protection against rain, hail and UV rays.
Made of polycarbonate, the sturdy roof offers UV protection and is highly durable. The iron frame is complete with an interesting design. While the iron feet ensure stability, regardless of the weather.
Arriving flat packed, it comes with a tool set, detailed installation instructions and four pegs. Once built and secured, your robotic lawnmower will be protected from the elements and still be able to reach its charging point.
Gardebruk Robot Lawnmower Garage
Thanks to its simple anthracite colour, Gardebruk Lawnmower Robot Garage fits perfectly into your outdoor space. It offers plenty of space and extra wide entry to ensure your robomower has more than enough room to move.
Made from hot-dip galvanised steel, this unit is the perfect shelter for your lawn robot and protects it from rain, hail or UV light. Thanks to the inclined roof surface, rain simply runs off. The edge protectors defend against injuries to animals, people and damage to your robot.
A smart cable guide with rubber protection allows you to conveniently guide your charging cable and boundary wire out of the garage.
The garage can be placed on any flat surface, whether on your lawn using the 4 included pegs or on a paved or concrete foundation using standard screws.
IDEA MOWER Garage Lawn Mower Vader Micro
Sporting a modern, simplistic design, the IDEA MOWER Garage Lawn Mower Vader Micro is made from Aluminum Alloy. Its modern and attractive design will add another stylish element to your garden while protecting your robot lawn mower and its charging station.
The cover protects your robomower and charging station from heavy rain, hail, wind, and accidental events that may occur. Guarding your mower against sunlight, this garage ensures your unit doesn't overheat.
Entirely constructed of composite aluminium and stainless steel, it offers maximum protection against weather and accidental shocks ensuring a long service life. Plus, the sunroof allows quick access to the control panel of the robot mower and the charging dock.
Duramax Robotic Lawn Mower Metal Garage
Protect your robotic lawn mower and charging station all-year round with the Duramax Robotic Lawn Mower Garage. Featuring an open back design, your robot Lawnmower moves easily into the garage to recharge its batteries.
Manufactured from hot-dipped galvanized steel and finished with powder-coated paint, it comes with a 15-year warranty against corrosion. As a durable, UV-protected, waterproof unit, it's also maintenance-free. So, you can buy safe in the knowledge you're making a good investment.
It's also weather resistant and can withstand winds when anchored on the ground properly. Depending on your garden and your ideal location, this garage can be placed anywhere. It arrives flat packed with assembly instructions and an accessory kit.
dobar 56194e Robot Lawnmower Garage
If you want a robomower garage that looks DIY and is easy to paint, consider the dobar 56194e Robot Lawnmower Garage with Removable Roof. It's made of natural spruce wood from the EU, ensuring a long life.
Large enough for all standard lawn mower robots, this garage reliably protects the device from sun, rain and snow. With no base plate, you can place it anywhere on your lawn. The removable roof also allows easy access to the interior.
With a design based on a classic wooden house, it's a real eye-catcher in the garden. A small sign above the entrance gives you an additional way to personalise your shelter.
Auto-Mow My Robot Home Wood Garage
If you've invested in a top-of-the-line robotic lawn mower, you should protect it with an Auto-Mow My Robot Home Wood Garage. The automatic door opens and closes automatically, keeping your unit secure when not in use.
There's no need to program a timer as the garage door is mechanical and very easy to adjust for any robot mower. Your Robot Mower and the Charging Station are always protected.
Made from high-quality wood, you can easily paint it to match your garden or home. In addition to the mechanical door, the roof opens, allowing you access to your robomower and the charging base without needing to lift and move the garage.
KÖNIGSPROD Roboport Robotic Lawn Mower Garage
The KÖNIGSPROD Roboport is a stainless steel robotic lawnmower garage that's absolutely weatherproof. It offers the best protection against UV rays, rainfalls, hail, dust and accidental damage. Protect your hard-working garden helper against environmental exposure and extend its life!
Made of high-quality stainless steel, it features a modern design and is maintenance-free and corrosion-resistant. It's suitable for robot lawn mowers and charging bases of a range of sizes. Plus you can order the Roboport in three different sizes.
It arrives flat packed with an assembly manual and fixation pins. Easy to assemble, your robot mower and it's docking base will be protected for life.
And the best robotic lawn mower garage is…?
Picking the best robotic lawn mower garage from our list is a tall order as they are all fantastic. We've picked our two favourites.
Firstly, the vidaXL Lawn Mower Garage with Raised Bed as you can create an attractive element in your garden with ease.
If you're concerned about security, invest in the Auto-Mow My Robot Home Wood Garage. As one of the most expensive mower garage available, you should only buy one if you have a top of the range robomower.