ARYLIC BP50 Bluetooth Preamplifier review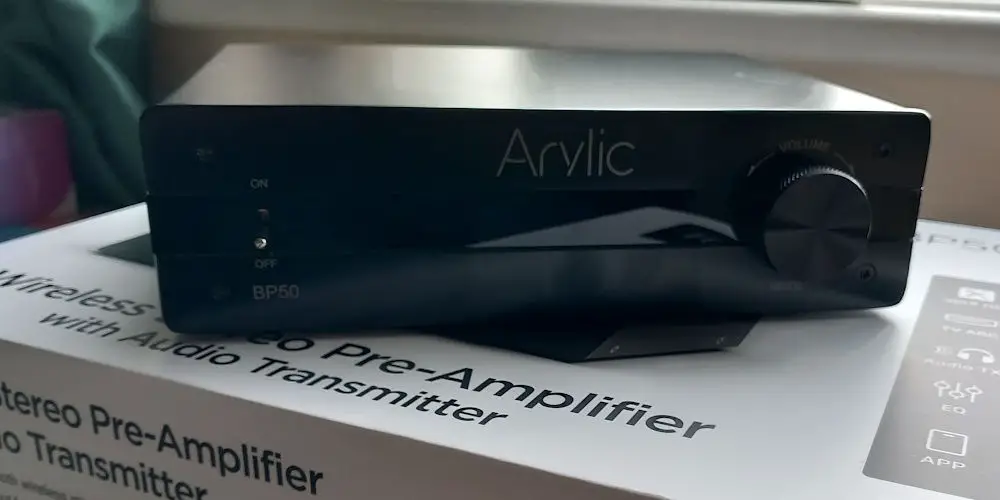 Playing music from multiple sources can be challenging as not every device easily connects to your existing speaker set up. Thankfully, the ARYLIC BP50 Bluetooth Preamplifier solves this common issue and more.
As with the A30+ mini amplifier, ARYLIC sent us the BP50 to review. However, this is our honest opinion after testing in our home.
If you have speakers you already love but struggle to connect various devices due to limited input on your amplifier, you'll want to consider the BP50. It won't replace your amp but will enhance it.
You might wonder what makes the ARYLIC BP50 unique, especially as plenty of solid state and tube preamps are available. It has 6 analogue and digital inputs, allowing you to connect a range of devices. It also offers Bluetooth, aptX support, and DAC.
The range of outputs is equally impressive. First, it can transmit to 2 Bluetooth headphones simultaneously. Secondly, it has 4 analogue and digital outputs, so you can connect it with an existing  amplifier, soundbar, or another audio system.
If that sounds exciting, come with us as we explore the ARYLIC BP50 Bluetooth Preamplifier in detail.
Exploring the device's design
Similar in size to a dictionary, the BP50 measures 18 cm (w) by 15 cm 8(d) x 5 cm (h). It's larger than the A30+ by roughly 70%. ARYLIC has stuck to black shell colour and a metal enclosure. While it's not the most exciting exterior, it slot in with your existing array of home AV gear.
Minimalist front panel
The front panel is sleek, with only a power switch and multi-function knob. To increase or decrease the volume, rotate this knob. If you push it in, you can cycle through the different input sources. You might find you can do without the remote, but more on that in a second.
Connections at rear
Moving our attention to the rear, which is very busy, especially in comparison to the front! At each end, you'll find an antenna. These screw in and lock into place with a few turns. Under the left antenna, you'll find the power socket for the included adaptor.
From there, it nicely breaks down into two parts: inputs and outputs. As we're looking at it left to right. We'll deal with the outputs first. We have L and R phonos, which we could connect to an amp or receiver. There are also 2 digital outputs: optical and coaxial, both ideal for soundbars.
Moving to the right, we have a selection of inputs starting with 2 sets of phonos, perfect for CD or record players. Somewhat confusingly, the next column has a subwoofer output and optical input. It's likely arranged this way due to space.
The three final inputs are a HDMI ARC, USB, and DAC. Finally, we have a reset button.
Remote control
You'll find a remote in the box with the ARYLIC BP50 that could be useful but you might prefer to use the app. As to be expected with any remote, it has controls to select different sources, EQ settings, volume up/down and power on/off.
You'll prefer the app!
All that's left to cover is the Go Control app, which is available on the Google Play Store and Apple App Store. As we're constantly on our smartphones, an app is far more likely to be used.
You can easily switch sources, try different EQ presets or play with them, change the app's background colour, and pair Bluetooth headphones with your BP50.
What features does it offer?
The ARYLIC BP50 is a Bluetooth preamplifier with HDMI ARC and CEC control. It offers multiple inputs, including HDMI Arc, phono, USB, and Bluetooth. The BP50 also supports Bluetooth 5.2, aptX HD, aptX LL, aptX Adaptive, AAC, and SBC.
As a preamp, you'll still need an amplifier and speakers. However, the BP50 enables you to neatly organise multiple different inputs and outputs into a single cohesive system.
It supports decoding up to 192kHz/24bits TV Audio with PCM format, ensuring you're listening to the highest quality sound. While you can connect it to powered speakers, including an active subwoofer, you can pair 2 Bluetooth headphones with the device.
Whether you want to use headphones to keep the noise down as your kids are sleeping or you're enjoying an outdoor cinema without upsetting the neighbours, the BP50 can handle it. In short, it takes your existing audio system and turbo-charges it in minutes.
Compared to many preamps on the market that only offer a single or two analogue inputs or cost £4k, the ARYLIC BP50 manages to balance multiple impressive features with an affordable price tag.
Sadly, it doesn't offer a streaming function, so you can't enjoy listening to YouTube music or Spotify directly, but you can use Bluetooth from your phone or tablet to access these services.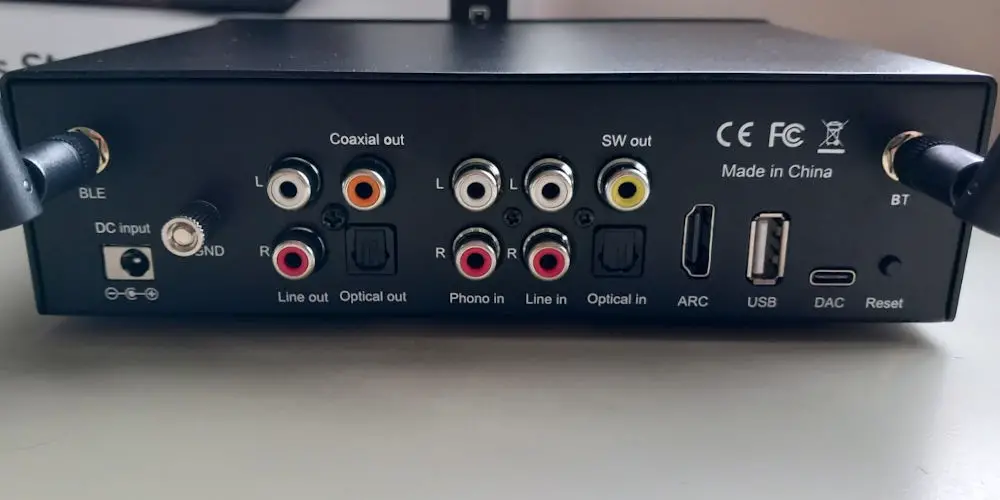 How to install the ARYLIC BP50 Bluetooth preamplifier
Getting the ARYLIC BP50 set up takes about 20 minutes. In the box, you'll find the unit, a remote, a power supply, 2 antennas, and manuals. It's annoying there are no other cables, so be warned you'll need to have your own ready to go.
Before connecting devices, start by screwing in the antennas and plug the power cable in. Depending on how many devices you need to connect to your BP50, it could take a few minutes or 10 to get everything plugged in.
After adding devices to the inputs, all that's left is to connect your outputs. You could connect your BP50 to a soundbar, amplifier with bookshelf speakers, AV receiver, or a combination. The separate subwoofer output is a nice touch that's super useful.
From there, you can test the different inputs using the control knob on the front. It acts both as a volume control and input selector. As you select different sources, you'll see the label light up on the front panel.
When you're happy and have played around with it, try using the remote. Sadly, you'll need to supply your own batteries! You could skip this part and download the ARYLIC app.
The Go Control app will allow you to adjust the EQ settings, turn the volume up or down, and select different sources remotely. So, it's worth taking some time to play around with the app.
How can I use the BP50?
Several ideas spring to mind when thinking about using the ARYLIC BP50. If you have an amplifier and speakers you love, but the amp only has a single input, the BP50 can help you easily connect your audio devices to your existing set up. Of course, it offers more features than this, but still.
Another option is to use it with a soundbar to connect multiple devices, including your TV and create a powerful audio system. As the BP50 works with HDMI ARC, you can send control signals to the unit from your TV, meaning it'll wake up as it senses an audio input.
Using the BP50 with your TV and soundbar, you can use the different analogue and Bluetooth inputs, and also built-in USB media player. You'll still have unused inputs! It'll make your system far more flexible.
If you have the ARYLIC A30+ or A50, their BP50 is the perfect companion, as you can painlessly add more inputs and functions. The only downside is you need two apps: The Go Control app for the BP50 and the 4Stream app for the A30+ or A50.
One way you could use the unit is as a Bluetooth headphone amp. You can pair up to two Bluetooth headphones with the device. So even if you don't need every feature, you could find this one super useful. For this reason, it'd be ideal for a garden cinema system!
Is the ARYLIC BP50 Bluetooth preamplifier worth buying?
There are a multitude of preamps on the market, including some very expensive tubes ones that sound excellent! Few compare to the ARYLIC BP50 Bluetooth preamplifier when you consider the price and what features you get for the money.
It might not be the best sounding preamp available nor does it have a streaming function. You'll need to supply your own audio cables and batteries, but these are two small annoyances.
The Go Control app is easy to use, and we prefer it to the remote. Not that remotes don't have their place, but it's the 21st century, and we do most things on our phones!
If you're looking for an easy way to combine multiple audio inputs into a seamless system, it's worth considering the ARYLIC BP50. They might not have the same brand awareness as Cambridge Audio. However, they are still producing quality devices at an affordable price.