ARYLIC A30+ mini wireless amplifier review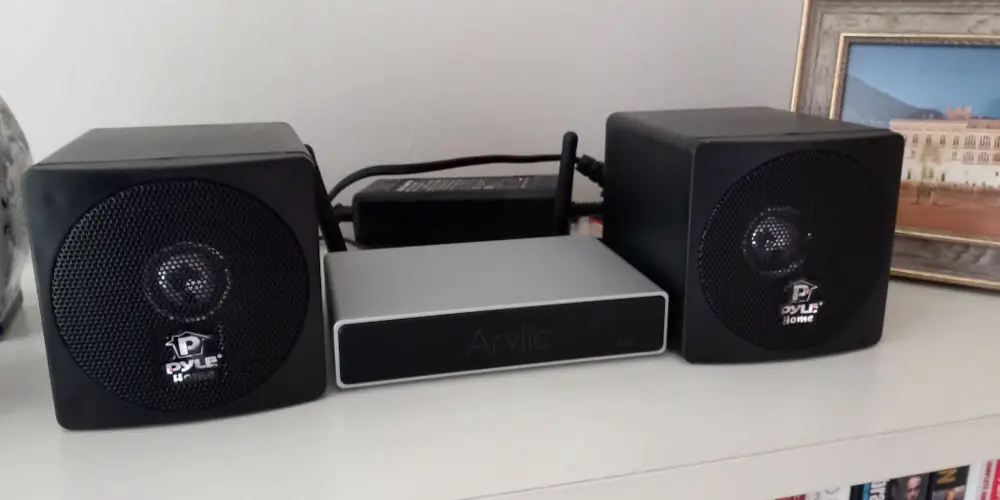 If you're looking for a powerful yet tiny wireless amplifier, the ARYLIC A30+ could be the answer. The ARYLIC brand might be new to you, but they offer a superb range of Hi-Fi amps at affordable prices. While they sent us the A30+ for free, this is our honest opinion.
In our quest to build a smart home using the Fibaro system, the next logical function was audio. We've automated the lights, some curtains, and built some scenes. All make life easier. And as we love listening to music, integrating a Hi-Fi system into the system makes a lot of sense.
After searching the Fibaro marketplace for Quick Apps around AV, we discovered ARYLIC and were fascinated by what they offer. With over 20 wireless Hi-Fi amplifiers and their own speaker collection, ARYLIC offers all you need to add multi-room audio to your home.
They sent us the A30+. It's a highly affordable mini stereo amp that puts out 60 watts (2 channels x 30 watts). It works with a range of inputs, including Bluetooth, USB, and even has a mini-jack input. You can connect two speakers to it using their unique system and included screwdriver.
Let's dive into the ARYLIC A30+ mini wireless amplifier and explore why you might want one or several in your home. If you'd like to buy one, ARYLIC has kindly offered us 15% off using the discount code: AS015.
Exploring the device's design
It can be hard to tell the size of things these days, especially if you only see them online. So we were surprised the first time we pulled the A30+ out of the box. It's tiny, measuring 13 cm (w) by 8 cm (d) by 3 cm (h). So small, in fact, it'll fit in your palm.
Despite its small size, it's packed full of useful features. The front panel is black. Hiding below the sleek exterior of this panel is a large, bright LED. Sadly there are no controls on the unit or screen to see what's happening.
Moving to the rear, you'll see a lot of options. There are spaces to screw in the two antennas for Wi-Fi and Bluetooth. It has a power button that controls different functions depending on how you touch it. A DC power input ensures you can easily connect the A30+ to the mains.
The power cable looks like a laptop one, as it comes in two parts and converts the AC from the socket into 18V DC. Several analogue inputs are available, including a USB port, mini-jack aux, and LAN port. These inputs add flexibility to what is a wireless amplifier.
In the box, you'll find a screwdriver and speaker block that you connect the speaker wires to. There's also a dual phono to mini-jack cable and a manual in the box.
The remote is a decent size and has more buttons than you'll ever need. It has buttons for power, volume up/down, mute, source selection, and various EQ settings. 
What features does it offer?
What makes the ARYLIC A30+ exciting is that you can easily play music from streaming services, online radio, and media saved on your phone or tablet, and still not touch the analogue inputs! Of course, having a USB port and mini-jack socket adds even more options.
It offers built-in Wi-Fi and Bluetooth, making it simple to listen to music from various sources. If you use a USB pen drive/stick, it does have 1000 songs limited but can play FLAC/MP3/AAC/AAC+/ALAC/APE/WAV formats.
It supports AirPlay, DLNA, UPnP, Spotify Connect, Qplay, and NAS with DLNA support. It offers decoding up to 192kHz/24bits and output up to 44.1kHz/16bits CD quality.
While you have to supply your own speakers, It puts out 70 watts RMS with a 4Ω load or 38 watts RMS with an 8Ω load; and works equally well with 4 to 8Ω speakers. The frequency response is equally impressive as it can handle 20Hz to 20kHz.
As with other ARYLIC amps, you can link the A30+ with other models in the range for multi-room audio. You could have an A50+ in your living room as it has a subwoofer output and a couple of A30+ in the bedroom and kitchen.
Typically, you'd use them as separate Hi-Fis until you're home alone or hosting a party and want to play the same song throughout the house. As you'd expect, using several ARYLIC units for wireless multi-room audio is very simple to do.
How to install the ARYLIC A30+ mini wireless amplifier
Getting set up takes about 10 to 15 minutes. You'll want to place the ARYLIC A30+ mini wireless amplifier on a flat surface and grab your smartphone. 
Download app
Next, start downloading the 4Stream app on your phone (it's available on both Google Play and Apple App Store). It'll take a minute or two to download and install.
Connect speaker cables
While your phone is downloading and installing the app, you can connect the cables. Start with the speakers. You need passive speakers, which in our case are the PYLE PCB3BK mini bookcase speakers. Also, you'll need 2-wire speaker cable to connect between the amp and speaker.
Using scissors, strip the speaker cable at each end. Be careful not to cut them while trying to strip the outer plastic. Finish preparing the cables by twisting the wires into a single wire. You should be able to connect the bare wires to your speakers without needing banana connectors.
With the other end, you need to place the wires into the ARYLIC speaker connector and use the included screwdriver to fasten them. Next, push the connect into the back of the A30+.
Powering up
Now you have the speakers connected and the app installed, you can connect the power cable. Start by holding the POWER button, then plug in the power cable. The LED light will start flashing, release the button and wait till the LED flashes slowly.
Configuring your A30+ for the first time
Open the 4Stream app on your phone. It'll ask you for permission to use GPS data and file storage. Next, select your A30+ and enter your Wi-Fi details to complete the set up. If it fails to find your amp, you can always connect to it wirelessly and complete the set up that way.
When set up, it'll automatically check for new updates. You can then rename it and play music from the 4Stream app. The app allows you to select between the different sources such as streaming apps on your phone (Spotify/TuneIn/TIDAL/etc.), Wi-Fi, AUX in, or Bluetooth.
Does it integrate with any smart home systems?
The issue with most DIY smart home systems is they lack proper integration with a wide range of audio video options. Many work with Sonos, allowing basic control over their smart speaker range, but you might prefer something different.
If you're a long-term reader, you'll know we're fans of Fibaro and have an HC3 Lite running in our home. The ARYLIC range integrates with Fibaro using a Quick App, but they also work with other smart home systems, including Home Assistant and Loxone.
To get the A30+ or any of their range to work with Fibaro, you need to download their Quick App from the marketplace. Next, log in to the online platform. Click on the gear icon to access settings and then on the add device button. In the search bar, type "quick app".
You'll then need to name your Quick App and place it in a room. Next, drag and drop the downloaded folder, and you're done. If you return to the first screen, you'll see the Ayrlic player and be able to control it from the online portal and using the Fibaro app.
How does the A30+ perform?
The majority of solid-state Hi-Fi amplifiers produce a neutral sound, and the Acrylic A30+ is no different. Two elements with the biggest impact on how an amp sounds are the speakers and the adjustable EQ curve.
In our case, the PYLE speakers, while mini produce a fairly balanced sound across the frequency spectrum. Unlike many bookcase speakers, they have a nice low-end response. Of course, it's not comparable to a subwoofer, but they produce a nice sound.
The PYLE speakers can handle up to 100 watts, so are ideal for using with the ARYLIC A30+ as it puts out 70 watts RMS. We found there's plenty of volume on tap, making it ideal for listening to music alone or for supplying entertainment for parties.
In the 4Stream app, you have access to a 2-band EQ, which isn't amazing or game-changing but does help to shape the sound slightly. We found that by cutting the high frequencies slightly and boosting the low-end, a touch improved the sound and made it a little more rounded.
We didn't try the remote, as using the app felt more appropriate to us. With the app, you can easily select sources or from the in-built radio stations. It's very easy to use and navigate. 
After downloading the YouTube Music app (as we're already on YouTube Premium), as could easily stream music from YouTube to the A30+ while still being able to use different apps. Even playing music from our phone using the AUX input is simple and sounds good.
Switching over to the Fibaro app, allows us to control the basic functions, such as being able to play/stop/pause tracks and skipping to the next or previous one. It's not foolproof, but is better than switching between multiple apps.
Is the ARYLIC A30+ mini wireless amplifier worth buying?
If you're looking to add multi-room audio to your home and want to explore an option that isn't Sonos and is highly affordable, the A30+ might be ideal. The ARYLIC A30+ mini wireless amplifier is a superb unit that's easy to set up and feels intuitive to use.
Unlike its bigger brother, the A50+, which has a subwoofer output, the A30+ only allows you to connect a stereo pair of passive speakers. That said, it still sounds good across the frequency spectrum.
We can see us using a mix of A50+ and A30+ in our home, with the larger A50+ handling audio in the lounge and the smaller A30+ in the bedroom, kitchen, or study.
It would be nice if the 4Stream app offered a 6- or 8-band graphic EQ instead of just bass and treble. But that's a minor annoyance.
One element we plan on exploring is how to integrate YouTube Music playlists into a Fibaro scene, allowing us to automatically play music and control multiple other smart home devices with the tap of a button.
So, is the ARYLIC A30+ mini wireless amplifier worth buying? We believe so, whether you plan to use it as a wireless Hi-Fi or build a multi-room audio system. Plus, if it doesn't quite have the right specs, we're sure that ARYLIC offers a Hi-Fi solution that will match your requirements.
If you'd like to buy one, ARYLIC has kindly offered us 15% off using the discount code: AS015.