How to build an epic garden home cinema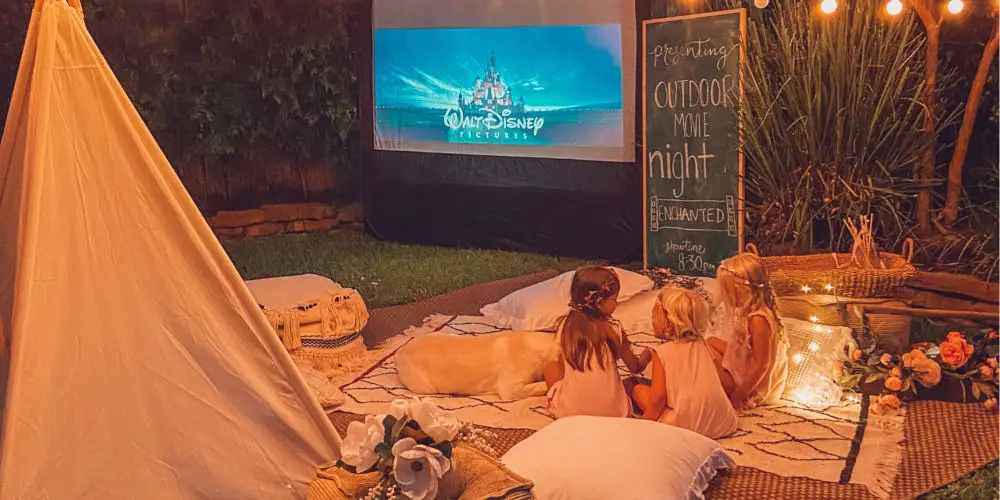 PUBLISHED: 10th August 2021 | LAST UPDATE: 29th August 2023
Nothing is quite like relaxing in your garden during the long summer day. Gather some friends, fire up the BBQ, and chill some drinks. Granted, this is all pretty standard stuff. But what if you created a garden home cinema? Well, you might be the envy of all your friends!
You've probably gathered plenty of inspiration from Instagram (explore #gardencinema with nearly 8,000 results!). Blankets and beanbags on the lawn, a large screen, bowls of snacks and popcorn, and enough fairy lights to illuminate a Christmas tree!
Thanks to technologies such as Dolby Atmos, you're no longer limited to a lumpy seat at your local multiplex cinema. Instead, you can affordably build a professional quality cinema albeit at home.
Once you have the gear, you can easily set up an outdoor cinema. You could, of course, invest in a few key pieces and have a separate garden home cinema all ready to go for when the weather's nice and you fancy relaxing outside.
There's nothing quite like having your own backyard cinema for watching sports, movies or videos. Plus as a temporary installation, you can let your creativity flow and style it slightly differently each time.
Where to start building a garden home cinema
If you're confused about where to start, thankfully, it's simpler than it might seem. And while you could buy a Garden Cinema Kit, you only need a few key components:
Projector
Screen
Speakers/headphones
Media player
Lighting
Seating and accessories
Snacks
Choosing the ideal projector
At the heart of any indoor or garden home cinema is the projector. Buying one can be confusing and expensive, so you might want to start with our projector buying guide and our round-up of the best portable projectors.
Unlike a TV, projectors are affected by ambient light, with too much causing images to wash out and lose their definition. Compare this to using the same projector in a dark room and the picture will be sharp with superb contrast.
You can solve this issue by using a projector with a high lumen count. You might be able to get away using a projector with 1,500 lumens indoors. However, outside you should look for projectors that offer 4,000 ANSI lumen with a full HD 1080p resolution.
Thankfully, there are many portable projectors that are excellent for outdoors including the Viewsonic X10-4K projector and XGIMI Elfin. Both offers a ton of features including built-in speakers and media players; and they both uses an LED bulb for longevity.
A piece of kit that always gets overlooked is the projector stand. While you could use an existing garden table, it's worth buying a specific projector stand as this will help you establish the correct angle and position with ease.
What's the best screen and location?
As a temporary feature, you probably don't want a fixed projector screen or one that will take an age to assemble each time. You could get away with using a white external wall or a white cotton sheet draped over a washing line or fence.
Another option is to drape a white sheet from a bedroom window so that it hangs flat below. However, with all of these options, you'll end up with a less than optimal picture as your screen won't be completely flat.
If you plan to use your garden home cinema often during the summer, then it's worth buying a portable projector screen such as the Duronic Projector Screen TPS60. You could DIY and build a wooden frame, then staple the sheet to that as this could be hung from the fence or a wall.
Getting your new projector set up couldn't be easier, especially if you follow our tips! It might take you a few attempts to find the perfect screen to projector distance, but you'll soon have figure it out.
Speakers vs Headphones
As it's not practical to assemble a 5.1 surround sound system every time you want to watch a movie or sport outside, we need a creative solution.
You might have a projector with built-in speakers, but these will produce a poor audio experience due to the small speaker size and lack of a subwoofer. Plus, you might need to position the unit behind you, which will muffle the sound, making it hard to hear.
One solution is to invest in a 2.1 channel soundbar and subwoofer package. While not the fully 5.1 experience, these are a fantastic alternative that sounds superb. They are also compact and only require two or three cables, allowing you to set up in a minute.
A growing trend is to use wireless Bluetooth headphones such as the Sennheiser HD 450BT, allowing you to enjoy watching a movie without disturbing the neighbours! In addition to headphones, you'll need a Bluetooth audio transmitter such as the Sennheiser BT T100.
Plug the Bluetooth audio transmitter into the speaker output of your projector or media player. Next, pair each set of headphones with the transmitter, and you're ready to go. No mess of wires, poor listening spots or complaints from the neighbours!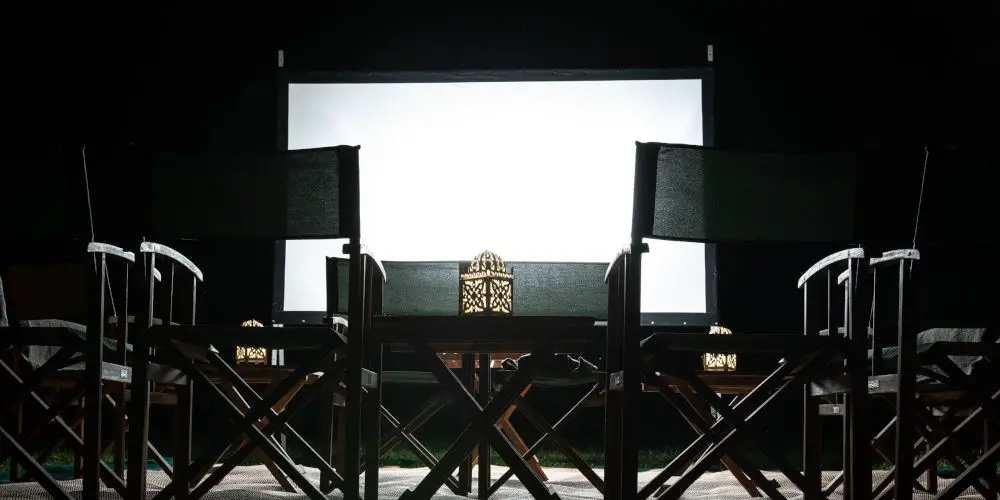 What can I watch?
Depending on the type of projector you have, it might have a built-in media player, allowing you to download movies onto a USB stick and watch them without needing any other devices. As the easiest way to enjoy content in your garden home cinema, this is our preferred method.
If your projector has an HDMI port, you could use an Amazon Fire TV stick or a Google Chromecast. Either will allow you to access a range of streaming services such as Netflix, Amazon Prime TV (Free 30-day trial), YouTube and more.
You'll want to check you have a strong enough Wi-Fi signal in your garden. Otherwise, you'll need to buy a Wi-Fi signal booster to ensure you can stream content without frustration.
Another option is to go old school and hook up a Blu-ray player to your projector and use that to enjoy all of your favourite movies on disc.
Setting the mood with lighting
The ideal lighting will make your garden home cinema come alive and feel even more magical. You'll want to invest in some fairy lights and candles as both add a ton of atmosphere without costing the earth.
You could place tea lights in vases around the general area. Next, using solar-powered fairy lights, artfully drape them around the seating area to create a boho chic vibe. You could even wrap the screen in fairy lights, creating a whimsical look.
Again as too much light can wash out the picture, experiment using a few additional lights or candles and try to keep them away from the projector light.
Get cosy with seating
Some will be content using rugs on the ground with a few beanbags and cushions. These are ideal for kids and teenagers but not so much for adults!
You could use garden chairs, deckchairs, rattan sofas, or a mix for seating. All would be comfortable and easy to style with cushions and silk throws, giving a luxury look.
It's worth using a groundsheet to protect you and your furniture from muddy or wet grounds, then covering them over with a rug for a more aesthetically pleasing look.
Boring but necessary accessories
If you're running a projector, outdoor speakers and a Blu-ray player, then you'll need a sufficiently long power extension cable. Also, you'll need a few HDMI cables to connect your media player to the projector and an audio cable or two for the speakers or to power the transmitter that supplies audio to the Bluetooth headphones.
While boring, it's necessary to think about what AV cables you'll need and ensure you have them, allowing you to enjoy your garden home cinema set up straight away. It's also worth thinking about if you can simplify your cable needs. The fewer wires you need, the better.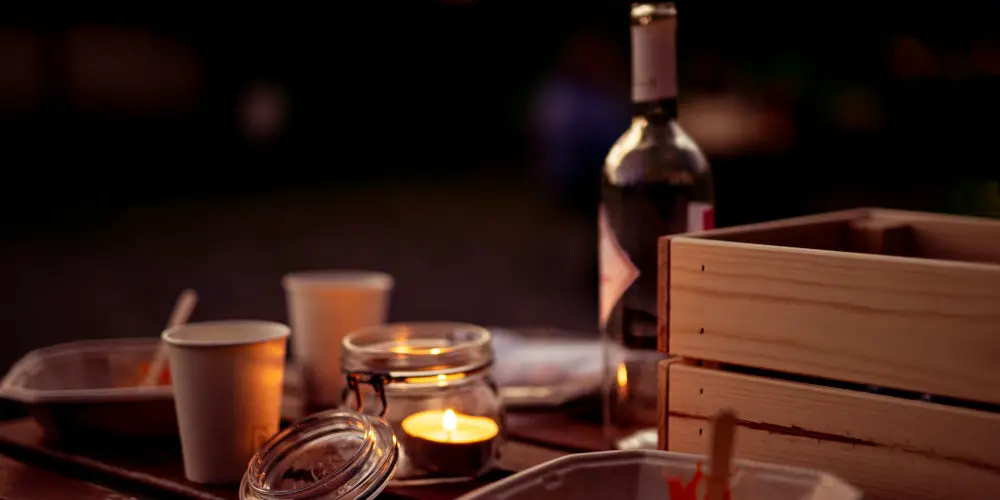 Stocking up on snacks
You can't have movie night without snacks. It's impossible! And as you're at home, snacks are super cheap and come without the guilt of smuggling them in!
You could assemble a delightful array of snacks from popcorn, doughnuts, bite-size chocolates and sweets. It's worth using plastic bowls (camping ones are fine) to avoid damaging or breaking your finest china.
Getting your garden home cinema started
As you can see, building a garden home cinema is easier than you might have first thought. Once you have the key components, it's a matter of styling your garden to match the mood. Enjoy watching films in your outdoor cinema.