BenQ W5700 4K projector review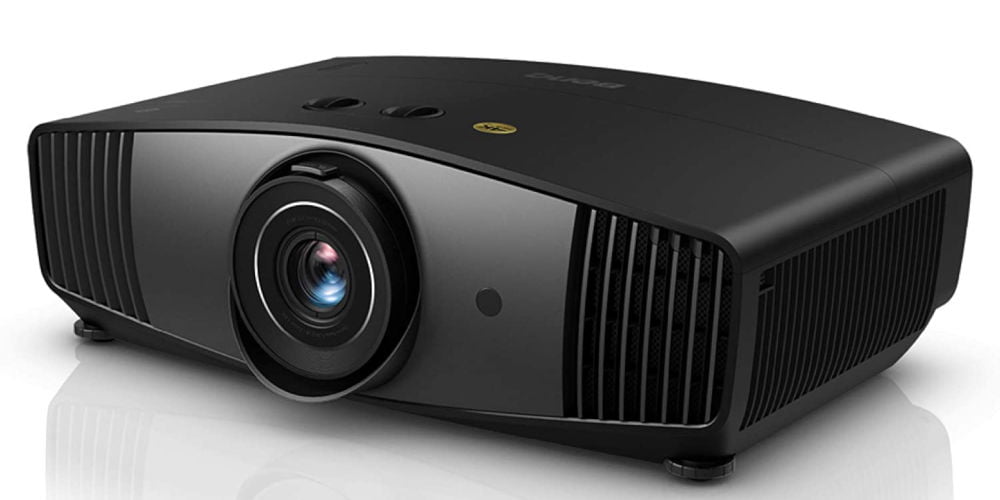 The BenQ W5700 4K projector is a highly flexible unit with superb connectivity, fantastic picture quality and easy to install.
The W5700 is built around the new 4K DMD chip from Texas Instruments. This chip lessens the grey border present with the first generation 4K DLP projectors. This space is now filled with the projected image, offering about 20% more screen surface than before.
With four times the resolution of Full HD 1080p, the 4K-optimized lens reduces pixel blur displaying awe-inspiring clarity and crisp details. BenQ's exclusive HDR-PRO technology adds further options and offers an enhanced viewing experience.
The built-in BenQ CinematicColor technology faithfully recreates colours with true-to-life hues. Blacks are rich, spanning a wide depth, while lighter colours appear vibrant.
Installing the BenQ W5700 is straight forward thanks to a range of inputs, 2D lens shift and a large 1.6x zoom. These features ensure you can fine-tune the W5700 to your room regardless of its size and your intended placement.
As one of the best 4K home cinema projector currently available, the BenQ W5700 scores 9/10!
Pros
Texas Instruments 4K DMD chip
100% DCI-P3 digital cinema colours
Fantastic connectivity options
Cons
Only 1,800 lumen of brightness
DynamicIRIS mode create extra noise
Design
With a sleek design, the BenQ W5700 packed a lot into its compact size. Let's take an in depth look at this BenQ home cinema projector.
On the top, are two knobs to adjust the lens shift (one is left/right, the other up/down and a remote sensor. Surrounding the lens are controls for the zoom and focus.
Moving to the front, you'll see the lens, another remote sensor, and two air vents. Two adjustable feet are located at the bottom and enable fine-tuning of the projection angle when mounting it on a table.
Each side features an air vent and there is an anti-theft security bar on the left-size. On the bottom of the BenQ W5700 are 4 ceiling mount holes, allowing for quick installation.
Finally, the rear contains an IEC power socket, connections and a control panel.
In terms of connectivity, there are 2 HDMI, 3 USB (2 are media players, 1 provide a power supply of 2.5), and 2 audio outputs (SPDIF and mini-jack). There are also 3 control inputs, a LAN port and a service USB port.
The control panel contains a power button, menu buttons, and source and mode buttons. These allow instant control over the major functions.
The included remote covers a wide range of options without feeling busy, allowing you to operate the W5700 pain-free. It allows you to adjust a range of settings including the picture quality, source and display mode. There is even a button to turn the remote's backlight on or off.
Features
Arguably the most exciting feature is the Texas Instruments 4K DMD chip as it forms the backbone of the BenQ W5700. New for 2019, this chip reduces the light grey border that is visible with the first generation 4K DLP projectors by half.
Not only is this border thinner and lighter, but this additional space now displays the projector image. The result is an image that covers 20% more screen surface than before, creating a more immersive experience despite its relatively small 1,800-lumen output.
As a 4K projector, the W5700 has a native 3840 x 2160 resolution with 8.3 million distinct pixels per frame. Pictures appear with a level of clarity and depth that only 4K can offer. You'll feel like your there, in the middle of the action.
Some DLP projectors produce flat and lifeless colours. BenQ has rectified this with their CinematicColor technology which creates natural-looking hues across the colour palette. Whether you're viewing a DVD or the latest DCI-P3 4K Blu-ray movie, they will bounce off the screen with real-life colour accuracy.
The 4K viewing experience is further enhanced by BenQ exclusive HDR-PRO technology which includes Active Iris and Dynamic Black technologies. HDR-PRO offers greater contrast range, allows you to enjoy a superior detailed picture across 4K Blu-rays and streaming content.
Another feature worthy of discussion is the built-in media player. You might only plan to use the 2 HDIM inputs. However, you can upload several media formats to a USB stick and ask the BenQ W5700 to play them.
The W5700 offers 1,800 lumens of brightness and a lamp life ranging from 4,000 hours (normal) to 10,000 hours (eco). You'll be able to enjoy watching movies, TV and sports for years before the lamp needs changing.
Set-up
In the box along with the BenQ W5700 are a power cable, remote (with batteries) and user manuals. So you'll want to ensure that you have the right AV cables before purchasing or order what you need with the projector.
Positioning
You can set-up the W5700 in 4 different ways depending on your room and intended use. You can front project from a table or the ceiling. Also, you can rear project either from a table or the ceiling. Having options makes using it more flexible.
If you plan to mount your BenQ W5700 to your cinema room's ceiling, then you'll need a BenQ Projector Ceiling Mount Kit. As the base is pre-drilled with 4 fixing holes, mounting it is simple. We're going to assume you'll be ceiling mounting the unit and front projecting.
Filling the screen
Setting at around 3 metre from our 100-inch screen, it easily fills the screen with the centre of the lens aligned to the top of the screen.
There's still plenty of options to tweak including the onboard zoom as well as the vertical and horizontal lens shift controls. For the best results, we'd recommend using the in-built test screen, activated on the remote rather than a movie still.
Connect devices
When you have tweaked the zoom and lens shift until you're happy, next you'll want to plug-in devices. With plenty of connectivity options, we'll be keeping it simple by using an AV receiver to handle multiple devices and feed video to the BenQ W5700 using a single HDMI cable.
Extras
If you plan to use the W5700 projector in the summer outside to watch sports or movies, then you'll want to experiment with a 2.1 channel soundbar with subwoofer or speakers and the built-in media player.
This feature allows you to watch multiple media formats directly from a USB memory stick. Ideal if your busy watching the game or cooking!
Performance
While not the quiets projector we've reviewed, the BenQ W5700 is impressive nonetheless. It offers a fantastic picture quality both in terms of colour accuracy and depth.
The onboard technology ensures even fast-moving scenes are handled without blurring and images display with exacting detail, whether you're watching the dark night's sky or a SyFy thriller. For the later, the HDR mode comes into its own with lens flares appearing to Wizz pass, with vibrancy.
Engaging the Dynamic IRIS feature enhances the picture quality further with a wider range of dark hues and bright whites. That said, this does create more fan noise which can be off-putting.
Even using the basic factory present, improves lesser quality media with pictures seemly upscaled to at least HD, if not 4K resolution. It does, however, struggle to faithfully reproduce 3D with any great intensity but as far as projectors go, the W7500 adequately handles 3D.
If you using the BenQ W5700 alone with external speakers, then you'll appreciate the onboard media player and the USB power output, which allows you to run a streaming stick. In both cases, the W5700 performs well regardless of the format or resolution.
As it has a trigger output, if you have a screen with a motor, you can easily link them together and impress your friends by making the screen appear by turning the projector on!
Overall, the BenQ W5700 while it can be slightly noisy, handles a range of formats with ease regardless of the input.
Is the benq W5700 worth buying?
Designed for home cinemas, the BenQ W5700 offers a fantastic range of options including superb picture quality, placement flexibility and good connectivity.
It does suffer from poor black levels and the Dynamic IRIS mode adds notice noise. This increase in background levels might not bother you, especially as your ears should acclimatise to it.
At 1,800 lumens, it's not as bright as we'd expect or want. However, in a fully dark room, you probably will be satisfied with its brightness. If you're planning to use it in daylight, it might struggle to compete with any bright external light.
While viewing 3D movies isn't the best, they are supported and a nice extra over the HDR (HDR10 and broadcast HLG) support which is rich and vibrant.
BenQ with the W5700 projector has managed well to balance price and features into a package which is suitable for a home cinema. 9/10