Home cinema furniture: Creating the perfect space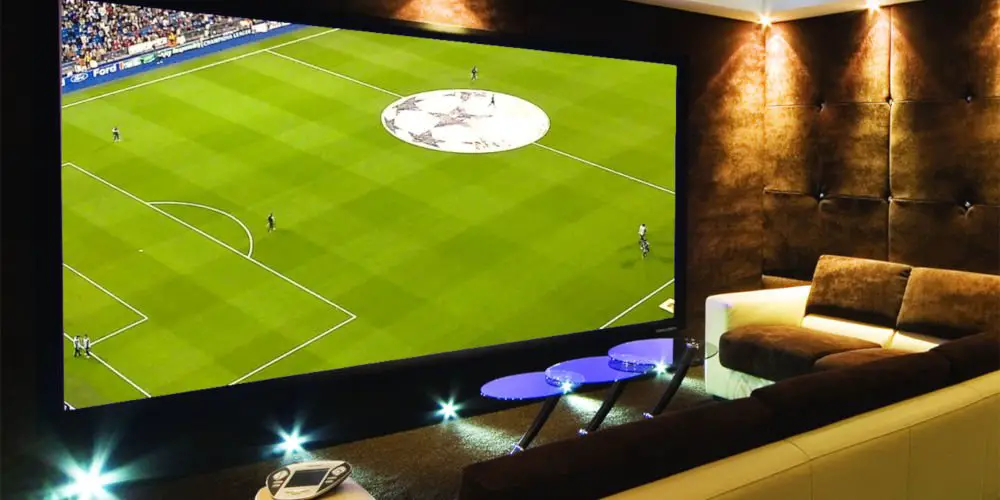 Home cinema furniture is a topic that usually takes a back seat to choosing AV equipment. Yet it's just as essential. Even after investing in the latest 4k projector and Dolby Atmos surround sound system, you still need comfortable seats and somewhere to put your movie snacks!
Putting equipment to one side for a moment, it's worth discussing what furniture your home cinema room needs. You'll need more than a few chairs and a table as you'll need somewhere to store your equipment, a drinks cabinet, and side tables for drinks and snacks.
We're assuming your home cinema room is ready to be furnished. So, you've already purchased all the necessary equipment and added acoustic treatments. All that's left to add is the home cinema furniture.
What's the right storage solution to hide AV equipment?
No one (truly) likes looking at their AV equipment in a media room, regardless of how pretty it looks. Someone will likely get distracted by them, eventually. And while your home cinema needs a few key pieces to work, they don't need to be on display.
With a lot of equipment, it makes sense to build an AV rack. Ideally, build your rack into the back wall, as this keeps distractions to a minimum yet allows quick access to the devices. Another option is to use a free-standing media rack, such as the Homeology ZINNIA Entertainment Rack.
Using an AV rack makes wiring devices together easier as you're running cables to a single point and not all over the place. Remember to label cables as you add them, or it'll quickly descend into a pile of spaghetti!
You might only have a few pieces of equipment, such as a Blu-ray player, AV receiver, speakers and projector. So, it could make sense to find a short sideboard or media unit. Cox & Cox offers several fantastic options, including a Chevron Oak Sideboard and Studio Media Unit.
These options allow you to store your equipment neatly and also have space for your DVD or Blu-ray collection. You could place your unit at the back of the room or under the screen.
How to organise your DVD and Blu-ray collection for easy access
As on-demand streaming services don't yet have every film or TV series, you probably need the odd DVD or Blu-ray. So, you'll need somewhere to store them. Thankfully, you might find your media unit has plenty of space.
If not, you'll need some form of disc storage. Ideally, you would choose a hidden, seamless solution such as low, built-in draws running below the screen, painted dark or in keeping with the wall colour. You might need something custom-built for your room, which could be expensive.
You could build disc storage on either side of your equipment rack and keep everything together. Again try to create a seamless look by using the same colour and materials.
If you have an extensive collection of DVDs and Blu-rays, you might want to build floor-to-ceiling storage outside the room or find some ingenious solution!
Is there such a thing as the ideal home cinema seating?
There are countless home cinema seating options available. You don't have to use the bulky leather recliners typically found in home cinema rooms. You can choose something you'll like and find comfortable.
Seating style, number and design massively impact how the room feels. For a formal cinema experience, use leather recliners. Are you designing the cinema room for all the family? Consider using a U-shaped sofa.
One of our favourite home cinemas uses a single row of 3 daybeds. They allow the person to lie back and enjoy watching or for a couple of kids to perch at the end. It's a far more informal experience and only uses the minimal home cinema furniture possible.
Consider how you'll use the space, who will typically use it and what feel you want the room to have. You will want to measure your room to ensure there's plenty of space to move around, especially if you plan to add rows.
With these answers in mind, you'll make a more informed decision when choosing seating for your home cinema.
Adding comfort with occasional furniture
Don't forget occasional use furniture such as a coffee table or side tables. We all enjoy a drink and some snacks while watching a movie. Plus, you need somewhere to put remotes! So it's worth planning where these will go when selecting your home cinema furniture.
You might find your options limited due to the seats and overall layout. With tiered rows in a tight space, you might not have the room to add additional tables. So you'll want to select seating with built-in cup holders, as they can hold drinks or snacks.
However, with a single row of daybeds, you could place small side tables between each seat and at each end. As everyone has a table for snacks and drinks, they shouldn't annoy their neighbour!
With a U-shaped or normal sofa, you can use an Ottoman in the middle and side tables at each end. Having multiple options create lots of space for drinks and snacks.
You can afford to use interesting pieces as occasional furniture, such as small round glass side tables (like the Aspect Monarch). Like any room, keep experimenting with pieces and how you style them.
Don't forget the snacks, drinks, and popcorn!
No matter how close your kitchen is, it feels miles away when pausing a movie for more snacks. You need a home theatre snack bar!
Unless you have a load of space, you'll unlikely be able to build a home bar. However, you could build a kitchenette with a sink, drinks fridge and storage for glasses and snacks.
Drink cabinets are also a fantastic option. They have space for a range of drinks, snacks and glassware, yet they don't take up much room.
If you're having custom units built to store AV equipment and your disc collection, see if you can add a drinks fridge and a cupboard for snacks and glassware into the design.
In addition to space for cold drinks, consider adding a coffee marker like the Bosch Tassimo. Typically, they work without requiring a water supply and use widely available pods to create a range of hot drinks.
If you can't watch a movie without fresh popcorn, consider buying a standalone popcorn maker. You might be surprised how affordable and cool one of these units looks in your space!
Choosing the right home cinema furniture
Building a home cinema is more than the equipment. The interior finish and home cinema furniture will cost a similar amount to the gear. So, it's worth experimenting with several ideas and layouts.
As with any interior project, start by measuring your space. You'll be able to easily size up different elements and arrange them without having them there. Also, let your personality shine. It's your home, after all!