Home cinema furniture: Creating the perfect space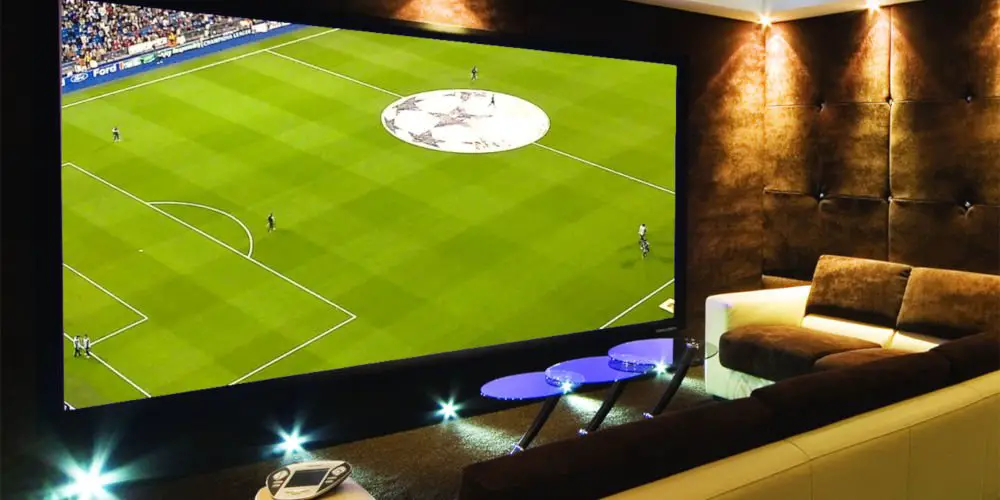 Building a home cinema is more than just choosing equipment. Sorry to be blunt. You also need to consider what furniture you'll need. Use the wrong home cinema furniture and you might have a less than ideal viewing experience.
So leaving equipment to one side for the moment, let's discuss what furniture you need and how to use it effectively in the space.
To speed things up, we've assumed your home cinema room is ready to be furnished. This means you've picked out any equipment you need and decided if your room needs any acoustic treatments. All that's left is to add some home cinema furniture.
Equipment storage
No one (truly) likes looking at equipment. Of course, you need a few key pieces to keep your home cinema running but they don't need to be on display.
If you have a lot of equipment, it makes sense to build a rack into the back wall which can house all of them or use a free standing media rack (like the Homeology ZINNIA Entertainment Rack). You could also This also makes wiring easier as your running cables to a single point.
You might only have a few pieces of equipment such as a Blu-ray player, AV receiver, speakers and projector. It could make sense to find a short sideboard or media unit. Cox & Cox has some fantastic options including a Chevron Oak Sideboard and Studio Media Unit.
Either of these or something similar will allow you to neatly store your equipment as well as your DVD or Blu-ray collection. You could place your unit at the back of the room or at the front under the screen.
Media storage
As on-demand streaming services don't yet have every film or TV series, there's still a need for discs. So you'll need somewhere to store them. You might enough space in your media unit.
If not, you'll need to somewhere to store discs. We'd recommend opting for a hidden, seamlessly solution such as low, built-in draws running below the screen, painted dark or in keeping with the walls. This could be expensive as they'll need to be custom-built for your room.
You could build disc storage either side of your equipment rack. This way everything is together in a single place. Again try to create a seamless look by using the same colour and materials.
If you have an extensive collection of DVDs and Blu-rays, then you might want to build floor-to-ceiling storage outside the room.
Seating
With so many options available, home cinema seating is a big topic. The most common mistake is using big, bulky leather recliners without first considering all of the options.
Your seating style, number and design has a massive impact on how the room feels. For example, if you want a formal cinema experience, then consider leather recliner. Designing with the family in mind, you might want to use a U-shaped sofa.
Some of our favourite home cinemas have a single row of 3 daybeds. They allow the person to lie back and enjoy watching or for a couple of kids to perch at the end. It's far more informal experience and only uses the minimal home cinema furniture possible.
Consider how you'll use the space, who will typically use it and what feel you want the room to have. It's worth measuring your space, especially if you plan to add rows as you want to ensure there's to move around the space. With these answers in mind, you'll make a more informed decision.
Occasional furniture
Another common mistake when it comes to selecting home cinema furniture is forgetting about occasional use pieces. We all enjoy a drink and some snacks while watching a movie. Plus you need somewhere to put remotes! So it's worth planning where these will go.
Your options might be limited by your seating choice and layout. If your room is on the small size and you're planning tiered rows, you might not have space to add additional tables. So you'll want to select seating with built-in cup holders.
However, if you're using a single row of daybeds, then you might want to place small side tables in between each seat and at each end. Each person has their own table for snacks and drinks without having to annoy their neighbour.
Using a U-shaped or normal sofa allows you to use an Ottoman in the middle as well as side tables at each end. Both create lots of space for drinks and snacks.
You can afford to use interesting pieces as occasional furniture such as small round glass side tables (like the Aspect Monarch). Like any room, keep experimenting with pieces and how they are styled.
Snack bar
No matter how close your kitchen is, it feels miles away when you have to pause a movie for more snacks. Hence why you need a snack station!
Unless you have a large space to play with, it's unlikely you'll be able to build a home bar. However, you could build a kitchenette complete with sink, drinks fridge and storage for glass and snacks.
Drink cabinets are also a fantastic option as they have space for a range of drinks, snacks and glassware yet they don't take up much room.
If you're having some custom unit built to store equipment and your disc collection, see if you can add a drinks fridge and a cupboard for snacks and glassware into the design.
In addition to space for cold drinks, consider adding a coffee marker like the Bosch Tassimo. Many don't need a water supply and use widely available pods to create a range of hot drinks.
Finally, if you like fresh popcorn, consider buying a standalone popcorn maker. You might be surprised how affordable they are and how cool it'll look in your space!
Choosing the right home cinema furniture
Building a home cinema is more than the equipment. You'll need to budget just as much for the interior finish and home cinema furniture. It's worth experimenting with several ideals.
As with any interior project start by measuring your space as this will enable you to size up different element easily and arrange them without having them there. Also, let your personality shine, it is your home after all!