How to build a home bar in your media room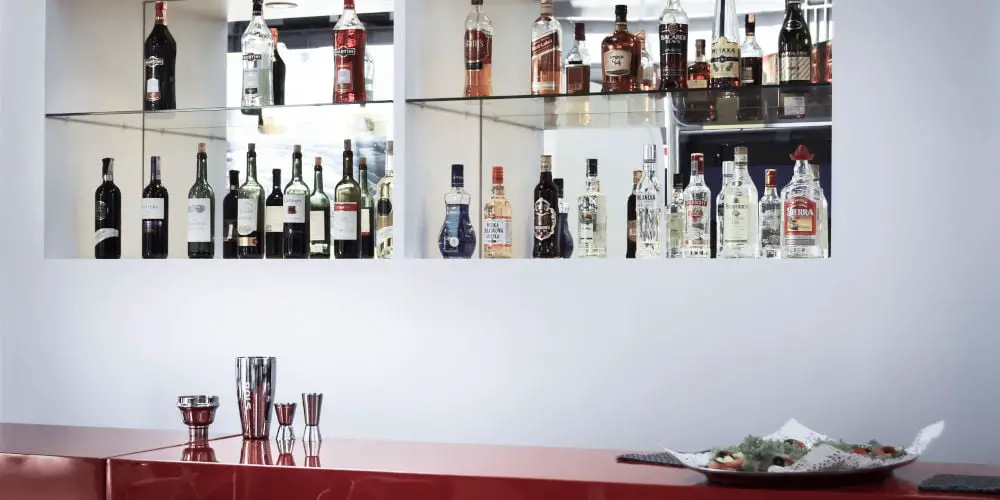 In our humble opinion, no media room or entertainment space is complete without a bar. But How do you build a home bar and what are the key components?
Before you let your imagination run wild and start planning to build a bar with seating for 20, complete with working beer taps and rows of spirits for mixing all manner of cocktails, there no reason you can't start small!
As your media or games room is unique to you, why build a home bar that looks like every other? Instead, draw inspiration from your current interior scheme and develop one that makes you look forward to weekends relaxing with a drink in hand!
Wet vs dry bar
Starting with the basics, there are two types of bar design: wet and dry. The difference is in a wet bar you have a sink. As each option has pros and cons, the choice comes down your requirement and budget.
Your choice may have already been decided by where your media room is and its existing features. For example, you might prefer to have a wet bar but the cost of installing a sink with pipework might be unaffordable or difficult. And so you'll have to adapt your design.
Dry bars can be easier and cheaper to build as they don't require any plumbing. But you might find yourself having to regularly stock up on bottled water to keep things such as ice machines running.
Basic bar design options
There are three options when deciding to build a home bar. Firstly, you can create a completely custom bar. You could buy a flat-pack bar and assemble it. Finally, you could use readily available kitchen units.
Custom bar
If you enjoy DIY or have a large budget, then having a custom bar built can make sense. Unlike our other options, it will be designed to fit your space and specifications. Having a custom-built bar is the finishing touch to any high-end media room as it creates more of a private member's club feel.
As with any DIY project, it will take time, money and effort to build a home bar to your design. And while you could hire a local builder, this could easily double or triple the cost.
Flat-pack bar
As you can buy pretty much everything flat-pack, it shouldn't surprise that a range of bars is available. While we're focusing on the indoors, it's also worth noting that Wickes offers a flat-pack garden bar, that you could use indoor.
Amazon even stocks a range including the Dunster House Corner Bar, DESIGN DELIGHTS Vintage design bar, and Dunster House Bar Counter. All of which look superb, once assembled.
Of course, the compromise with a flat-pack bar is you'll have to design your set-up around it rather than it fitting straight in with no issues. This isn't a problem if you're feeling creative as you can easily add elements to make it feel almost custom.
Using kitchen units
You might lack space for a bar with a counter and so are limited to a few kitchen cupboards on a wall. As an affordable option to build a home bar, it's almost custom.
If you have space to build a home bar with a counter but can't find a suitable solution, then you could use a kitchen island for a counter with kitchen cabinets behind. If you settle on this option, you could even paint it to mirror your existing kitchen!
Key design components
Depending on your space and budget, you could build a wall bar that looks like a kitchenette. For example, you could use two kitchen cabinets on the floor with a counter-top and two kitchen cupboard fixed to the wall above.
While pretty basic, this home bar is ideal as it offers plenty of storage for bottles and cans, as well as room for built-in drinks fridge and possibly a small prep sink.
If you have space, you could build a few kitchen cabinets along the wall then use a kitchen island or flat-pack bar as a counter-top where people can sit and enjoy a drink or two. You might want to put up a few floating shelves above the cabinets to store spirits bottles and glasses.
As with any DIY project, it's worth drawing a basic floor plan and then playing with options. Once you're happy, you can mark elements out in the room using masking tape. By doing this, you can walk through the room and experience how it feels before you start to build a home bar.
Basic features
Just like with the design, there's no right or wrong feature to have when you build a home bar. For example, some will prefer to drink wine and so it'll make sense to have a large wine rack to store and display your favourite drinks. Others will want access to a range of drinks including spirits and beers.
If you're building a small bar, then you might be happy with a small sink, drinks fridge and portable ice maker. You'll probably have enough storage for the essentials and snacks.
However, if you're building a large bar area, then you might want a sink, drinks fridge for cans and small bottles, another drinks fridge for wine and a decent-sized ice maker. If you have space and the plumbing, you might consider adding a dishwasher for washing glass.
You'd, of course, want plenty of drinking glasses of various sizes as well as bowls for snacks and an icebox. Not to mention a cocktail kit for mixing or shaking drinks!
Nice extras
If you enjoy a pint of beer, then it's worth investing in a Klarstein Skal Beer Tap Dispenser, which makes storing and serving beer easy. Of course, for the vast majority who will build a home bar, installing professional beer taps will be far too costly. So a beer tap dispenser is a great option.
If you enjoy spirits, then you could add a wall-mounted 4 Bottle Drink Dispenser bracket which could hold a few of your favourite bottles, ready for drinking!
It's always worth having a cocktail shaker set on display, even if you don't drink cocktails or have a clue how to make them! It'll give your bar a sophisticated look!
You might not have space for a large bag of lemons and limes, but it's worth having a small bowl with one of each on display.
If you're planning to build a home bar that cater to all ages, consider adding a few jars of sweets for the kids. Given enough space, you could over the top and create a pick and mix station for them! Just don't forget a popcorn maker!
Finishing touches
Regardless of your bar's size, you'll probably want stools and maybe a tall drink tables or two for people to enjoy drinks away from the bar. Also, consider adding an LED bar sign to make your bar that little more exciting!
Practically, it's worth adding a waste bin, rubber bar service mats and bar caddy. All will keep your bar looking tidy and help to make cleaning that bit easier.
What's the cost of building a home bar?
Hopefully, you have plenty of ideas of what's possible. However, you might be wondering what it will cost to build a home bar, especially as you'll be working on a budget.
As with any project within the home, if your comfortable doing DIY, then the cost will be much lower than if you have to hire a builder. Of course, the cost of your project depends on the complexity of your home bar design.
For example, if you only have space for a kitchen unit, then your basic build cost will be around £150 for the unit and counter-top. Adding a decent beer fridge will cost another £100, taking the total spend to £250.
At the other end, you could spend thousands on building a custom frame for your bar. You might then spend another grand on equipment such as fridges, ice machine, popcorn maker. Not to mention, the cost of plumbing, furniture and glassware.
If you don't quite have the budget to build your ultimate home bar, then it's worth breaking the project down into different phrases. You can then complete a phrase as you have the money.
When you build a home bar, make sure you enjoy it!
Now that you have a clear idea of what's possible, it's worth considering how you will build a home bar in your media or entertainment room.
You might only have the budget this year to get the basic design built. If that's the case, you'll want to ensure that you can maximize your budget by planning the overall look and searching for the best deals on materials.
Over the next year, you can begin to add the features you want as your budget allows and start to get close to your dream home bar.
Regardless of how large the space you have to build a home bar in, make it unique to you. Create an inviting experience that you and guest will enjoy time after time!