10 Best garden ice box to keep drinks cool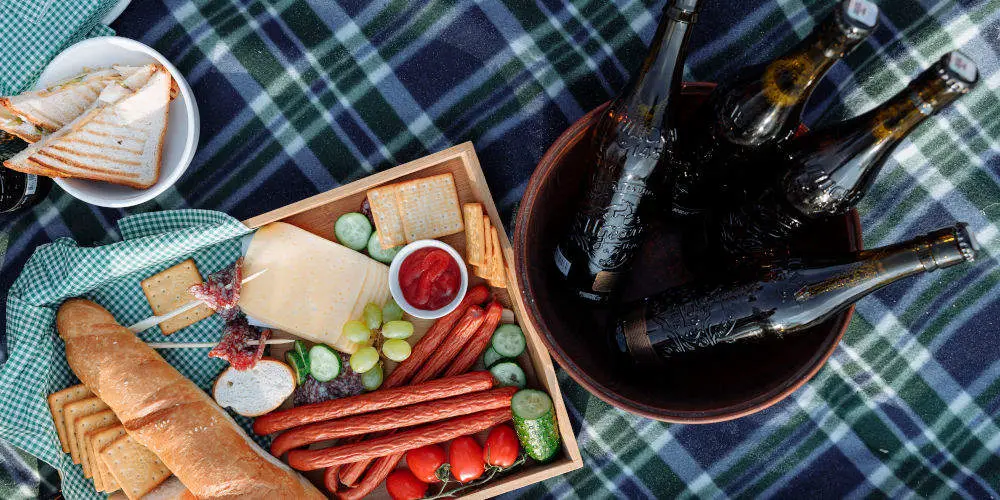 With warmer and longer days here, there's no better time to relax in the garden with a book and a cold drink. It's why we've searched high and low for the best garden ice box.
Ice boxes are superb if you don't have an outdoor kitchen or BBQ area but still want to keep your drinks and some food chilled.
Plus, as a portable solution, they can be slung into the car with a rug and the dog for a day out. Because who doesn't enjoy a picnic at the beach or in a local park?!
Thankfully, gone are the days of a mass of blue, indistinguishable coolers as you can now buy ice boxes in a range of colours, sizes and many have plenty of additional features including powered cooling/heating.
We've rounded up ten of the best garden ice boxes and so you'll find at least one that ideal for you!
Andes Large 25 Litre 12V Cool Box Insulated Cooler and Heater
As a dual function unit, the Andes Large 25 Litre 12V Cool Box Insulated Cooler and Heater is ideal for keeping your food and drinks cool or heated. Sporting a classic design and colours, it's durable yet lightweight. Plus there are a few nice extras built-in to the design.
Coming with both a mains adaptor and a car charger adaptor, it superb for using in your garden as well as for picnics, camping, travelling, and outdoor sports. The robust design ensures the food and drinks inside are protected. Cup holders on top allow for complete convenience.
If you don't yet have a proper BBQ area and want a cool box that can either keep food warm or drinks cold and is mains powers then this could be ideal. The car charger cable is quite short at under 1.5m and so you might want to replace it unless you're travelling without passengers. 9/10
Coleman Blue 56 Litre Tricolour Wheeled Camping Cooler
Sporting many innovations on the classic design, the Coleman Blue 65 Litre Tricolour Wheeled Camping Cooler is a fantastic option. Designed using an HDPE outer case that lightweight yet durable. Inside, a Polyurethane foam insulation keeps the contents cold for up to three days.
Ideal for at home and travelling, thanks to two sturdy wheels and a telescopic steel handle. There are moulded carrying handles on each side as well as a drain plug in the base to remove ice melt. A robust hinged lid is complete with four beverage holders built-in.
The sizeable 56-litre capacity can hold up to 95 x 330 ml cans or a range of 2-litre bottles stood upright and food. Designed to be easy to clean and maintain yet sturdy enough to be used as a seat. 9/10
Allibert by Keter California 5 Litre Outdoor Cooler
As fans of poly rattan garden furniture, the Allibert by Keter California Ice Cube Outdoor Cooler is as chic as it is practical. The compact design, subtle brown hue and durable construction makes it ideal for use in gardens, conservatories and entertaining spaces.
With a 40-litre capacity, it's built to keep a small selection of refreshments cold and fresh, and at hand. You can even use it as a side table, a footrest or even as additional seating.
The rattan style flat weave gives the design a sleek and sophisticated look yet is lightweight, durable and low maintenance. Practical hand grips allow you to easily move the unit with comfort.
While not the best overall cooler, it is the most practical and the best looking out of our range!
As part of the Allibert range, a selection of garden furniture is available including garden sofas, armchairs and sun loungers. And as with all other Keter products, this unit is very high-quality and comes with a 3-year guarantee. 8/10
Igloo Maxcold Island Breeze 58 Litre Rolling Cool Box
Designed to keep drinks and food cool for up to 6 days, the Igloo Maxcold Island Breeze offers an impressive 58-litre capacity, large side handles and a trolley system to allow you to easily move it around.
Despite its compact dimension and lightweight design, this Igloo Cool Box is ideal for many outdoor activities including garden parties, BBQs and camping trips. Able to hold up to 58-litre, you could store 95 x 340ml cans or several 2-litre bottles upright.
Built using the Maxcold feature to ensure items remain cool for up to 6 days. The Cool Riser Technology minimises the effect of contact with the ground and warmer surfaces to help increase its cooling ability. An antimicrobial treated liner inhibits odours and stains.
Easy to transport thanks to the soft-ride sport wheels. A locking telescoping handle further adds to the ease of moving the unit. Whether you transporting the cooler out to the garden or from the car to the campsites.
Side scoop handles for easy loading and unloading. Integrated tie-down loops ensure it's always shut, allowing you peace of mind. You can even secure extra camping gear on top of the cool box. 8/10
Koolatron P27 Voyager 12V 27.5 Litre Electric Cooler and Warmer
Designed and manufactured in Canada, the Koolatron P27 Voyager 12V Electric Cooler and Warmer offers 27.5-litre capacity and holds up to 48 cans. Ideal if you're in your garden, camping, travelling or out on a boat!
Either plug it into a vehicle's 12V outlet or use an AC adapter (sold separately) and enjoy reliable iceless cooling or warming. The Voyager offers plenty of room to store your food and drinks while keeping them chilled. An included Interior shelf is super for organizing drinks and food.
>Use this travel cooler in a vertical fridge position or a horizontal chest position depending on your needs. Designed using Iceless thermoelectric technology, it cools to 22°C below the surrounding temperature. Switch to warming mode and warm food or drinks up to 57°C.
The durable hard plastic injection moulded exterior protects contents and ensures peak performance. A secure magnetic door seal means wherever you've placed the P27 Voyager, you don't need to worry if the contents are safe or not. 8/10
Hi-Gear 28-Litre 12V 240V Cooler
Designed to offer something different for those who don't want a blue ice box, the Hi-Gear 28-Litre 12V 240V Cooler arrives in a subtle mix of different grey hues. Ideal for the garden, travelling and camping. The lid lifts up without needing to be removed, which is useful if travelling.
Power this 28-litre electric cool box either with your vehicle's 12V socket or a 240V mains connection. Supplied with 240V mains and 12V in-car plug cables. There is a built-in storage slot for cables, however, it takes a lot of effort to remove cables from it.
Given its relatively small 28-litre capacity, you can store food and drink including one 2-litre bottle (as there's a special slot to allow for the height). It's pretty quiet when running. That said, the Energy rating is a poor F.
It's easy to clean, allowing you to remove left-over food and any spills. An integrated handle makes moving it around simple. 8/10
Keter 39 Litre Cool Stool Garden Table
The round Keter 39 Litre Cool Stool Garden Table in brown is a handy unit that's perfect for the garden. Multi-purpose, it can be used as a side table, ice box and even outdoor storage! Sporting an elegant faux round rattan design, using it adds a touch of sophistication to your outdoors.
As with other faux rattan design from Keter, this Cool Stool is available in brown and cappuccino hues. Thanks to the extensive range of Keter outdoor furniture, you can easily build your dream outdoor living and dining areas.
Made from poly rattan, it's designed to be weather resistant, corrosion resistant and UV protected. Plus, it can withstand up to 100 kg. Very easy to clean, even after the occasional gentle wash, it comes up to look new.
With a capacity of 39L, simply fill with ice or ice packs and your drinks will be kept cool, thanks to the double-wall construction. You'll no longer have to get up to the kitchen for a cold drink! 8/10
Connabride CB22 12V Thermoelectric 22 Litre Cool Box
Don't be fooled by the classic design of the Connabride CB22 12V Thermoelectric Coolbox! hiding within the lid is a powered cooler. it's perfect for keeping food and drinks cool, whether you're at home, in the park, at the beach, or on a long journey.
Able to hold up to 22 litres, you can easily pack a picnic or plenty of drinks. Cools up to 15°C below the ambient temperature thanks to the built-in refrigeration system. You can enhance the cooling capacity by adding frozen ice packs.
It can only be powered by a 12V adaptor for the vehicle's auxiliary socket. So you'll need to find a workaround if you want to use the refrigeration system at home and don't want to run your car's battery down.
A Strong lockable carry handle with a detachable lid ensures the contents are safe. That said, the cable entry position makes it difficult to lock the lid securely or use the handle of the box while running it. Plus, the motor is quite noisy. 7/10
CrazyGadget 24 Litre Portable Cool Box Ice
The CrazyGadget 24 Litre Portable Cool Box Ice uses a classic design and is highly affordable. Offering a 24-litre capacity, it's ideal for your garden, picnic and travel. The thick internal insulation ensures your food and drinks cold for up to 6 hours.
That said, it's lightweight, robust and easy to carry. It's both odour and stain resistant and wipes clean with ease. The Carry Handle Locks the Lid in place, ensuring your food and drinks don't move or spill.
It's ideal for storing drinks while you relax in your garden with a BBQ or enjoy watching sports with friends. Who says you need anything more than the classic design?! 7/10
Thermos 165781 Blue 28 Litre Cool Box
If there's one name that's synonymous with keeping food warm or cold, it's Thermos. Sporting a classic look and colour, the Thermos 165781 Cool Box in Blue offers a 28-litre capacity.
Manufactured from plastic with polystyrene insulation, it's designed to be lightweight yet robust and will they stand up to any occasion at any time. Designed to stay cold for up to 8 hours, these coolers are ideal for storing drinks and snacks for a picnic in the park, lunch on the beach or a car trip.
The Handle locks the lid in place ensuring your food and drinks are secure. To improve performance use 2 x 1000gm ice packs or 2 x 800gm freeze boards.
Sadly the Thermos 165781 Cool Box doesn't live up to the quality we've come to expect from Thermos. 7/10
And best garden ice box is…?
Before revealing the best garden ice box, it's worth mentioning ice packs. If you don't already have a collection overrunning your freezer, then you should buy some. Our favourite ice packs include the Thermos 3402186 Freeze Boards and Invero Reusable Freezer Ice Blocks.
Even if you invest in an electric unit that offers warming and cooling, having some ice packs is still worth it.
Two ice boxes share the top spot.
Firstly, the Andes Large 25 Litre 12V Cool Box Insulated Cooler and Heater, which offers dual functions and has built-in cup holders on top. It's ideal for a range of uses.
Secondly, the Coleman Blue 56 Litre Tricolour Wheeled Camping Cooler. It might not feature a built-in refrigeration system but is designed to be easy to move, has an impressive 56-litre capacity and sports some nice extras including cup holders in the lid.