What Is Kaleidescape and how can you use it at home?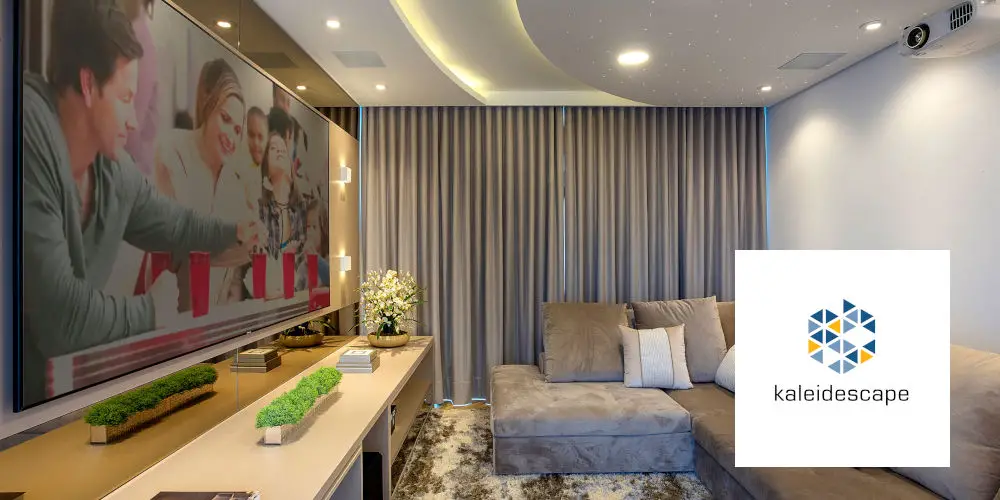 Isn't it frustrating when you can't find your favourite movie on a streaming service? Imagine flicking between a few different streaming platforms and still having no luck. By the time you've located the Blu-ray and put it in, you'll be raging! Thankfully, Kaleidescape can solve your issue.
As a media server and player, the Kaleidescape combines high-performance hardware and sophisticated software, allowing you to download content on a central system.
The user interface makes it easy to find and play media, with multiple ways to search your library. The system will elevate your home cinema experience without sacrificing quality or ease of use. So, what is Kaleidescape?
Basics of the Kaleidescape movie server
There are plenty of reasons you should add a Kaleidescape movie server to your home. These include:
Download content
Unlike Netflix or Amazon Prime, which allow you to stream content on demand, Kaleidescape is a download service. As you download content to the Kaleidescape Strato, you get to watch a perfect copy. 
New titles are now available in 4K with HDR and uncompressed multi-channel audio, all of which create the best possible viewing experience. 
Unlike streaming services, which use various levels of compression to enable them to send large video files over the web, you can watch content in its purest form and without degradation. 
Instant access
You get near instant access to your movies and shows. There are no previews or ads. And no copyright warnings that you can't skip.
Your movies are stored locally, so you never have to worry about connectivity. If your Wi-Fi stops working, you'll still be able to watch content.
Automation ready
The brand's movie experts annotate each movie with data, such as screen size, end credit, and intermission cues. Your device can integrate with your home automation system to dim lights, close shades, and adjust seating when the titles roll.
In short, this creates an immersive experience that streaming services simply can't match.
When is a 4k picture, not 4k?!
You hopefully understand 4k picture quality. It's the future, after all! In short, 4K offers 4 times the resolution of High Definition Television (HD TV) or Blu-Ray discs.
If you're using a projector or a big TV, you'll notice the differences between 1080p and 4K. The latter is richer with more details and improved colour contrast.
Here's a fact that might surprise you. 4k Bandwidth isn't a standard across internet providers. They squeeze the life out of the signal, resulting in you losing picture and sound quality. Of course, what you're watching superior HD TV, but it isn't the complete 4K experience.
With Kaleidescape, you can enjoy true 4K picture quality that's comparable to being at the local cinema. Every Pixel detail, every nuance of the production is recreated on your 4K display.
Plus, as you download movies on a hard drive, you can hit play when you're ready. They aren't compressed as with streaming services or subject to Wi-Fi speeds.
How big is the content library? 
The Kaleidescape Movie Store is growing all the time. They have agreements with most major studios. The store has over 11,000 movies and 2,000 TV shows.
As with the Kaleidescape device you'll install in your home, their store also has a wonderful user interface making movie shopping fun.
After downloading content from the store, you can watch it in true 4K Ultra HD, with bit rates up to 100 Mbps and frame rates up to 60 fps. It offers support for high dynamic range (HDR). 
But that's not all! Old content looks fantastic as there's inbuilt upscaling of Blu-ray and DVD quality content to 4K resolution.
In terms of audio, there is support for lossless multichannel audio, including Dolby TrueHD, Dolby Atmos, and DTS-HD Master Audio. So you can watch and listen to the finest possible quality.
You can also share media between different Kaleidescape devices in your home. Great news if you're planning to use multiple Kaleidescape Strato or Alto movie players or Disc Servers.
What is Kaleidescape and are their devices worth the investment?
Kaleidescape devices are significantly more expensive than traditional streaming devices. A system starts at a few thousand pounds. Some cost tens of thousands, depending on the features and options you choose.
However, in a luxury property, nothing beats having the best quality AV devices that deliver an unrivalled experience, and Kaleidescape devices are the gold standard.
You can install the devices yourself or pay a dealer, such as Touchstone AV, who can supply, install, and configure them. If you have an existing Control4 or Crestron smart home system, your original dealer might be able to advise, supply and install the devices.