Can the Fibaro Wall Plug help save you money?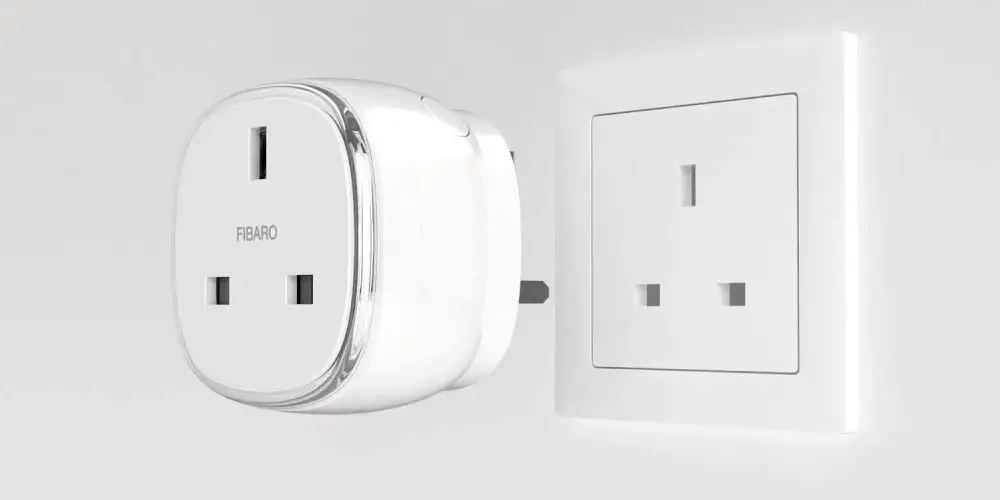 Sometimes the best solution is the simplest. You might not fancy rewiring your home's mains sockets with a Fibaro switch. Thankfully, the Fibaro Wall Plug solve this with both simplicity and elegance. And yet, it's a highly sophisticated device.
Most plug-in-and-play devices are ugly and bulky. Fibaro has managed to marry a compact, modern design with great functionality. Not only can you use the Wall Plug to turn devices on or off, but it allows you to monitor power consumption. It even acts as a Z-Wave signal repeater.
It's easy to save cash by using several Wall Plug as you can easily see how much power a device is consuming and can control your device remotely. Great news if you leave devices on standby and want more control.
But that's not all. Fibaro have built-in several child safety features into the Wall Plug. These include a special, built-in plug cover that provides socket safety. As the plug has a subtle glow, it can act as a night light, making middle of the night bathroom trips safer.
What is the Fibaro Wall Plug?
There are Z-Wave power sockets, and there is the Fibaro Wall Plug. That's not to say your average Z-Wave power socket is bad, just they are bulky and fairly ugly. One element where Fibaro exceeds the competition is creating elegant product designs.
A plug-in-and-play power socket such as the Wall Plug, allows you to quickly turn any mains socket into a smart one. You can easily control any plugged-in devices remotely using an app, add them to presets, or pre-programme automations.
These types of devices are great as they require little installation and no rewiring. Within a few minutes, you can be up and running without stress. But, what other than the design, makes Fibaro's Wall Plug different?
If you have small kids, you'll know they love to stick their fingers anywhere and everywhere. Thankfully, this device is equipped with a special, built-in plug cover that provides socket safety.
Another superb feature is the LED ring, which always emits a subtle glow. Not only does this make them easier to spot, but also means it acts as a night light. Ideal for small children who might wake in the night or for toilet breaks in the middle of the night.
The LED ring changes colour based on the amount of electricity consumed. So, you know which devices cost the most to run, allowing you to only switch them on when necessary.
A built-in temperature sensor will alert you with a flashing purple light if the temperature exceeds 55 C degrees. The alarm will also run if you go beyond the maximum permissible load of 2.5 kW.
As Z-Wave Plus device, the Fibaro Wall Plug upgrades wirelessly and acts as a repeater, ensuring your Z-Wave network is rock-solid.
Will you need a Z-Wave or Fibaro hub?
You'll need a Z-Wave hub or gateway to control the Fibaro Wall Plug. While you don't necessarily need to use it with a Fibaro Home Center hub, using one will provide the best performance.
For example, SmartThings is compatible with both Z-Wave and Zigbee. So, if you already have a Samsung SmartThings hub installed in your home, this plug will work with your system.
Does it work with Apple HomeKit?
Many know of Fibaro due to their use of the Z-Wave protocol. However, they have released an Apple HomeKit version of a few products, including The Button, the Flood Sensor, and the Wall Plug.
Whether you're using Z-Wave or HomeKit, you can purchase Wall Plug devices for whatever system you're using and ensure greater control over any device that uses mains power.
It's worth pointing out that the functionality of the FIBARO devices working with Apple HomeKit may be limited, due to the technical conditions behind the Apple HomeKit platform.
Can you install it yourself?
As one of the simplest Z-Wave devices to install, the Wall Plug requires no installation tools or an electrician. Simply, remove it from the packaging, place it into an electrical outlet, and plug in any electrical device.
Plug the device into a socket nearby your Z-Wave hub. Put your hub into add mode and triple-click the button located on the Wall Plug. It will take a few seconds for the system to add the device. When successful, the controller will confirm it's included in the system.
You're now ready to plug a device you want to control into the Wall Plug. Finish by testing the device by turning it on and off using the app, online portal or link it with a controller such as the Fibaro KeyFob. You can now control your device from anywhere and monitor how much power it's using.
How can Fibaro's Wall Plug save you money?
Using the online portal and configuration interface, you can check the current energy consumption of devices. Doing so allows you to find devices that are always costing you money, meaning you can keep them switched off until you need to use them.
Plus, as the LED ring changes colour, the more energy a device consumes, making it easy to spot who's using the most. Just imagine how much cash you could save by being aware of the cost of running each device in your home.
Is it worth adding the Fibaro Wall Plug to your smart home system?
If you don't fancy rewiring your home or want to control certain devices with ease, you'll want to buy a few Fibaro Wall Plugs. They promote child safety, energy efficiency, and allow you to control devices from anywhere in the world using the Fibaro app.
Of course, you could use a generic Z-Wave power socket. But this Fibaro device offers so much more, and at a cost that's only slightly higher. If you're unsure, buy one and test it for yourself as this is the best way to experiment with the technology.