Top 15 best paper shredder for your home office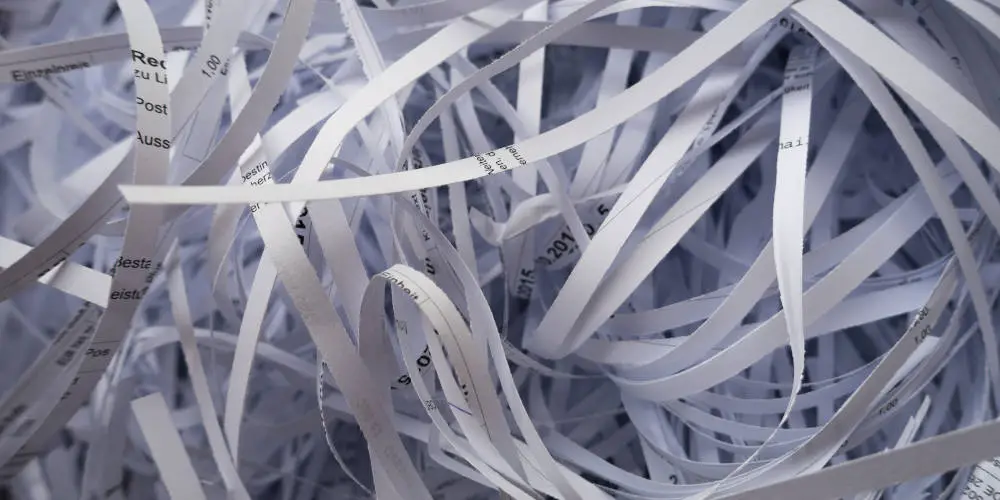 Most of us aim to run a paperless home office. Somewhere where we can cut all distractions out and focus on work. Unfortunately, you'll still need to shred the occasional document. So, it's worth investing in the best paper shredder.
By including a paper shredder in your home office design, you can dispose of junk, old and sensitive documents without leaving a trace. You don't want anything in your waste with your name and address as you could become the victim of fraud.
With hundreds of electric document shredders available, we've narrowed the selection down to the top 15 best paper shredder currently on the market. Depending on your budget, you should be able to find at least one that's ideal for your home office.
Fellowes Powershred 79Ci Paper Shredder
The Fellowes Powershred 79Ci sports a stylish black and silver case, and is ultra-quiet. While at the top of our price range, it does shred up to 16 sheets per pass into 5/32″ x 1-1/2″ cross-cut particles (security level P-4).
Its 100% jam proof thanks to an onboard system which eliminates paper jams and powers through tough jobs. The unit uses SafeSense technology to stop the shredder when it detects a hand touching the paper opening.
It offers an average shred speed (MPM) of 4.3 as well as an auto-reverse function, making it ideal if you have a lot of paper to shred at home or the office. A large 22-litre pull bin provides plenty of space for the shredded paper.
The built-in energy savings system provides optimal energy efficiency 100% of the time. It comes with a 2-year product and service guarantee as well as a lifetime cutter warranty. It measures 39 cm (w) by 26 cm (d) by 54 cm (h).
Duronic PS410 Paper Shredder
Equally ideal for the home or office, the Duronic PS410 Paper Shredder can handle 6-8 A4 Sheets at once. It is GDPR compliant, highly efficient and very affordable.
This shredder cuts paper into tiny pieces measuring 10 mm by 4 mm in a cross-cut fashion, ensuring that documents are safely destroyed. It can also shred credit/debit cards into small pieces. Pieces fall into an integrated large 14-litre bin.
Another benefit of reducing sheets into such small pieces is that the shredder is compliant with the EU General Data Protection Regulation (GDPR). Easily shred and dispose of highly sensitive personal data.
As a heavy-duty shredder, it easily cuts through letters, envelopes and credit cards. The in-built safety feature Thermal Overload Protection ensures the shredder will never overheat during use. It has a built-in run time of 3 minutes on / 30 minutes off.
It sits on four caster wheels allowing for easy relocation. The unit measures 33cm (w) by 23 cm (d) by 45 cm (h) and offers a feed opening of 22cm.
Swordfish 800XXC-P4 Paper Shredder
The Swordfish 800XXC-P4 is capable of turning an A4 sheet into an incredible 1560 tiny pieces! It will also destroy credit cards! As a budget-friendly shredder, this unit is a high-security micro-cut shredder, conforming to the international standard DIN 66399 P4 security rating.
Able to shred up to eight sheets in a single pass and the bin has a capacity of 250 shredded sheets (19-litre). When the waste bin is full, it'll be holding close to 390,000 tiny pieces of shredded paper. The slide-out waste bin is easy to empty in one quick mess-free go.
As a fine-cut shredder, protect your confidentiality and identity while ensuring GDPR compliance. Regardless of what you're trying to shred, the 800XXC-P4 is ideal as it allows you to shred 400 sheets in one hour.
Sporting an elegant design, the unit is fairly compact and fitted with four castors for easy mobility. It measures 24 cm (w) by 35 cm d) by 47 cm (h).
Aurora AS1018CD Paper Shredder
As a superb unit or the home and office, the Aurora AS1018CD Paper Shredder can shred up to 10 sheets of paper at a time into tiny pieces of 4 x 37mm (Security Level P3). It can also shred a credit card or CD at a time. Not to mention, it can handle the odd staple or paper clip.
The many safety features including a thermal cut out to prevent the shredder from overheating. Safety cut out that prevents the shredder from operating while the waste bin is removed. There are also status indicators to alert you to a jam or misaligned bin.
Emptying the 20-litre bin is simple as there is a viewing window as well as a large carry handle. Plus at 20-litre, the waste bin is large and so requires emptying less often.
As a quick and quiet unit, theAS1018CD is ideal for the home and office and is packed with some great features, making it excellent value for money.
Bonsaii C149-C 60-Minute Heavy-Duty Paper Shredder
The Bonsaii C149-D 60-Minute Heavy-Duty Paper Shredder is a professional unit which enables you to quickly and safely destroy documents. As well as shredding your documents into unreadable pieces, it can also handle staples, paper clips and credit cards too.
As a high-performance unit, it offers a continuous running time of 60 minutes with a patent cooling system. It features an AUTO Start/Stop and manual Reverse combine into an anti-jam system which keeps you from the frustration of paper jams.
Shredding up to 14 sheets (A4 size 80gsm) and staples at a single pass, paper is torn into 4mm×10mm tiny pieces (P-4 high-security level). This ensures your privacy regardless of what you're shredding.
When switched to lock position, the patented safety lock prevents your Bonsaii C149-D home paper shredder from accidentally being activated ideal security for the home environment.
With a working noise level of 62dB, this shredder is ultra-low noise, making it ideal for meeting rooms, office and the home. A 23-litre pull-out bin with transparent window makes it conveniently see whether it is full. 4 casters ensure it's easy to move.
AmazonBasics 15-Sheet Cross Cut Paper, Credit Card, and CD Shredder
The AmazonBasics 15-Sheet Cross-Cut Paper, Credit Card, and CD Shredder offers multiple safety features, a 23-litre waste bin and is affordable. Ideal for at work or for personal use at home and very quiet at 68 dB.
It can handle up to 15 sheets of paper shredding them into particles measuring 4 x 31mm (P-4 security level). Also, it can destroy CD/DVD, credit-card, staples, and small paper clips.
Featuring a four-mode power switch, choose between Auto, Off, Reverse, and Forward functions. In Auto mode, shredding begins when the machine detects something waiting and stops automatically. A Reverse function allows retrieval of un-shredded or partially shredded documents.
The jam-free shredder provides auto-start and auto-reverse, which quickly clears the system when it takes on too much, ensuring fast, efficient shredding. So, no more frustrating paper jams.
A handy LED indicator light shows the status of the shredder at a glance. There's also a basket window for keeping an eye on the fullness of the bin. The shredder's pull-out waste bin offers 23-litre capacity. Spend less time spent emptying and more time shredding.
Easily moved thanks to four castors. It comes with an AmazonBasics limited one-year warranty.
Estink Electric 6 Sheet Strip-Cut Paper and Credit Card Shredder
Estink Electric 6 Sheet Strip-Cut Paper and Credit Card Shredder represents excellent value for money and includes some nice features. It offers a 3 minute continuous run time with 30-minute cool-down time.
As strip-cut paper shredder with 6-sheet capacity, you can destroy credit card and shreds paper into 6mm strips. So, it's suitable for shredding financial and sensitive documents.
Easy to operate, it has an auto start and manual reverse to clear paper jams. The waste bin offers a capacity of 10-litres, simply remove the shredder element to empty. It measures 29 cm (w) by 14 cm (d) by 33 cm (h).
EZBASICS 5-Sheet Cross-Cut Paper and Credit Card Shredder
Protect your identity with the EZBASICS E01C 5-Sheet Cross-Cut Paper and Credit Card Shredder. As an ultra-low noise design (58 dB), you can easily maintain your quiet office or indoor environment!
Perfect for your home office, this shredder can shred all of your sensitive information including receipts, bills, bank statements, pay stubs, to other old or unwanted info. It can shred up to 5 sheets at once and destroy one credit card at a time. It meets P4 security level standards.
As a compact and stylish unit, it easily fits anywhere. It offers an auto start and manual reverse to clear paper jams. Automatically stops shredding when it overheats, overloads or waste basket is removed.
A transparent window makes it easy to see when the waste basket is full. The bin uses a pull-out design to provides an easy tray for dumping. The EZBASICS paper shredder comes with a 1-year limited warranty.
Greensen 6-Sheet Vertical Cut Paper Shredder
As a highly inexpensive option, the Greensen 6-Sheet Vertical Cut Paper Shredder is ideal for home office use when you occasionally need to shred some paper. Its compact design can be conveniently placed under a desk or other workstation without taking up much space.
As a high-security shredder, it can easily handle up to 6 sheets of paper as well as shred staples, paper clips and credit cards. It cannot shred CDs. It cuts paper into 6 mm thick, ensuring that confidential documents have been safely disposed of without worrying about information leakage.
With a 3 minutes continuous operation time and 40 minutes cooling cycle, it's ideal for home use. It has an automatic start and manual reverse, allowing you to easily clear paper jams. The 10-litre waste bin sits beneath the shredder and can be easily removed for emptying.
Hama Professional M8CD Shredder
The Hama Professional M8CD Shredder can destroy eight sheets of A4 paper in one step. It also shreds CDs/DVDs/Blu-ray discs and plastic cards. Using high-quality cutters made from steel, it is versatile.
It offers two slots and dual bins. Paper is cut into extra small scraps (PC-3) to maximizes the bin's 16-litre capacity. CDs/DVDs/Blu-ray discs are destroyed via a separate entry slot into a dedicated1.5-litre bin. Removing bins for disposal is simple.
Several safety features are available including automatic start and stop function with an infrared sensor. When the bin is removed, it automatically shuts down. The onboard safety cut-out protects the shredder from overheating. Most importantly, the unit is very quiet (58dB).
Peach PS500-70 High Performance Cross Cut Shredder
The Peach PS500-70 High-Performance Cross Cut Shredder is a superb all-round unit that shreds paper and credit cards. Staples and paper clips are also no problem.
It can handle up to 16 sheets in one step and offers P-4 security level (according to DIN 66399). Paper is cut down to a particle size of 5 x 32 mm. More than 380 particles per A4. Ideal document destruction according to the new data protection regulation (DSGVO 2018).
Offering continuous operation up to 30 minutes or over 2000 sheets, it is far superb to most units which only offer 2-3 minutes. A Large removable 18-litre waste bin can be easily emptied and leaves no particles behind. The generous viewing window allows you to check to see if it's full.
Automatic start function, overheat protection and reverse operation for dust removal. The PS500-70 shreds quietly at a volume of less than 58 dB. Suitable for small to medium-sized businesses.
DAHLE PaperSAFE 21022 Cross Cut Document Shredder
The DAHLE PaperSAFE 21022 Cross Cut Document Shredder combine the highest level of data security with user-safety This 22022 shredder has a 14-litre bin capacity and is ideal for shredding documents and paper.
It's ideal as a small office or home office where a low-volume shredder is needed. It can handle up to 8 sheets at a time resulting in particles of 4 by 30mm (Security Level 3). The powerful motor can also shred CD and credit cards. It provides a 2-minute running time and 30-minute cooling time.
With built-in energy-saving standby mode as well as auto start/stop and reverse functions, it's easy to use. The 14-litre capacity bin has a viewing window, allowing you to see how full it is. To empty, simply remove the shredder from the top.
DAHLE products are built to last and designed to the highest international standards. A 2 Year Warranty is included. It measures 31 cm (w) by 17 cm (d) by 39 cm (h).
HSM Shredstar S10 Shredder
The HSM shredstar S10 document shredder offers data protection for everyone. As a modern and compact strip cut document shredder, it offers a separate CD cutting unit and destroys your data reliably(to Security level P-2) and quietly, both at home or a small office.
An integrated light barrier automatically starts the device when paper is placed into the feed. It automatically stops after shredding is complete. The automatic reverse eliminates paper jams, ensuring a smooth operation.
The separate CD cutting unit feeds it own waste container. Materials are separated and already sorted for disposal. The inspection window allows you to see how full the waste container. To empty the waste container, simply remove the housing top.
The LED indicator shows the devices operating status: Power, Overload, Overheat. The quiet operating mode minimises noise allowing people around you to continue working uninterrupted. The unit measures 34 cm (w) by 24 m (d) by 38 cm (h).
ROYAL 16 Sheet Commercial Cross Cut Paper Shredder
The Royal 16MX paper shredder is designed to meet the demands of today and the future. Able to destroy paper, staples, and credit cards, it's ideal for the home office or a small professional office.
The heavy-duty motor shreds up to 16 sheets in one pass into 43 mm by 38 mm cross-cut shreds for maximum security (P-4 level). It also has an ultra-fast shred speed at 5 seconds per pass. Larger shredding jobs are easily handled with a 30 minute continuous run time.
Offering automatic shred and reverse functions as well as LED status indicators, the unit is simple to use. Particles feed into a 30 litre pull out waste bin, which is easily removed. Four casters ensure it's easy to move. It measures: 37 cm (w) by 28 cm (d) by 53cm (h).
Olympia PS 53 CC shredder
As a highly affordable shredder, the Olympia PS 53 CC shredder makes it easy to keep your identity and privacy safe. It's ideal for the home office and measures 30 cm (w) by 17 cm (d) by 43 cm (h).
As a cross-cut paper shredder, it can handle up to 6 sheets of paper or one credit card per cut. Both paper and credit card are reduced to 4 by 40 mm particles (Safety level P4).
It offers an automatic start/stop function with a sensor as well as a manual reverse function. Particles feed into a 13-litre waste bin. To empty, simply remove the shredder element. As a budget unit, it's fairly noisy as it produces 75 dB while in operation.
And the best paper shredder is?
As all of our 15 best paper shredders are perfect for the home office, it a matter of function, price and size.
If you're looking for a budget-friendly option then consider the Olympia PS 53 CC shredder or the AmazonBasics 15-Sheet Cross Cut Shredder.
Should you have more money to spend then consider Hama Professional M8CD Shredder or the Fellowes Powershred 79Ci Paper Shredder.