20 Best winter garden plants to add seasonal colour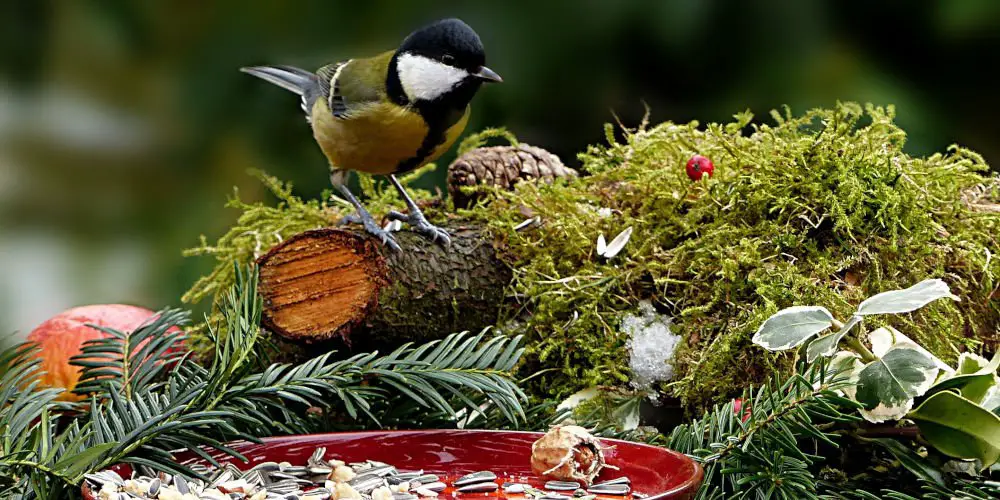 Creating a winter garden full of colourful plants is easier than you think. And there nothing quite like admiring your beautiful garden, tucked up warm inside!
Some of our selection look fantastic all year round, while others bloom as winter turns to spring creating interest as the weather starts to warm.
Thankfully all of our winter garden plants are easy to plant and maintain. You could even plant some of these in pots for a mini winter garden by your front door! Here are our top 20 best winter garden plants picks.
#1 Forget-me-not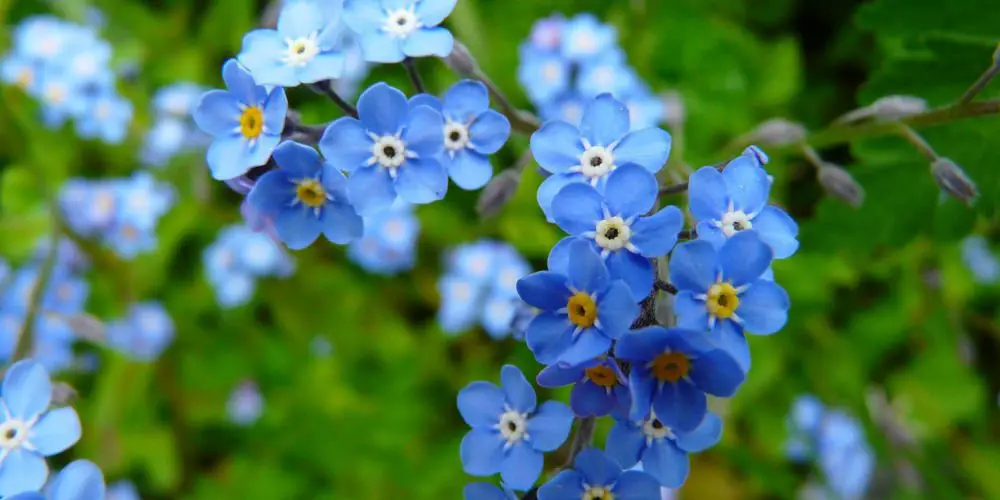 As a superb winter flower, Forget-me-nots or Myosotis Sylvatica truly come alive in early spring, making them the ideal companion to spring bulbs. Traditionally blue, forget-me-nots are also available in pink and white.
Forget-me-nots grow best in well-drained, reliably moist soil in full sun or semi-shade. They'll happily self-seed for a continuous display in the garden every year.
Myosotis Sylvatica are excellent in beds, borders and containers, especially when blue, pink and whites plants are arranged together.
Buy Forget-me-not seeds at Amazon.
#2 Heather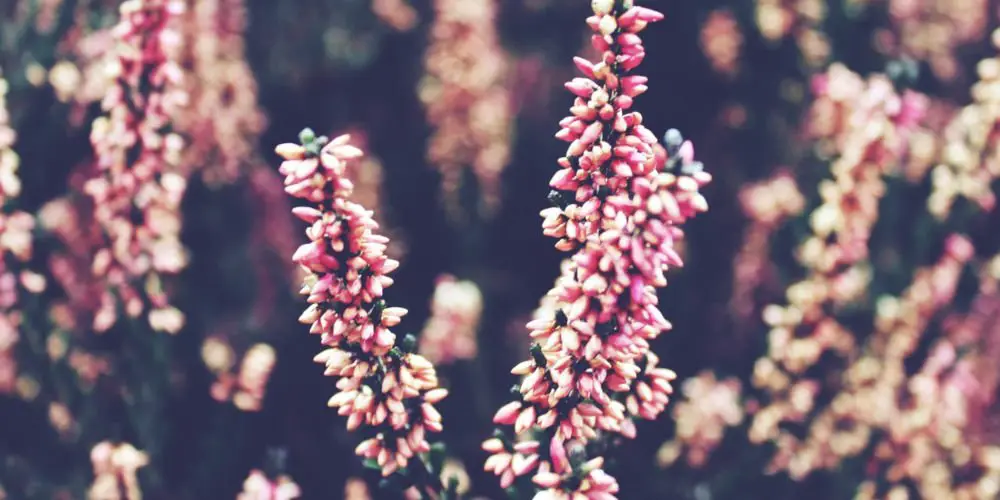 A small and rugged evergreen shrub, Heather or Calluna vulgaris creates a lush backdrop which is popular with wildlife. You can plant it directly in the ground and over time it will spread, inhibiting weeds as it goes.
Available both as seeds and potted seedling from Amazon.
#3 Christmas Rose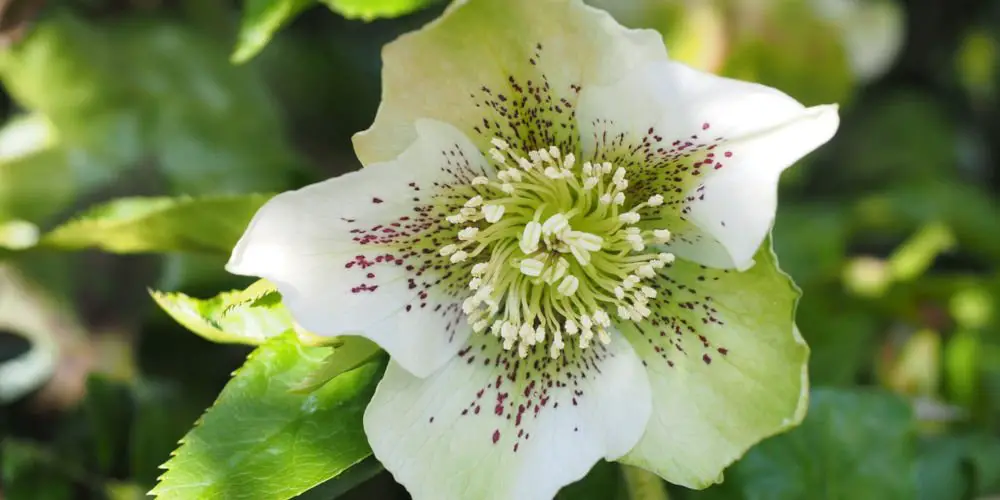 As an evergreen plant, the Christmas Rose or Helleborus niger has all the beauty of a wild white rose but is much more robust when the weather worsens.
From mid-winter to early spring, the Christmas rose flowers with green-eyed white or occasionally pink/pink-flushed blooms. Ideal for borders or hanging baskets
Best purchased as young potted plants and available from Amazon in small groups.
#4 Daphne Laureola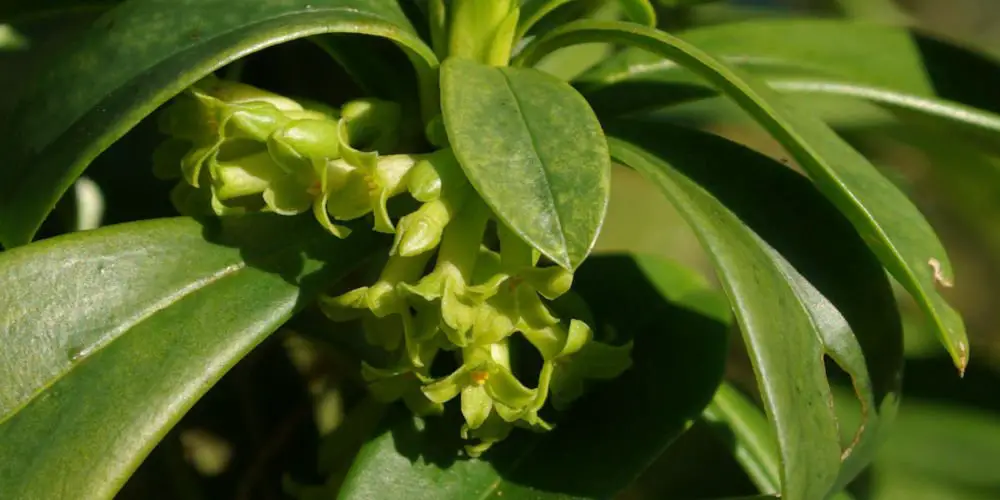 Also known as the Spurge Laurel, Daphne Laureola grow in clusters which have honey-scented, greenish-yellow flowers. In late winter and early spring, they fill the air with their perfume.
While less showy than other varieties, they still provide plenty of interest and a divine scent! As a compact, semi- prostrate, evergreen shrub, Daphne Laureola is ideal for shady areas of a border.
Available to order from spring as potted plants from Crocus.
#5 Winter Aconite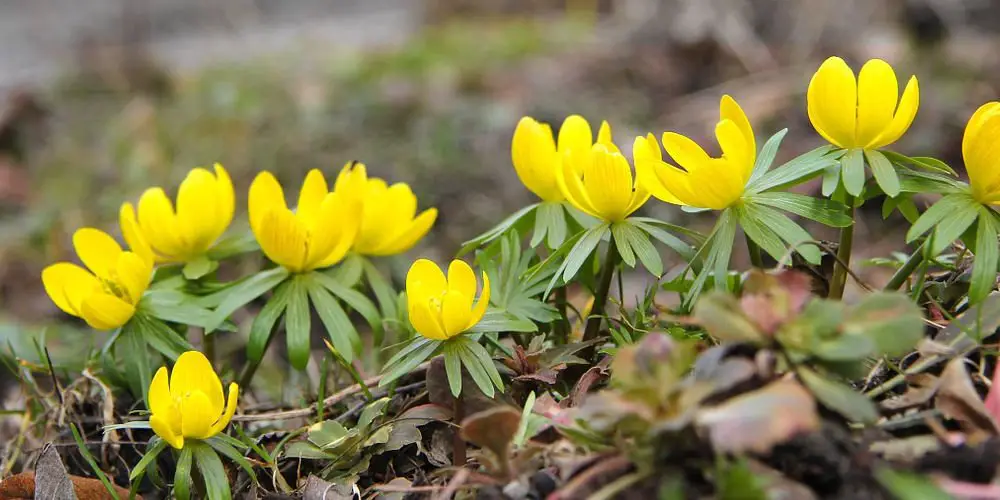 Bursting from the ground in late winter, these sunshine-yellow flowers will bring some beautiful colour to your frost-laden garden. Remember not to plant Winter Aconite near to where children or pets play, as they can cause harm if ingested.
Winter Aconite Bulbs are readily available from Amazon.
#6 Japanese Quince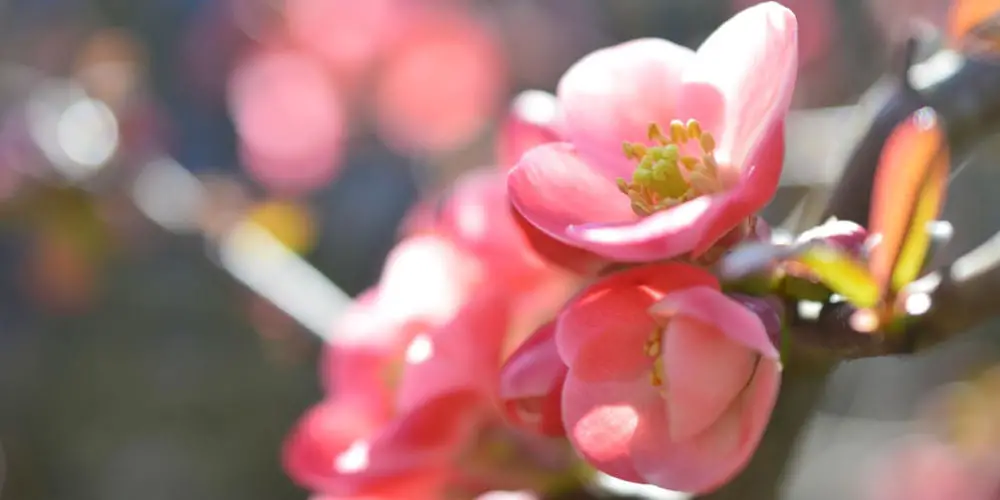 Also known as Chaenomeles, Japanese Quince is a hardy woody shrub. It produces beautiful orange-pink, cup-shaped blooms on naked stems from early March. These flowers are replaced by large golden, aromatic fruits in autumn, which can be made into jellies and preserves.
Excellent for bringing wildlife into your garden, Chaenomeles is highly attractive to bees, butterflies and other pollinating insects.
Ideal for Smaller Gardens, Patio and Containers, Thompson & Morgan sells a range of Japanese Quince.
#7 Elephant's Ears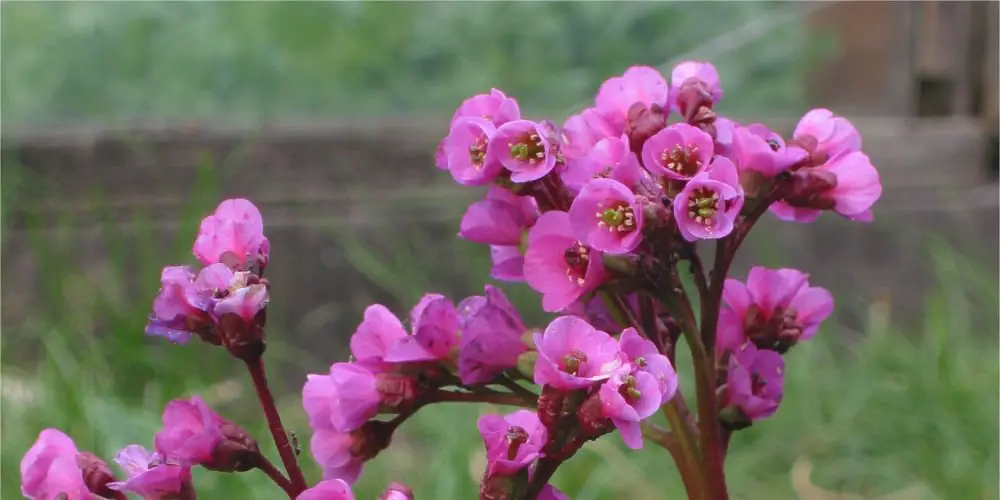 Bergenia cordifolia 'Purpurea' or elephant's ears is a robust plant is great for edging well-trodden paths or planted in groups as ground cover or providing a foil for delicate plants.
The drooping red-flushed foliage will turn into attractive shades of rich purple throughout the winter. In late winter and early spring, tall red stems carry clusters of cerise pink flowers.
Crous offer Bergenia cordifolia 'Purpurea' plants all year round.
#8 English Primrose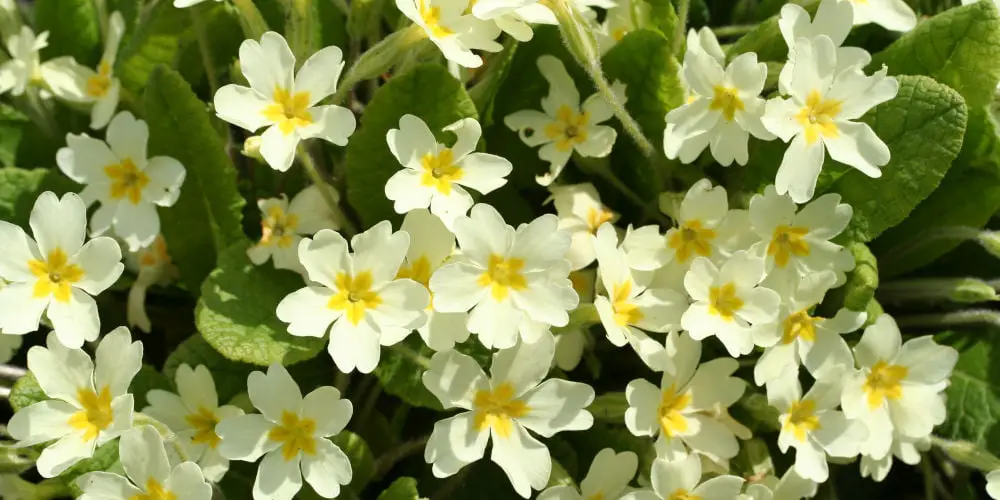 Unlike most primroses which bloom in the spring, the English Primrose or Primula acaulis is an earlier bloomer. Flowers start to appear in March and last until June. Available in a range of colours, they instantly brighten your garden especially when it's grey and miserable outside.
Both flowers and leaves are edible. The leaves can be used in soup or for tea, and the young flowers can be made into primrose wine.
A fairly easy plant to grow, Amazon sells packs of Primrose seeds which include a range of coloured plants.
#9 Californian lilac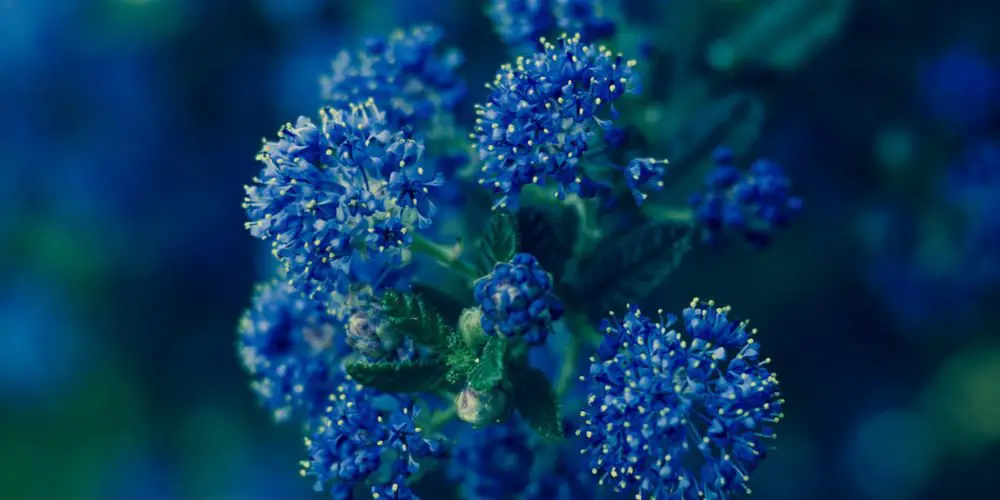 Marking the transition between winter and spring, the Californian lilac or Ceanothus 'Puget Blue' is a vibrant plant with it's dense clusters of dark blue flowers. Ideal for a south or west-facing border among spring-flowering bulbs.
When has finished flowering, provides an excellent foil for later-flowering deciduous shrubs and perennials. It needs a protected site, as the deeply veined, dark green leaves are easily scorched by cold, drying winds.
Widely available, you can purchase the Californian lilac from Crocus.
#10 Justicia rizzinii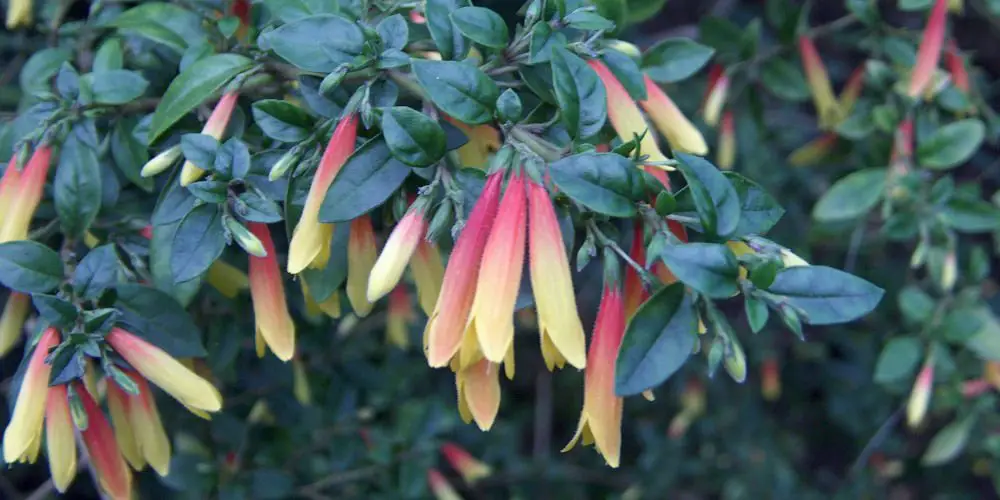 Brighten up your winter garden with the Justicia rizzinii! This unusual tender shrub produces tropical looking, two-tone, tubular flowers. The dangling blooms are present from winter to early spring.
Ideal as a neat and compact container plant, it's very much at home in a warm conservatory or heated greenhouse! In very mild, frost-free locations it may be grown outdoors in a sheltered sunny border.
Available from a range of suppliers as young, potted plant including Amazon.
#11 Japanese pink pussy willow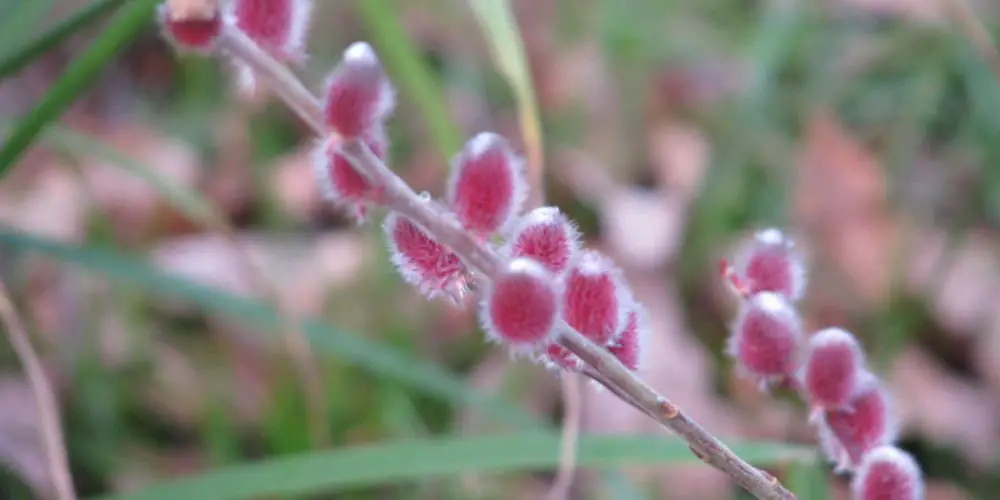 The fuzzy pink catkins in late winter and early spring gives the Japanese pink pussy willow or Salix gracilistyla 'Mount Aso' a distintive look. It's impossible not to stroke them whenever you walk past!
The lush foliage, with it's silvery reverse, makes a great backdrop throughout the spring and summer as other plants start to bloom. Ideal for the winter garden and equally impressive when displayed in a vase.
A potted Japanese pink pussy willow is available from Crocus.
#12 Holly Bushes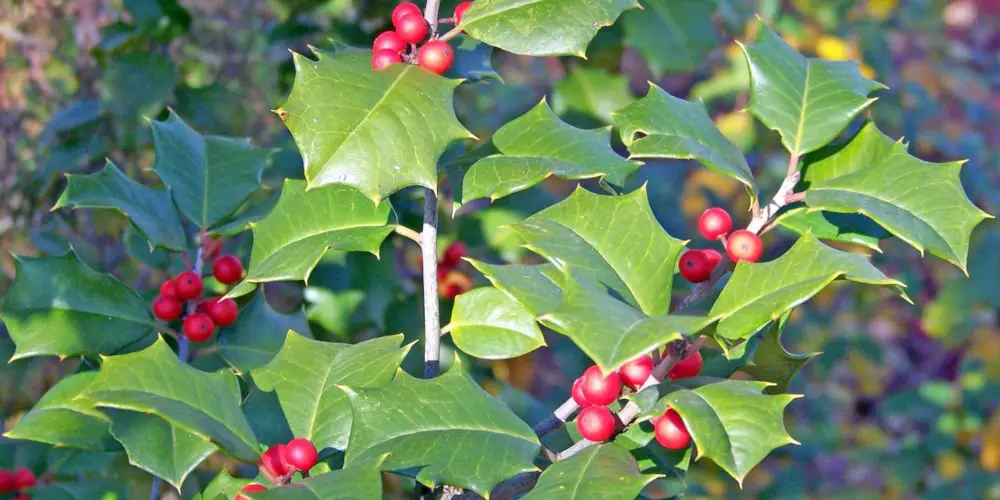 Nothing is as synonymous with Christmas as Holly! As a plant designed to survive harsh winter conditions, Holly bushes or Ilex Aquifolium with their red berries encourage a festive cheer!
A small bushy evergreen shrub with broad ovate, slightly spiny leaves margined with bright yellow. Ideal for hedges and screens as well as a small shrub.
However you use Holly, it's widely available including from Amazon.
#13 Clematis Cirrhosa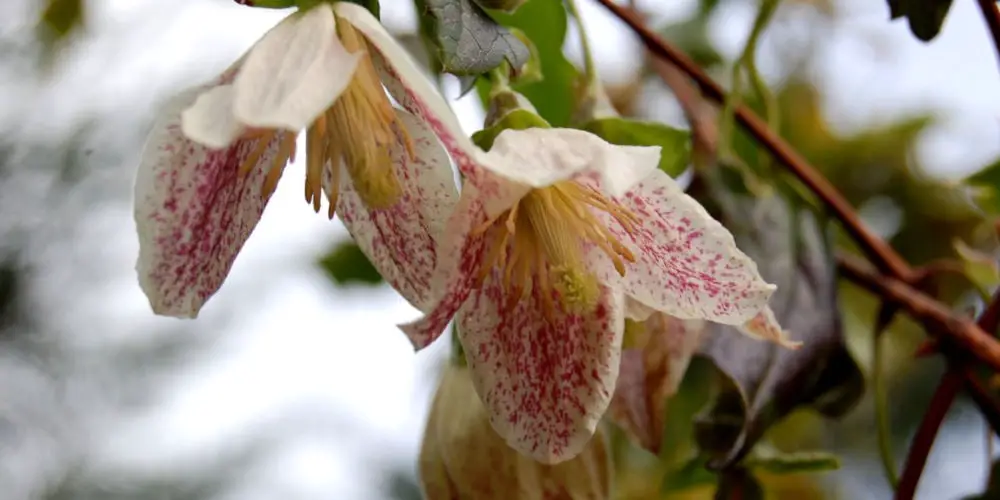 Clematis Cirrhosa is known for it's fragrant, creamy-white winter flowers speckled inside with reddish-maroon 'freckles' and bronze-tinted evergreen leaves.
Make the most of this winter-flowering plant by allowing it to spread over a sunny pergola, doorway or arch. You'll appreciate it's distinctive freckle-like markings and delicate scent.
While frost hardy, it may not survive severe winters. Clematis Cirrhosa is available as a 60cm tall plant from Crocus.
#14 Angelina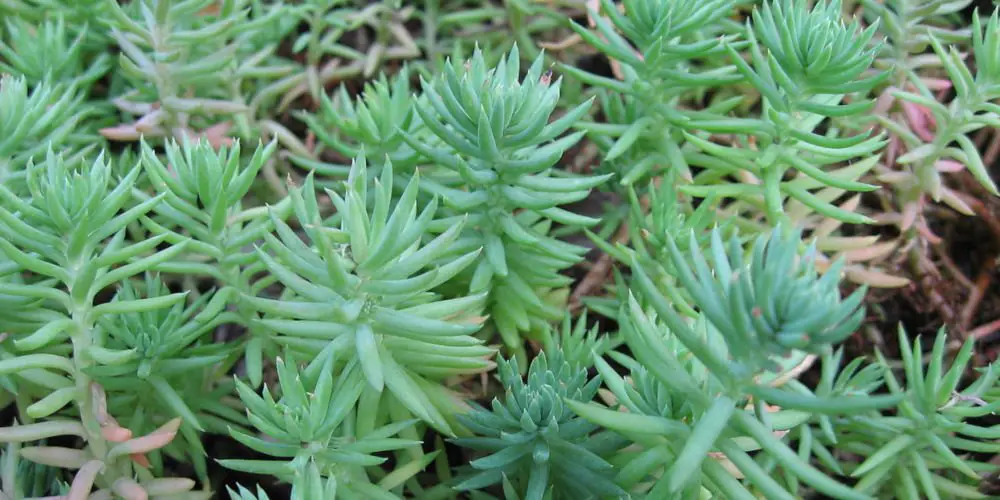 Sedum Rupestre, also known as Angelina is an evergreen perennial. It's cylindrical, linear leaves are a bright yellow in the spring. They mature to yellow-green colour in the summer and orange and red hues in autumn.
As an affordable succulent, Angelina is widely available and is even sold at Amazon.
#15 Pansy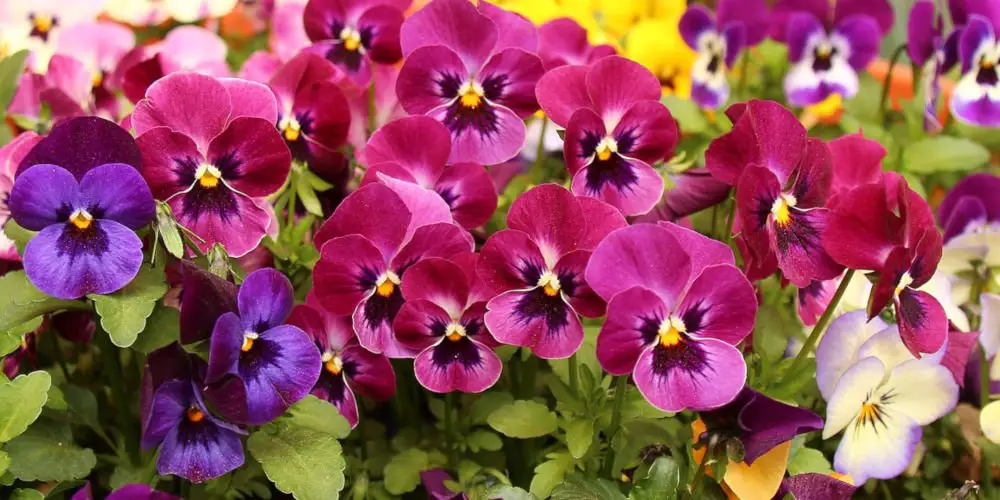 As a classic winter plant, pansies are easy to care for and add instant colour to beds or borders. While they prefer full sun, pansies can thrive in semi-shade making them the ideal plant for filling winter hanging baskets and containers.
Brighten your winter garden by using a mix of vibrant pansies in hues such as purple, blue, red, orange and yellow. They'll withstand winter wind and rain without too much trouble.
As one of the easiest plants to grow, a bag of seeds will set you back a few pounds.
#16 New Zealand flax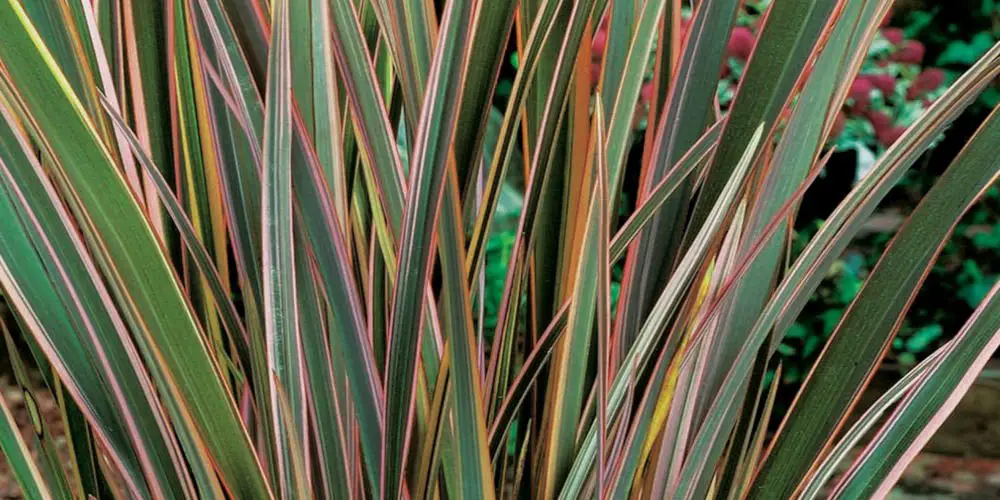 With it's slightly drooping sword-like leaves the New Zealand flax or Phormium 'Maori Queen' is fast-growing evergreen perennial. It's superb for adding colour to a garden in winter and is very useful for creating screens or partitions.
Grows best in fertile, well-drained soil in full sun. Will tolerate partial shade. It's fairly hardy but might need cover from hard frosts. However, overall it's a low maintenance plant that beautiful and functional.
You can purchase a New Zealand flax affordably from Crocus.
#17 Autumn Cherry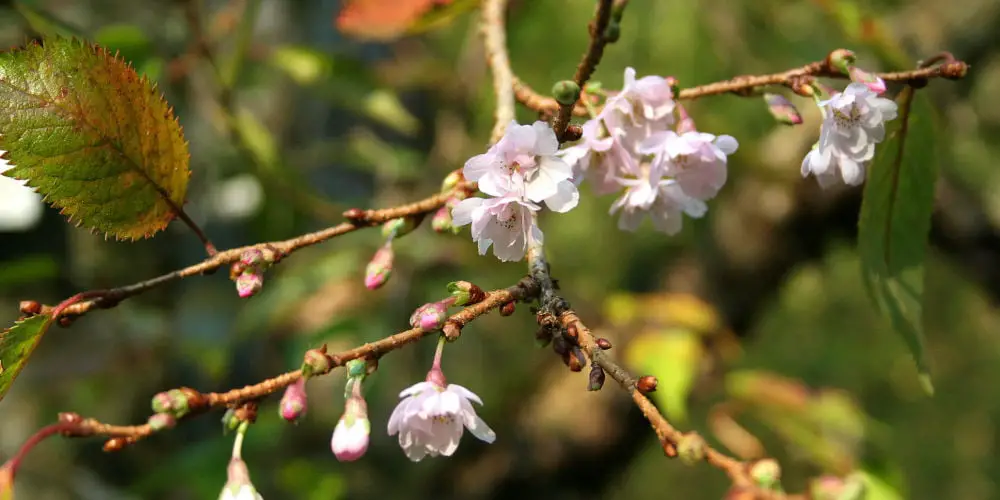 Prunus × subhirtella 'Autumnalis' or the cherry tree as it's more commonly known is one of the most popular and beautiful garden sights
It will come as no surprise if you own one that they're equally as beautiful in the winter. The blush pink flowers create a truly spectacular sight whether you have snow or not!
As trees go, expect to spend close to £100 for a young one.
#18 Camellia Japonica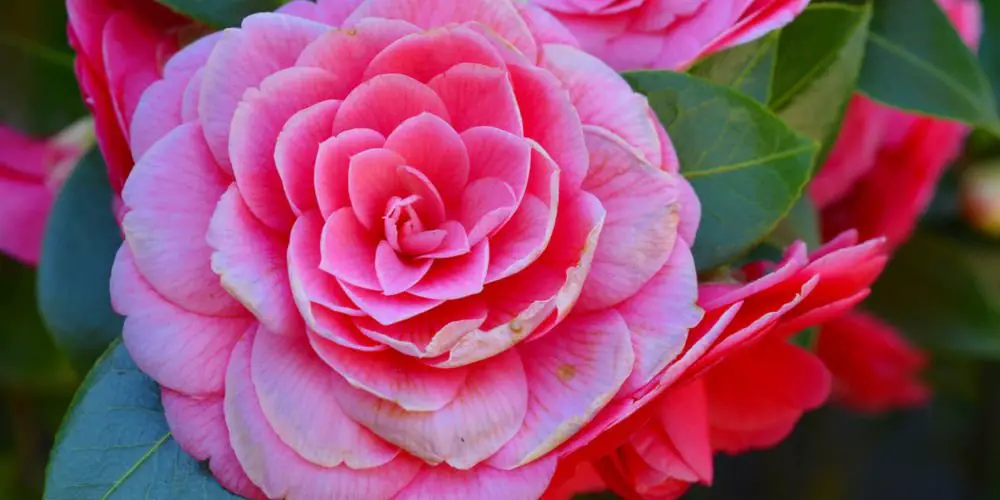 Ranging in colour from light pink to dark crimson, Camellia Japonica are beautiful flowers bloom right through winter. However, you'll find the best results in temperate climates where they can receive four to six hours of sunlight.
Ideal for a mixed or spring border and the foliage provides an excellent foil for spring bulbs. Unlike most plants on our list, Camellia Japonica does require a bit of TLC.
Available as young plants from Amazon for an affordable price.
#19 Witch Hazel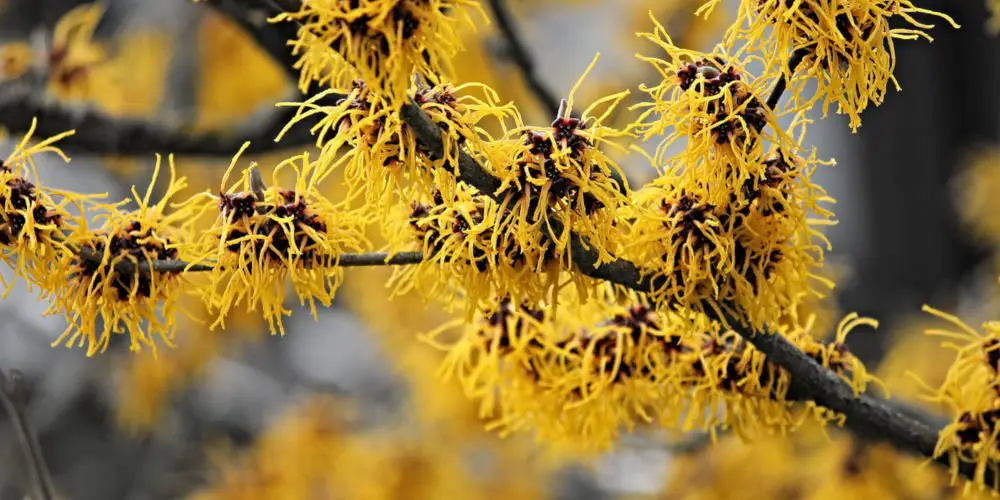 Originating in Japan, Witch Hazel or Hamamelis Mollis is low maintenance, deciduous and will soon earn its place in your garden.
Ideal for cottage-style gardens, in pots on patios and even in a container garden. Also, as a spreading variety, it's perfect for the back of borders or as part of a shrubbery.
Thompson & Morgan sell a hardy perennial Witch Hazel.
#20 Daffodils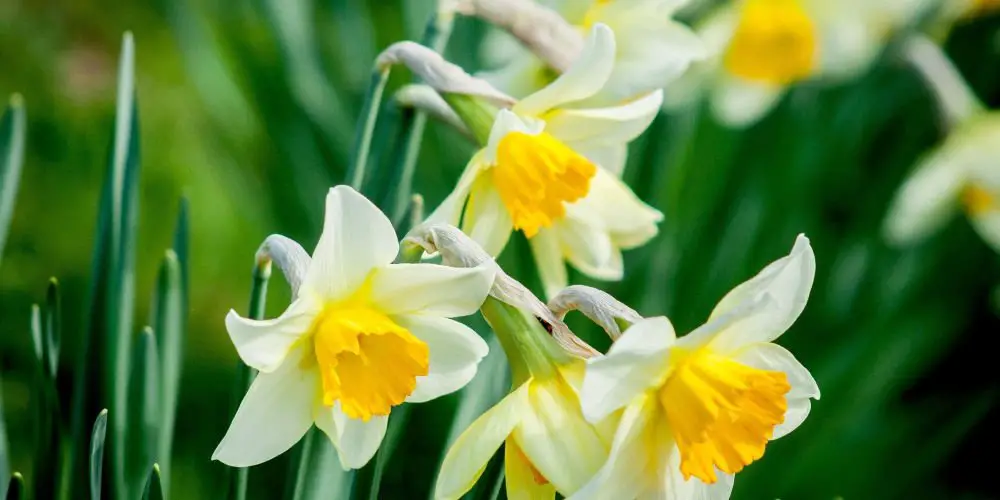 Some varieties of daffodils bloom towards the end of winter, making them the perfect transitional plant. Varieties to pick include Narcissus 'Rijnveld's Early Sensation' which bloom from January onwards, and 'February Gold' that flowers slightly later.
What makes daffodils ideal for the winter garden is that they are easy to grow your own yet readily available as young plants.
For example, you can purchase Rijnveld's Early Sensation Daffodil on Amazon as either seeds or bulbs.