Bosch Rotak 32R electric rotary lawnmower review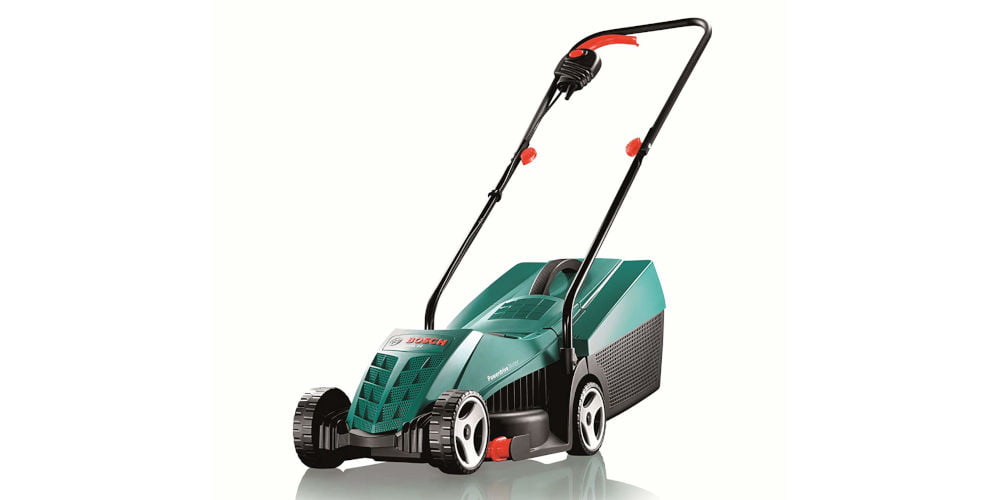 Bosch Rotak 32R Electric Rotary Lawnmower is a lightweight and compact mower. Ideal for small or medium-sized lawns, the Bosch Rotak 32R is packed full of features.
Under the hood is a 1200 W 'Powerdrive' motor, which drives adjustable metal blades that easily cuts through long grass. Once cut, innovative combs transfer the cuttings into a collection box ensuring neat and tidy results.
With a large plastic grass collection box, you'll be able to cut your lawn in less time without having to stop and start. As one of the best lawnmower under £100 on the market, the Bosch Rotak 32R scores: 8/10.
Pros
Cuts close to edges, reducing the need for strimming
Metal cutting blades with 3 adjustable setting
Large grass box
Cons
Some users have found assembly overly complex
Doesn't easily fold down for storage
Difficultly turning corners
Design
When you think about Bosch tools, one of the first things that comes to mind is their iconic green and red colour combination. This Bosch Rotak 32R is no different.
The compact design uses a tough plastic shell, ensuring it's lightweight yet can withstand years of use. At 6.8 kg, it feels solid but won't end up giving you back problems.
It's easy to navigate as it uses plastic wheels, which glide over grass and rough ground. The larger rear wheels increase stability.
The 32R has a fixed handle which comes in two pieces. Plastic screws tighten the second part in place when in use. You can easily fold down the handle for compact storage.
Controls are located at the top of the handle, making operation simple. The cables run into this box, with the motor cable held in place with clips on the handle and the 10-metre mains cable is loose.
The collection box arrives in two pieces which clip together. It hooks in place, making removing a full box easy, whether you're emptying it or for storing it separately.
Bosch is so confident that the Rotak 32R is well designed, that it comes with a 2-year warranty. This can be upgraded to 5-years by simply registering your product on their website.
Features
The Bosch Rotak 32R Lawnmower has several impressive features as well as many you'd expect.
Under the hood is a powerful 1200 W 'Powerdrive' motor, which provides plenty of power to the cutting blades. Regardless of how unruly your lawn is, the 32R has the capability to tackle it.
Unlike some lawnmowers, this Bosch uses metal blades. Not only will they last longer, but they'll also provide a more precise cut.
The blades sit on an adjustable plate, which has 3 settings (2, 4, 6cm) and provides a cut width of 32 cm. Moving the height of the blades is simple and requires no tools. You can adjust on the go, thanks to a lever near the right front wheel.
The Powerdrive system also forces the cut grass into the collection box, reducing the time you need to spend cleaning the underneath. The cut grass will look neater without that much debris to remove.
The two-piece plastic collection box is sturdy and hooks into place. Its 31-litre capacity is a good size and means you can focus on mowing, not emptying.
Finally, at 10-metres, the power cable is ideal for small and medium-sized gardens. Of course, you may need to use an extension lead, especially if your garden is on the larger size.
Set-up
As you might expect, the Bosch Rotak 32R comes flat packed. Assembly is meant to be fairly simple. However, the manual display diagrams with no explanation, meaning some might find assembly difficult.
Once you've clicked the parts of the collection box and screwed the handle together, then you're ready to mow! You should be up and run within 20 minutes.
For the best first cut, it's worth setting the blades at their highest position of 2 cm. This allows you to feel the contours of your ground without damaging your new mower.
Using the highest setting will also enable you to see how much area you can cover before filling the collection box and if the power cable is long enough. These are both useful for estimating speed in the future.
Over time, you can set the blades' height depending on the season and your lawn care plan.
After you first mow your lawn with the Bosch Rotak 32R, you'll want to clean it, so it looks like new. If you're tight on space in your shed then you'll want to remove the grass collection box and fold the handle down by loosening the screws.
Performance
If you know Bosch, then you'll be aware that they build superb products and the Rotak 32R is no different.
This mower will faithfully cut your lawn for years to come. In terms of general mowing, it easy to navigate and evenly cuts grass. However, it is bulky, so you might struggle with tight corners or cutting grass under bushes.
What makes it's ideal for cutting lawns is the wide cutting width. At 32 cm, it will cover a lot of area without any trouble. Regardless of your lawn size, you'll appreciate the time-saving.
While the wide cutting width is impressive, the adjustable blade height makes the Bosch Rotak 32R versatile. The three positions (2, 4, 6 cm) allow you to tailor lawn's height depending on the season or your preference.
Starting the 32R mower is simple. Hold down the safety bar (which runs across the handle) and push the button. As with most mowers, you'll need to keep the safety bar squeezed in order to keep it running.
The decently sized 31-litre collection box will cut down the amount of time you waste emptying it and is easy to replace. It's not as large as others on the market but will be adequate for most small and medium gardens.
You'll probably end up using an extension power cable as even at 10-metres, the power lead is quite small for most gardens. If you don't like using extension cables, then consider upgrading to a robomower!
Is the Bosch Rotak 32R worth buying?
The Bosch Rotak 32R Electric Rotary Lawnmower overall is very impressive and affordable.
It does have some negatives which are worth considering before you purchase. Assembly isn't the easiest. While you do have to follow diagrams, some will prefer to have written instructions.
Attaching the collection box can be tricky as you need two tabs to align. Of course, it will be irritating if the box is slightly out of place as you'll need to rake these clippings into a pile.
While excellent at cutting lawns, the Bosch Rotak 32R isn't designed to cut grass under bushes or plants and is clumsy around tight corners. You may need to pair it with a strimmer for the best results.
Finally, the power cable, our most common complaint. It is 10 metres, which should be fine if your garden is close to a power socket or on the small size. However, most will probably need an extension lead.
On to the positive. The wide cutting width coupled with adjustable blade height means mowing a lawn is easier and quicker. Also as the Bosch Rotak 32R uses metal blades, you'll be able to use it for years before they need replacing.
As you can easily adjust the blade's height, you can change the cut on the fly. Operating it is just as simple, press a button and depress the handle and you're off.
It comes with a 2-year warranty which automatically upgraded to 5 years when you register your mower with Bosch.
Overall the Bosch Rotak 32R Electric Rotary Lawnmower has some excellent features, it's affordable and will run for years. 8/10