Best lawn mower for £100 for small gardens in 2020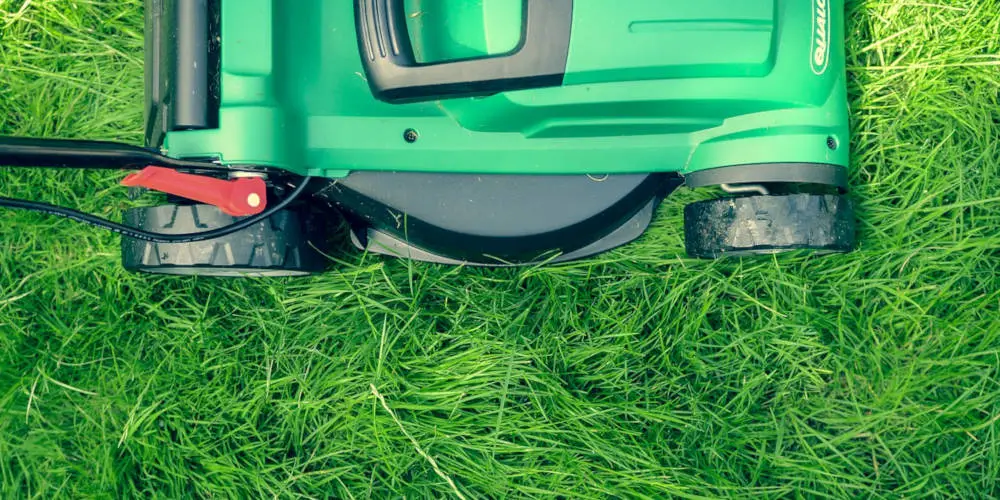 The garden is often the doorway to the home and in a world where first impressions matter, your front lawn should be as well kept as Wimbledon! Well, maybe not!
However, you'll want to have the best lawn mower for £100 or less as it's key to making any garden look inviting and well cared for. And you're more likely to use a well-kept garden than one which requires some TLC.
While some are moving to robotics – a topic we will cover in a later article, nothing beats the satisfaction of plugging in an electric lawn mower and cutting the grass.
Our crack team has researched the best lawn mower for £100 or less and picked 10 units. Other than trying to keep the price affordable, we have focused on providing you with a range of options from a number of brands.
* Prices correct at time of publishing
Flymo TurboLite 400 Electric Hover Lawn Mower Non-Collect
Description
The Flymo TurboLite 400 Electric Hover Lawn Mower is a different beast than the ones we've covered so far. While still quite near the top of our budget, this mower offers a sleek look and a great features list.
What makes this different is the technology and the lack of a collection bag or box. In short rather than rolling over the grass using wheels, this Flymo glides on a cushion of air.
Powering the mower is a 1500W motor which provides more than enough power. While aimed at the small to medium garden, there's nothing to say with a power extension cable you couldn't cut a large area.
The motor powers a large 40cm metal blade which can be adjusted to 5 cutting heights from 1-4cms. So the Flymo TurboLite 400 is able to handle all seasons and demands.
At 12 metres, the power cable is longer than the others we've covered. The unit is easily stored as it folds downs and is fairly light at just over 8kg.
Pros
Uses an air cushion
Large 40cm blade
5 cutting heights which are easy to adjust
Cons
Instructions are difficult to understand
Adjustment levers feel cheap
Conclusion
If you know Flymo, then you'll know they run for quite literally decades. Just by browsing some online forums, many users have been mowing with their Flymo for over 30-years!
Should the Flymo TurboLite 400 Electric Hover Lawn Mower last for 20-years, then it's a real bargain. The feature list is strong and the 40cm blade is wider than most of the mowers we've reviewed here.
That said, the only negatives we could discover is that the adjustment levers feel a little weak and so could be easily broken. The unit does require some assembly- don't be fooled into thinking you can remove the packaging and start. The final negative is actually quite small, it's appears that the power socket on the unit has changed. So if you're old Flymo has just died and you used one of the brand's extensions leads, then you'll have to pony up for another one. While this should really cause any issues, it's a minor gripe.
Bearing all of this in mind, the Flymo floats with an impressive 9/10! (read our full review)
VonHaus Electric Rotary Lawnmower 1600W
Description
With it's distinctive grey, black and orange housing, the VonHaus Electric Rotary Lawnmower 1600W offers a quick and easy way to maintain any lawn.
Ensuring easy manoeuvrability is four tread wheels as well as a soft grip handlebar. At 12 kg, it's on the heavier side but glides superbly over grass, leaving a fine cut.
The 36 cm steel can be adjusted into one of six cutting height settings, which range from 2cm – 7cm. This gives you total control over the length of your grass.
The large 50L grass capacity bag means you can cut more grass without needing to unload after a few strips. Plus the 10-metre power cable should be able to cover most small and medium gardens.
Some simple assembly required and the mower comes with a 2 Year manufacturer warranty.
Pros
36 cm steel blade with 6 cutting settings
Large 50-litre collection bag
Folds away easily
Cons
Bulky with bag and tight corners can be an issue
10-metre power cable might be too short
Conclusion
It's hard to find fault with the VonHaus Electric Rotary Lawnmower 1600W. Sure it's a bit on the big side when the collection bag is added, and this could make tight spaces hard to get into.
However, other than this, we think at this price point and for the features, it's a fantastic deal. So the VonHaus scores 9/10!
Bosch Rotak 32R Electric Rotary Lawnmower
Description
The Bosch Rotak 32 R is a lightweight and compact lawnmower with a 32cm cutting width. So if you have a small or a medium sized lawn, this mower could be the one for you.
Sitting at the heart of the unit is 1200 W 'Powerdrive' motor, which supplies plenty of power when cutting long grass easier and enables you to quickly mow shorter grass.
In addition the Powerdrive motor, the mower features innovative grass combs, which allows the lawnmower to easily cut up to and over the edge of your lawn ensuring neat and tidy results.
The 31-litre grass box will enable you to cut even quicker as you won't need to stop to rake or empty with every strip. The 10m cable might be suitable for most smaller gardens but you'll need an extension lead if you have a medium sized garden.
This product comes with a free 2-year guarantee, which can be extended up to 5 years.
Pros
Large grass box
Cuts close to edges, reducing strimming time
Metal cutting blades with 3 adjustable setting
Cons
Turning corners can be difficult
Assembly overly complex
Conclusion
Once you get past the less than ideal instructions and assembly process, the Bosch Rotak 32R Electric Rotary Lawnmower is a great lightweight mower for small gardens.
We like that it has a powerful motor and metal blades, as this reduces the chances of it getting blocked. Plus it makes for a good solid cut and could mean you don't have to strim the edges.
However, with only 3 cutting settings, it is limiting and feels like it could have been designed with 5 cutting heights. 8/10 (read our full review)
Qualcast Electric Rotary Lawnmower 1200W
Description
With a mighty 1200W motor the Qualcast Electric Rotary Lawnmower delivers superb performance for small and medium gardens.
The hi-speed turbo drive motor is cased in a lightweight chassis which makes for easy manoeuvrable. As safety should always be top, the lawn mower features a safety switch for peace of mind.
The 37 cm steel blade can be easily adjusted into any of the 6 cutting heights with a single lever. This enables you to tailor your cut to the season and demand. These cutting heights range from 2 cm-7cm. So the mower provides many usable settings.
The on-board airlift grass collection technology supplies the best cut and collection performance. This system feeds a generous 40-litre grass collection bag. This sizeable container will reduce emptying.
The unit features a real roller, 10m power cable and comes with a 2-year guarantee.
Pros
37 cm Steel blade
6 cutting heights controlled by one lever
Unique airlift grass collection technology
Cons
Collection bag easily fills
Trigger needs to be pushed fully to work
Shorter power cable than previous model
Conclusion
From our research it seems that most people are divided about Qualcast Electric Rotary Lawnmower. Some say it delivers as you would expect from a Qualcast mower, while others remark that the quality has slipped.
This model features a bag with a plastic top, which even though it's rated as 40-litres, many users have noticed that it fills quickly and so, unstandably, question this. While a bag does take up less storage space, it's not as a rigid like plastic.
Also, some users have noticed that power trigger switch is set so that you have to hold it tight for the machine to work. Even a slight relaxation can cause the motor to cut out. Should this be the case, and even as a minor problem, it could cause a headache on large lawns.
However, the Qualcast does deliver a good cut with multiple settings and can be folded down for easy storage. 8/10
Flymo Speedi-Mo 360C Electric Wheeled Lawn Mower
Description
As our last mower is good on small to medium sized gardens, the FLYMO Speedi-Mo 360C is better suited to medium to larger gardens.
The larger 1500W motor means the unit can handle hillier/rougher ground better, especially if you have a fairly large area you need to mow. Also, the 40L box holds a lot of grass and is raised off the ground. Both of these features mean you can cut faster with less hassle.
The mower's 5 cutting heights mean you can fine tune the cut and produce a better result overall. Unlike other mowers, adjusting the cutting height is really simple and can be done mid cut. Plus with 36 cm metal blades, you'll cut more grass in less time and for longer.
The 10-metre cable is as expected. However, it will probably be too short for most larger medium sized gardens. The 2-year warranty is, again as to be expected. You can extend the warranty with FLYMO by another 3 years.
Pros
Powerful 1500W motor
5 cutting heights and 36 cm metal blades
Easy to assembly
Cons
The grass box carry handle easily pops out of its rear attachment point
Can struggle with long and damp grass
Extended warranty is expensive
Conclusion
At just slightly under our budget, the Flymo Speedi-Mo 360C Electric Wheeled Lawn Mower has a lot to live up to. And thankfully it does. It's easy to use, lightweight but has plenty of power.
The 5 cutting settings are really useable and end up giving a good clean even cut. Also, it's easy to fold away to store.
The grass box construction leaves much to be desired and lets an overall good design down. We do hope FLYMO rethink this and create a simpler solution which is less likely to break/fall apart.
While it is powerful, some users have experienced issues with longer, damp grass as well as on tight corners. 8/10 (read our full review)
Webb WEER33 Lawnmower
Description
As a UK designed machine, the Webb WEER33 Lawnmower is perfect for smaller and medium sized lawns.
The mid-sized 1300W motor makes using the Webb easy and means the unit has a more power than you'll need. If you're using this lawnmower on a smaller garden then you'll be fine with 10-metre cable. However, you'll probably need to add an extension if you have a more medium-sized space.
With an adjustable cutting height between 2-6cm, you have plenty of settings which enables you to keep the lawn looking lush regardless of the season. Plus there's a single lever to adjust the cutting height, so you don't need additional tools or a re-read of the manual.
The grass bag appears solid and holds a nice 35 Litres. The unit has a 'bag full' indicator to help prevent overfilling, and this is a nice feature to have. Plus as it's a bag, it will be easier to store than a rigid plastic one. However, this could be a deal breaker and could need to be replaced sooner than solid plastic.
The polypropylene chassis is rust-resistant, easy to keep clean and means the unit is fairly lightweight, weighing in just under 9 Kg. Also, the folding handle makes it super easy to store in minimal space.
Pros
Lightweight design
Easy to adjust cutting height
Minimal assembly required
Cons
Grass bag could be a turn-off
Handle on grass bag doesn't always lock in place
Cable clips attach in awkward places
Conclusion
Don't be fooled by the weight, the Webb WEER33 Lawnmower has a great deal of power under the hood and uses materials which are long lasting and sturdy. Plus you don't need a degree to operate or adjust the unit.
We feel, however, that some will hate the grass bag, even though it's a good size. Especially if it's sometimes hard to attach it and does fill up quickly on long grass.
Overall, it's easy to overlook the few negatives and focus on what the WEBB excels at. 7/10 (read our full review)
Charles Bentley Electric Hover Mower 1000W
Description
If you're looking for a lightweight mower that's perfect for small gardens, then Charles Bentley Electric Hover Mower 1000W is an excellent choice.
At 4.7 kg it's the lightest we've covered, however, the 1000 watt motor still packs a punch, even though it's relatively small. The motor is used to create an air cushion, which the blade glides on, producing an even cut.
At a tiny 28cm, the blade is small but can be easily adjusted between 1-2cms. This allows for a range of cuts and so you'll be able to keep your grass under control no matter the season.
The 6-metre main cable is quite short, so you'll need an extension.
As it comes flat packed, some self-assembly is required. Luckily, it's easy to fold down and store.
Pros
Lightweight but still powerful
Easy to assemble and adjust
Highly affordable
Cons
Small plastic blades
Short mains cable
Conclusion
Standing at half our budget, it's hard to really find fault with the Charles Bentley Electric Hover Mower 1000W, especially as it's cheap enough to replace.
Of course, it won't handle a large garden or very rough terrain but it's not built for that. We would be happy to use this mower on a small garden or for finishing edges on a larger garden where a bigger mower might struggle with tight spaces.
With all that considered, the biggest shortcoming is the power cable. At 6 metres, it's really too short for most gardens where this mower would excel. However, this is a small issue that can be easily overcome. 7/10 (read our full review)
BLACK+DECKER EMax38i Lawn Mower
Description
When you think of DIY tools, the name BLACK+DECKER probably springs to mind. So we have high expectations of the BLACK+DECKER EMax38i.
Powering the EMax38i is an 1600 Watt motor, which will handle most gardens with easy. With plenty of available power, the high-performance cutting system produces excellent results even on tall and damp grass.
The motor controls a large 38 cm blade, which is easily adjusted via the simple one-touch adjustment lever. This lever offers 6 different cutting heights of 20mm, 30mm, 40mm, 50mm, 60mm & 70mm.
At the heart of the mower is the EdgeMax system, which pushes the cut grass away from the blade and into the box. This means you can easily cut edges and tight spots with the full width of the blade.
With the largest grass collection box at 45 litres, it will hold plenty of cut grass. This means you'll spend more time cutting and less time unloading. Plus the handy viewing window will enable you to see how full the box is.
The mower easily folds down for storage and the Intelli-Cable Management makes storing the cable easy and prevents damage.
Pros
38 cm blade with 6 adjustable cutting heights
1600W motor for superior performance
Large 45-litre plastic collection box
Cons
Grass box hard to connect
Bulky design making tight spaces difficult
Some motors have burned out after a year
Conclusion
With mixed feedback, we're unsure what to make of the BLACK+DECKER EMax38i. On the one hand, motors burning out after a year isn't a stellar performance review neither is the hard to connect grass collection box.
However, should the motor last, then we can see years of excellent performance just as long as you have a fairly square patch with no awkward tight spots.
Plus with 6 cutting settings, it provides a range of options for each season.
While some users have reported that the collection box is hard to fit, at 45 litres, you might struggle to fill it, which means you'll quickly fly around the lawn without needing any breaks.
Sadly, due to some bad performance reviews, our rating of the EMax38i is 7/10. (read our full review)
BLAUPUNKT Garden Tools GX1000 High Power Electric Rotary Lawnmower
Description
The BLAUPUNKT Garden Tools GX1000 High Power Electric Rotary Lawnmower is a high-performance unit which provides a clean cut and superb finish.
While on the small side, the 1000 Watt motor, should provide enough power for small and medium-sized gardens but might struggle with larger plots.
With a mid-sized 32cm metal blade, this mower is ideal for small to medium gardens. The cutting height can be adjusted into any of the 3 positions and so can be set to mow tight spaces and edges. Plus the oversized rear wheels makes cutting on uneven ground easy to accomplish.
The 30-litre grass collector box has plenty of room for cuttings and means you'll be able to cover plenty of ground before you have to unload.
The handle folds for easy storage and the bar power control is designed for easy use with one hand. This makes steering the mower easy and hassle-free.
The 10-metre power cable is a fairly standard length and so should be able to cover most small and medium gardens. It comes with a 3 Year BLAUPUNKT Blue Dot Warranty.
Pros
German design and manufactured
Mid-size 32cm metal blade
Large power control handle
Cons
Small 1000 Watt motor
Grass box is hard to fit and flimsy
Conclusion
We feel a little mixed about BLAUPUNKT Garden Tools GX1000 High Power Electric Rotary Lawnmower. It does look great but the motor is quite small and some users have reported a high failure rate. And while this could be a batch problem, it still doesn't fix the fact the motor is small.
That said, the small front wheels coupled with the larger rear ones is a great design and shows BLAUPUNKT is trying to include innovation at all price points.
The mid-sized blade is a nice feature and the 3 cutting heights will enable you to keep your lawn looking fresh all year round. 7/10
Flymo Glider Compact 330AX Electric Hover Collect Lawnmower
Description
The Flymo Glider Compact 330AX (which replaces the Flymo Glider Compact 330VC) is unlike most hover mower as it also collects trimmings. An impressive 1700W motor powers the fan and blades. The fan produces an air cushion, which propels the mower while it cuts the lawn.
The small 33 cm metal blade cuts with precession and can be easily adjusted with a single dial. T4 different cutting heights are available and range between 1-3cm. You can, therefore, adjust the mower for every season.
The top-loaded grass collection box is a unique feature as most mowers use one at the rear. However, this does significantly height and ease of navigations. At 22 Litres is it the smallest collection box of any in our list and so be prepared to spend a lot of time emptying it.
The 12-metre power cable is long enough for a small and even some medium-sized gardens. The two-part handle folds down, allowing for easy storage.
Assembly is fairly complex as there are over 20 parts in the box and as a result, you'll probably need at least 30 minutes to build it.
The 12-metre power cable is long enough for a small and even some medium-sized gardens. Plus the clips on the handle make storing the cable easy.
Some assembly is required and like many electric lawn mowers, it folds flat for storage.
Pros
Powerful 1700 Watt motor
Easy to adjust cutting height
Folds down for easy storage
Cons
Collection box is tiny (22 Litres)
Small 33 cm blade
Conclusion
As with previous hover collect mowers models from Flymo, the Flymo Glider Compact 330AX leaves much to be desired.
While we like the overall design and styling, it does suffer from one major flaw. The top-loaded collection box is not only bulky but is tiny in size. This means taking care of grass in tight spaces or under bushes is near impossible as the unit is fairly tall.
Also at 22 Litres, you'll find that the collection box is full after a strip or two. You'll probably spend more time emptying it than actually cutting grass.
A final negative is setting the unit up. It's far to complex to build. Unless you're a DIY expert, it'll take at least 30 minutes to construct.
While it busts our budget, there's much to like about the Flymo Glider Compact 330AX. It's super powerful and uses a metal blade which should last for years.
Adjusting the cutting height is very easy and doesn't need any tools. Finally, it covered by a 2 year Flymo warranty.
Taking both the bad and good points into consideration, we can only give this Flymo a 6/10. (read our full review)
The best lawn mower for £100 or less
The 10 lawn mowers we've covered include a range of brands and models. All of these cost around £100, meaning each provide good value for money. But which is the best lawn mower for £100 or less?
You might be wondering what's the best for you. So here's our take. For a small garden, you can't beat either the Flymo Glider Compact 330VC or the Charles Bentley Electric Hover Mower 1000W. Both are compact enough to make it round a smallish lawn quickly and efficiently.
If you have a larger sized lawn then you'll benefit from more power. So you'll want to take a look at VonHaus Electric Rotary Lawnmower 1600W or the BLACK+DECKER EMax38i.
While the BLAUPUNKT Garden Tools GX1000 looks great, the motor really lets it down and so we struggle with where to place it as it's quite bulky. however, it could be perfect if you have a squarish lawn with well-kept borders.
Our favourite overall is the Qualcast Electric Rotary Lawnmower 1400W as it's has a large blade, sufficient power and a 40-litre bag.