How to buy an island and escape the rat race for good!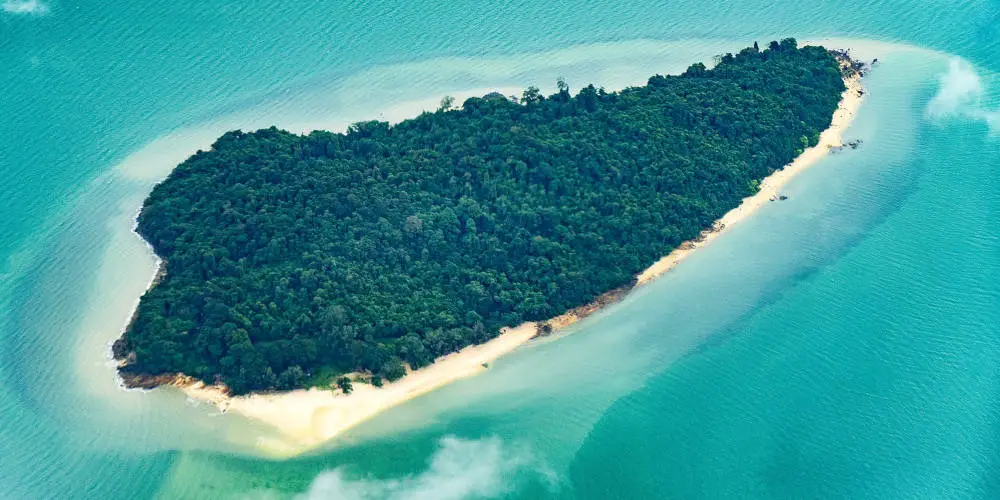 Your dream home could be a Victorian two up two down, a modern apartment or even an island. Yes, you can even buy an island! Many are affordable, so long as your flexible on location!
Retiring to a far-flung island for a better is easier than you think. However, it's not without its downsides or challenges, nor it as simple as chosing between country vs city living.
So, pack up your flip flops, sunscreen and worldly possessions, and let's go virtual island shopping! Here's how you can buy an island.
Finding islands for sale
Before you fire up Rightmove and search for islands, consider that selling any kind of land is a specialist area. Your local high street agent is therefore unlikely to be able to help you buy an island or even have a clue where to start!
With the traditional estate agents out, where can we look to help us buy an island?
There are a number of online brokers like Hamburg based Vladi Private Islands and USA based Private Islands Inc. who offer islands all over the world.
If you have the cash to splash, then Sotheby's has an online portal dedicated to island sales.
Of course, the odd island does come up for sale with one of the big estate agency brands in the UK. However, they aren't cheap and are usually handled by a commercial property broker.
Lastly, while sale by owner is rare, it's not uncommon. However, it can be the start of shark infested waters! So if you're hoping to buy an island, it's worth using an 3rd party to conduct the buying process to protect all parties involved.
The buying process
Thankfully, the process of buying an island is quite similar to purchasing a residential property. After finding an island you like the look off, viewing is essential. Then comes the negotiation.
Like with any residential property, you can buy a freehold island or lease one on a long term agreement. Leasehold properties are more moderately priced but your lease will expire and might trying to extend one might be incredibly complex.
Also, in some regions, non-locals can only purchase leases, meaning the government is in ultimate control.
Unlike a traditional property purchase, it will be impossible to compare an island with another one in order to access if the price is fair. Likewise, time on the market isn't a sign of mis-pricing as the market is tiny.
Arguably the price you'll pay is what you and the seller feel is fair, not what the market considers reasonable.
A broker will be able to help you navigate the local real estate laws, including checking the deed of ownership and filing the right paperwork. They'll also be able to advise you on if any tax is due and the tax situation going forward.
Sadly, when you buy an island, it's not a sovereign nation. So, you will be beholden to a higher power who might like to interfere.
Funding your purchase
Short of crowd-funding or taking out a commercial loan (itself a giant headache), finding the cash or funding to buy an island will be tough. That's why we'd recommend building up your equity in your current property and selling that to fund your hideaway.
You could, however, club together as a family and buy an island together. You will, of course, need to do some research into local planning as it's likely you'll want to build more dwellings.
If you currently lack the fund, then play the lottery, learn to play poker, or start a business! You could marry someone rich!
Constructing new dwellings
Whatever your reason for developing the island further, you'll need a crack team. Sorry but your local architect and builder are unlike to be suitable.
You'll need to invest time in researching the local construction laws and regulations as well as if your island has any restrictions. As you're buying unique ecological land, it will be complex to build anything and may involve lengthy negotiations.
If you plan to update the infrastructure then you might need a permit or permission. And costs could spiral out of control, quickly. Again seek local advice from lawyers, architects and estate agents.
Life on your island
Whether you end up spending millions or just a couple of hundred thousand, life will be great? Right?!
Owning your own island is like running a business. You'll have to keep investing in upgrading infrastructure including the method of travel you use to get to your island.
Simple things such as running out for a pint of milk will be difficult and could take a few hours, depending on how isolated you want to be. Getting any supplies to your property could prove to be a logistical nightmare.
It's also worth considering the overall climate and weather patterns. You might love the hot summers, but hate the cold of the winters. Think about how you will reach the mainland in periods of heavy storms or illness.
However, you'll have the space to live life on your terms. You can choose who makes it to your paradise. Imagine waking up day after day and walk along the shore or go surfing. Yes, you really can live a simple life.
Don't have the money to buy an island?
While you might not be able to afford to buy an island, you can still experience the joys of owning one by renting an island for a week or two. It's worth it!