Charles Bentley Electric Hover Mower 1000W Review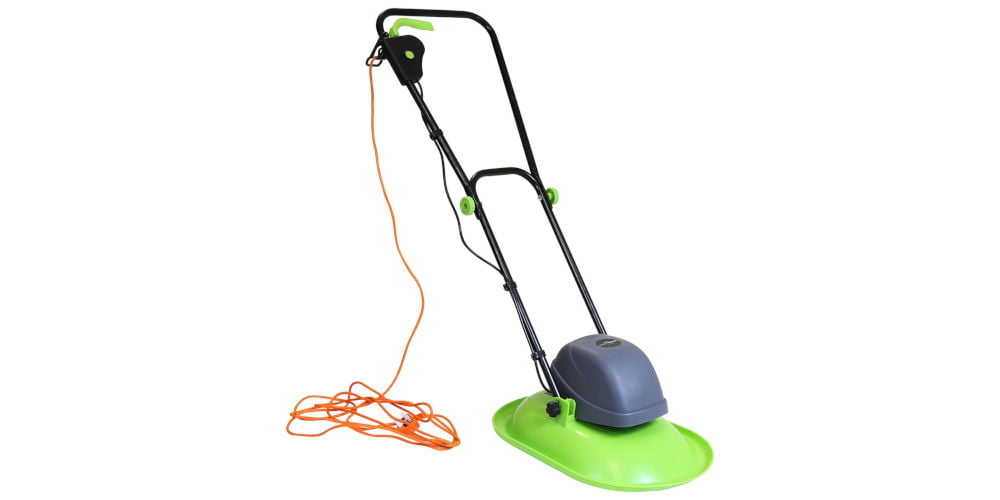 If you're looking for an affordable, no-frills mower then the Charles Bentley Electric Hover Mower should be on your list as it's available from Amazon for £54.99.
As a hover mover, it propels itself on an air cushion, making cutting a lawn easier. The powerful motor drive 3 cutting blades, which sit on an adjustable plate.
At slightly less than 5 kg, it's very light. Ideal if you have back problems or have a sizeable lawn to cut. It's easy to fold down and takes up minimal storage room.
As one of the best lawn mowers on the market under £100, the Charles Bentley Electric Hover Mower is a fantastic mower and scores: 7/10.
Pros
Lightweight but still powerful
Easy to assemble and adjust
Highly affordable
Cons
Small plastic blades
Short mains cable
Design
As is typical with most lawnmowers, the Charles Bentley Electric Hover Mower mixes a plastic body with a metal handle. This combination ensures a lightweight product that's sturdy and durable.
The metal handle comes in two parts, which screw together when in use. Folding the handle down for storage is very simple.
The motor which drives the blades and the fan, which makes the mower hover, sits under the plastic body. The slim body enables easy navigation, including under bushes and trees.
As a hover mower, it's not designed to collect trimming and so cuts directly onto the lawn. This means there's no collection box.
All of this adds up to a very light mower which weights 4.7 kg. It's compact design measures 104 cm tall and 94 cm in length (when the handle is assembled) by 39 cm wide.
Features
As a no-frill lawn mower, the features list is relativity small yet essential.
There are only two controls at the top, a safety cut-off bar and the on button. A small 6-meter mains power cable runs into this control box. Another cable runs from this box to the motor.
Beneath the plastic hood sits a 1000 watt motor. So you have plenty of power available. The motor powers the fan which creates the air cushion which the mower glides on.
How the Charles Bentley Electric Hover Mower cuts grass is unique. Typically a long straight blade runs the length of the cutting width. However, this mower uses three small, strategically placed plastic blades.
These three small blades make up a cutting width of 28 cm. While this cutting width is small, it should be adequate for small lawns.
The blades sit on a plate which can be adjusted between 1 and 2 cm depending on the season or your preference.
Set-up
There is some assembly involved before you can get up and mowing. however, as there's no collection box or wheels, set-up is very straight forward.
Simply attach the bottom part of the handle to the body. The second part of the handle can then be screwed into the bottom half. Clip the cable which runs down the handle from the control panel to the motor.
Next, add the plastic blades and set the cutting height. We recommend setting this in the middle. Setting this too high and you'll have little grass left. On the other hand, setting it at it's lowest position and it won't cut much.
Use the first mow to get used to how the Charles Bentley 1000W Hover Mower handles and cuts. You can then adjust the cutting height for the season or to your preference.
Powering up is our final step. Our biggest problem with this Charles Bentley mower is the size of its power cable. At 6 metres, it's tiny and won't be suitable for most small gardens. So you'll want to have an extension lead on hand.
Performance
In terms of use, it's very straight forward. Hold down the safety bar and press the on button and you're away. You'll need to keep the safety bar depressed for it to keep working.
What's ideal about the Charles Bentley Electric Hover Mower is it's very light. It's perfect if your disabled, getting on in years or have back problems.
Also as it's under 5 kg, navigating it around a lawn, under bushes and in tight spaces is not only easy, it's a joy!
One slightly annoying element is changing the cutting height. Simply, there's no easy way to do so. You have to remove the plate using a spanner and adjust. While this might not be a deal-breaker, it is slightly irritating.
Our verdict
Overall the Charles Bentley Electric Hover Mower 1000W is a fantastic product. Of course, there are a few negatives which will put some people off.
Let's start with the navigates. The biggest has to be the power cable. At 6-metres, it's tiny. You'll unlikely be able to cover much more than a postage-stamp-sized lawn. So you'll need an extension lead.
Some will dislike this mower as it cuts directly onto the lawn and doesn't collect trimmings. This can leave your lawn looking untidy and may require raking.
That said, there's no bulky collection box to build, store or remember to use. And of course, this has an impact on the overall weight.
The plastic blades are less than ideal and might need replacing sooner than metal ones. However, replacement blades are available and are cheap.
Adjusting the cutting height of the blades requires using a tool and so isn't as user-friendly as we'd like. Ideally, you'd adjust the cutting height depending on the season to protect and nurture your lawn.
In terms of positives. It's lightweight, super easy to use and will last for years, with new blades every other year.
We'd recommend the Charles Bentley Electric Hover Mower 1000W if you have a small garden, are disabled or suffer from back problems and with change from £60, it's a bargain. Our score is 7/10.