How to choose kitchen tiles for the ideal finish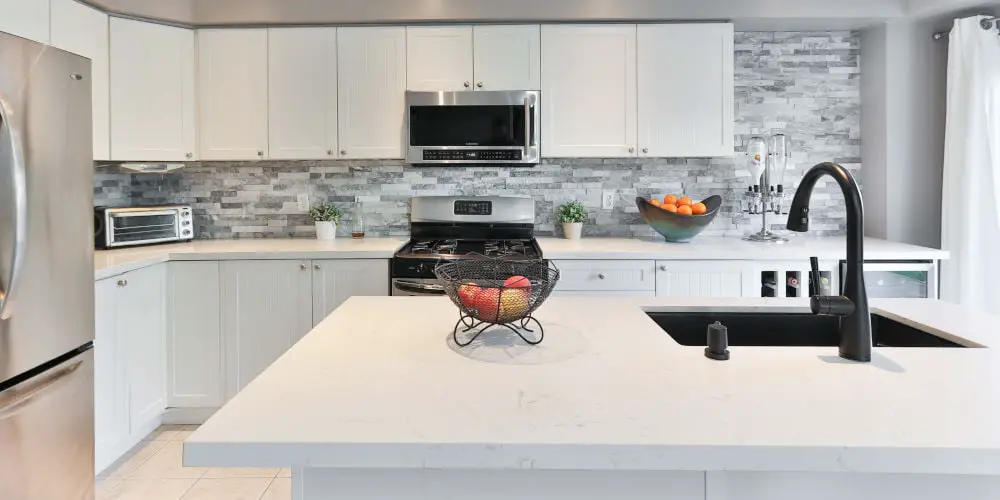 When designing a new kitchen, the tiles often get overlooked. However, kitchen tiles can make or break a space. As we've already explored how to choose the ideal tiles for your bathroom, it's time that we choose kitchen tiles.
Most people get overwhelmed by the sheer amount of options they have when choosing a new kitchen. This often means that the finishing touches, however practical, become just another choice.
Kitchen tiles are not only important for preventing spills and splashes from ruining walls but are a way to stamp your personality on your kitchen.
Let's explore how to choose kitchen tiles including the options and cost.
Where can we use tiles within a kitchen?
Before we can get creative and start to choose kitchen tiles, it's worth discussing where we can use tiles within the kitchen.
Typically, we have three uses for tiles. We can use them as a backsplash behind the stove. You can use tiles on the walls and floor.
In the past, some have experimented with using tiles for worktops. However, these aren't easy to clean or maintain, and so other materials are preferred.
Different tile types
The term 'tile' literally means "a resilient material that can be laid in rows over a surface". The definition doesn't include a list of materials or shapes.
This means we have a range of options to choose from, including different materials, thickness, finish, and size. While this might seem overwhelming at first, having a wide range of options allows you to express yourself and make your home unique to you.
For example, you could choose to use large vinyl tiles on the floor and tiny glass tiles arranged in an ornate pattern on the walls.
Typically on the floor, we can use materials such as vinyl, porcelain, ceramic, and natural stone.
For the walls and any backsplashes, materials such as glass, porcelain, ceramic, and natural stone are all commonly used.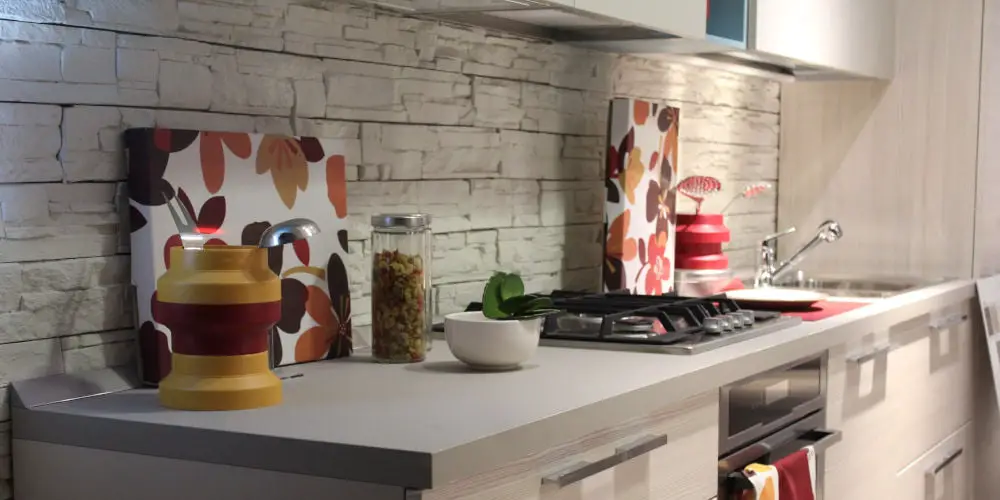 Choosing the right tile material
While you can choose kitchen tiles that are made from range of materials, each requires a different level of care.
Vinyl
Vinyl is by far the easiest to maintain. It easy to vacuum or sweep (with both a dry brush and wet mop). It's easy to remove spills and stains with warm soapy water and some elbow grease!
Porcelain
Porcelain is fairly easy to clean and maintain. Again it's easy to sweep and vacuum. It's best to stay away from corrosive chemicals as they can erode the surface of the tile and let water seep in, creating even more issues. Instead, clean with warm soapy water and some elbow grease!
Ceramic
Ceramic requires the same care and maintenance as porcelain.
Natural stone
Natural stone requires a lot of care as it's easily marked and can absorb liquids. Cleaning involves sweeping debris away, then lightly cleaning with a warm soapy solution, and finally drying it.
Spills should be treated as if they were on a carpet. Don't wipe it, instead blot the stain. Wiping encourages the liquid to spread into cracks, leading to further damage.
Glass
Glass is hard-wearing and therefore easy to clean. Simply sweep or mop with either a dry brush or warm soapy water. Mild detergents are fine to use, but you'll want to avoid corrosive chemicals.
Your budget
Having looked at a range of materials, before you choose kitchen tiles for your room, consider the cost. To a large extent, your budget will dictate what you end up with, but it's worth considering what surfaces you'll tile.
For example, if you use a hardwood floor with generic tiles on the walls, then the price will be far more affordable than using handmade custom tiles throughout.
Of course, you could use affordable generic tiles on the floor and walls. The rest of your budget could pay for custom tiles for the backsplash or a wall accent. Both are smart ways to create a custom finish yet stay within budget.
When setting a budget, plan to buy more tiles than you need. Having extra tiles is essential to getting the best finish, as it doesn't matter if you smash a few or have to cut odd shape tiles to fit equally unique spaces.
Another common issue is installation costs. If you're good at DIY and can spare the time to replace your kitchen tiles, then your costs will be lower than getting a professional in.
Also, if you plan to DIY, you need to include in your costs tile cutters, spreaders and adhesive. Again these costs quickly add up and can eat into the budget.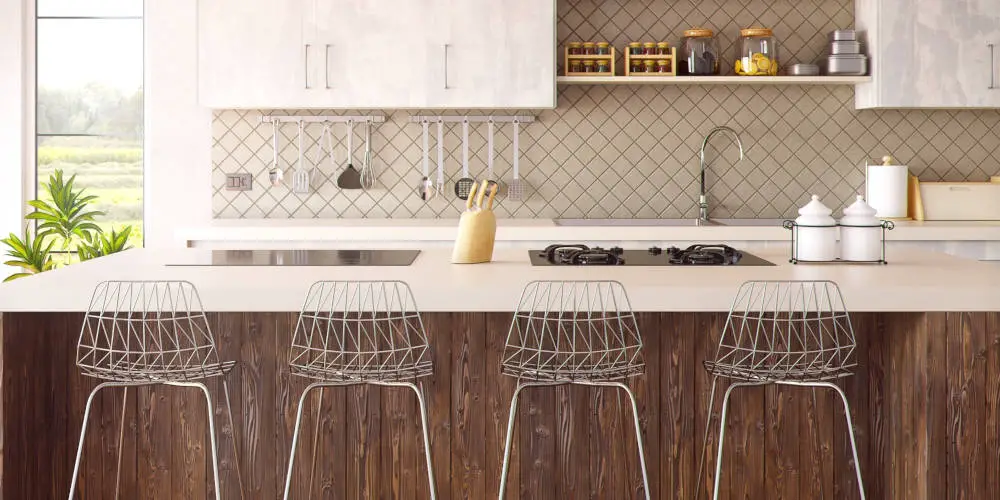 Durability of kitchen tiles
Different tiles perform better at certain roles. You wouldn't typically use a wall tile on the floor and vice visa.
Choosing the right tile for a wall is more about the overall finish and less about the durability. Wall tiles aren't subject to the same amount of pressure floor tiles are.
If you use a wall tile on the floor, you'll find it too slippery for walking as the coefficient of friction (COF) will be too low.
You can, of course, use a floor tile on the wall, however, they will be larger and you'll need to cut more down to size. This could mean you need more tiles than the area to pattern-match and tile odd shapes.
You can balance the need for excitement by using colour or interesting texture in the wall tiles. On the floor, you can use a simpler tile with a slightly raised pattern or texture. This way the floor is safe and creates a nice backdrop to the interest created by the wall.
Again, this idea is also a fantastic way to extend your budget. If in doubt when it comes to purchasing tiles, ask the salesperson.
Available tile finishes
In terms of colours and finishes, a wide range is available. It's no longer just about shades of whites or puke green!
When you come to choose kitchen tiles, firstly consider the natural finish of materials. Limestone, for example, is available in a range of colours from pale white to dark grey. Usually unsealed natural stone has a duller, matt finish.
Ceramic tiles, on the other hand, are available in a range of colours and can be easily painted. They normally have a brighter, more glossy look.
It's important therefore to pick a finish which fits within your kitchen's style and colour scheme. In a small kitchen, using lighter colours, with a glossy finish will make the room feel bigger and spills/dirt will be easy to spot.
In terms of what's currently available, Wickes offers kitchen tiles in 17 different finishes. These include gloss, matt, satin, textured and hand-painted. In addition to these finishes, they offer tiles in 9 colours.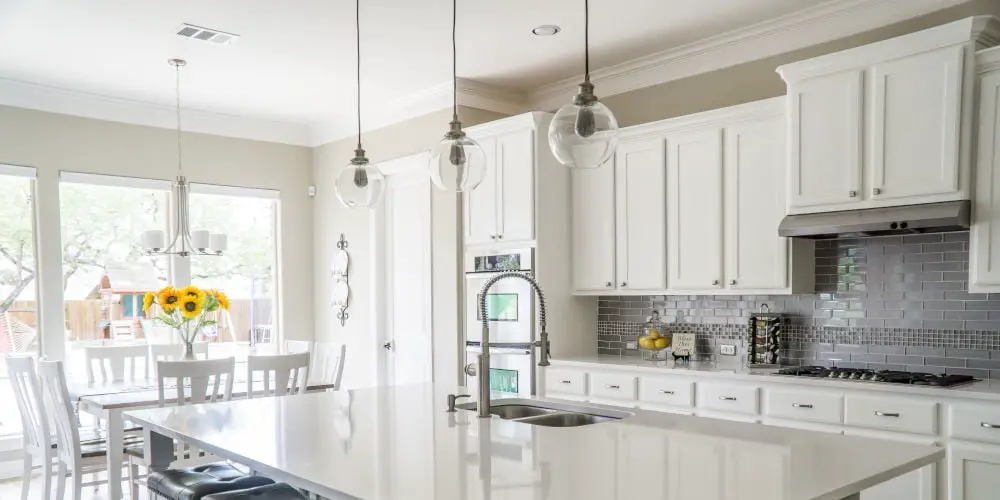 Sizes and patterns
Typically tiles are available in small, medium and large. While that shouldn't shock you, it's worth remembering that custom or unique tiles will be of a non-standard size. It might be a challenge to mix custom and off the shelf tiles together.
Regardless of the size or sizes, it's worth laying your tile out on the floor and trying a few different layouts. If in doubt, take a photo and place your phone up against the wall or behind the stove. This way you can see the pattern in action!
As the majority of tiles are rectangles, there are two ways to position them, either vertically or horizontally. There's no right way, but each option feels differently.
Laying your kitchen tiles horizontally will make the space feel wider. If your kitchen is tall yet small, try stacking tiles horizontally.
Using a vertical pattern will make the room feel smaller and more compact.
Brick
This layout mimics the classic brick wall design. You can stack tiles either way. However, arranging them vertically will make the room feel taller.
For the best result, think about mixing colours, even if that means choosing an interesting grout. Mixing multiple textures and colours will give your wall a modern look.
Mosaic
Typically mosaic patterns use tiny tiles in multiple colour and textures. It would be far too expensive and complicated to install individual tiles, and mosaic tiles are available on sheets.
There are thousands of permutations available and multiple ways to use them. While you can layer sheets to cover a wall, mosaic tiles work best as a divider or as a backsplash.
Oversize
This might sound counter intuitive, but using large tiles can make a room feel seamless and cosier. This work equally well in both big and small kitchen.
Try to use a less obvious grout as this will tie the tiles together. While you can use this layout for any kind of tile, it looks especially interesting with stone tiles.
Herringbone
Not just for floors! The herringbone pattern uses tiles diagonally to create a sophisticated look. You will need to buy extra tiles to make the edges line up.
However, Herringbone looks great with all types of tile. Get a modern look by using a high contrast grouting.
Basket-weave
While not as popular as other patterns, Basket-weave is a bold, complex design.
To create this pattern, group rectangular tiles into twos. Each pair forms a square. These squares are then set at right angles. For example, if the first square is two vertical tiles stacked on top of each other, the next square would be two horizontal tiles, side by side. Next two vertical, and so on.
Basket-weave, while it naturally looks traditional, a contrasting grout can give it a more modern look.
Floor vs Wall
Imagine for a second you've settled on a pattern and tile for the walls. However, you're having some trouble with choosing floor tiles. What can you do to find the right flooring?
Firstly, don't try to get them to match as the light will hit them differently and creating unmatched patterns. The only time you can get away with breaking this rule is if you're using oversized tiles throughout.
Instead, choose tiles that complement each other. For example, large light grey stone floor tiles will contrast nicely with small white tile in a herringbone pattern on the walls.
Of course, before you choose kitchen tiles and order them, experiment with samples, placing them at different locations within the room and moving them every few hours.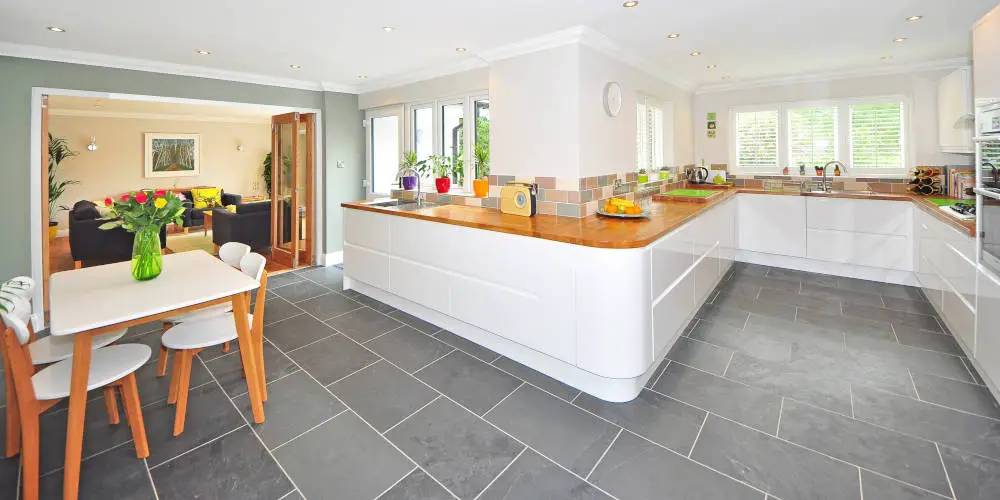 Plan properly
Don't start to re-tile without having a plan. You'll need to estimate how much time you'll need to remove the old tiles and prepare the surfaces ready for new tiles. Also, you'll need to estimate how many tiles you need.
There's nothing worse than not buying enough tiles, only to discover they've sold the last box to someone else and won't be restocking. That's why it's worth buying 10% extra tiles than your estimate. If you break a few or can't find an off-cut that matches, then you'll be fine.
Finally, you need to estimate how much time you need to lay the new tiles and what tools you'll need.
As with any DIY job, it's likely to take you twice the time and even longer if you have no plan. So make sure you have a rough idea before you start.
If in doubt, get the professionals in!
Even if you choose kitchen tiles and purchased them yourself, employing a professional can cut costs and time. Of course, they will cost more upfront, but they'll get right the first time and quickly.
They'll also be used to dealing with odd-shaped rooms or walls that aren't perfectly flat. So while DIY can be rewarding, sometimes it pays to use a professional.
Ask friends, family and where you purchase your tiles if they can recommend someone. If they can't then search Checkatrade for a professional in your area.
That's how to choose kitchen tiles
There are many things to consider when you choose kitchen tiles. Make sure you research your options, set a budget, measure your space and decide whether you'll DIY or not.
Match whatever tiles you choose with the overall look of your house and your lifestyle. There's no point spending a lot of money if you only use the kitchen to cook ready meals. The opposite is also true.
Take time to explore your options, then choose kitchen tiles that will create your dream kitchen!