How to convert a loft and create more living space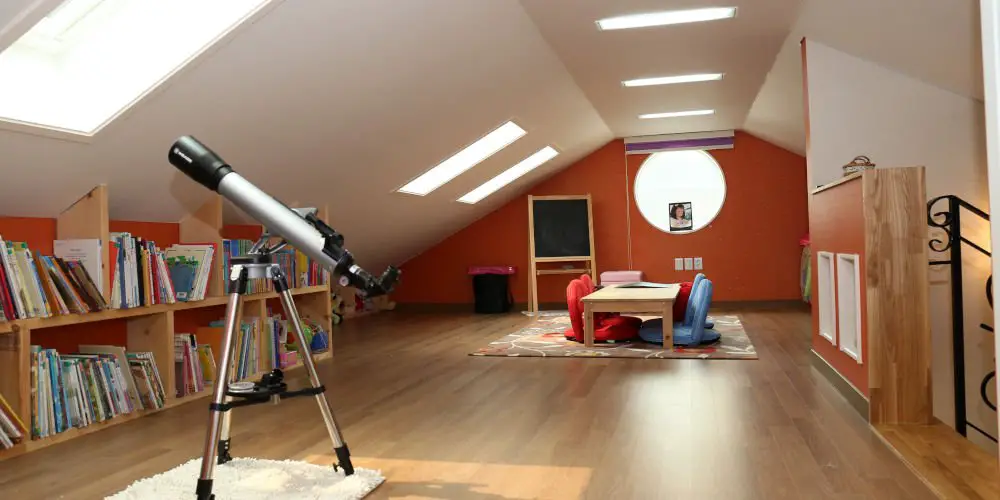 There are many reasons why you might want to convert a loft as it's easy to run out of space. You could have a growing family, need a guest bedroom, an office or even a media room to relax. Rather than moving, the answer could be right above your head!
Converting your loft will add space and value to your property without having to move. If you're unsure how to convert a loft and what it might cost, don't worry as we'll cover everything you need to know.
Why convert your loft?
There's a wide range of reasons why you might choose to convert a loft. For example, you might not have enough money to move to a larger property or might love your current area. You might not have the space to extend out and so your only option is up!
The Federation of Master Builders estimates that a loft conversion adds up to 20% of the value of your home. Putting this into context, the average property price in 2019 was £230,292 (based on Office of National Statistics). This means you'll be adding £46,000 of value.
Can my loft be converted?
Having covered why you might want to convert a loft into liveable space, the next logical question is, can you?
The answer depends on several factors including:
Roof structure
Available head height
Obstacles (such as chimney stacks or water tanks)
Will my roof support a loft conversion?
While it might be hard to tell from just looking at your roof, as a rule of thumb, the total available height depends on the angle of the roof pitch. A larger angle likely means there's more useable space.
Of course, adding dormers will have an impact on the amount of comfortable headroom the converted space will have. Also, if you plan to redesign your loft completely then it's likely you can increase the useable floor area even further.
Does my roof require structural works?
The majority of lofts can be converted without need any structural works, making attic conversions popular and inexpensive.
However, you may need to strengthen or add additional supports to your rafters as well as adding steel beams between loadbearing walls for new floor joists. You'll need to hire a structural engineer to advise you.
How do I measure head height?
For a conversion to be suitable, you need at least 2.2 meters of head height. To check you meet at least the minimum, you'll need to measure from the bottom of the ridge timber to the top of the ceiling joist.
Luckily, Building Regulations impose no minimum ceiling height. However, you'll need 2 metres in headroom for the stairs to allow for comfortable movement.
My measurement is less than 2 metre
All hope isn't lost if your head height is under 2.2metres. However, the two major solutions to convert a loft are costly.
Raising the Roof – Increasing the angle of your roof is structurally possible, but does require planning approval. You may also need to protect your property with a scaffold structure. As you're essentially building a new roof, the cost is can be considerable.
Lowering the ceiling – If you have high ceiling height on the floor below, it's possible to remove them and replace at a lower height. Thus creating more useable head height in the roof. Of course, this is a trade-off and so you'll need to decide if it's worthwhile.
Unlike raising the roof which causes minimal disruption, lowering ceiling height is destructive and messy. The new metal joists will need to be bolted to the wall to create the new ceiling. The two spaces will also need to be tied together to prevent roof spreading.
How can I deal with Obstacles?
Moving a chimney stack which sits in the middle, may not be possible or at best, costly.
Having to move a water tank will be costly but necessary and may need to be replaced with a sealed system. It might be worth upgrading to combi boiler as this could save money in the long term.
So you'll want to plan how to deal with obstacles when you convert a loft to ensure you project runs smoothly.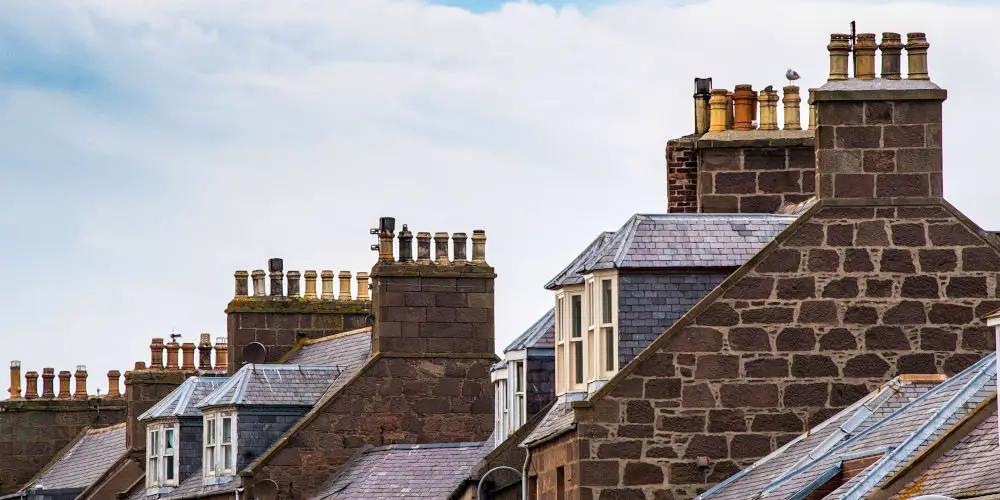 What will a loft conversion cost?
The cost of converting a loft depends on several factors including design, finish and complexity of structural works. For example, any adjustments to your roof's pitch or having to alter the existing layout to accommodate a new staircase, will both impact the overall cost.
In terms of a price guide, it's worth looking at the major options.
Room in Roof
As the cheapest option and most straight forward option, a room in the roof loft conversion costs around £15,000.
The attic floor will need to be reinforced and the entire space will need to be insulated. Adding a staircase to the loft is likely to be the single most expensive item.
You'll then need to add electrics, lighting and heating. Finally, you'll need to add fire safety measures to comply with Building Regulations such as fire doors and smoke alarms.
Dormer
As the above option doesn't include windows, adding a few dormer widows will increase the cost to around £20,000. For that money, you'll increase the useable floor space and head height.
The cost will higher, around £40,000 if you plan to add a double bedroom and en suite with the dormer loft conversion.
Structural changes
Any structural changes will require planning and will increase the cost further. For example, add a mansard roof will require complete removal and rebuilding of the existing roof. Costs start at £40,000 and can quickly escalate based on the complexity of design.
Prefab
As the name suggests, these are built off-site and then craned into position. As the most expensive option, it's also the least disruptive. Typically a prefab loft conversion will cost upwards of £55,000.
Will I need an architect?
Depending on your situation, you might be able to design your loft conversion. However, using an architect and builder, or a local design and build company will speed up the process and ensure your conversion maximums your space and complies with the law.
Architect
A local architect will enable you to design exactly what you want. They'll create the drawings and specification which can then be put out to tender. Some will offer project management services for an extra cost.
If you require planning, then your architect will be able to advise you. They'll also be able to recommend structural engineers, contractors and traders.
It's worth noting that as a quite a small project, the architect's fee will be a significant percentage of the overall cost. Ask them to recommend a local builder who specialises in loft conversions.
Design and Build Company
Offering a complete end-to-end service, a design and build company is usually the most cost-effective solution for smaller jobs. As everything is handled in house, there's less risk involved and projects are typically completed in less time.
However, they may work to standardised designs, which could limit your creative input or cost you more to modify them.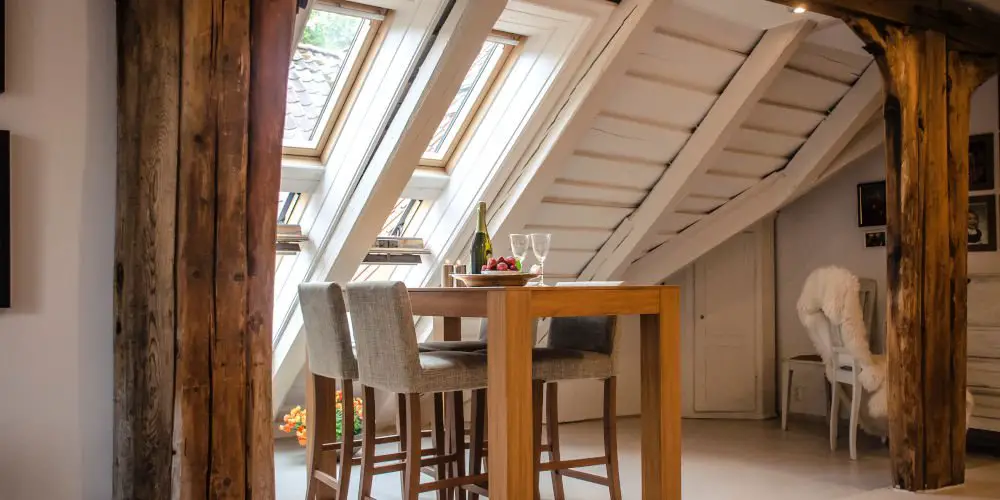 Do I need planning permission?
Generally speaking, you don't need planning permission to convert a loft as they fall within the remit of Permitted Development (PD). Your design will need to comply within the bounds of the PD rules and Building regulations.
You'll need planning permission if you plan to extend beyond what's permissible under PD or if your design includes altering the roof height or shape. If you live in a listed building or a conversation area, then you also will need planning permission.
As long as roof lights and dormers align with the principal elevation and aren't higher than the existing roofline, then they can be installed under PD.
If in doubt check with your local planning office before starting any work.
How to comply with Building Regulations
While you might not need planning permission, you will need Building Regulations approval. This means your local planning authority will send a building control surveyor to inspect your conversion at various stages. After the final inspection, they will issue a completion certificate.
Your loft conversion will need to comply with Parts L, K, B and P of the Building Regulations.
Part L
Sets out U-value targets for thermal efficiency you have to meet when you convert a loft into habitable space.
Part K
Defines preventative measures you must take to avoid fallings, collisions and impact. It also sets out the requirement for a minimum headroom of 2m for all escape routes.
Parts B
This covers fire precaution and safety including alarms and escape routes.
Parts P
Concerns electrical safety and specifies that any system should be designed and installed to allow safe operation.
Complying with the Party wall Act
If your property is semi-detached or terraced, then you might need to compile with the Party Wall Act. You will have to notify your neighbours of the intended work.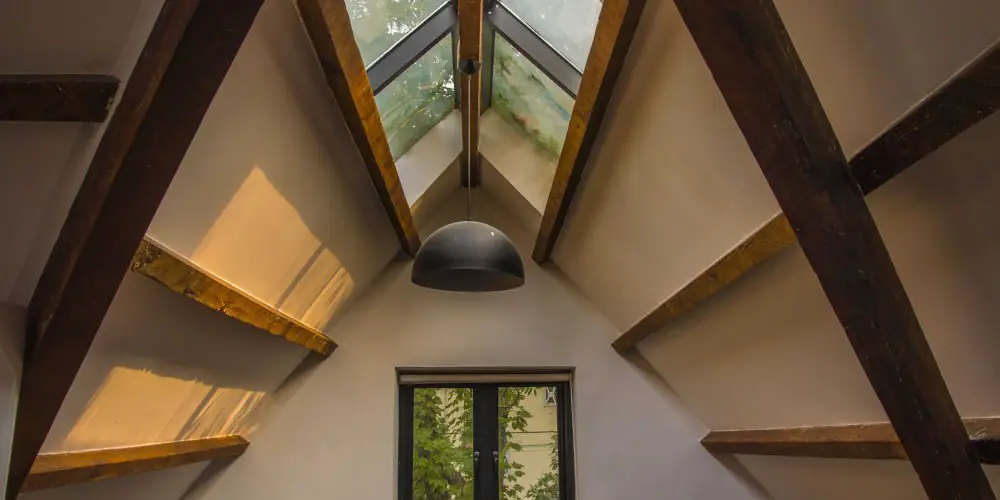 Will the ceiling joists need replacing?
In most cases, to comply with Building Regulations you will need to add additional joists as the existing ones are unlikely to be able to withstand the extra weight.
You'll need to hire a structural engineer who will ensure the design and specifications comply with Building Regs.
How to correctly insulate a loft conversion
A well-insulated conversion will make the new space habitable and should also provide energy savings and thus reduce your household bills. Using the correct insulation should result in a better EPC rating, which potentially adds value.
It is important to choose insulation that gives the best possible U-value (as specified by Building Regs) for the minimum thickness. There are two methods available.
Cold roof insulation
If you're not replacing the roof covering, then it's best to add cold roof insulation. You'll add insulation between and under the rafters. This material is placed 50 mm from the felt, creating a ventilation gap.
Insulated plasterboard is fixed beneath the rafters and seals the first layer in place while reducing thermal heat loss. Also, insulated plasterboard is added to any dwarf walls to create a complete continuous insulation layer around the space.
Warm roof insulation
Ideal if you're re-roofing as this requires more work and access above the rafters. A warm roof involves fixing insulation between the rafters and above the rafters.
The roofing timbers are insulated and therefore warm. This method creates more headroom within the loft conversion but is only suitable if you're replacing a roof.
What fire safety do I need?
When you convert a loft, you'll need to add several fire safety features to comply with Building Regulations and ensure the conversion is safe for habitation.
Escape routes
Any new windows should be large enough to escape through. On a single-storey property, windows should also be low enough to allow safe passage out of the building.
If you're transforming a two-storey property into a three-storey home, then things become more complex. It's unlikely that someone could safely escape from a window. So to conform with Building Regs, you'll need a protected stair enclosure that leads to the final exterior door.
Floor joists
As the new floor joists have to provide at least 30 minutes of fire protection, you might have to replaster the ceilings the rooms directly below.
Doors
You'll need to separate the loft room with a fire door, either placed at the top or bottom of the new stairs.
Any existing doors on the stairway should provide at least 20 minutes of fire resistance. If not, then they will need replacing. Also, any glazing must use fire-rated glass.
Smoke alarms
Each floor should contain a mains-powered smoke alarm with battery backup. They should be interlinked so that they all sound when one is activated.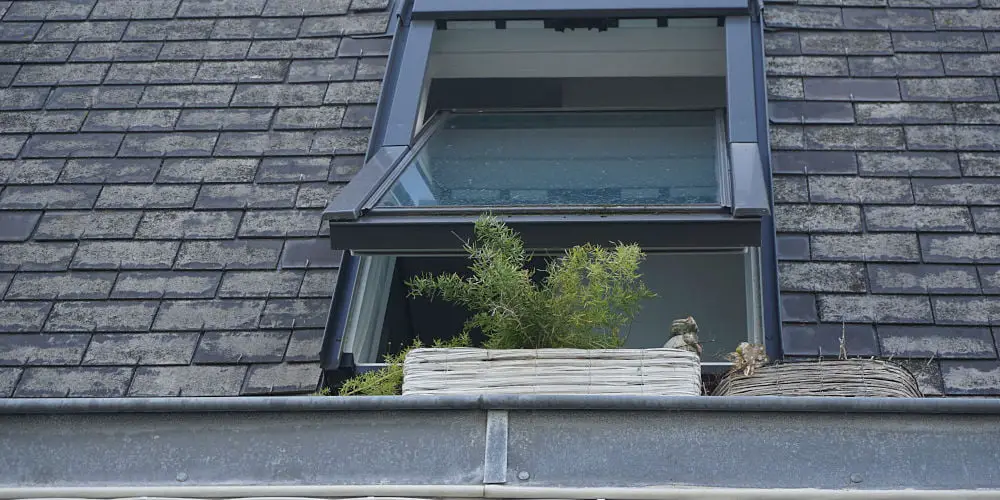 Maximising daylight
You'll want to try and bring natural light into your loft and there are two main options.
Rooflights
Inexpensive and easy to fit, rooflights sit flush with the roof and instantly add natural light. It's also likely you don't need planning permission.
Tiles are removed and the battens are cut to create space for a rooflight. The rafters around this space are reinforced. Next, the rooflight frame is fitted. Flashings are added around the frame and then tiles are used to create a seamless finish.
Dormer Windows
Providing multiple benefits, dormers can increase the useable space and flood the area with natural light.
Some loft conversion companies build dormers in their workshop and then lift them into place. As a prefab element, these are easier and quicker to install and ensure they're weatherproof.
Artificial lighting
As the level of natural daylight falls, you'll need artificial light. Unlike a conventional ceiling where there is clearance for a hanging light, you'll find your options are limited when you convert a loft.
Consider using a mix of light sources including floor and tables lamps, as well as a LED pendant along the ridge. If you have dormer windows, then you might be able to fit spotlights that point inwards, thus effectively lighting the space.
Adding a staircase
It makes sense to locate the staircase in line with the roof ridge as this maximises the available height. The legal minimum height required above the pitch line is 2 metre. This can be slightly reduced to 1.9m in the centre, and 1.8m to the side of a stair.
However, in reality, the layout of the floor below might dictate where the staircase is positioned. It's also common to use a dormer to add additional height or convert a hip roof end to a gable.
Heating your new loft
Typically adding an extension would increase the load on the boiler, which usually means it needs to be upgraded. However, as heat rises and loft conversions are well insulated, the boiler is likely to cope with the added requirement.
Attic rooms are ideal for underfloor heating as you're already installing a floor and space is at a premium. Of course, if you have space, you can use radiators or a combination of the two.
If you plan to add a bathroom, then you might need to upgrade the boiler as you've increased the size of the demands placed on it.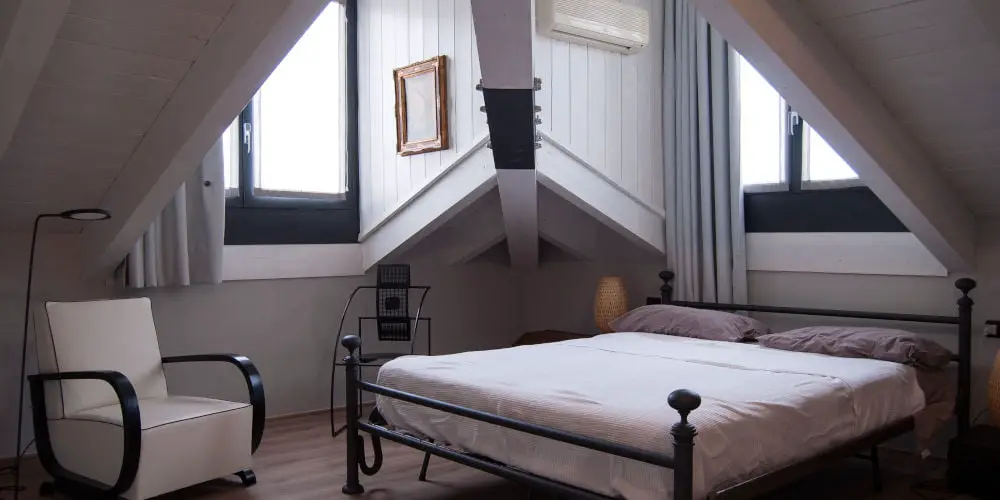 Can I add a bathroom?
It's possible to add a bathroom when you convert a loft. However, it can increase the complexity of the project. Firstly, you'll need to consider where your existing services are located.
Supplying the new bathroom with hot and cold water is fairly easy as they can be taken from the existing plumbing system either directly from the boiler or the floor below. Flexible plastic tubing makes connecting the two easy.
You can likely connect to existing soil pipes on the floor below or add a flexible waste pipe into the existing drainage system.
Creating loft storage
A problem that you'll encounter when you convert a loft is that you'll lose most of your attic storage. This means you'll need to be smart with what remains.
The eaves behind the ashlaring can usually be fixed with roll-out storage bins.
Another popular way to add more storage is built-in wardrobes. As standard unit won't fit, custom wardrobes will maximise the storage space while keeping clutter to a minimum.
That's how to convert a loft
A successfully loft conversion will not only add value to your property but also will increase your enjoyment of living in that home.
Having explored the process of how to convert a loft, you hopefully, can appreciate it's a complex process. It's, therefore, best to hire an architect and builder who specialises in loft conversions or a local design and build company.
By working with professionals, your high-quality conversion will conform to the legal requirement, be built to withstand the test of time and add value to your property.