What are Crestron touch screens and why use them?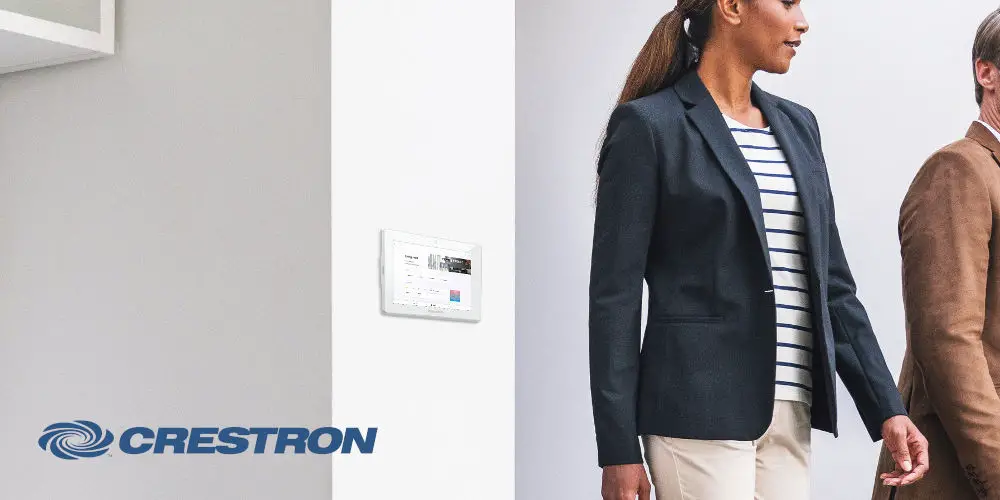 We've spent many hours on Rightmove looking for homes with a Crestron system installed. One element that gives it away is its touch screens with the Crestron logo. Having covered their keypads recently, it makes sense to look at the Crestron touch screen range and what they offer.
Keypads make it easy for anyone to activate preset scenes, especially as each button is labelled. However, you can't control individual devices. If you want to dim a light up or stop the blinds halfway, you can't. One solution is the Crestron touch screens.
They look like computer tablets but allow you to control even the tiniest detail of your home automation system. As your dealer will mount the touch screens, they don't go walkies like remotes or require you to always carry them around, like with your smartphone.
As there's only a handful of information about Crestron touch screens online, we felt it was only right for us to dive into the topic. We'll cover what they can do, if you can customise them, and how to order your touch screen.
Why control your Crestron smart home with touch screens?
You're not short of control options with Crestron. There are remotes, keypads, touch screens, and an app. The system even works with virtual assistants such as Alexa and Google Assistant. Thankfully, each has its place and use!
As with the Crestron app, touch screens allow you to control every detail of your smart home system. You can operate your lights, adjust your thermostat, play music, check if someone's at the door, and more.
Touch screens are easy to view and use to create a more engaging experience. And unlike smartphones, where the screen can feel too small or crowded, touch screens and panels give you the space to operate your system as you wish.
Your Crestron touch screens can provide up to date information, such as weather forecasts, news headlines, and stock tickers. It can also access applications, including email, calendars, and social media. So you can be productive at home.
What types of Crestron touch screens are available?
Crestron offers an impressive 45 touch screen options. Some of these are for commercial use, so we'll ignore them as they aren't really relevant to us.
There are three options that dealers typically install in homes. You can choose between 5-inch, 7-inch, and 10.1-inch screen sizes. They recently introduced a 21.5-inch screen that's bigger than most laptops! The range comes in black or white finishes, and prices start at £858.
While this all might sound quite basic, the flexibility and control options offered by a touch screen can be life-changing.
What features do touch screens offer?
All touch screens run the Crestron Home® OS, which is the same as the app. Moving between these two options, you shouldn't see too much difference. Their OS is easy to navigate and responsive, making it simple for you to adjust your smart home devices.
Crestron touch screens make it easy to control your lights, security, thermostat, and AV system. The one app can help you run every aspect of your smart home with ease. You can adjust a single device, activate a scene, or a combination.
You can also tweak devices in real time without messing up your scenes or automations. So your home's automation system can respond to how you want to live and the current conditions.
What's great about the Crestron Home® OS is it's easy to use, even for people who aren't familiar with the system. The screens are large and clear, and the menus are simple and intuitive.
What your touch screen displays can be customised to you by your dealer. It can display a simple menu that allows you to access devices. There's even a floor plan mode, where you can monitor devices and see their location.
Finally, Crestron touch screens are built to last. They are made with high-quality materials and are designed to withstand the rigours of everyday use.
Touch screens vs Keypads
Many potential Crestron users believe they can rely on a single control option. Why bother with touch screens and keypads when Alexa can operate the system?! It doesn't quite work as they imagine.
In reality, the different control options work in harmony. Virtual assistants are great for quickly activating scenes or a single device. But having to speak 8 orders in quick succession will leave you feeling frustrated.
Keypads are ideal for running preset scenes that handle the majority of automations you want to control during daily life. It's easy to click a TV button and have the curtains open, turn the TV on, and dim up the pendant light, rather than having to adjust each device.
While activating scenes using keypads is helpful, you might want control over individual elements. Your TV scene might be good until there's too much sunlight and you want to completely shut the curtains. And that's when having a touch screen, the app, or a remote comes in.
The other options allow you to easily adjust a single device without having to reprogramme the scene or build a new one.
Hopefully, you can see how having a Crestron touch screen can bring a new level of flexibility to a system and still works alongside the other control options you already have.
Can you programme your Crestron touch screen?
While they are highly flexible and allow you complete control over your system, your Crestron dealer will install the OS onto your touch screen and then customise how it works to match your requirements.
That said, you can update the Crestron home OS software yourself without needing to pay an integrator to pop over or sort it remotely. You can keep your system up to date and secure with ease.