Is a Crestron home automation system your best option?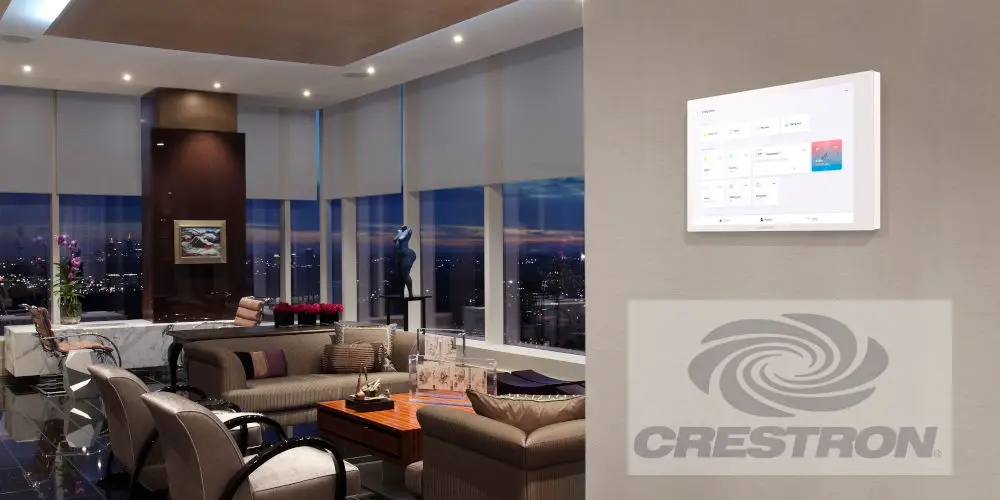 Four brands dominate the world of professional-level home automation systems. These are Lutron, Control4, Savant, and Crestron. Unlike their DIY alternatives that are easily available, all can only be purchased using an authorised dealer. Let's explore the world of Crestron home automation.
Headquartered in the USA, Crestron is widely used to automate high-end homes, schools, government buildings and many other settings.
Many celebs have one of their systems installed, including golfer Ian Poulter, actor Kevin James, and basketball legend Shaquille O'Neal. Even Mark Zuckerberg and Richard Branson are clients!
If you're looking to build a smart home and a six-figure budget, it's worth considering a Crestron home automation system as it brings a new level of control to your life and property. Let's explore the brand in detail.
What is Crestron?
Founded in 1971 by inventor and engineer George Feldstein, Crestron Electronics is one of the oldest home automation companies in the world. Based in New Jersey, USA, the company designs, manufactures, and distributes smart home and audiovisual equipment using a global dealer network.
Much like other professional-level home automation systems, you can't buy products directly from Crestron. Instead, they use a global network of dealers to design, install and configure automation systems.
There are many uses for Crestron home automation products, with luxury homes only being a small part of their business. They also supply the US government, Microsoft, hotels, hospitals and schools.
Crestron provides complete control of every element, whether the products are installed in a home or business. You can easily operate lights, heating, gates, TVs and a home cinema room, both in person and remotely using Wi-Fi.
Exploring the basics
In a nutshell, Crestron is a wired system that uses rack gear to send and receiver control signals to devices around your home. You can then use remotes, touchpads and smart devices (phones and tablets) to control the system.
You don't even need to be at home to control your Crestron home automation system as you can use their app on your smartphone or tablet from anywhere with a Wi-Fi connection.
As a wired system that's highly customisable, the bulk of the cost is spent on installation and configuration. Crestron isn't DIY-friendly or user-configurable. That said, having the right system can make your life easier as you regain control over key elements.
Crestron, for example, can control your lights, blinds/curtains, audio, visual, cinema room, and ensure your home is secure. The system can be pre-set to allow a single push of a button to activate multiple devices such as turning a light on, blinds down and playing your favourite music.
But that's not all, a Crestron home automation system can integrate with a wide range of popular brands, including Google Assistant, Amazon Alexa and Sonos smart speakers.
Automating the whole house
Narrowing our focus to the home, Crestron provides a range of products and solutions to build a fully automated home. Let's have a good at the major elements we can control using Crestron.
Lighting
Sophisticated lighting control is at the heart of any smart home, and Crestron is no different. They offer a range of dimmer modules, in-wall switches and the ability to build preset scenes. The app even allows you to dim lights in real-time.
Programming different scenes or creating sequences that involve multiple elements is simple, user-friendly yet powerful.
Blinds/curtains
As having to close curtains or wrangle with blinds is very 2008, Crestron provides several products that allow you to automate these basic features. You can programme your property to look like you're always there, even if you're on holiday.
Crestron also offers a range of custom blinds that are available in a range of sizes, fabrics and colours.
Audio
Able to offer multi-room audio, every family member can enjoy their favourite tunes without needing to fight for control. But that's not all as Sonos products seamlessly integrate into the system, creating more options.
Crestron also manufactures a range of discrete speakers that are ideal for blending into any interior, including a media room or home cinema. Whether you want to listen to music inside your home or outdoors, you have plenty of options.
Video
Simplify your set-top box collection with Crestron DigitalMedia™ technology. As the gold standard video processing and distribution platform, it delivers the ultimate video quality, smoothest channel and source selection, and reliability.
Connect your game consoles, streaming sticks and set-top boxes into the system and have access to them from any TV. You can also take the programme with you when you move room as the system uses a audio video matrix that allows you full control, no matter where you are in the home.
Heating
The system offers flexible temperature control. Sensors are placed throughout your home, which feedbacks data to a central thermostat. Using this data, the heating system automatically adjusts to ensure a continuous and stable temperature.
That said, you have no control over individual radiators or the ability to group them into zones.
Home security
As home security is one of the main reasons homeowners automate their property, it won't surprise you that Crestron provides a range of solutions to keep your home safe and secure.
Use Yale or Baldwin door locks to secure your front door and an intercom (AVLINKPRO) to stop unwanted people from getting close to your front door. You can even automate your gates and garage doors to allow a seamless experience.
If you're away a lot, there is the option to install security cameras around your property that are viewable from anywhere with Wi-Fi. The system can also provide status updates on your doors and alarms, allowing peace of mind.
Operating system (OS) and Control
Controlling all the devices in a system is a custom operating system called Crestron Home™ OS 3. It delivers a simple, clean, and sophisticated user experience. Designed with speed in mind, operating your smart home system will be enjoyable.
Plus as all devices are integrated into a single system, you can control everything from a single point. You no longer need multiple apps or remote and a degree to manage your automated home.
There are plenty of control options, including remotes, in-wall switches, touchscreens and an app (that's available for iOS and Android). Whether you're at home, in the office, or on holiday, you can control your smart home system.
There's also an online app store that offers over 1,000 free and paid applications that can be painlessly added to a system, allowing you further control over every element.
Can a Crestron home automation system be used with…
As one of the leading professional home automation systems, Crestron works seamlessly with many third-party brands, including Yale, Sonos and Samsung.
Z-Wave?
There's no direct support for Z-Wave or Zigbee. However, some users have taken matters into their own hands, creating custom software integrations that are available on Github.
Residential Tech Today has a superb introduction to the topic: Integrating a Wide Range of Zigbee, Z-Wave, and IoT Devices with Crestron.
Apple Homekit?
Apple TV®, Siri®, and HomeKit® technologies integrated flawlessly with a Crestron home automation system. Discover more about the partnership between these two iconic brands.
Voice control (including Amazon Alexa and Google Assistant)?
If you're used to using a voice assistant such as Alexa or Siri, you'll be glad to know that you can link it with your Crestron home automation system, allowing another method of control.
Sonos?
A complete range of speakers and amplifiers are available as part of the product range. However, if you wish to use Sonos products you can and with ease.
Other smart home products?
There are plenty of other brands that seamlessly integrate with the system, including Somfy, Lutron, and the Google Nest Thermostats. You can even integrate your swimming pool into the system if you're using Hayward pool products, for example.
Where is the best starting point?
Unlike Z-Wave, Lightwave or Fibaro, Crestron is designed to be installed and configured by an experienced engineer, much like Control4. You can't buy products off the shelf and attempt to install them yourself. Instead, you need to work with a dealer to design your custom system.
Installing a Crestron system can easily cost over £50,000 and well into the six figures, depending on the complexity of your requirements. Installing wiring and system programming takes up a large chunk of the budget, with the equipment being relatively affordable.
Compared to Lightwave or Z-Wave, which might cost a couple of grand, it's a serious investment intended for million pound plus properties.
If you have the budget, the best next step is to find someone who already has a Crestron home automation system in their home and ask them for a tour. Otherwise, take some time to visit a few dealers. Most have impressive smart home showrooms which expertly illustrate the system.
It's worth comparing the big three Crestron, Control4, and Savant before settling on the right one for you. Don't be afraid to get multiple quotes from several dealers and compare them. You might find you can save money by playing two dealers off each other.
Are the products reliable?
As Crestron is a wired system, it doesn't need Wi-Fi to work as you have the option to control it using remotes or touchscreens. As long as you have power, the system will continue to work. Of course, you can use the app on your smart devices, but you and the system both need Wi-Fi.
The brand spends millions of dollars each year developing products and rigorously testing them to ensure they can seamlessly integrate with the existing products range. In addition, they fully test many 3rd party devices to the same standards.
Each Crestron automation system is unique to the end-user, meaning dealers must be confident that every device they install is fail-safe. They also want to ensure that the system works in line with the expectations and desires of their customer.
All of this testing and product development is expensive, hence why you need a sizeable budget. However, once installed, you shouldn't experience any issues.
Should new updates become available, problems arise, or you'd like to reconfigure certain elements, you can easily find an engineer to work on your system, thanks to their comprehensive dealer network.
How good is the customer support?
As the oldest professional-level home automation system, Crestron is well-respected and considered by many to be the Rolls-Royce of the smart home ecosystem. They and their dealers deliver excellent support and customer care.
Many dealers work only on referrals, meaning if they didn't provide the best care, their business would dry up overnight! So, you can rest assured that you'll receive unparalleled customer service, advice and aftercare from any Crestron home automation dealer, no matter where you are in the world.
How does it compare to other smart home brands?
A point we're yet to discuss is how Crestron compares to the other automation brands currently available. It's worth considering both DIY and professional-level options. Doing so enables you to form a clear idea of how Crestron works.
The top three professional-level options are Crestron, Savant and Control4. All require a highly trained engineer to install and configure the system. None of these options are cheap, nor are they DIY-friendly.
It can be tricky to compare Crestron vs Control4, even if the former is far more advanced. Designed for commercial use, Crestron easily handles any demands of a residential property. It's also more configurable and dealers are able to build custom floor plans into the app.
Comparing Crestron vs Savant is interesting as while they appear similar, Crestron comes out on top. Savant is more sleek but lacks the integrations, flexibility and robustness of Crestron.
At the more affordable end, it's worth considering two DIY options; Fibaro and Z-Wave. Both use the same underlying wireless protocol, which can have reliability issues that aren't present with a Crestron System.
Another issue worth mentioning when comparing Crestron vs Z-Wave is with the latter, you will have to integrate 3rd party products yourself, which may require some experimentation with little or no support available. With Crestron, your dealer will ensure it all seamlessly works.
When comparing Crestron vs Fibaro, remember Crestron offers one of the most advanced A/V systems available. Fibaro doesn't offer any audio/visual products, meaning you have to find a solution for yourself that could involve hours of research and experimenting.
What is next for Crestron?
While it's unlikely Crestron will move to a completely wireless offering. They will instead continue to explore the hybrid option, with the majority of the system being wired.
As Tesla cars have grown in popularity over the last few years, it's easy to imagine them being integrated into a system, allowing you to open gates and the garage using sensors and then charge your car as it sits in the garage.
It will also be interesting to see how Crestron continue to work with brands such as Samsung to allow you to integrate appliances into your system. Being able to control your robovac, washing machine or check what's in the fridge is (nearly) possible.
Whatever the future brings, they will continue to offer excellent products and customer service that will dramatically enhance the user's life.