Cuisinart Veloce bean to cup coffee machine review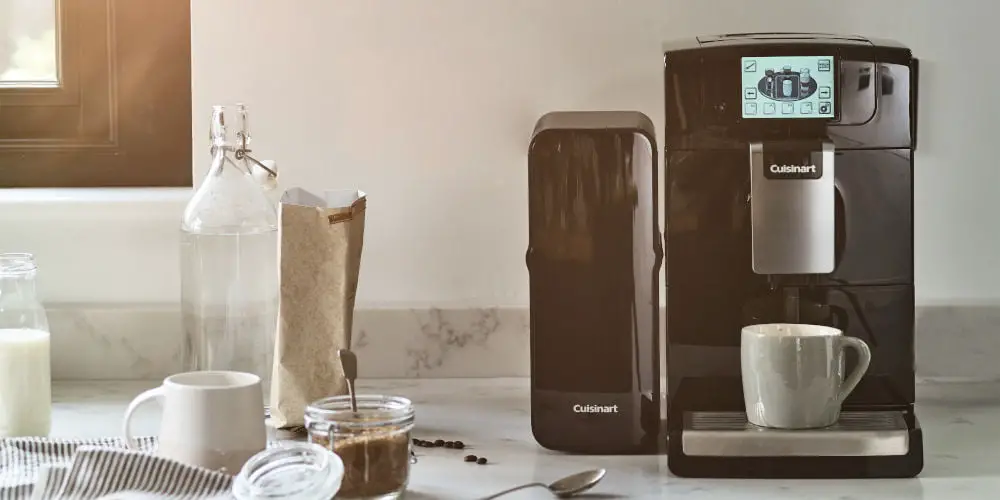 Clever and intuitive, the Cuisinart Veloce bean to cup coffee machine is a compact unit that allows you to create a range of hot drinks at the touch of a button.
Gone are the rows of knobs, replaced by an easy to use touch screen which guides you through each step of making a variety of drinks. Within moments you can sip on espresso, Americano, latte, cappuccino, or use the hot water for teas or hot chocolate.
The built-in burr grinder uses beans from the 0.6-litre hopper, grinding them to the ideal size. If you prefer, you can instead use pre-ground coffee without having to empty the bean container.
The removable 1.25-litre capacity water tank feeds a heating system, which heats the water to your ideal temperature, ensuring you enjoy drinks made to your preferences.
A unique milk container is complete with a built-in ice pack and can be removed and stored in the fridge door. Depending on the drink you're making, milk is automatically heated, steamed or frothed. The Cuisinart Veloce can handle cows milk as well as soya and almond alternatives.
As a highly customizable machine, once you've created your ideal drink, store it as user presets or adjust the default settings to your preferences. You can even produce two drinks at once!
A clean machine produces the best coffee, and so two cleaning cycles ensures your Cuisinart Veloce is well maintained. When turned on, an automatic cleaning cycle runs and after preparing all drinks containing milk. A deeper cleaning cycle is also available.
As one of the best bean-to-cup coffee machines, the Cuisinart Veloce comes with a 3-year guarantee. 8/10
Pros
Compact design
Intuitive touch screen with picture instructions
Milk container with a built-in ice pack
Cons
Steep learning curve
Fairly expensive
Design
Designed for convenience, the Cuisinart Veloce bean to cup coffee machine is compact, making it ideal for a range of setting from the kitchen, bedroom to the home office. The unit measure 20 cm (w) by 32 (d) cm by 440 cm (h) with the milk container removed.
Starting on the top, you'll likely spot the bean container cover which takes up a large percentage. Removing this cover reveals the 0.6-litre bean hopper as well as a container for waste coffee grinds.
Moving to the front, the touch screen is the most obvious element and an on/off power button sits next to it. In the centre sits a height-adjustable dispenser with an integrated milk outlet and coffee spout.
Below this, to the left is a removable waste coffee grind contains and a removable 1.25-litre water tank on the right. Both are easy to remove to emptying or filling.
A removable drip tray with stainless steel grid sits at the bottom and collects any waste. Removing this reveals a built-in cleaning and maintenance guide.
On the left-hand side is an inlet for a milk tube, which connects to the 650ml milk container. Opening this container up reveals a bottle and ice-pack. As this is easily removed, you can store it in the fridge, ready to go until you need it.
Features
Encompassing a superb range of features, the Cuisinart Veloce bean to cup coffee machine is surprisingly easy to operate thanks to its touch screen.
It works with both fresh beans with the built-in burr grinder or pre-ground coffee. Each has a separate intake, meaning you can painlessly switch between the two without needing to emptying the bean container.
As a highly configurable bean-to-cup coffee machine, the Cuisinart Veloce allows full control over the grind size as well as multiple strength and temperature levels. You can even adjust the drink size as well as the exact percentages of coffee, water and milk.
Once you found the perfect combination, you can save it to any of the four users presets, allowing for easy recall. The machine can also produce two identical drinks at once.
As you might expect, a variety of drinks are preset including espresso, Americano, latte, flat white and cappuccino. Plus as it can dispense hot water, you can make teas, hot chocolates and other hot drinks.
Creating texturized milk is simple as, just like with the coffee, the process is automated. The machine takes in cold milk and will either heat, steam or froth it depending on the drink. It even works with speciality milk such as almond and soya.
As not all cups equal, the height-adjustable dispenser allows you to use a range of different sized glasses and cup without needing to stand at the machine, holding the cup!
Keeping your Cuisinart Veloce in top condition is easy thanks to the eco-mode, auto shut off mode, and adjustable water hardness control. It automatically cleans itself when switched on and after preparing drinks with milk. Also, there are modes for descaling and cleaning the milk system.
Set-up
As with all smart appliances, setting up your Cuisinart Veloce takes a bit of work. Firstly, you need to connect the drip tray and milk tube. It's worth washing the milk container out and detaching the freezer pack and placing it in your freezer.
Next, you'll want to fill the water tank. As it's front-loaded, it may take you a few attempts to release it. Fill the water tank full and replace. As you push it in, it will click into place.
Depending on whether you plan to use coffee beans or pre-ground coffee, will inform your next step. If you're using beans, then you'll need to fill the hopper with fresh coffee beans and close it to seal in the freshness.
As the Cuisinart Veloce will automatically rinse when turned on, before you hit the power button, you should check the water tank to see if there is water! After rinsing, you can start to make and enjoy coffee.
The first few drinks that your machine makes are unlikely to be perfect. So you'll need to experiment and tweak the settings until you've found the ideal combination of grind size, dosage amount, water and type of milk. Luckily, you can save these as a preset as four user customs are available!
Saving and using your presets are the quickest way to make drinks with your Cuisinart Veloce. It's also worth trying the dual drink option.
Performance
What's great about the Cuisinart Veloce is its balances one-touch operating with a highly configurable machine. Most will appreciate the speed of being able to produce drinks with the built-in presets whether you're creating a single drink or using the dual-mode for two drink.
That said, as you have control over a vast amount of options, you can experiment and find the perfect combination of coffee, water and milk for you. Plus, it's not just a coffee machine as you can use it to make teas, hot chocolates and even just hot water!
Of course, this means there is a learning curve involved, even though the machine does take a lot of the guesswork out of making great coffee and texturizing milk. The manual is easy to follow and understand, and the touch screen includes instructions to help you produce the best drinks.
For the best tasting coffee, you need a clean machine that's well maintained. Thankfully, it's easy to clean the Cuisinart Veloce as many of its parts are removable for wiping down. Plus the unit auto-flushes when turned-on and after making drinks with milk.
Depending on your water's hardness, you'll need to descale your machine every few months. That said, there is an automated programme that will clean your machine, ensuring it's in top condition. A box of descaling solution comes as part of the unit.
Is the Cuisinart Veloce worth buying?
As a mid-priced bean to cup coffee machine, the Cuisinart Veloce offers a lot for the money. Some won't like the lack of physical controls, especially if you've used a more traditional bean-to-cup machine. That said, the touch screen is super easy to use and is interactive.
It does have a few negatives. There's no indication for the level of beans, water or milk remaining. And while all are easy to access and check, for such a highly configurable unit, this misses the mark.
Another sticking point is pre-ground coffee. With beans, you can use the dual cup programme to create two drinks at once. This programme doesn't work with already ground coffee. Not be a deal-breaker but is worth considering.
Simple to set-up, the learning curve is steep. However, that's to be expected. The basic presets are a superb starting point yet provide space for you to tweak them to your preference.
Be able to save your own presets is powerful, especially if there's a few of you that will end up using the machine. And these presets are in addition to the basic drinks, you can still keep friends happy without subjecting them to your custom settings!
Having a separate milk jug is more useful than you might first consider. If you prefer to drink espressos or Americanos, then you don't need to attach it, saving you space. If you enjoy the occasional coffee with milk, then it can live in the fridge until its required.
Keeping the unit clean and working in top condition is easy as much of the hard work is taken care of by pre-programmed cycles. Again, these features are highly useful and make caring for it painless.
Overall, the Cuisinart Veloce bean to cup coffee machine provides good value for money and offers many useful features and functions. 8/10