4 Tips for customising Control4 keypads for your home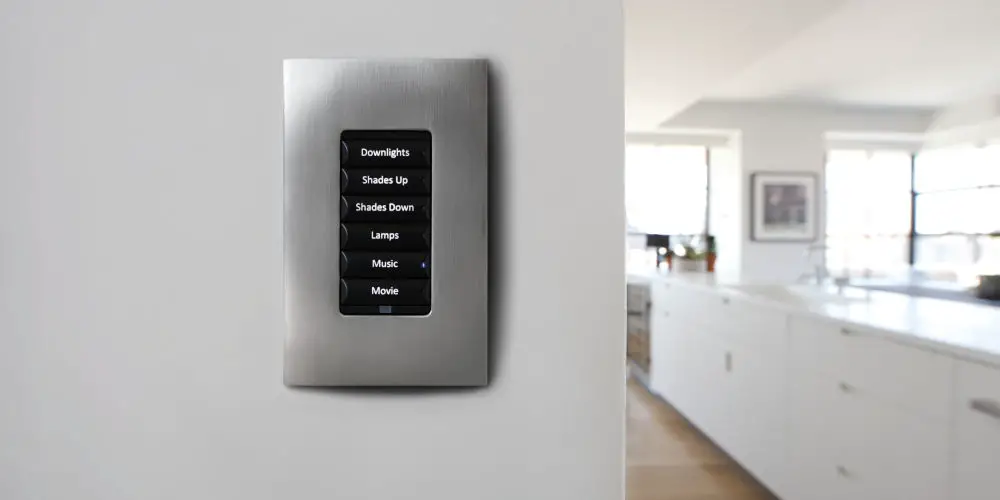 If you're considering automating your home using Control4, you might be unaware of the vast range of keypad options available. Unless you've talked with a dealer, you might not realise how easy customising Control4 keypads is.
As big fans of Control4 home automation system, we've covered the system in depth. What we love about it is how easy it makes controlling lights, locks, TVs, audio systems, and even your robotic mower!
And while with Control4, you can use your phone, Alexa, or a touchscreen, you can use a Control4 keypad. Plus, customising Control4 keypads is really simple but will make your life far easier as your home will react to you and not the other way around.
Control4 keypads allow you to control any compatible devices. You can even control multiple devices at once. And all with the press of a single button. Plus, each keypad in your home can be tailored to your exact tastes and practical needs.
37 Button arrangements to choose from
How many buttons do you need? Can you have too many?! While you'll need to answer these for yourself, you can customise Control4 keypads to your requirements. They offer several different sizes and styles of buttons to choose from.
If you love the simplicity of a light switch, you can choose a single rocker panel with an on and off setting. Or you can have as many as six buttons or five buttons with a volume toggle at the bottom.
The different sized buttons (rockers, triple-height buttons, double-height buttons, regular buttons, and volume arrows) add up to an impressive 37 possible combinations.
"On" and "Off" buttons, so 20th century!
When we think of wall switches, the only words that come to mind are "on" and "off." However, a Control4 keypad allows us to use multiple buttons to control a single device. You can dim a light up or down, or turn the volume on your Hi-Fi up or down with ease.
A part of ordering your Control4 system is you get to choose the text labels for each button. Do you want a button that will turn your living room into an instant party zone? You can choose to label the switch with something classy like, "Party Time!"
Each button label can be up to 8 or 12 characters long, depending on the size of the button. So while you won't be able to use a label like "Entertainment" or "Close the Garage Door," you can be creative when labelling each button.
If you prefer, there are nearly 50 icons available that can be used on their own, or in addition to text characters. So customising Control4 keypads can be a lot of fun too!
Colour options when customising Control4 keypads
As the purpose of the Control4 system is to give you options, allowing you to customise it to your heart's content, it's no surprise that even the keypads themselves can be customised. Your home will have a one of a kind smart home system.
Another way you can customise your keypads is the colour of the backplates and buttons. Both are available in 12 colours, including white, snow white, biscuit, light almond, ivory, black, midnight black, brown, aluminium, satin nickel, stainless steel, and Venetian bronze.
You can even purchase faceplates for Control4 keypads in a range of finishes and colours from third parties such as Face4, here in the UK, albeit using your dealer.
You might wonder what happens at night. Can you still see the buttons? Yes. Each button's engraved text label is backlit with a multi-colour LED. Plus, you can use the Control4 app to select the perfect colour for each button.
You can keep things simple with a single colour for all keypad buttons, or colour code your buttons for additional ease of use (especially useful for homeowners with young children!).
That's how simple customising Control4 keypads is and how they can match your existing interior design scheme while still providing flexible control.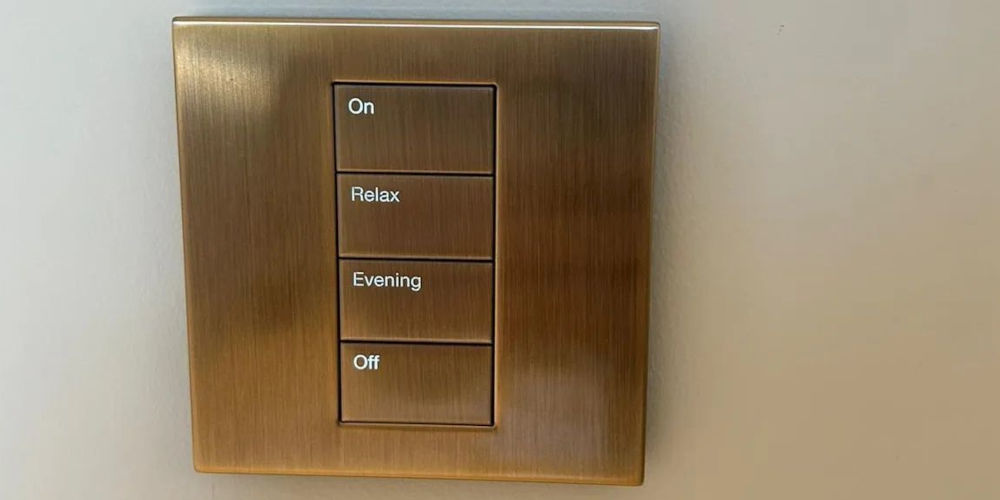 Programming Control4 keypads yourself
After your dealer has programmed your Control4 keypads, you're limited in what you can change. So, if you want to customise your keypad further, you'll need to work with your dealer or an installer to reprogrammed them. You also might need new labels for the updated buttons.
It's worth remembering, Control4 is built to be easy to use by the homeowner but not easy to programme. So you'll need to work with a qualified dealer to make your idea come to life.