Should you install a Control4 home automation system?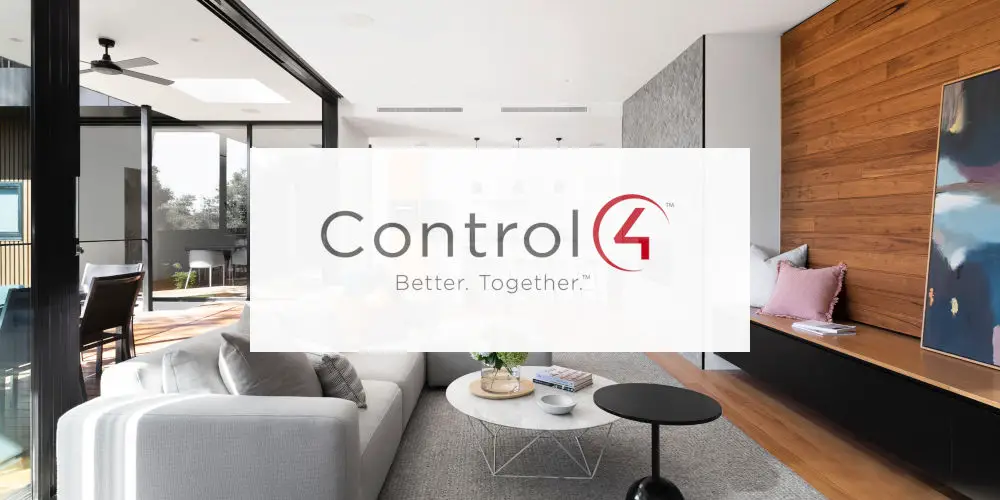 If you're searching for a new home automation system, before long you'll discover Control4. It's just as well known as Z-Wave, Crestron and Lutron. You might even, after some research, consider installing a Control4 home automation system in your home.
In this introduction to the world Control4, we'll peel back the curtain and discover the brand's history, how the system works and what tasks you can automate with it. They may have started in the USA but now, Control4 is a truly global brand with a dealership network to match!
By the end, you'll have a clearer idea of why a Control4 home automation system might be the perfect one for your home and understand who to contact next to make your dream a reality!
What is Control4 home automation?
Launched with great fanfare at the 2004 CEDIA Expo home technology trade show, Control4 has since established itself as a leading provider of home automation systems for both homes and business.
As a highly flexible system, each installation is personalised to the homeowner, allowing them to automate and control connected devices including lighting, audio, video, climate control, intercom, and security.
In addition to a superb range of products, the Control4 operating system now works with tens of thousands of third-party products.
Along the way, they have acquired several companies including Pakedge, Triad and Neeo, helping it to future cement its place as a leader in the market.
Based in Salt Lake City, USA, the company operates through a global network of nearly 6,000 authorized dealers. These dealers install and configure the system to meet the demands and requirements of the homeowner, creating a fully bespoke home automation system.
Believed to be used in about 475,000 homes, the Control4 eco-system orchestrates more than 15 million connected devices worldwide.
Exploring the basics
What sets Control4 apart from the majority of smart home systems we've covered so far, is that it's a predominantly wired system. Rather than having a hub in which all devices interact wirelessly, the system revolves around rack-mounted modules that devices are wired into.
There is also an element of wireless devices as most of the controller are battery-powered remotes and tablets. Plus many wireless devices including Sonos smart speakers, for example, can be integrated within a system, providing a wider set of functions.
Due to the nature of the basic system architecture, it's near impossible to install without a highly trained engineer. Hence why they have a dealer network! That said, unlike DIY-friendly systems which can be blighted by issues when correctly installed Control4 is rock solid.
As you need a dealer to install and configure your system, you can't buy products off the shelf and attempt to install them yourself. However, dealers aren't limited to a certain area. So, you might be able to negotiate a good deal by playing two dealers off each other or by getting a few quotes.
That said, eBay is full of Control4 equipment that you can buy relatively cheaply but you'll still either need to have an idea of how to integrate a new piece of equipment into your system or hire an engineer.
As dealers use highly trained engineers to design, install and configure your system, it's a completely different experience than getting a local electrician to install a few smart home sockets and then having to spend hours yourself trying to get them to communicate with your other IoT products.
Control4 prides itself in having engineers who build a completely bespoke system for each client. If you were to compare systems in two different homes, you'd quickly realise each will act differently depending on the homeowner's demands and requirements.
Automating the whole house
As a highly customised home automation system, the options are seemingly endless. Even if control4 doesn't offer a product to automate a certain task, one of its partners likely do. Let's explore the major elements you might want to automate.
Lighting
A range of smart switches and smart dimmers are available, allowing you to replace your current basic light switches with a more sophisticated solution. The smart dimmers not only provide control over your lighting but can also be preset to different light levels.
The smart switches can be used to controls a range of devices LED lights, incandescents, halogens, fluorescents, and motors for blinds and bathroom ventilation fans.
Audio
Since acquiring Triad, Control4 has upped its audio game. They now offer amplifiers that can deliver high-quality, professional audio to up to eight stereo zones. Great news if you're looking for an excellent multi-room audio system or world-class home cinema audio.
Pair these amplifiers with Triad speakers for a world-class audio performance. The Triad speaker range includes in-ceiling units, soundbars, traditional speaker enclosures and subwoofers as well as weather-proof units for use in the garden.
Video
As a professional, wired system, Control4 allows you to move around your home and keep watching the same TV show or movie. It achieves this using video matrix switches, which connect to every TV within the home, allowing you complete flexibility. Never miss a moment of the action!
Heating
Instead of offering control over individual radiators or rooms, the Control4 Wireless Thermostat was jointly developed with Aprilaire. It delivers a reliable and sophisticated thermostat. Offering advanced presets and scheduling, the thermostat works around you and not a rigid schedule.
Home security
As with other elements, the approach to home security is unique. The system will alert you when the doorbell rings by playing a bell sound over every speaker, even if you're listening to music!
If you forgot to lock the front door or garage, then the system will alert you, allowing you to rectify the situation before a burglar strikes.
With smart door locks, cameras, motion sensors and video doorbells as part of the product range, you can ensure your home and loved ones are safe, from anywhere in the world with a Wi-Fi connection.
Operating system (OS) and Control
As a network-based system, the hub is a computer that runs a discrete OS, allowing you to control every aspect of your system without needing to be a programmer!
The current version is OS 3 and its very user-friendly. You can customise each controller's dashboard much like you would a smartphone. Drag and drop the most commonly used features and functions onto the home screen, for easy access.
Control OS 3 from your smartphone or tablet (apps available for iOS and Android) or using one of the many Control4 Touchscreens. A range of custom switches is also available allowing you to control a function or feature much like you would with a light switch, only smarter!
Control4 also offers a range of remote controls, allowing you to integrate the system into your home without needing to install in-wall or freestanding touch screens, or always needing your smartphone handy. As discrete solutions, these remote are incredibly powerful.
Can Control4 be used with…
Even as a closed system, Control4 realises there is a need to be able to communicate with other automation protocols. Here are some of the most common brands and whether they'll work with the system.
Z-Wave?
The two systems can work in harmony as Control4's EA Series controllers are Z-Wave Certified and use a plug-in Z-Wave module. Read our comparison of Z-Wave vs Control4.
Apple Homekit?
As with Z-Wave, you'll need additional software to get the two systems to communicate with each other. For example, you could buy the Varietas HomeHub, which enables you to integrate Control4 and Apple HomeKit devices.
Voice control (including Amazon Alexa and Google Assistant)?
To use a voice assistant, you'll need a 4Sight subscription and should be running OS 2.8.2 or newer.
Using Amazon's Alexa with your Control4 system is simple. You need an Alexa supported device (such as Echo or Five TV Stick) and an Amazon account.
The situation is similar for Google Assistant, you need a device with it installed (such as an Android phone or Google Home mini). Getting the two system working together only takes a few simple steps.
Sonos?
While the Triad audio equipment is excellent, you might already have some Sonos smart speakers and want to be able to integrate them into your Control4 system. Thankfully, Control4 works seamlessly with Sonos speakers.
Other smart home products?
Control4 integrates with thousands of products from an equally impressive array of brands including Yale, Lutron, Nest thermostats, Sony and even a pool controller called OmmiLogic.
Where is the best starting point?
As a professional-level system, you can't buy products and attempt to install Control4 devices yourself without a basic understanding of how the system works. So you can't figure things out as go like you can with Z-Wave, Lightwave or Fibaro.
Your best option is to find someone who already has a Control4 home automation system in their home and ask them for a tour. Failing that, it's worth doing your research and visiting a few dealers. Most dealers have impressive showrooms which expertly demonstrate how the system works.
Unlike Lightwave, which you can build a system for a couple of grand, Control4 can easily cost upward of £50,000. It's not uncommon to spend well over the six figures, depending on the size of your property and how complex your requirements are.
So if you're serious about installing a Control4 home automation system and have the budget, talk with some dealers, visit a few smart home showrooms and get some quotes.
Are the products reliable?
As a wired system Control4 doesn't need Wi-Fi to operate as you can use the remote or touchscreen controllers. So as long as you have power, the system will work. Of course, if you're using a smartphone or tablet for control and your Wi-Fi stops, then you'll have an issue.
One of the reasons the system is expensive is each element is designed and tested to be fail-safe. Plus as a bespoke system, Control4 has to have confidence that adding any 3rd party hardware is both possible and won't fail, which understandably takes time and money to test each one.
That's not to say that issues don't arise as software updates, for example, can cause bugs even after they have been rigorously tested. However, as they operate a comprehensive dealer network, you can easily find an engineer to work on your system and solve any issues or apply updates.
How good is the customer support?
Many consider Control4 to be the Bentley of the home automation world and as such, they and their dealers deliver excellent support and customer care. Many dealers work only on referrals, meaning if they didn't provide the best care, their business would dry up overnight!
You can rest assured that you'll receive unparalleled customer service, advice and aftercare from any Control4 home automation dealer, no matter where you are in the world.
How does it compare to other smart home brands?
No introduction to Control4 is complete without mentioning the other brands it competes against. It's worth looking at both DIY and professional-level options to enable you to form a complete picture of the system.
Along with Crestron and Savant, Control4 makes up the top three professional-level options. All require a highly trained engineer to install and configure the system. None of these options are cheap or are DIY-friendly.
Comparing Control4 vs Crestron is tricky, even if the latter is far more advanced. Crestron is designed for commercial use, so can easily handle the demands of even the largest residential property. Plus, it's more configurable with dealers able to build custom floor plans in the app.
In the UK, Control4 is far more widely available than Savant. Like comparing the brand with Crestron, picking between Control4 vs Savant is tricky.
At the more affordable end is Fibaro, which is a DIY option. Comparing Fibaro vs Control4 is easier as the latter is far more reliable. While Fibaro tests 3rd party products, it's up to you to integrate them. Your Control4 dealer will ensure everything works before handing back the keys.
What is next for Control4?
Having quickly become one of the top professional-level smart home systems, Control4 home automation will continue to offer excellent products and service. It's unlikely they will move to a completely wireless offering but instead continue to explore the hybrid option.
As more of us embrace home automation, it will be exciting to see wider adoption of the Control4 home automation system and its life-enhancing capabilities.