25 Easy ideas for decorating with mirrors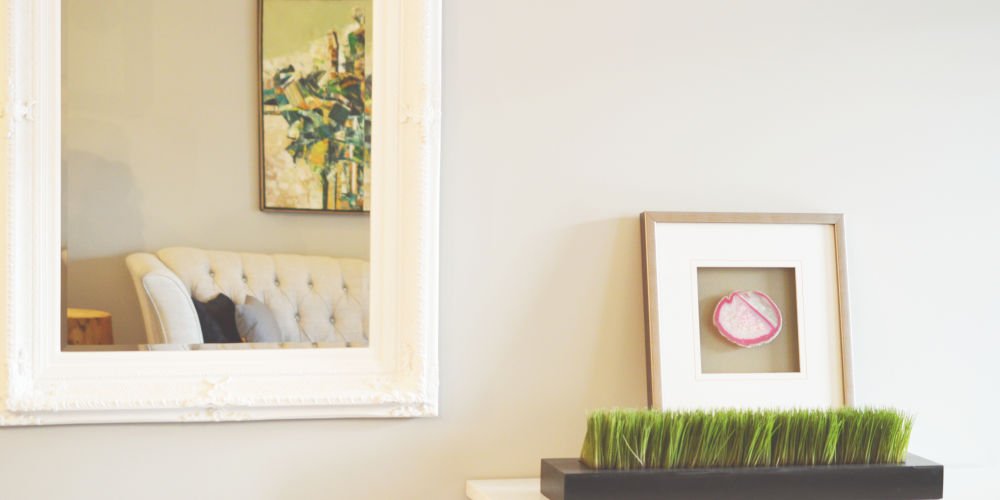 In any interior design scheme, mirrors are a secret weapon. Literally, countless options exist to improve your interior by decorating with mirrors.
A mirror is so much more than just a surface to check your face or outfit. You can use mirrors to add depth, create interesting reflections, and magnify the existing light within a room, and much more.
So brush aside your ideas of only using mirrors in a bathroom and experience how effective they are at solving common interiors issues.
Let your reflection shine! Here are a range of ideas for decorating with mirrors that you can easily try.
#1 Outdoors living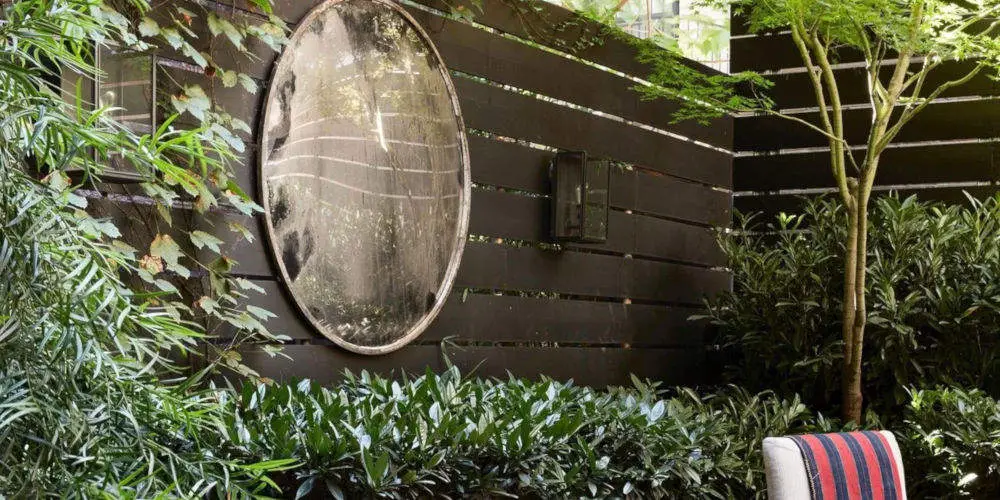 Adding a mirror to your decking will make it feel more like an actual room. It looks superb in the day, and at night, it reflects the candlelight.
#2 Layering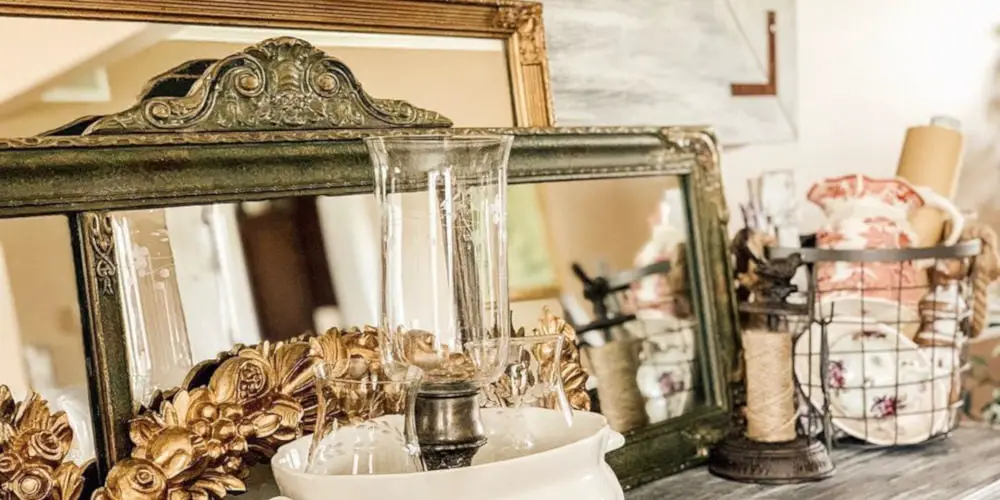 If you have a large mantel or shelf, consider layering a massive empty picture frame on top of an even larger mirror. This juxtaposition will not only add interest, but it will also create depth within the room.
#3 Kitchen cabinets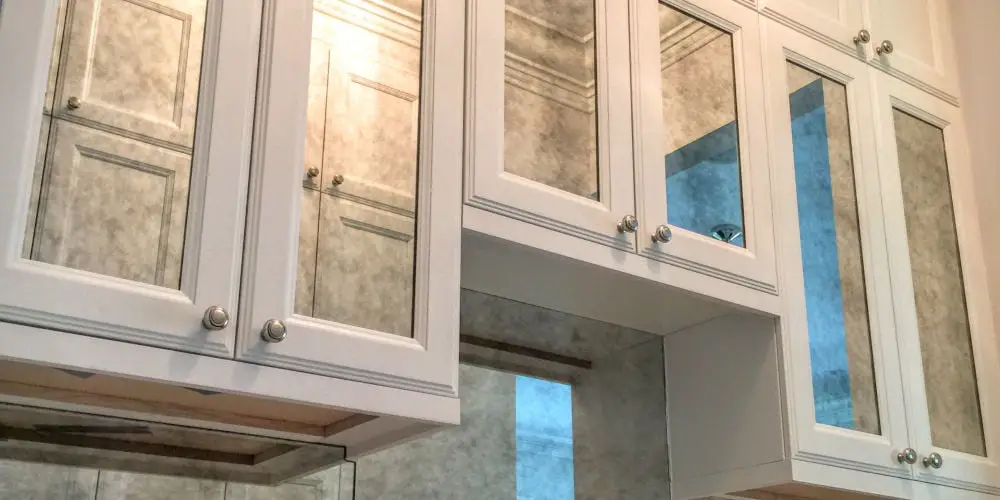 By design, kitchens are functional but often they lack light. By adding antiqued mirrored glass on cabinet doors, a small kitchen suddenly feels massive.
#4 Arranging salon-style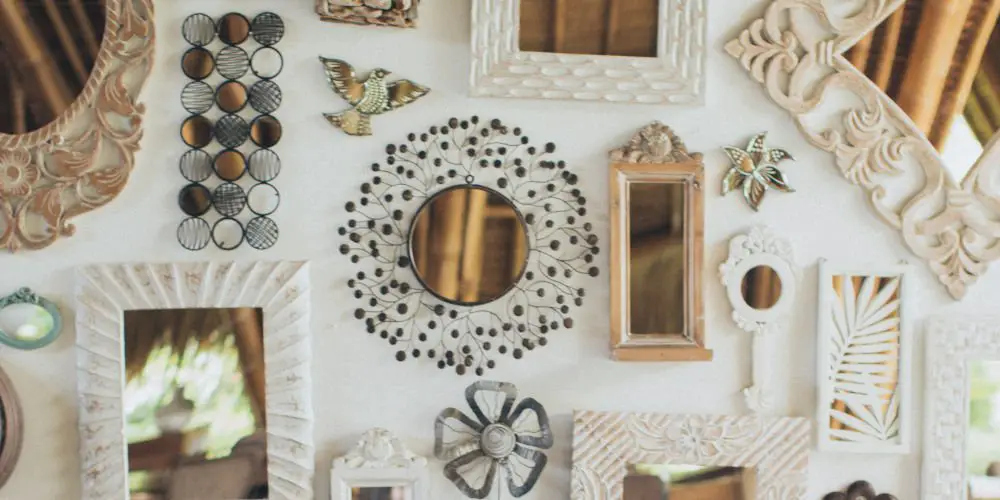 Like kitchens, stairways can be dark and feel cold. Encourage the spread of natural daylight by arranging different sized mirrors across the wall. You can even interject the occasional family photo.
Heighten your sense of light by changing the pedant light for a chandelier. This is a fantastic idea for decorating with mirrors!
#5 Wardrobe panels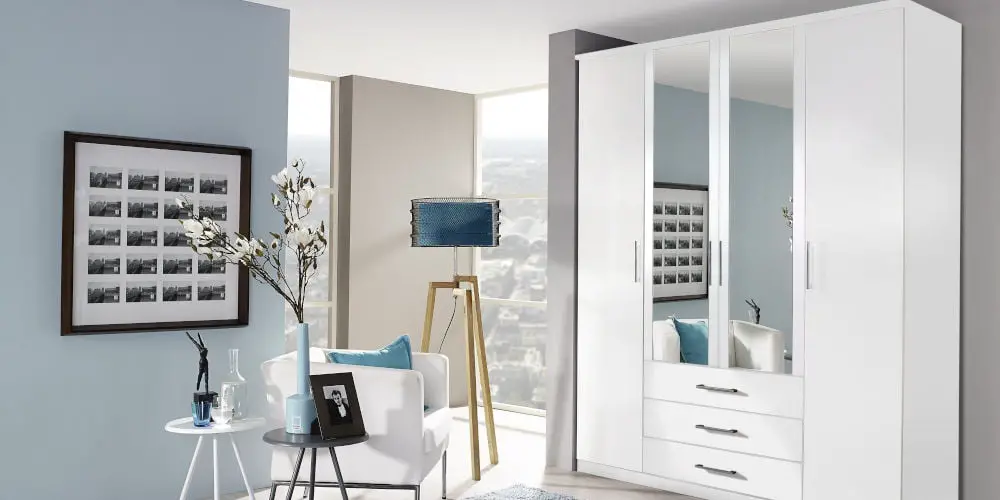 A wall of wardrobes generally looks quite stark, even if they are painted in a neutral colour. A mirrored wardrobe helps to break up the monotone look. It will look lighter and almost feel like your in a high-end boutique.
#6 Bathroom vanity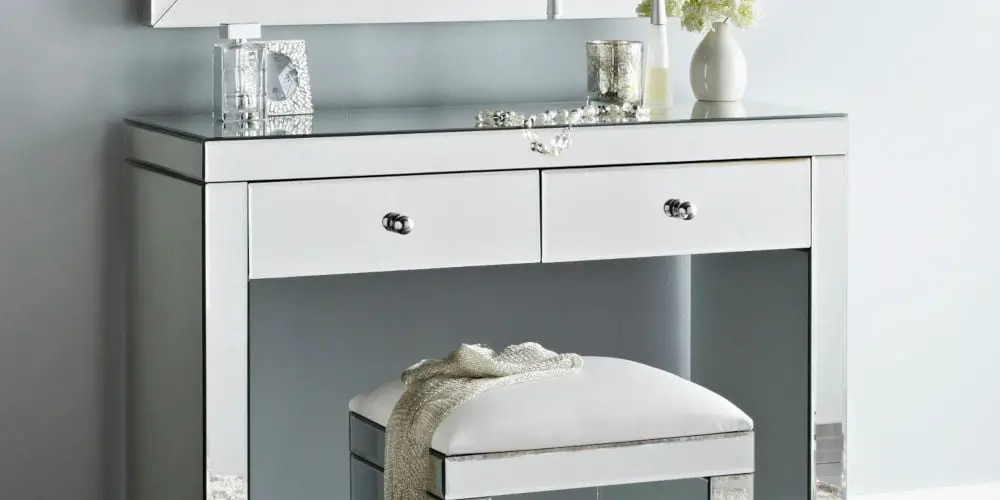 Mirrored furniture isn't new, but using them as a bathroom vanity can bring an old-world glamour to your space. Consider using antiqued mirrored furniture as it has a much softer look.
#7 Bedroom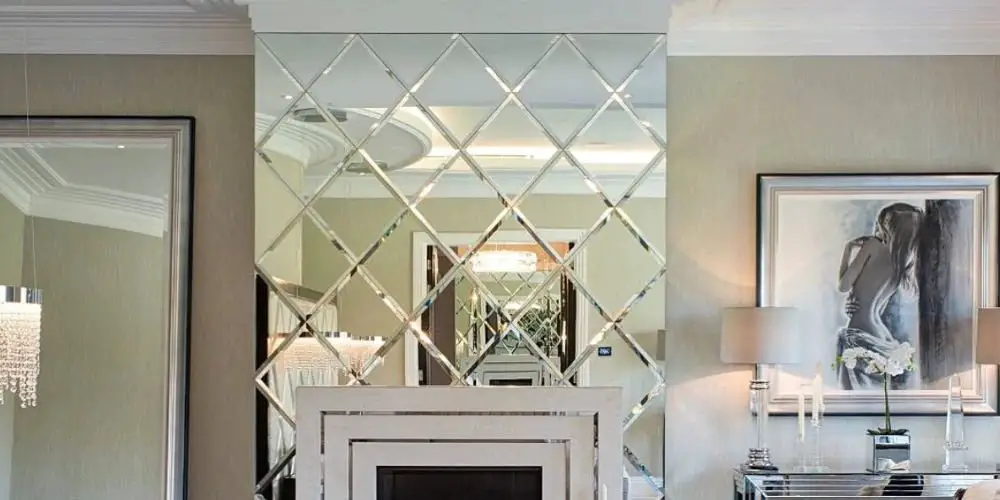 Add an inviting touch to the bedroom by placing simple, square mirrors to each side of the bed. Increase the drama by contrasting these mirrors with side table. Complete the look with flowers and framed photos or line drawings.
#8 Wall tiles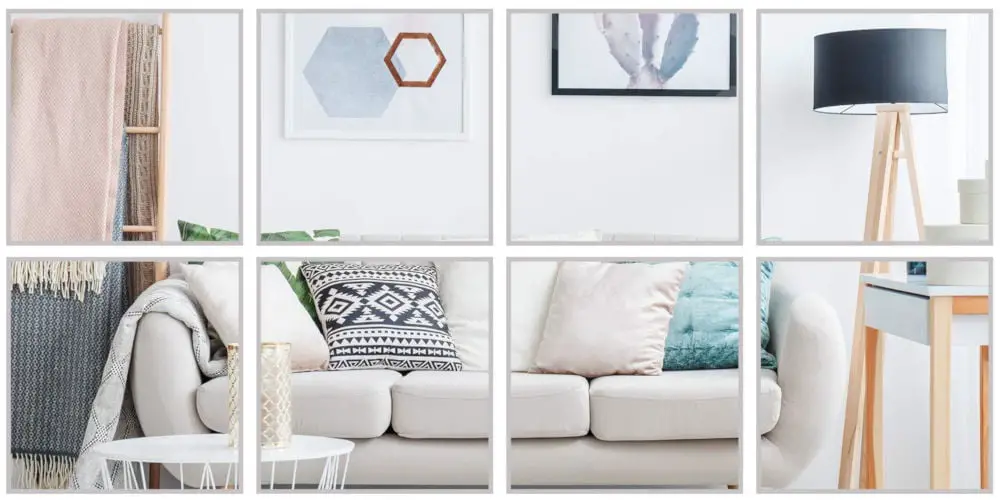 Re-imagine your living room with antiqued mirrors panels. You'll be transported back to Hollywood in the 50s! Using large mirror wall tiles creates a more intimate entertaining space, which feels like your floating inside a cloud!
It's the perfect setting for cocktails, cigars and seduction! Did we say that decorating with mirrors could be sexy?!
#9 Covering an old doorway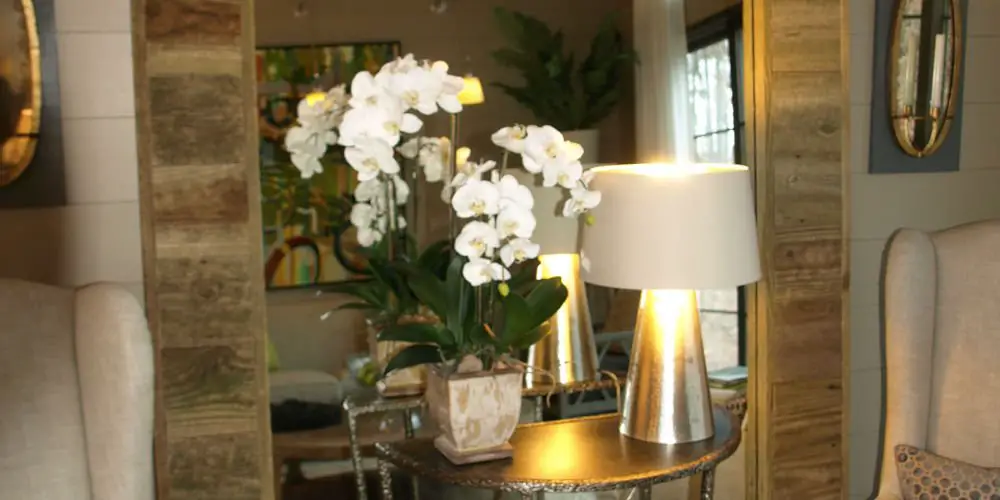 If you have an unused doorway, you can soften its impact by placing a mirror in front. It will almost feel like a solid wall while drawing your eyes back into the room.
Consider using a circular or octagonal mirror that's as wide as the doorway as unique shapes will create interest. The room will feel bigger, lighter and you'll enjoy using it more.
#10 Master bedroom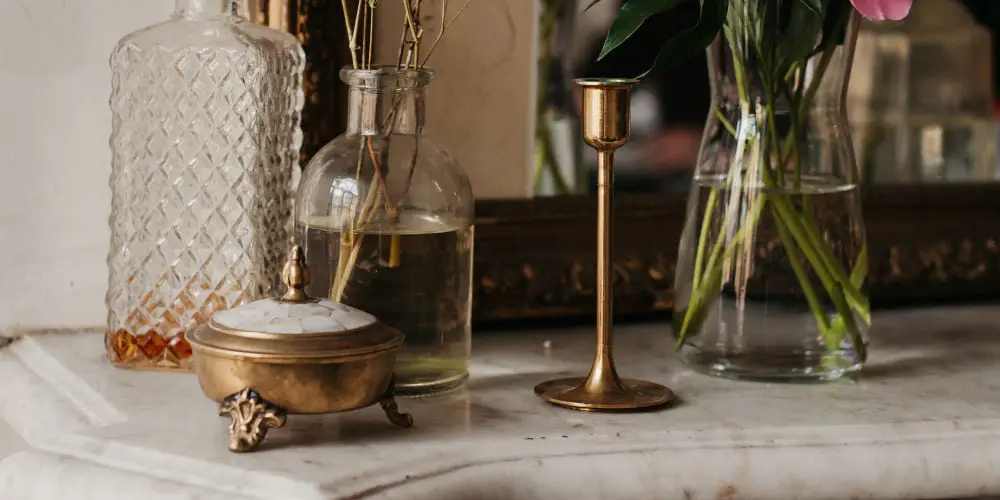 If you have a large mantel or blank wall, then create interest by adding a large rectangle mirror. Style the mirror by placing vases, photos and flowers in front.
#11 Define spaces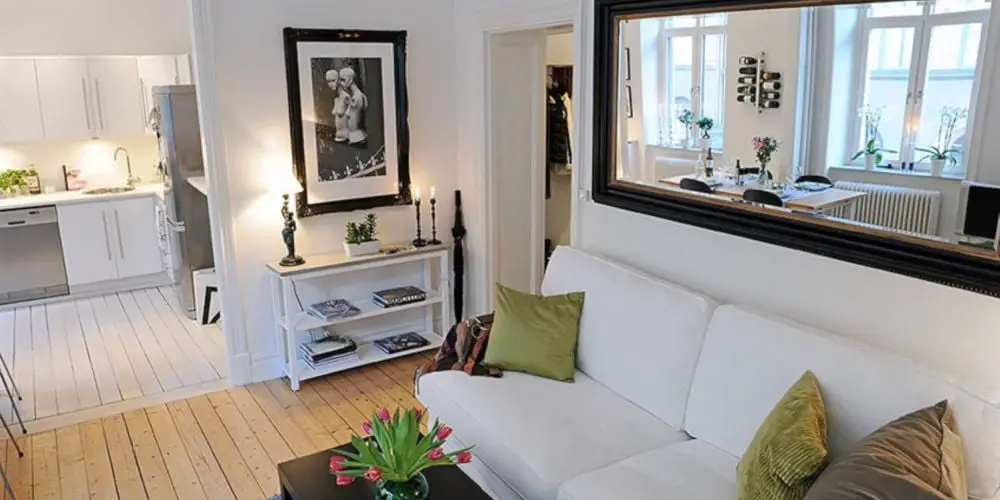 In a large reception room, you can use an oversized mirror to further define sections by creating a bigger divide between them. This third section creates a stronger narrative between the two spaces while adding a bit of drama.
#12 Boot room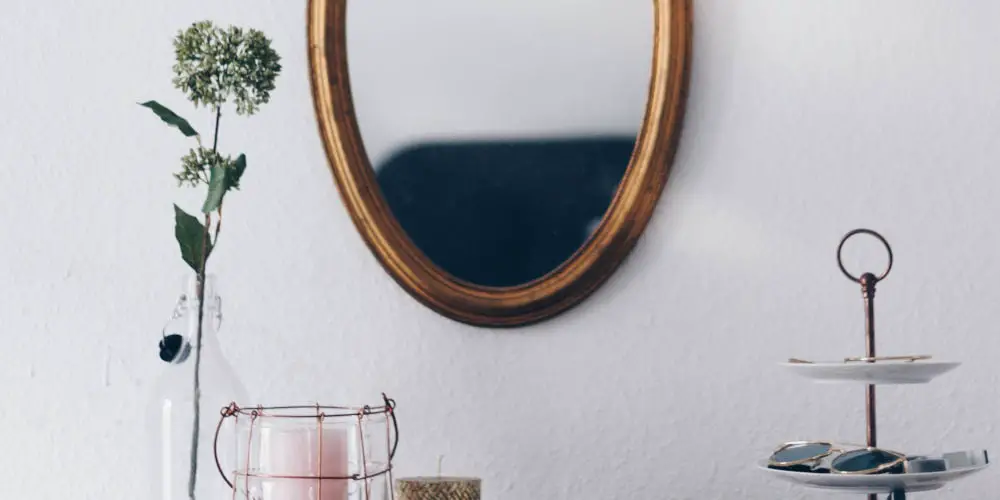 As the most functional room in a house, the boot room is often left un-styled or in a state of chaos. A large wall mirror can flood the space with light while drawing your eyes away from the mess.
Style the mirror with a row of boots in front and an umbrella stand. It'll feel like your in the countryside, just about to nip out for an afternoon walk!
#13 Add drama to your w/c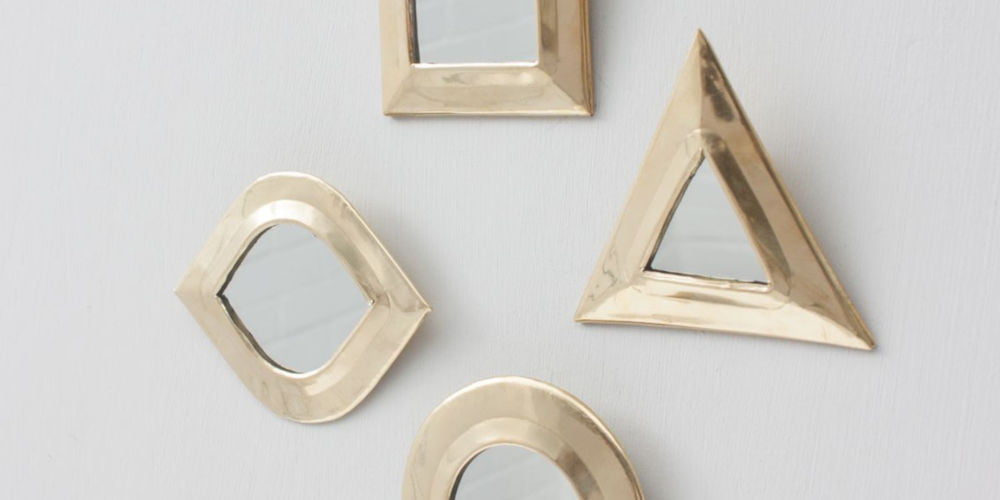 Usually, a downstairs toilet is a dark, bland affair. However, it doesn't have to be. Combine a bright wallpaper with a few small hand-inlaid mirrors to add drama and make the space come alive.
#14 Unique headboard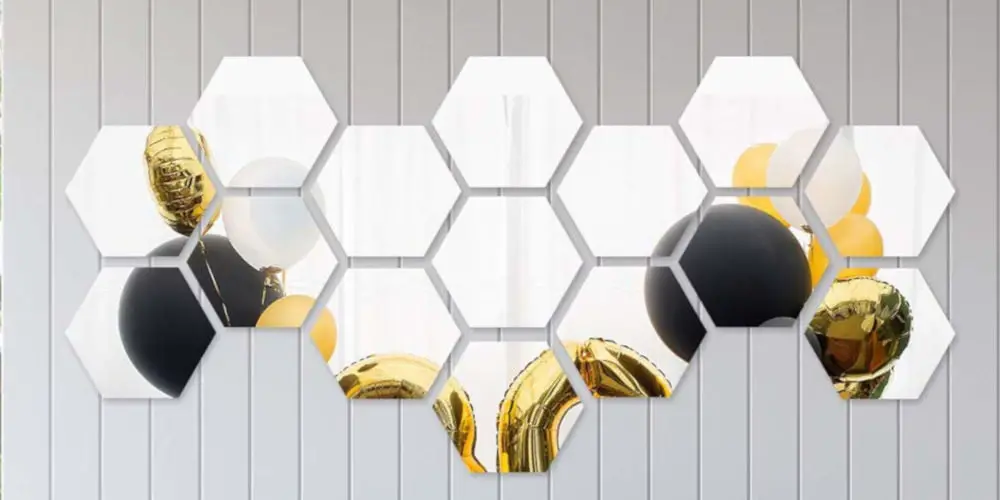 In a small bedroom that lack light, consider combining mirrored panels to create a unique wall sculpture behind the bed. This artwork can stretch the length of the wall and double as a unique headboard alternative.
#15 Dining with drama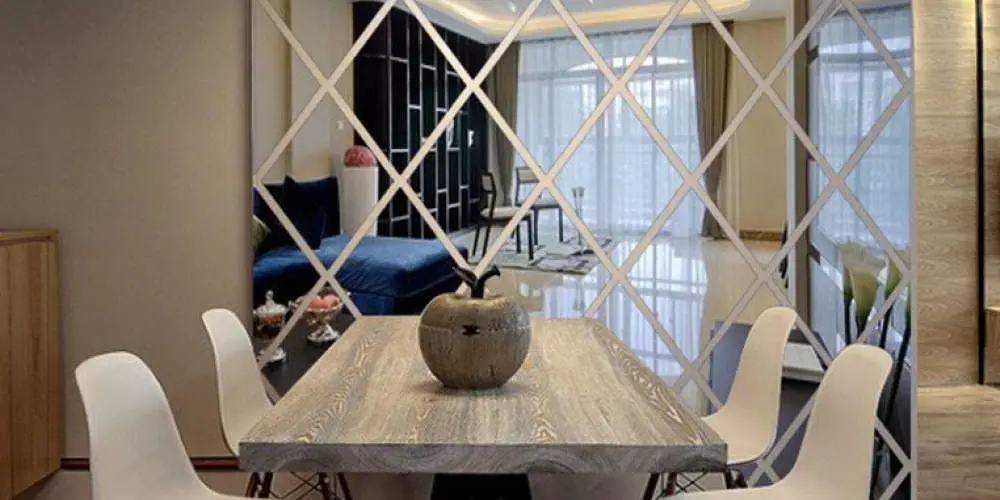 Framing a dining room with a large mirror on one wall can have the same effect as a large-scale work of art. This work especially well when using antique pieces like the mirror helps to unite the other elements of the space, creating an inviting area for meals.
#16 Draw the outdoors in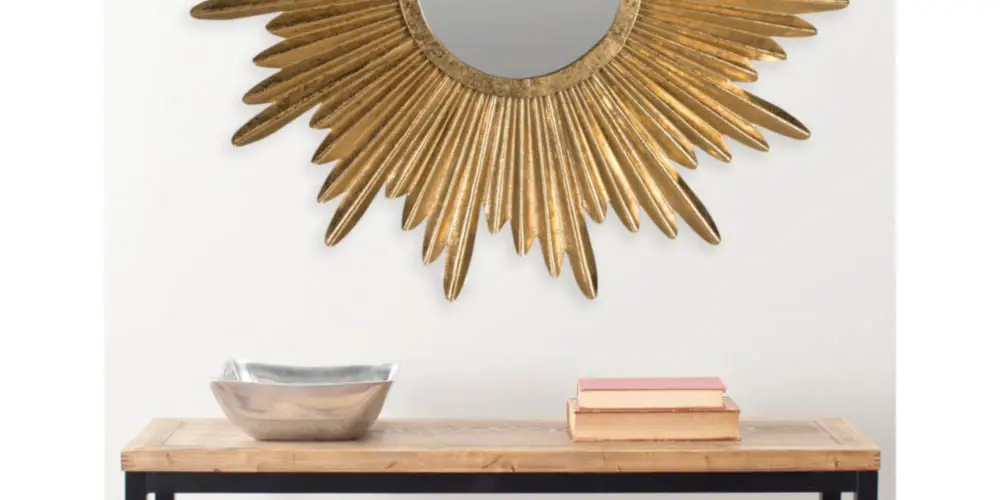 By hanging long framed mirrors horizontally in a living room, the outdoors is drawn in. The mirrors will accentuate any changes in light and so the room will feel different throughout the day.
#17 Geometric Statements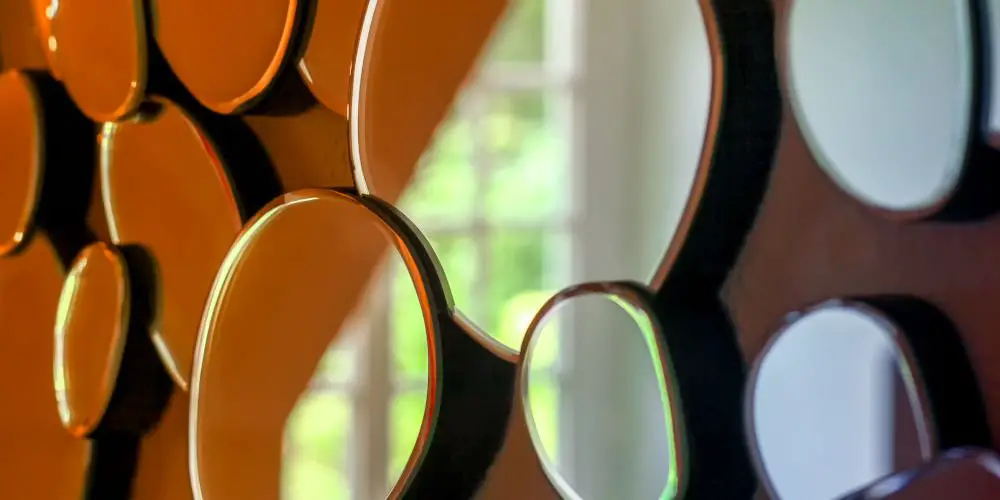 Don't feel confined to standard frame choices when your decorating with mirrors. It's easy to select either a square or circular mirror. However, you can afford to go bold and try unusual shapes.
For example, using a bold geometric pattern instead of art will create a striking focal point while reflecting light and adding a touch of luxury.
#18 Create art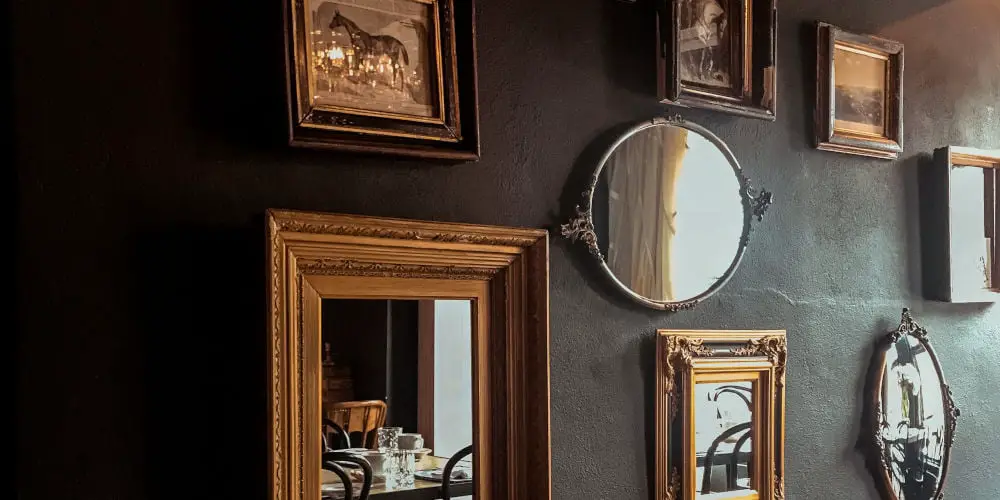 Mixing mirrors and art is an exciting way to liven a wall. You can even get creative and mix different frame sizes. Not only have you created a unique piece of art, but you've also increased the feeling of space and light.
#19 Add a Splash of Colour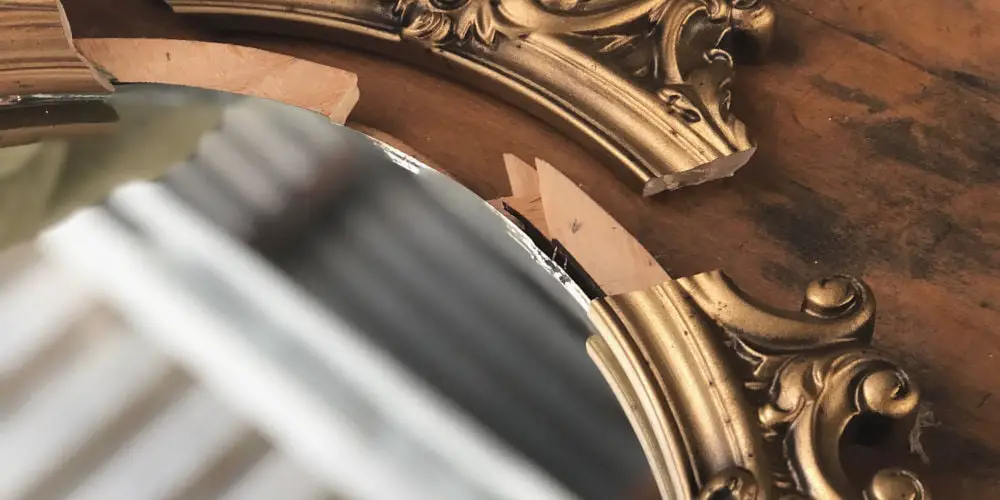 Rarely do we consider when decorating with mirrors, to try matching the frame to the room's colour palette. However, this is an interesting way to make your mirror stand out.
For example, if you're using a large mirror, incorporate it into the room by using a contrasting colour. If you dare to be brave, pick a bold feature colour!
#20 Kitchen Backsplash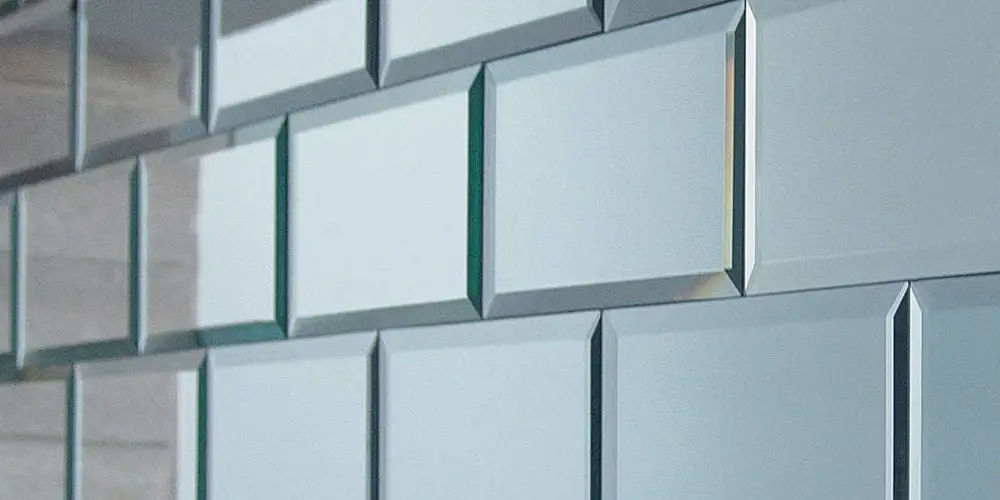 Bling your kitchen with a mirrored backsplash! Using a brick pattern, arrange mirrored tiles in rows. This backsplash is a creative, modern update of an industrial style kitchen.
#21 Mirrored Stairs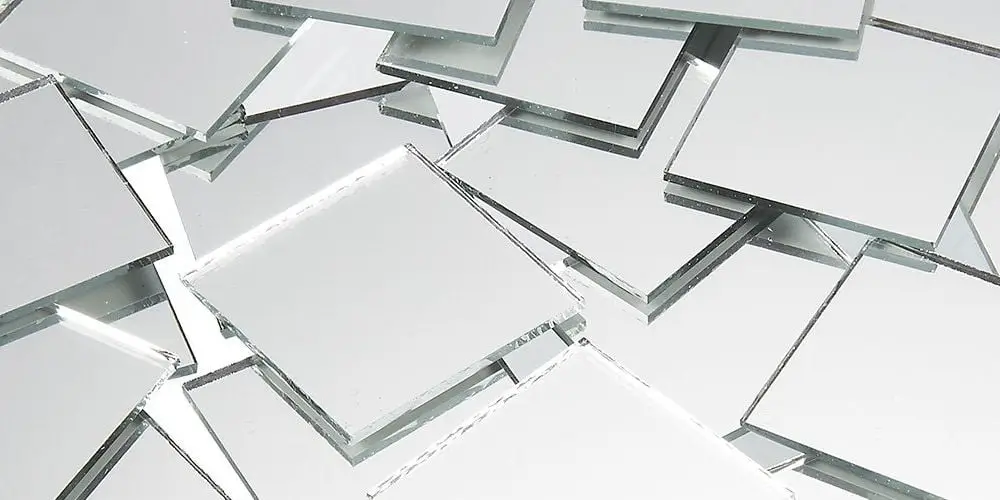 Not for the faint-hearted, mirrored stairs are an unusual design idea. While this is a bold way of decorating with mirrors, you'll have people talking! Plus, you'll feel like you've stepped back to the 70s!
#22 Double look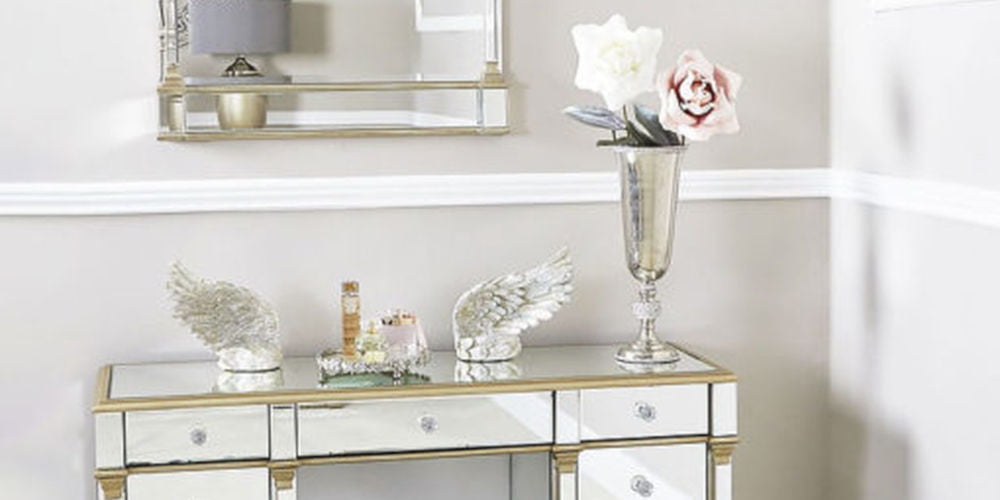 Why only use one mirror when you can use two?! Matching a wall mirror with a piece of furniture with a mirrored detail is a fantastic way of tying different elements together into a single scheme.
#23 A touch of shabby chic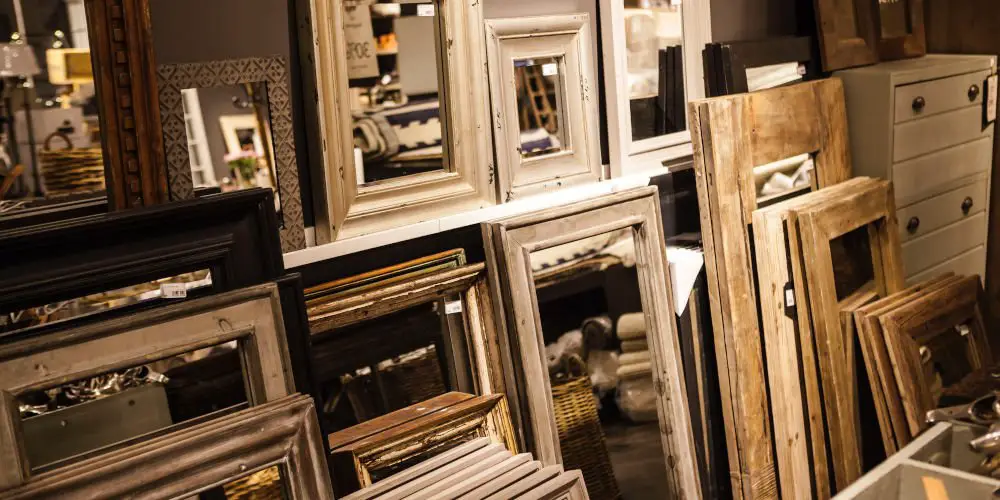 Reclaiming a mirror from a salvage yard is a superb way to soften a room and add a quirky element. If you can't find something suitable then look for an old pine door and add a custom cut mirror.
You'll want to angle the door slightly so the panel reflects the ceiling and creates the elution of extra space.
#24 Harmony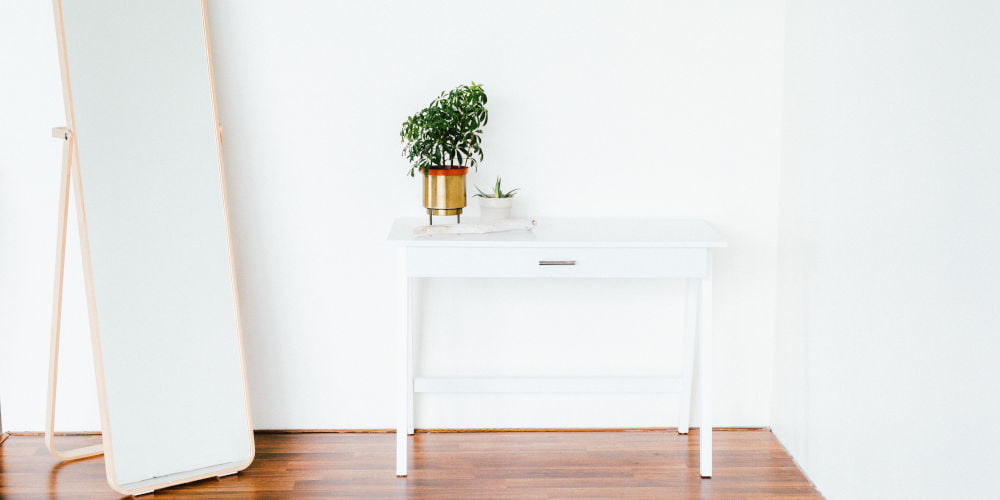 Using mirrors in pairs is a great way to frame a view and balance a room. Place one either side of a window or doorway to create a sense of harmony. As they will reflect the opposite side of the room, the space will feel more balanced and calming.
#25 Small and Mighty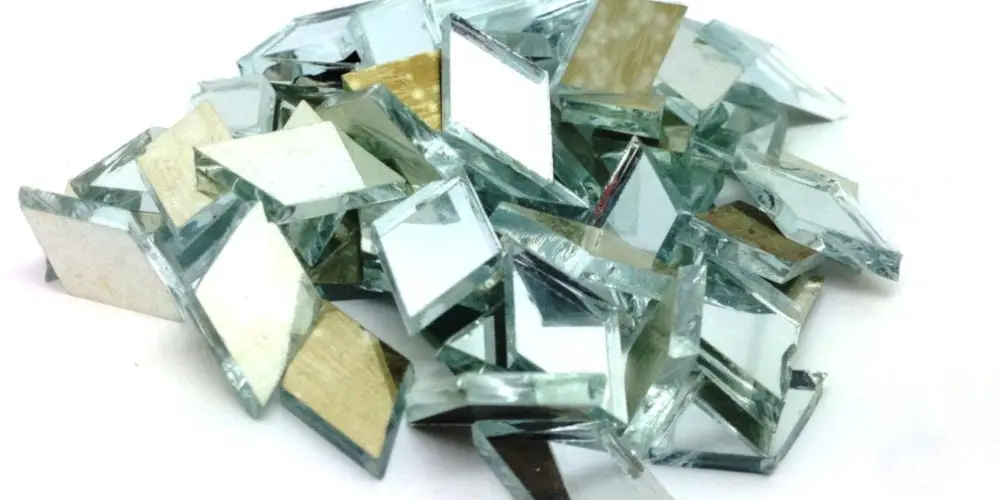 If you don't have the room to go big, try something smaller. You can experiment with using tiny square mirrors around a room, either singularly or in twos.
For maximum impact when decorating with mirrors, try a few different locations and heights before securing them to a wall.
Top tips for decorating with mirrors
Mirrors are a designer's secret weapon! Decorating with mirrors allows you to add depth, create interesting reflections, amplify natural light and more.