10 Design ideas for attic bedrooms with a luxury touch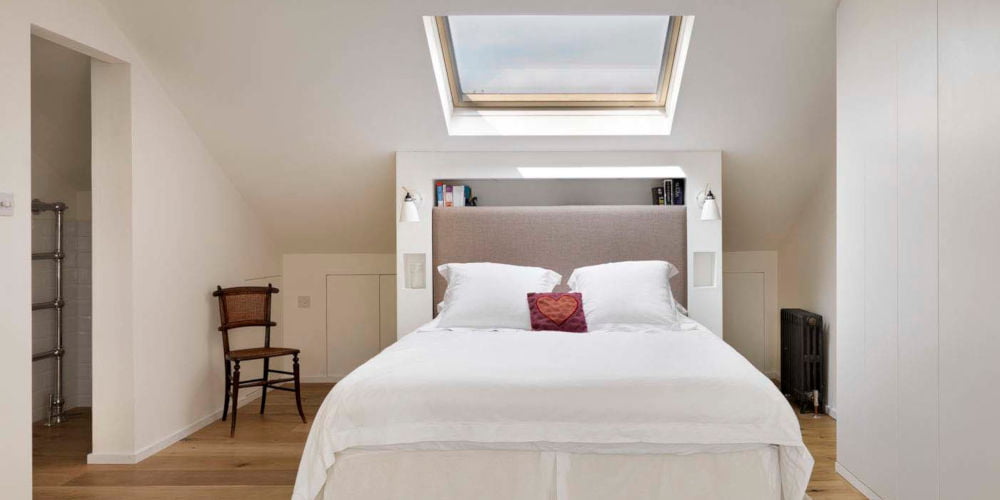 Adding an extra bedroom is one of the most popular reasons for converting a loft. Often, it can be cheaper to extend up, than out!
Loft rooms present several unique design challenges that need to be addressed for the space to work. It's why you need to be armed with a few design ideas for attic bedrooms to maximize the space and flow.
Whether your just about to convert your loft or have recently and are struggling with how to design an effective bedroom within the space, here are some basic design ideas for attic bedrooms.
We aim to encourage you to create the perfect place to relax and get some sleep!
Choosing the right paint for your attic bedroom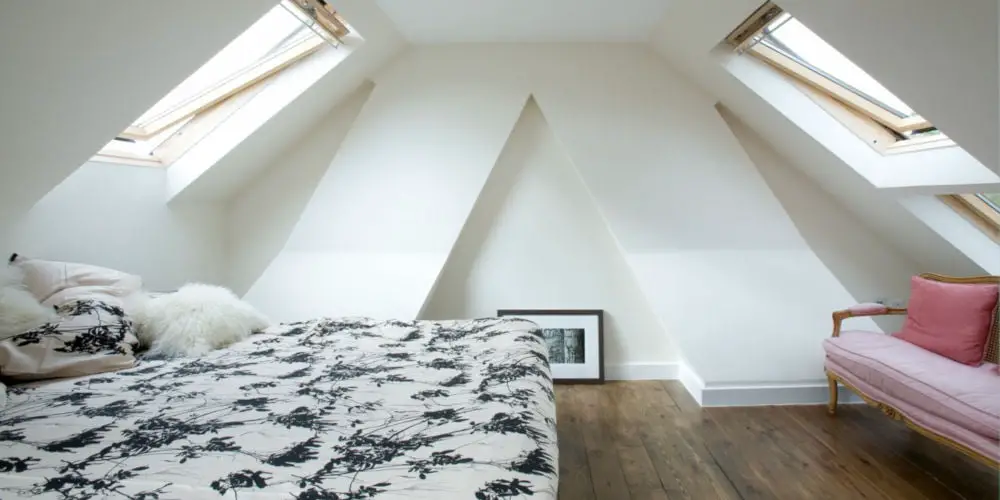 Attic bedrooms can be at best difficult to paint or apply wall coverings due to their odd-shaped and slanting walls. The lack of light can also pose a unique challenge.
It's worth using a primer (such as Dulux Difficult Surfaces Primer), especially if the space is clad in plasterboard as the walls could absorb the paint, meaning you'll need to apply more coats and could even end up with an uneven finish. Using a primer layer will also help to smooth any roughness.
With a range of odd-shaped walls and surfaces, it might be tempting to paint each a different colour or layer several colours. However, this can the opposite effect. Using multiple colours can highlight subtle differences in the walls and make the room feel smaller.
There are two contrasting design ideas for attic bedrooms to consider.
The first is to use a light shade of paint, such as an off-white. This will tie the room together and increase the sense of space. Going light is ideal if you're creating a bedroom for a child who will end up using it often.
At the other end of the spectrum: go dark! If you're creating a guest or master bedroom, a dark tone can bring the walls inwards creating a more intimate vibe. You can also increase the sense of drama by using rich fabrics.
If you're unpersuaded by a single paint colour, then use an accent colour for any woodwork and along the centre.
As light is at a premium, it's best to choose a paint with a slightly glossy finish as this will help to spread light around the room. Don't use gloss paint as this might highlight bumps and inconsistencies in the walls and ceiling.
Lighting a loft bedroom
Just like choosing a suitable colour, lighting an attic bedroom can prove a challenge. Typically, you'd want at least 2 light sources in a bedroom including a pendant light and reading lamp.
However, with head height at a premium, you'll need to be smart. Another factor to consider is how much natural light is being produced. An attic that lacks plenty of daylight will require more artificial light, especially if it's being used as a kid's bedroom.
You should be able to an LED pendant that only slightly protrudes for the main light. Add bedside lamps to either side for reading or relaxing in bed. Together they might sufficient.
If not, then add some small up-lighters either in the centre or in corners. You could experiment with running LED strips along each side at the midpoint where the roof meets the wall.
Another bedroom lighting idea to experiment with is wall sconces at each end. They'll add a sense of warmth and when used with a centre pendant can flood the space with light.
Choosing the right flooring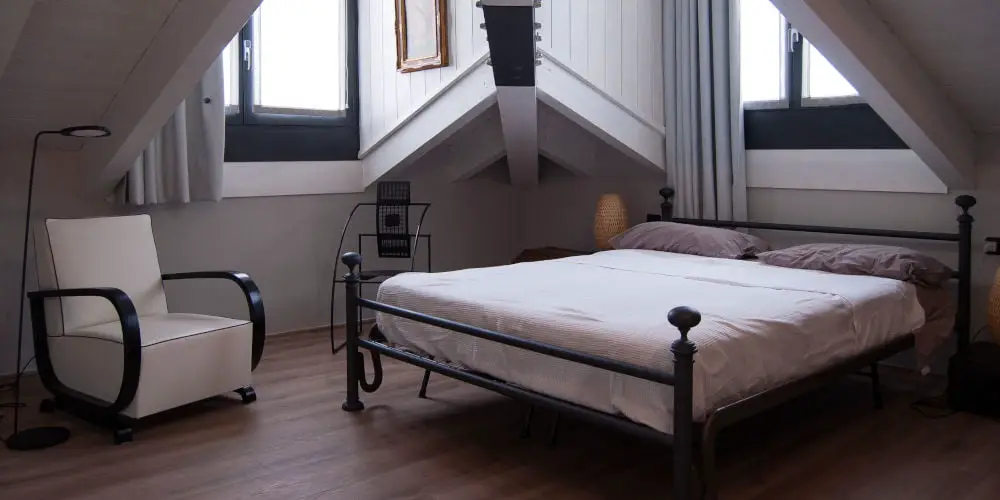 As with any room, you'll run of our patience long before you've contemplated all of the different flooring options. However, there are a few flooring design ideas for attic bedrooms to consider.
Most importantly, soundproofing. While stained wooden floors may look rustic, if they squeak or amplifier even the smallest noise to the room below then you might have sleepless nights. Of course, using a thin layer of soundproofing under the flooring can eliminate most of these issues.
Carpet is a popular choice and it's best to use an 80:20 wool mix as this will be sufficiently hard-wearing and long-lasting. It's worth using underlay as this will provide another layer of soundproofing.
With either of these options, rugs can be used to provide interest, mask sounds and can be relatively affordable, especially useful if you have young kids.
Blinds vs Curtains
Blinds are the usual suspects when it comes to window treatments in an attic room. This is because they require less space than curtains and perform just as well. If you have dormers with plenty of space to hang curtains, then do it!
With the blinds vs curtains debate, go with your gut. If you're unhappy then you can always update the space in a few years and right that wrong.
If you decide to use blinds, you might want to consider how to automate them. It's easier than you think, but more on that later.
Simplify
It's easy to cram a bedroom full of stuff and call it a day. However, this doesn't work that well in an attic bedroom as it can easily look cluttered. Instead, consider each item and how it adds (or takes away) from the space.
Of course, you'll need a bed, a wardrobe, a chair and maybe a make-up table. But think about the size and profile of each item. If possible use slimmer items in neutral tones and use soft furnishings for accents.
Think about how you can build in storage into the room which can hide clutter and create a sleek, chic look.
Bed-on-the-floor
With height and space at a premium, it's worth considering a low profile bed or ditching the frame altogether and placing the mattress on the floor. You could even experiment with using a headboard alternative to add depth the bed frame without dominating the space.
You might be able to find a low profile bed with pull out storage which not only uses the dead space effectively but also creates addition soundproofing when full.
Soft furnishings
While you might be limited on space, you can use soft furnishings to add depth, warmth and colour. Using lighter fabrics will increase the feeling of space and provide a fantastic canvas for the occasional colourful accent.
You don't necessarily need to match the wall colour with the soft furnishings but using close hues will make the bedroom feel more relaxing.
Wardrobes
Every bedroom needs a wardrobe. Attic bedrooms pose an interesting challenge due to the design constraints inherent in the space.
It's worth investing in custom-fitted wardrobes which are designed to follow the contours of the attic. Not only will this maximise your storage but it will also create a more seamless look than only having free-standing pieces.
You could save space by leaving the wardrobes open. The idea of having no doors might seem unconventional but it'll encourage you to simplify your clothes and keep things tidy. Well, that's the idea!
Some bespoke joinery firms recommend using folding doors on piano hinges. As the doors fold inward to the centre, they work with the roof's contour to maximum advantage yet don't take up much space when fully open.
If you have plenty of space, you could decide to use fewer, larger wardrobes which slide out. Clothing rails can either follow the slope of the roofline or run at 90 degrees depending on the angle of the roof.
Regardless of which option you use, it's worth investing in some of the a href="https://www.mydreamhaus.co.uk/best-wardrobe-organisers/">best wardrobe organisers to keep your clothes and space tidy!
Storage
Custom built-in wardrobes are only part of the storage puzzle! Unlike the typical bedroom where bedside tables, desks and dressers can be added, you need to be creative when adding furniture to ensure the room doesn't end up feeling crammed!
It's also worth considering how you can use LED strip lights within storage and wardrobes to increase the amount of artificial light available. Here are some of top design ideas for attic bedrooms that include plenty of storage.
Around the bed
One clever idea is to build storage around the bed which follows the contour of the roof. This could easily combine hanging space for clothes, a few drawers, bedside tables as well as space above the bed for photo frames and ornaments. You could even build drawers into the bed, maximising the available space.
Reclaim under-eaves
While most use the under-eaves as general home storage, you could reclaim some for draws and cupboards. These can be used for shoes, jumpers or accessories.
You could also turn the eaves into large shelves, these design ideas for attic bedrooms can work especially well in attic bathrooms where the eaves are generally empty!
Window seating
Dormers can create odd spaces beneath them particularly if the roofline isn't straight. You can use these quirks to your advantage and build in seating with storage below. Not only have you created a fantastic feature for relaxing with a book, but you've also stylishly increased the storage!
Use the height
If you're lucky enough to have a full-height wall then consider building storage shelves from the bottom to top. This fantastic in kids bedroom as toys, games etc can easily be stored and folding desks can be incorporated.
Go modular
If custom-built units don't appeal or blow the budget, then use a modular storage system. These systems are easy to build, affordable and highly adaptable. If you need an office rather than an attic bedroom, then the system can be easily changed to match your needs.
Study nook
The space under a dormer is ideal for a desk, particularly as it's filled with natural light. Kids can use this space to study, guest can use it to get ready or catch up on emails.
You don't need much furniture either. A computer desk and a lamp should be enough. If you have space, then consider building bookcases under the eaves, so that they surround the desk and make the area feel like a library.
Home automation
Another one of our top design ideas for attic bedrooms is to add some home automation. Using a Lightwave system, you could control the lights and blinds remotely from your smartphone. Lightwave is affordable, modular and DIY friendly!
Be aware, once you've added some home automation, you'll want to use the technology through the entire property!
Try these design ideas for attic bedrooms
By now you should have plenty of design ideas for attic bedrooms that can help you create a relaxing space. Even the smallest touches in a bedroom can make the difference, whether that's having lots of storage, the right lighting options or painting the space in a calming hue.
Have fun applying some of these design ideas for attic bedrooms to your space!