Does the Echo Dot have a battery?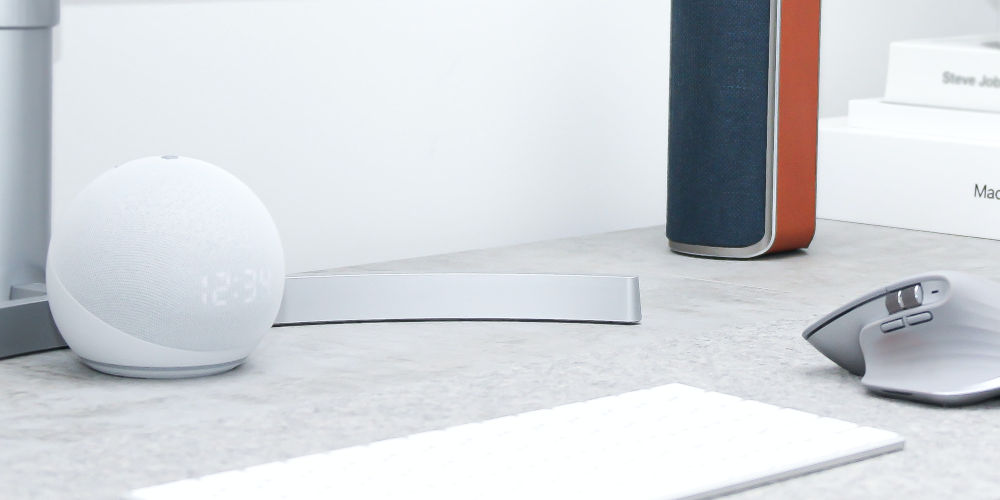 We're all familiar with the Echo range of smart speakers from Amazon. They're small, portable and superb useful. But they do lack something that would make them even more practical. You might ask does the echo dot have a battery? Sadly, none of the echo devices have a built-in battery.
While this is a small disappointment, it hasn't done anything to dampen their popularity. Since releasing the first Echo Dot, Amazon has gone on to produce multiple generations of the Dot and Show as well as offering the Studio and Sub speakers.
Our favourite is still the compact yet feature-rich Echo Dot as you can use Alexa to order items, make voice calls and listen to music. But if only it had a battery. Thankfully, a few solutions are available.
How does your Echo Dot work?
As a smart speaker, your Echo Dot is actively listening and responding to your voice. Ask it to play music, and it'll select from a catalogue of millions of songs. Tell it to remind you to visit the dentist, next Tuesday at 2 pm and it'll create a reminder for you.
Alexa, the built-in virtual assistant make your life far easier. It can set alarms, play music, search the internet for information, control other devices, and much more. These are just a few of the hundreds of tasks it can help with.
Beyond the Echo Dot, the Echo Show has the added benefit of a screen and camera. Like the Dot, the Show devices can play music, videos, control lights and even make video calls to other devices.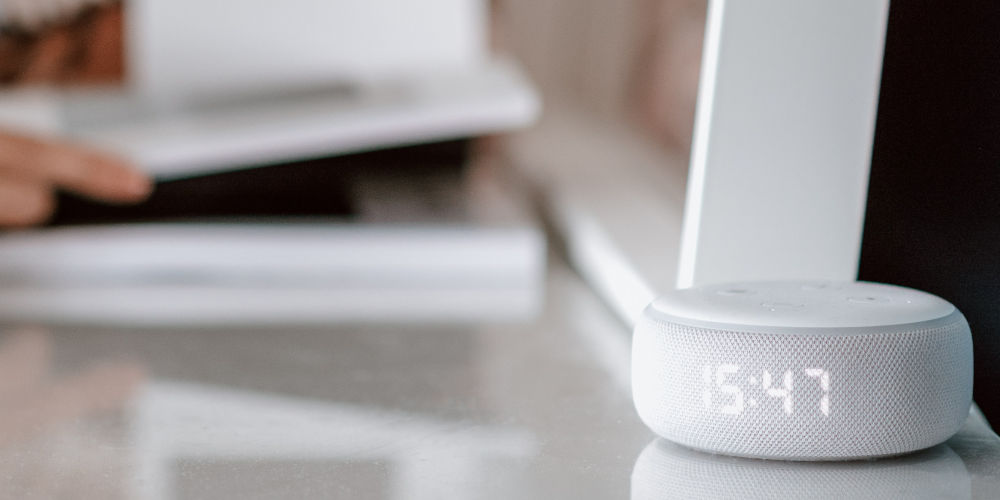 Why don't any of the Echo devices have a battery?
While Amazon doesn't offer an official explanation, they might have chosen not to include batteries in their devices as it would increase the size and price. Not to mention the time it would take them to test and release new devices.
Can we use the Echo Dot with a battery pack?
As none of the Echo devices have batteries, you might wonder if you can use an external battery pack with yours. Thankfully, there are multiple affordable solutions available. Let's take a look at a few.
i-box Battery Base (3rd Gen)
Highly affordable, the i-box Battery Base for Amazon Echo Dot 3rd Generation turns your device into a portable speaker. The high-power 10000 mAh built-in rechargeable 2 cell battery means you can listen to music for up to 12 hours from a single charge. 
It even features a built-in 2.1A USB outlet, enabling you the option to charge your smartphone or tablet directly. Plus, as a plug-in-and-play device, set up takes seconds.
i-box Battery Base (4th Gen)
If you're using the latest version of the Echo Dot, which looks like a sphere, you'll want to use the i-Box Battery Base for Amazon Echo Dot 4th Generation. It features a 10000 mAh built-in rechargeable 2 cell battery that provides up to 12 hours of use from a single charge.
Designed around your Echo Dot 4, it will keep the device secure without obstructing the clock face or light; or interfering with the sound quality. Ideal for parties in the garden, kitchen counters or background music for sleep.
Straight forward to set up and easy to use. Simply place your Echo Dot 4 into the top, plug in the connectors and you're ready to use it.
GGMM ES5
Designed for the Echo Show 5 (1st and 2nd Gen), the GGMM ES5 Battery Base is an adjustable accessory that frees you from needing a power outlet. Its sleek design allows you to use your Show 5 in the bathroom, living room, kitchen, garden and for travelling.
The built-in 5000mAh battery provides power for up to 8 hours. A quick and secure magnetic attachment provides a convenient use and tight hold for Show 5. Anti-slip pads on the bottom hold the Show 5 firmly to protect it from slipping and sliding around.
Easily tilt your device to find the ideal viewing angle whether you are following a recipe in the kitchen or making a video call.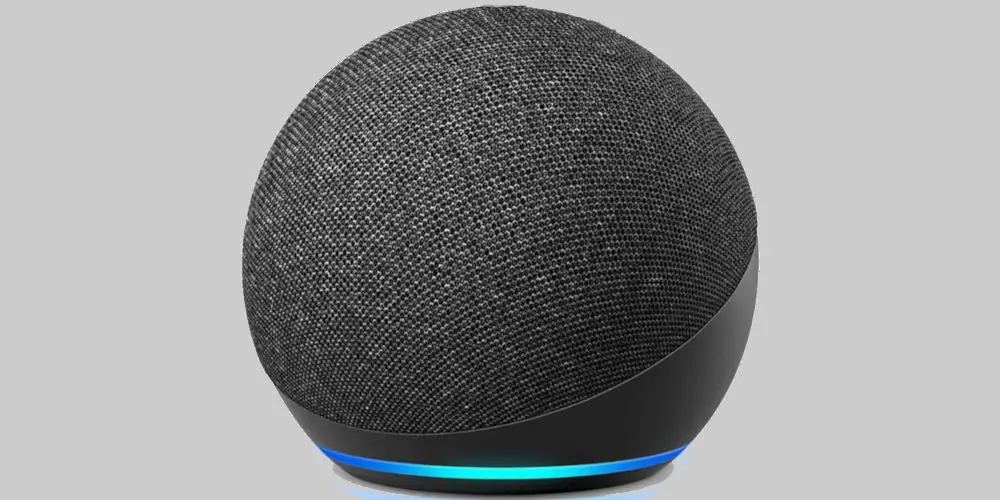 Another option is a portable battery pack
You might be used to carrying a portable battery pack around with you to keep your phone topped up when on the go. But you might not have considered using it with your Echo Dot. 
If you don't have a portable battery pack, we recommend the Bextoo Power Bank. It offers a massive 30000mAh capacity with 2 USB outputs and a USB-C input. It may be more expensive than other options but is worth it for the capacity alone.
Use a micro-USB cable to connect the Echo Dot with the battery pack, and the speaker will be powered and ready for use. Battery packs are good but can be heavy and difficult to carry around. You'll also want to use a short cable to ensure you're not carrying extra weight.
These options give you the freedom to roam around with your speaker without needing to find a power outlet.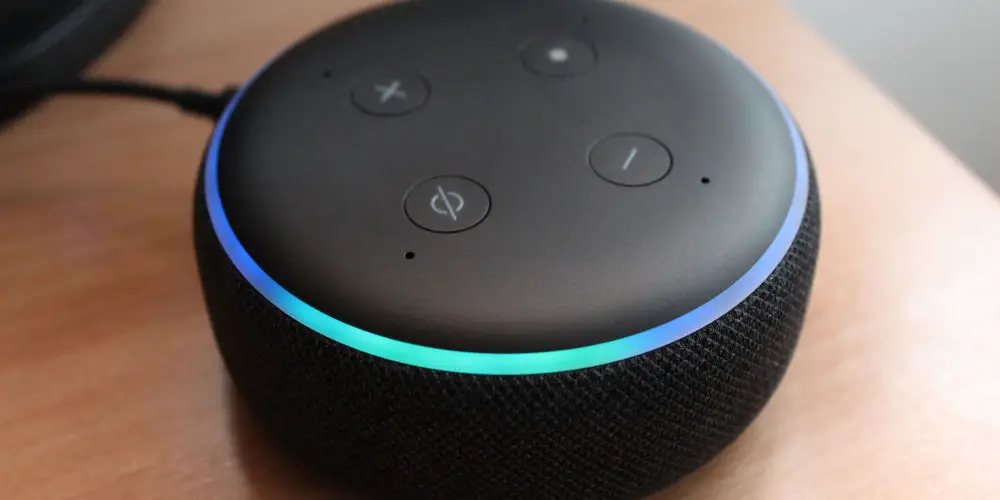 So, does the Echo Dot have a battery?
If you've ever wondered: does the Echo Dot have a battery? The answer is simple, they don't. Amazon has decided to only offer devices that plug into a power socket.
However, we can use a battery pack with our Echo device to make it portable. You have two options. Either use a general smartphone battery pack or one of the many after-market batteries, designed for the Echo range.
If you enjoyed reading this, you might want to learn: Is my Amazon Echo Dot waterproof or IP rated?