How to create the perfect dressing room design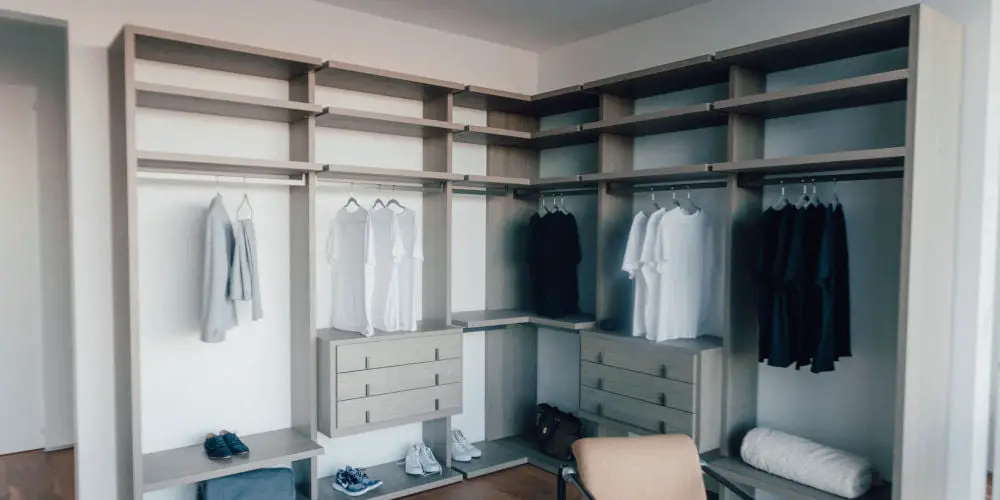 Many of us dream of having a walk-in wardrobe. Whether you've been inspired by an Instagram influencer, a movie or TV (sex in the city, anyone?!), creating the ideal d including thoseressing room design is more achievable than you think.
As one of the most desirable features, a dressing room is more than a functional space, it's a way to add value to your home.
Having a dressing room enables you to de-clutter your bedroom, sort and store clothes in a logical system, and will increase the life of your clothes. Plus with less clutter in your bedroom, you'll sleep deeper and breather in cleaner air.
If you've already designed your dream bedroom, creating a walk-in wardrobe is the next logical step. So here's how to transform an empty space into your dream dressing room design.
What is your ideal dressing room?
Just like the clothes which hang within it, your dressing room design is highly personal. And so you want it to reflect your style and taste. It also needs to be practical and functional.
Some dream of open-fronted wardrobes, with everything arranged by colour. Others will want their dressing room to feel more like a boutique with a mixture of open and closed cabinets as well as shelves for displaying shoes, bags and other accessories.
A few will have the space to create a dressing room complete with floor to ceiling shoe racks, an island for accessories, multiple wardrobes and a dressing table. Most of us, can but dream!
Regardless of the size of space, you have available, you can create your dream walk-in wardrobe with a distinct place for every piece of clothing you own.
Even if you have a tiny amount of space, you can still use some interior design tricks such as lighting and mirrors to make it appear larger.
Ready to be inspired?
On Instagram alone, there are thousands of dressing room designs and walk-in closet ideas. Equally, Pinterest contains just as many. Luckily both platforms make finding and saving ideas super simple.
Regardless of the space, you have available, it's a good idea to save as many photos as you can. Over time you can edit your photo album down and try to hone in on what inspires you about a certain design.
You'll also it's worth considering how the designer has used furniture and accessories. You might not have room for an island, but you might be able to replicate some of the storage ideas or borrow how they've used mirrors.
Where to put your walk-in wardrobe
If you have a spare box bedroom that's close to the master and unused, then this is the perfect space to transform into a walk-in wardrobe. Unless you have a large budget or are renovating, you don't need to link the rooms. This can be costly and cause quite a bit of disruption.
If you don't have a spare bedroom, but do have a large alcove, then you could partition it and use this space as a dressing area. Of course, you'll need to add some lights – but we'll cover that in a moment.
You can recreate the feeling of a dressing room using a long bank of wardrobes in your bedroom. This is a fantastic option if you don't have space but want your bedroom to feel more luxurious.
Dressing room design basics
Having looked at a range of dressing room designs, you should be brimming with ideas! However, the tricky part is translating them back to your space.
The first major decision you have to make is open vs closed wardrobes.
An open storage system uses rails, racks and shelves. They typically have a smaller footprint as there's no doors or cabinets and screw into the walls. An open storage system is ideal for small spaces or you want to be able to see every piece of clothing.
Whereas in a closed storage system, clothing is placed within sealed cabinets. Of course, you can use wardrobes with doors that have a glazed element for easier viewing, including those from Sliding Wardrobe Kits.
A dressing room with a closed system will feel more formal but all clutter will be hidden! You'll also need more space as wardrobe doors need room to move in.
As both systems store clothes similarly, it's a choice based on personal preference and available space.
With this decided, you'll want to measure your room. As an open system uses racks and rails, they can be cut to fill the space and maximise the storage. Elements such as shelve and shoe racks will have fixed sizes. So you'll need to plan how they will fix it and ensure the maths adds up!
As a closed system use cabinets, you'll be limited by their physical dimensions. The typical wardrobe is 1 metre in width, although many companies offer half metre widths. The best example is the IKEA PAX wardrobe, which is a modular system.
What's the best wall colour?
As the typical dressing room is small, it's best to choose neutral colours. They'll make your space feel bigger and lighter. Neutral colours also are the perfect backdrop to highlight your clothes. This will make choosing and matching colours easier.
Colours such as white and light grey work particularly well. As do light-coloured, textured wallpaper. Don't worry if you feel this might look stark as you can always add personality using colourful furniture or a distinctive accent colour.
Best dressing room flooring
As with wall coverings, the flooring should be neutral and if possible the same as the bedroom. This way the two will flow nicely together.
If you already have carpet, stick with a similar hue. For wooden or hard floors, consider using a runner down the centre to soften the space.
Lighting ideas
With you dressing room taking shape, lighting is next on the list. Unless you're very lucky, your space probably doesn't have a window. That's fine. We just have to be smart with lighting.
Rather than only installing a pendant light, you want to layer your lighting. This can be achieved in a few ways depending on the system you choose.
First, it's best to have a bright pendant light, as this is a fantastic backdrop. You'll want to add LED strips over the top of each rail. These softer lights will make matching colours easier.
Finally, you'll want to illuminate your main mirror. If you have a dressing table with a mirror, you could use a side lamp or replace the mirror for one surrounded with lights – very Hollywood!
If you have a full-length mirror, it might be best to use LEDs along the top or place an uplight next to it. You'll want to play with the positioning to ensure it gives an honest impression!
Mirror, mirror!
If your space is fairly small, then you'll want to incorporate a few mirrors into the dressing room design as they'll make the space feel bigger and lighter. Of course, you'll want to have a full-length mirror to check what you're wearing.
It's also worth having at least one smaller shaving/make-up mirror. This can be easily moved depending on the task and can double as a rear mirror when used in conjunction with your main one.
What about furniture?
Again depending on your space, you may want to add some free-standing furniture. Start with the basics of a dressing table and chair. Neither need to be massive, just comfortable.
If you have a large space, then you can also include a chaise long or bench and any other pieces you need. Your only limit is space!
Morning coffee
Some desire a coffee first thing in the morning without having to visit the kitchen! If you're one of these, then consider adding a morning coffee station in your dressing room design. All you need is a small fridge, coffee machine and mugs.
Dressing room design tips
The old cliche applies: less is more. The aim is to highlight your clothes while make storing them and choosing outfits easy. You want your dressing room design to speak for itself.
However, you can be smart and utilize every centimetre without it feeling cluttered. Think carefully about how you'll use the basic building blocks (wardrobes/racks) and then personalise with a few accessories and wardrobe organisers.
One way to keep your dressing room feeling curated is to be disciplined from the beginning. Arrange all your clothing using a system that makes sense to you, then always place items back where they came from.
Designing your dream dressing room
Even if you have a tiny space and a massive amount of clothes, you can still create a stylish, chic dressing room design.
The first step is to measure everything! If you have a clear idea of the figures, then you can start to plan how the room will look and feel. You'll even be able to know if a piece of furniture will fit before you rush out and buy.
Stay true to your tastes and style, remember your dressing room design should match your goals. Of course, you might want to use natural colours, layer lights and include a few accessories that highlight your personality.
Keep being inspired during your transformation by looking at Instagram and Pinterest and use some of the ideas you love. Most of all keep it tidy and well organised and enjoy your dream dressing room!