20 Essential BBQ tools for cooking outside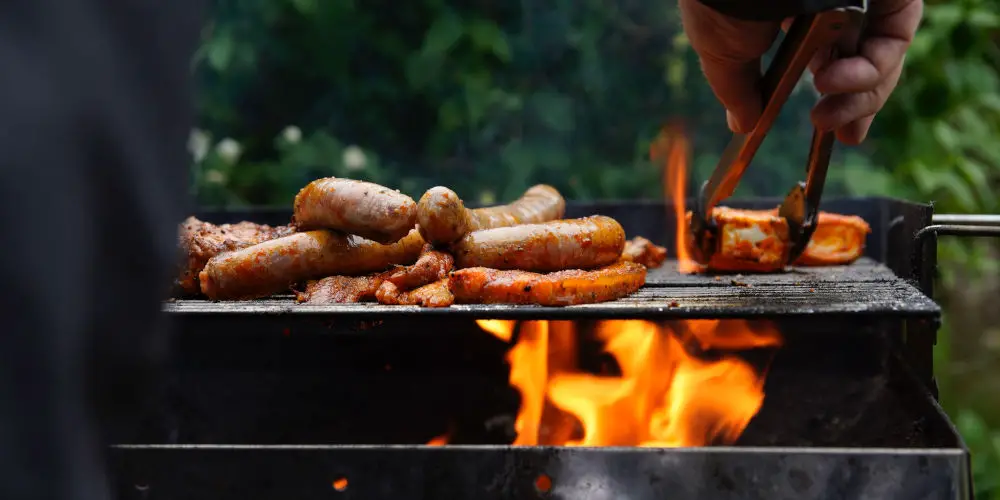 If you're new to barbecuing or just looking to raise your game, then there's plenty of essential BBQ tools you should own. All make cooking outdoors easier and more enjoyable.
Summer wouldn't be, well, summer without a few BBQs, even if it rains during one or all! There's something very relaxing about grilling some burgers and sausages while drinking a few beers and chatting with friends and family.
With that in mind, we've rounded up 20 essential BBQ tools that are worth investing in. Who says you can't enjoy cooking outdoors, whether you only have a charcoal BBQ or have gone big and built an outdoor kitchen complete with a large gas grill!
Weber Chimney Starter
Our top secret of how to light a BBQ is to use a Chimney Starter. Made by Weber, this Rapidfire Chimney Starter is the fastest and easiest way to get barbecuing and start eating.
Crafted from aluminized steel and able to holds enough charcoal to fill your kettle barbecue, the cone-shaped design ensures that briquettes light quickly and evenly.
Fill with charcoal and place a lighter cube or crumpled newspaper inside. Next, light your preferred fire starter, and you're well on your way to burning red-hot briquettes.
Two handles provide optimal control when pouring hot briquettes. Wearing gloves, grab one of the thermoplastic handles with one hand and its top wire handle with your other hand to direct fuel onto your charcoal grate.
pinewoodfuels Heat and Fire Resistant Gloves
Safety is no joke. So, you'll want to buy yourself a decent pair of gloves. These pinewoodfuels Heat and Fire Resistant Gloves are perfect for use with a wood burner, BBQ or welding. The stylish suede leather outer covers insulated aluminium foil and a soft cotton inner for extra comfort.
These gloves are ideal for protecting you whilst topping up the fire, handling cast iron pans, grilling and barbecuing. They are resistant up to 932 degrees C for 15 seconds. Suitable for wearing by most adults.
The fingers feature a slip-resistant grip that makes handling hot items safe and easy, while the long gauntlet protects your wrist as well as your hands.
Use these heat resistant gloves when cooking, grilling or barbecuing. They are ideal for handling hot wood and logs when tending a fire and can even be used for welding protection.
Collection Beyond BBQ Cleaning Kit
A clean BBQ will perform better than one in need of some TLC. Yet most of us hate cleaning! Thankfully, the Collection Beyond BBQ Cleaning Kit makes the job of keeping your grill clean that bit lighter.
The kit includes four grill cleaning pumice stones, a black ergonomic handle and red silicone gloves. The long handle is designed to keep your hands away from the heat while ensuring the best overall clean.
To use, simply wet the stone with water. Next, with light pressure, follow the direction of the grill, taking time to wipe each rung. It will easily remove grease and residue on hot or cold surfaces.
ROMANTICIST 20pcs Stainless Steel Barbecue Tools Set
A tool, or should that be tools, that you can't do without is the ROMANTICIST 20pcs Stainless Steel Barbecue Tools Set. Arriving in a storage case, this complete BBQ set of barbecue accessories is an ideal gift for yourself or a loved one.
All elements are made from professional-grade stainless steel that resists heat and stands the test of time. Included in the set is: Spatula, fork, tongs, shakers, basting brush, cleaning brush, extra brush head, corn holders, skewers and delicate carrying case.
Designed to be the ultimate BBQ accessories set, great care has been taken to ensure each tool improve your grilling experience!
NIXIUKOL Meat Thermometer
No one wants to bite into a frozen centred sausage! So use the NIXIUKOL Meat Thermometer to ensure your guest or family eat well-cooked food. Perfect for the kitchen, BBQ or general use. Offering a range of useful features including instant read, temperature alarm, bottle opener.
It is IP67 waterproof and designed to display precise measurements rapidly. It offers a tolerance of ± 1ºC and a wide temperature range of -50 to 300 C ° (-58-572F °). Offering two safe 304 stainless steel probes, you can easily measure temperature in the kitchen.
The 12cm rotating probe is suitable for meat/liquid etc. for immediate reading. The long probe with 100cm double-layer stainless steel cables (Heat Resistant up to 380C°) prevents static electricity and provides you with more stable and accurate readings. Both can be used in the grill, oven or smoker to protect your hands against scalding.
Aspect Refillable BBQ Lighters
Ditch the matches and use an Aspect Refillable BBQ lighter instead. Ideal for use in the kitchen, candles, camping, BBQs, and even fireworks. Available as a pack of 3 with spare lighter fluid.
Designed with a small window in its handle so you can see how much gas you have left to use. Comfortable to use due to its curved handle design. It also has a retractable hook making it easy to store.
H&S Waiters Corkscrew Wine Bottle Opener
You'll know how a lack of a proper corkscrew can easily ruin even a family BBQ, not to mention cause untold embarrassment with guests! It's why you should buy an H&S Waiters Corkscrew and not solely rely on the one built-in to your BBQ.
Made from stainless steel with a rosewood handle, this 3-in-1 tool comprises of a corkscrew, bottle opener, and foil cutter. All combined in a stylish package! The compact design makes it easy to store in a drawer, picnic basket, or your pocket.
BIGSUNNY Good Grip Stainless Steel Grill Scraper
Sometimes to get your grill clean, you need more than willpower, a scrubbing brush and warm water. Enter the BIGSUNNY Stainless Steel Grill Scraper for BBQ Grate and Griddle. You no longer need a wire brush as this all-in-one grill clean tool is easy to use and highly effective.
Equipped with a long handle for HOT Grills, it cleans a range of grate sizes and styles. It even includes a bottle opening function. Easy to assemble with a wing nut, it's highly portable and makes for a great gift!
NEOVIVA Cooking Apron
I'm not going to try and convince you that having a fancy apron will magically improving your BBQing skills. But wouldn't rather cook in the NEOVIVA Cooking Apron than some cheap lino one?!
Made from high-quality canvas, this NEOVIVA apron is breathable and spill-resistant. The faux leather pieces are designed to connect the straps and the body. It's machine washable and quick dry.
Ideal for use in the kitchen or BBQing. It efficiently relieves neck pressure and comes with 1 bib pocket for pen and cellphone and 2 large waist pockets for tools and accessories. It even makes a great gift!
GrillTime app (iOS)
Available for iOS devices, GrillTime is a timer and grilling guide that makes barbecuing simpler. Use this handy app to reduce stress when grilling meat yet still ensure it's cooked to perfection.
In the GrillTime app, select your meat, thickness, and level of doneness. Next, the app will recommend the perfect grilling time and temperature. As GrillTime notifies you when it's time to flip and when it's finished, you can enjoy our guests' company rather than needing to hang around the grill.
HowToBBQRight (Andriod)
As GrillTime is only available for iOS devices, we looked for a similar app for Andriod. Malcom Reed from HowToBBQRight.com has created a free app that includes all of his barbecue, smoking and grilling recipes as well as his YouTube videos. Simple to use and search for ideas, it's perfect even for cooking burgers!
Every week the HowToBBQRight app is updated with new recipes and tips. So, there's something for every level of BBQing and it's constantly evolving!
FANSIR Kebab Skewers
The luxurious FANSIR Kebab Skewers comes as a pack of 10. Each skewer measures 15 inches in length and 0.5 cm in width. Suitable for a wide range of uses including BBQ, cocktail party, and even chocolate fountain.
Made from stainless steel and constructed with a heavy-duty blade that won't rust! At 1.2mm, they are thicker than the competition and engineered to remain rigid. Regardless of the amount of food you stuff on them, they won't bend under the weight.
These twisted BBQ skewers are designed to fit on the lip of any grill at any angle allowing for easy turning and positioning them at any angle for more thorough cooking. The twists trap heat in the body of the skewer while keeping the handle cool and easy to work with.
Either pop them in the dishwasher or hand wash them, then wipe with a towel. No residual odour, clean as new, long time repeated use.
MAGT Reusable BBQ Grill Mat
Protect the ground around your barbecue with the MAGT Reusable BBQ Grill Mat. Made from Polyester Fiber with a PVC Back Pad, it's ideal for protecting surfaces from grease, drippings and BBQ mess.
At 124cm by 75cm, this large mat is ideal for use at home, travelling and even camping! Despite the size, it's very light yet tough and is waterproof.
After you've used your grill mat, simply toss it in the washer, hand wash or hose off. For best results machine wash, separately and hang to dry. The mat rolls up for easy storage.
Premiala Stainless Steel Meat Flavour Injector
Tenderize all cuts of meat with the Premiala Stainless Steel Meat Flavour Injector. Made from 304 stainless steel, it's designed for food hygiene and to be easy to clean. In addition to the Meat Flavour Injector, in the box, you'll find four Spare O-rings, a booklet. It's covered by Lifetime Guarantee!
Arriving with three precision needles, you can season your meat exactly as you wish! The two longest needles measure 6 inches and are ideal for whole chicken or turkey, or roast beef, pork or lamb. One of these 6-inch needles has 12 holes while the other has a single hole.
The third needle is 3 inches long and is designed for juicifying minute steaks, kebabs or schnitzels! Between these, you have plenty of options for tenderizing all of your meats!
waykea Non-Stick Vegetable Grill Basket
Cooking veg or for vegetarians can be tricky when catering a BBQ, luckily the waykea Non-Stick Vegetable Grill Basket with Handle is a superb solution. Easy to clean with soapy water and a soft cloth, and also dishwasher safe.
The solid steel structure is designed for longevity and is finished with a non-stick coating. Featuring raised edges, the basket design keeps your food safe while allowing you to easily turn them inside, just like you would in a wok.
Enjoy a smokey flavour as the bottom holes let the oil drizzle on the coals producing smoke! It's brilliant for grilling shrimp, chicken wings, mushroom, broccoli, onion, and more.
Valiant Outlaw 6-in-1 BBQ Foldaway Multi Tool Kit
If you like BBQ on the go or hate the idea of having a pile of tools, then buy yourself a Valiant Outlaw 6-in-1 BBQ Foldaway Multi-Tool Kit! It's ideal for BBQs, campfires, and more!
As a 6-in-1 BBQ tool, it has every utensil you need in one handy fold-up device. The six tools include a knife, spatula, fork, wine and beer bottle opener. Featuring a compact folding design, it also converts into full-size tongs.
Made from hygienic grade stainless steel, the tool is robust and durable. While the varnished beech hardwood handle creates a more stylish finish. A stylish yet handy carry pouch allows you to safely store it when not being used.
Char-Broil Universal 3-4 Burner Gas Barbecue Grill Cover
Unless you have plenty of shed or garage space, you might end up having to leave your BBQ outside all year round. And while this is less than ideal, you'll still want to protect your BBQ from the elements. Offering a range of sizes, the Char-Broil Universal Barbecue Grill Cover is worth considering.
Made from strong long-lasting polyester shields, this cover protects the grill against seasonal weather conditions. Side-closure straps securely fasten the cover to the grill, fully protecting your BBQ from the weather.
Weber Drip Pans (10-piece set)
Hate having to scrape drips and spills from your BBQ? You need Weber drip pans. Available in a range of sizes (small and large) and as a pack of 10. These heavy-gauge aluminium pans protect your barbecue from unwanted drips and spills that turn into baked on fat and juices.
You can also use them for cooking side dishes. You might want to start with a splash of oil to avoid ending up with burnt fat that can give food an unpleasant taste.
Kacsoo Propane Tank Cover
Let's face it, propane tanks are ugly but can't be hidden. Luckily, the Kacsoo Propane Tank Cover provides an elegant solution to the issue. It's constructed from durable polyester and waterproof vinyl coating. This size holds a 20lb Propane Cylinder.
Storing your tank in this cover extends its lifespan and sharpens up the look of your grill. Not to mention, it keeps your Propane Tank dry, clean and safe, while protecting the tank from outdoor elements.
The simple drawstring design makes light work when changing tanks. The top and the elastic closure design for the bottom of the cover fits your tank snugly, ensuring the cover is firmly fixed. Removing this cover only takes a few seconds.
Smith-Style Portable BBQ Pizza Oven
Granted, a pizza oven is hardly one of the essential BBQ tools you need, but who wouldn't want one! As more than just a humble place to cook pies, the Smith-Style Portable BBQ Pizza Oven is ideal for a variety of uses. Use this grill and smoker oven suitable for cooking home-made artisan pizza, fish, meat, vegetables, bread and much more!
Ready in around 10 minutes, the unit is complete with an easy to read temperature gauge. Built from insulated carbon steel, it designed for premium heat retention and cooking performance.
As the ideal barbecue accessory, it's easy to clean thanks to a removable cordierite stone base. Included with the oven is a pizza paddle spatula, allowing you to easily rotate and remove pizzas.
Due to its highly portable design and carry handles, it's easy to set up and move without needing to re-assemble each time. Can be used with gas or charcoal barbecues.
Enjoy cooking with these essential BBQ tools
While you don't need to rush out and buy all 20 of our essential BBQ tools, you should have a good idea of the tools you might need. Hopefully, you're inspired to fire up the grill and get cooking!
Oh, and don't forget to store your drinks in an ice box as no one enjoys a lukewarm beer!