Flymo Speedi-Mo 360C lawn mower review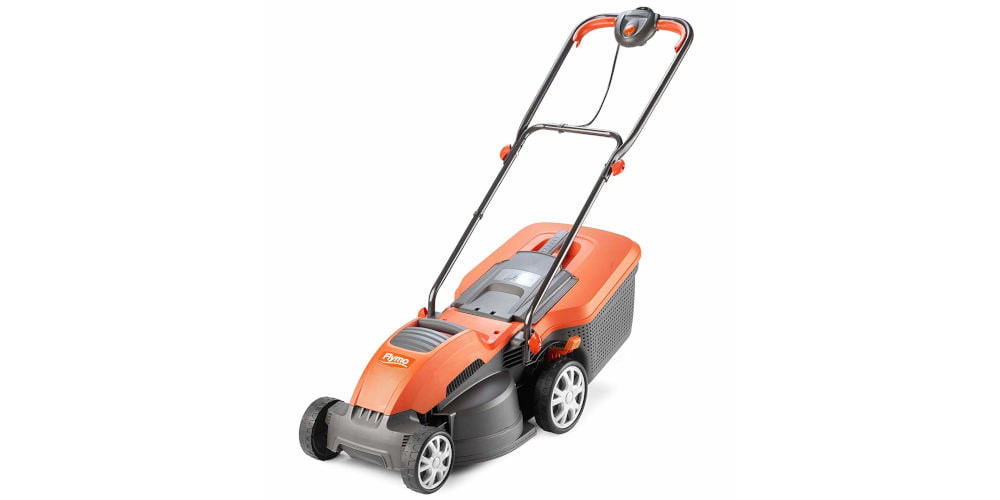 The Flymo Speedi-Mo 360C is a powerful electric lawnmower which is ideal for any sized garden and is very affordable.
As garden equipment goes, Flymo still produces some of the best tools you can buy and this lawnmower is no different. It actually one of the best lawn mowers under £100 on the market.
What makes the Speedi-Mo 360C unique is its powerful 1500W motor, which is coupled with a wide 36cm cutting width.
This means you'll cut more grass in less time. Plus with 5 blade height settings, you can adapt the cut to the season.
A large 40-litre grass collection box enables you to mow a large area before needing to empty it. Ideal if you don't like wasting time or have a big lawn.
The Flymo Speedi-Mo 360C is lightweight and designed for easy transportation. 8/10
Pros
Powerful 1500W motor
5 cutting heights and 36 cm metal blades
Easy to assembly
Cons
The grass box carry handle easily pops out of its rear attachment point
Can struggle with long and damp grass
Extended warranty is expensive
Design
Sporting the classic Flymo colours of black and orange, this Speedi-Mo 36 lawnmower is distinctive. Largely manufactured from plastic. It's well designed and built to withstand years of abuse.
The mower itself is quite heavy at 11.5 kg, so if you're older or have a sloping garden, it might be best to consider a lighter alternative. However, there are several well-placed carrying handles, which makes lifting the unit around manageable.
At 70 cm heights and 40 cm wide, you might struggle to mow under bushes or around tight corners. However, thanks to the larger rear wheels, navigating Flymo Speedi-Mo 360C around is easy.
The metal handle folds down for easy storage and locks in place with plastic wing nuts. As it can be folded in two places, you only need minimal storage. When locked in place, the handle extends to 1 metre in height.
A large 40-litre plastic grass collection box is easy to attach to the rear and so speeds up the mowing process. It's easy to remove, emptying cutting takes seconds and can be stored separately.
As Flymo Speedi-Mo 360C comes flat packed, your first task is assembly. Luckily this is straight forward and should only take around 30 minutes.
Features
Under the hood, the Flymo Speedi-Mo 360C has a powerful 1500W motor. So there's plenty of power available, whether you're trimming a well-kept lawn or trying to tame a jungle!
The motor feeds a 36 cm long metal blade. With such a wide cutting area, you'll cut more grass in less time. The blade sits on a movable platform which has 5 cutting heights (2, 3, 4, 5, 6 cm).
These different cutting heights enables you to tailor the cut to your preference and the season. Flymo recommends setting the blade at 4 cm, as this midpoint should provide a suitable trim all year round.
Adjusting the blade's height is easy and requires no tools. Simply adjust the lever next to the rear left wheel. It's that simple!
While you don't have to use it, a large plastic 40L grass box comes included. This keeps your garden tidy while mowing and makes clearing cuttings easy. You shouldn't need to rake the lawn after you've mowed.
As a mains powered unit, The Flymo Speedi-Mo 360C comes complete with a 12 m power cable comes as standard. This should allow you to cover most small and medium-sized gardens without needing an extension lead.
Finally, the Flymo Speedi-Mo 360C comes with a 2-year standard warranty, which can be upgraded to 5 years for an additional cost.
Set-up
Out of the box, the Flymo Speedi-Mo 360C requires assembly. The manual uses a mix of pictures and text. There's not that much to assemble, so you should be ready within 30 minutes.
Building the box is the most complex step in the process as there are 5 parts. These snap together in 4 easy steps!
As the handle comes in two parts, you'll need to screw it together. Simply screw the two bolts and wing nuts on each side and the handle is ready.
The power cable to the motor runs down the right-hand side and can be secured with two included clips. While the main power cable is left loose for the user to control and feed into the controls at the top of the handle.
With the Flymo Speedi-Mo 360C assembled and the blade attached, it's time to get set up for the first mow.
Flymo recommends leaving the blade set at the middle position (4 cm height) as this should be adequate for mowing all year round. However, we'd advise starting at 4 cm for the first mow. You'll want to adjust the height up in the summer (to either 5 or 6 cm) and down in the winter (to either 2 or 3 cm).
This way you're reacting to the natural growth rate of your grass for that season while keeping it well maintained. So, all that's left is to plug it in and start mowing.
Performance
We'd be first to admit that our expectations are high, especially when reviewing a Flymo product. As a household name, they have a lot to live up to.
Overall the Flymo Speedi-Mo 360C mower performs well. Both in terms of trimming different lengths of grass and over rough or slopping ground.
Operating is straightforward. Simply, depress the safety control (either side is fine) and hit the power button. You'll need to keep a hand squeezing one of the safety tabs for the unit to keep running.
It's best to trim a strip of your garden first at a middle cutting height. This will enable you to get used to how it feels and operates. Plus you can test how fast the grass box fills up.
If you have damp grass, you might need to work slower and clean the underneath after each strip. This way your mower is less likely to get clogged and therefore stop work.
Starting with longer grass? Simply adjust the cutting height up, clean the underneath after each strip. You'll probably need to mow the whole lawn again, this time on a lower cutting height.
Again if the mower becomes clogged, it's efficiency will be reduced and it will take longer to completely mow your lawn. So it's worth paying attention to how it operates and cleaning it often.
Is the Flymo Speedi-Mo 360C worth buying?
The Flymo Speedi-Mo 360C Lawn Mower delivers! It not only meets our expectations but exceeds them. It's powerful, well designed and highly affordable. Also, it's a joy to use as operating it is very simple.
One of only a few negatives is the grass box construction. It's overly complex to put together, which makes it easy to fall apart.
As with most collection boxes, its connection lets it down as you need to ensure it's secure before cutting to avoid creating more work for yourself. If properly attached, you'll have no problem collecting cuttings as you mow.
As it uses a high power motor, the Flymo Speedi-Mo 360C is designed to cover gardens of all sizes. However, it 12-metre power cable does mean you'll need to run an extension cable unless your deal with a postage-stamp-sized lawn.
While operating is simple, it's quite bulky and heavy. So if you have back problems or lots of tight corners then it best to consider other mowers. Of course, if you have a few beds and bushes, then you can always pair the 360C with a strimmer.
In terms of the good points. It's powerful and adaptable. We like the wide 32 cm cutting width as it allows a large area to be covered with less effort. This coupled with the 40-litre collection box means you'll be able to cut any lawn quickly without much hassle.
While it does come with a 2-year warranty, you can easily upgrade to 5-years for an additional fee. Also as you might expect, Flymo sells a range of spares at affordable prices.
Overall, the Performance Flymo Speedi-Mo 360C Lawn Mower is very impressive and scores 8/10.