Flymo TurboLite 400 electric hover lawn mower review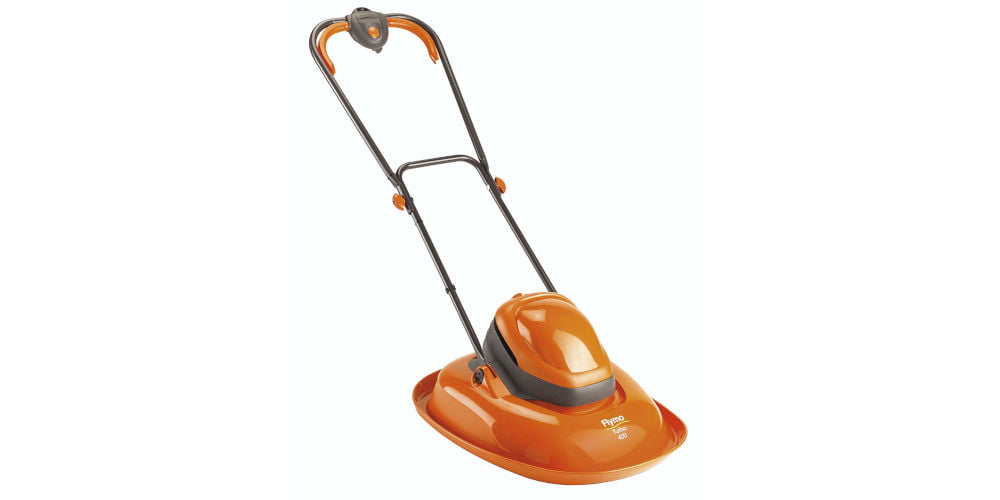 The Flymo TurboLite 400 Electric Hover Lawn Mower is ideal for most gardens and has many useful features.
It's different from other mowers on our list of lawnmowers under £100 as it cuts while gliding and doesn't have a collection system. Weighing 7.5 kg, it's very light and the handle folds down for easy storage.
At the heart of the mower is a robust 1500W motor, which provides enough power to tackle long grass or the weekly mow.
Rather than rolling over the grass using wheels, this Flymo glides on a cushion of air, making it very easy to operate. Ideal if you have back problems or a large lawn.
Using a large 40 cm large blade, you'll be able to cut your lawn in less time. As the blade is adjustable, you can change the cutting height for each season.
Overall, the Flymo TurboLite 400 Electric Hover Lawn Mower scores 9/10.
Pros
Uses an air cushion
Large 40cm blade
5 cutting heights
Cons
Adjusting cutting height requires tools
Doesn't collect cuttings
Design
Styled in the classic Flymo colours of orange and black, the TurboLite 400 has a classic look. It blends metal and plastic elements and is well built.
Arriving flat-packed, assembly is very minimal as there are not that many parts. You should be up and running within 20 minutes.
At only 56 cm high, the slim design enables you to cut under bushes with ease. While you usually need a strimmer for the edges, the TurboLite 400 narrow design means you probably don't
While you can buy smaller versions, we've chosen the Flymo TurboLite 400 for its 40 cm blade. You'd be wrong to assume that the body is massive like the blade. At 54 cm wide, it's slim, easy to navigate and light.
As there's no wheels or collection system, it's relatively light, weighing in at 7.5 kg. Being so light make it ideal if you have back problems or a large area to cover.
While you can fold the handle down for storage, as it's lightweight, you can hang it directly on the wall in your shed.
This Flymo comes with a standard 12-month warranty which can be extended to 24 months by registering it online.
Features
Don't let the sleek design fool you! The Flymo TurboLite 400 has many impressive features that make mowing easier and more enjoyable.
Under the hood of the Flymo TurboLite 400 is a powerful 1500 watt motor. This motor creates the air cushion that the propels the mower as well as driving the 40 cm cutting blade.
The metal blade is robust and will provide years of use before it needs replacing. Flymo has an online store which sells a range of spares at affordable prices.
At 40 cm wide, the blade is fairly large especially when you consider most lawnmowers have a cutting width of around 35 cm. This means you can cover more lawn in less time.
If you like to change to the cutting height of your mower, then the 5 positions on Flymo TurboLite 400 will impress you.
Adjusting the blade's height isn't as simple as other mowers, where you can change the cutting height using a lever, the Flymo TurboLite 400 requires surgery with tools.
Changing the cutting height involving removing the blade and adding spacers. A specialist tool and 4 spacers come with the mower are included and mean you can adjust the cutting height from 1.5 cm to 4.1 cm. In total 5 positions are available.
The handle has two controls and a cable which feeds the motor. The mains power cable can easily be removed and measures 12-metres.
Set-up
Arriving flat-packed in what Flymo describes as "Frustration-Free Packaging", thankfully there isn't that much to assemble.
The manual is well laid out and includes pictures and text. This makes assembly very easy as you're not trying to only interpret diagrams.
Assembling the handle is as hard as it gets! It comes in two parts and simply screws together. The lower part attaches to the body using fixing pins. The 2 included cable clips hold the cable that runs from the controls to the motor in place.
You'll need to attach the blade by unscrewing the blade bolt and either adding or removing spacers. Once you've set the ideal height, then tighten the bolt.
That's pretty much all you need to do to get set up. Next plug the power cable into the mains and you're ready to start mowing your lawn!
Performance
As set up is very simple, you'll be able to use your Flymo TurboLite 400 within 20 minutes of opening the package.
Flymo has changed the mains socket on the unit, so you can no longer use your old, longer power cables. This shouldn't be much of a problem as the unit comes with a 12-metre power cable. Of course, if you need to cover more ground then us an extension cables.
For your first mow, it's best to set the cutting height in the middle. This means you'll want to use 2 spacers beneath the blade. Starting with this cutting height means you can develop a feel for how the mower works yet still cut your lawn to an acceptable height.
Over time you can adjust the blade's height depending on your preference and the season. Typically, in summer you want to keep the grass trimmed fairly short, so you'll want to add spacers.
In winter, you'll want the grass to grow slightly tall to protect it from the harsher conditions. So you can remove any/all spacers and set the blade closer to the fan.
With the cutting height set and plugged into the mains, it's time to mow. At the top of the handle is the safety bar which needs to be depressed before the power switch can be activated. This safety bar needs to remain depressed for the mower to keep working.
As it doesn't collect trimmings, you might need to use a rake or garden vacuum to tidy any debris.
In terms of long term use, Flymo are well regarded for lasting for years. The Flymo Turbolite 400 is no different. You'll enjoy using it for years to come.
Is the Flymo TurboLite 400 worth buying?
The Flymo TurboLite 400 Electric Hover Lawn Mower Non-Collect is a little like Marmite. Some will love it, while others not so much. Hopefully, we can all agree that Flymo is still building fantastic products that will last decades.
While at first glance, the price may seem high, however, if it lasts 10 years then it's a real bargain. Of course, we'd recommend registering your product with Flymo as this doubles the warranty (from 1 to 2 years).
It does have some negatives, which will put some people off. The main one is that it doesn't collect cuttings. While you can leave them to be absorbed into the lawn, raking your lawn will take time.
One of the biggest downsides is the new power socket. Flymo is well known for building long, sturdy power cables and the one included with the TurboLite 400 is no different.
However, they have changed the socket and so you can't use your old cables. While this won't affect you if this is your first Flymo, it might annoy you if you're a long term Flymo user.
A final negative is adjusting the blade, which requires a tool to do move its position. It's complex and cumbersome.
On to the positives. Firstly, the Flymo TurboLite 400 has a massive 40cm blade. This means you'll take less time cutting your lawn and more time enjoying it!
The unit is lightweight and easy to navigate, ideal if you have a large area to cover or back problems. Also, it's fairly slim, and so can be tackle grass under bushes and in tight corners.
Bearing all of this in mind, the Flymo TurboLite 400 scores an impressive 9/10!